Designing and decorating a little girl's bedroom can be an exciting yet challenging project for many parents. On the one hand, there is the need to create a space that reflects their daughter's personality and interests while, on the other, staying within budget constraints.
Fortunately, with clever planning and creative thinking, you can design and decorate your daughter's bedroom in style without breaking the bank. Here are eleven tips to help you create a fantastic room that your daughter will love!
Consider Your Daughter's Personality and Interests
When it comes to decorating a bedroom for your little girl, consider her interests and personality. For example, if she's an animal lover, you could incorporate this into the room design with murals or accessories featuring animals. If she loves unicorns, stars, or rainbows, use colorful bedding, curtains, and throw pillows to bring these features into the room.
Think about what she likes and use that as a starting point to create a unique design that will make her feel special. Also, consider her age when designing the room. If she's young, opt for bright colors and fun designs that speak to her imagination. If she's in her pre-teen or teenage years, look for more grown-up options such as sophisticated wallpapers or artwork.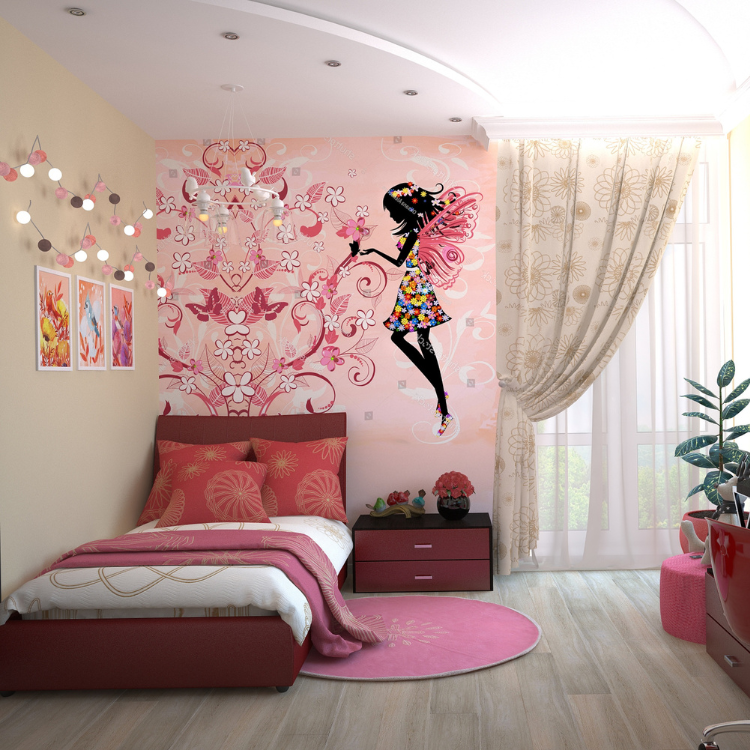 Explore Budget-Friendly Decorating Ideas
Decorating your daughter's room doesn't have to cost a fortune. To save some money, think about repurposing old furniture or decor items from other rooms in the house. You can also shop at thrift stores or online websites for great deals on artwork, bedding, and accessories.
Another option is to get creative with DIY projects and make things like wall art, curtains, and pillows using fabric scraps or upcycling old t-shirts into throw rugs. With some imagination and a little ingenuity, you can find many budget-friendly ways to give her bedroom an updated look without spending too much.
Make the Most of Natural Light
Natural light can make any room feel brighter and more inviting. Position the bed or desk near a window so your daughter can take advantage of natural light when studying or reading. You could also use sheer curtains over windows to soften the light in the room and create a peaceful atmosphere for rest and relaxation.
If there is no available natural light, incorporate lighting fixtures such as overhead lights, wall sconces, or lamps to illuminate the space instead.
Incorporate Fun Wall Art Pieces
Wall art is a great way to create an eye-catching focal point and add character to any room. When it comes to finding wall art pieces for your daughter's bedroom, think outside the box. Instead of just hanging framed prints or paintings, look for fun alternatives such as decals and stickers that feature her favorite characters or inspirational quotes.
You can also make your own wall art by printing family photos or creating a collage of magazine clippings with different colors and textures.
Add Statement Furniture Pieces to Tie the Room Together
To complete the look of your daughter's bedroom, consider adding statement furniture pieces. These can be fun pieces like a vintage desk or chair or simply an eye-catching design item. If you are looking for something special and unique, look no further than thrift stores or secondhand furniture shops.
You may also find some amazing deals online too! When it comes to choosing furniture pieces, pick those that will accommodate her current needs while keeping in mind how they could change with her as she grows older.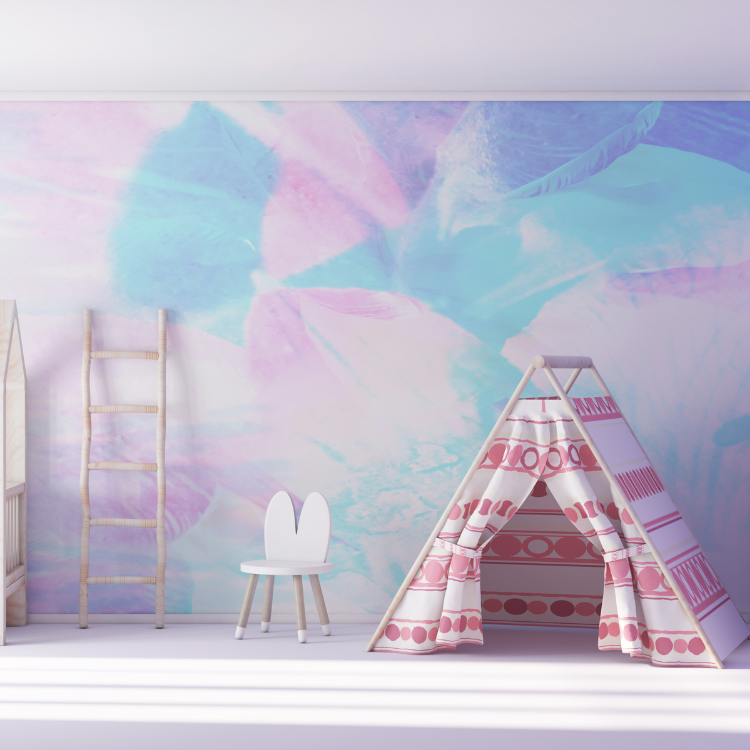 Choose a Wallpaper or Paint for a Big Impact
Don't forget to choose a wallpaper or paint color that will tie the whole room together and make it truly unique. Wallpaper Blvd has an amazing selection of wallpapers for children's bedrooms, with designs ranging from cute animals to vibrant patterns and colors.
If you decide to go with paint, opt for warm and soothing tones such as pastel pinks and blues or neutrals like white, beige, or gray. No matter what type of wallpaper or paint color you choose, incorporate your daughter's favorite features into the design so she can feel proud of her special space!
Utilize Space Efficiently with Built-Ins and Shelving
Consider incorporating built-ins and shelving to make the most of your daughter's bedroom. Built-ins can offer extra storage space and keep the room looking neat and organized. Shelves are also a great way to display books, souvenirs, or artwork while freeing up floor space. You could even use them to create an area for her to showcase her favorite items or trophies.
With the right combination of furniture, accessories, and wall art pieces, you can easily turn your daughter's room into a beautiful and functional sanctuary she will love coming home to each day!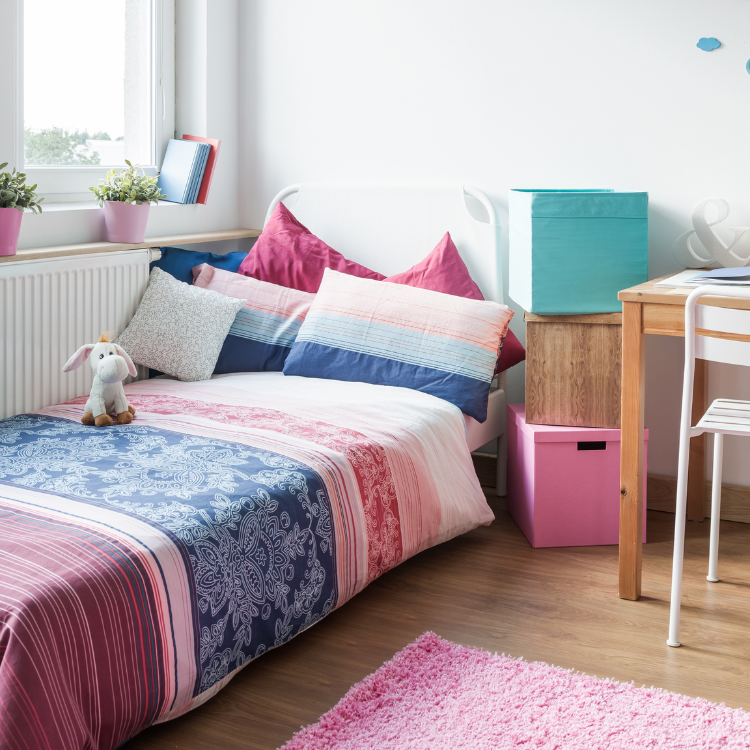 Make the Room Cozy With Comfy Bedding and Pillows
Make the room cozy and inviting by selecting comfortable bedding and pillows. Soft colors and textures will help create a calming atmosphere to relax in after a long day. Look for fun, colorful, and inviting items such as duvet covers, sheets, comforters or quilts.
Choose accent pillows with playful patterns or colors to add some personality to the space as well. With these simple touches, your daughter's bedroom can become a haven where she can feel safe and secure while also having lots of fun!
Incorporate Fun Storage Options
When it comes to organizing items in your daughter's bedroom, incorporate fun storage options. This could be anything from a toy chest or dresser to wall cubes and bins. Place some baskets for small items near her bed or desk so she can easily access them when needed.
If you have the room, add an armoire or wardrobe where she can hang up her clothes and store her shoes and other accessories. With these creative solutions, you can help keep the room tidy while also making it more fun and enjoyable!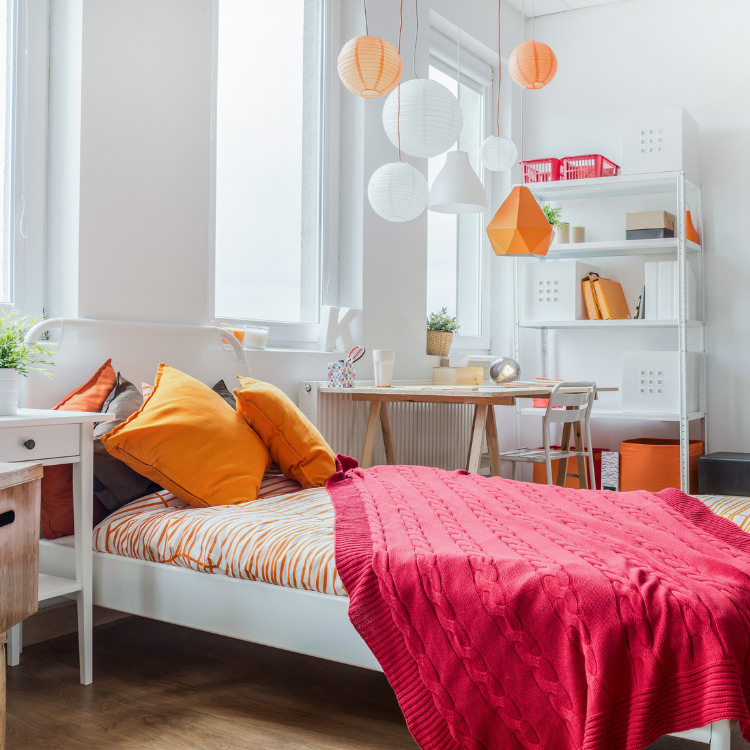 Add the Finishing Touches With Accessories and Lighting.
The final touches are the most important when creating a beautiful and inviting bedroom for your daughter. First, consider adding some inspiring or fun accessories such as wall hangings, rugs, curtains, or throw pillows. For lighting, choose lamps and night lights that provide an inviting glow without being too bright.
Finally, select items in colors that complement each other and make her room look complete! With these simple tips, you can create a unique space she loves coming home to daily.
Create a Child-Friendly Space
Creating a child-friendly space for your daughter is essential in ensuring that she has a safe and comfortable place to play, sleep, study, and express herself. Incorporating furniture with rounded edges, such as beanbags or floor cushions, will make the room more fun while also protecting her from sharp corners. Place a durable rug in an area where she can play to protect her feet from cold floors.
Additionally, install outlet covers on any visible electrical outlets so she won't be tempted to stick her fingers in them! With these few simple steps, you can ensure that your daughter's bedroom is both enjoyable and safe.
With these tips and tricks, you can easily create the perfect bedroom for your daughter. From selecting the right wallpaper or paint color to incorporating fun storage solutions and accessories, you can turn your daughter's room into a beautiful and inviting sanctuary she will love coming home to each day!
With thoughtful consideration of her favorite features, colors, and design concepts, you can also ensure that it is unique to her own personality and style. You can easily create the perfect bedroom for your daughter with a few simple touches!