During our Leavenworth, Kansas girlfriends getaway, we (Grace and Barb) had the opportunity to get to know each other better.  Traveling together adds a new level to your friendship and can be a great way to discover more about your best gal pal.
In addition to offering surprising insights, shared journeys give you shared memories, which strengthens the bonds of friendship even more!
We hope you enjoyed all our insights and steps for growing your friendship during our girlfriend getaways to Kansas City and Bonner Springs, Kansas.  As we continued our travels in Leavenworth, we found more exciting ways to connect and enhance our relationship.
Are you inspired to create your own girlfriend getaway, yet?  We sure hope so and know that you will add oodles of joy to your life and friendships, if you do!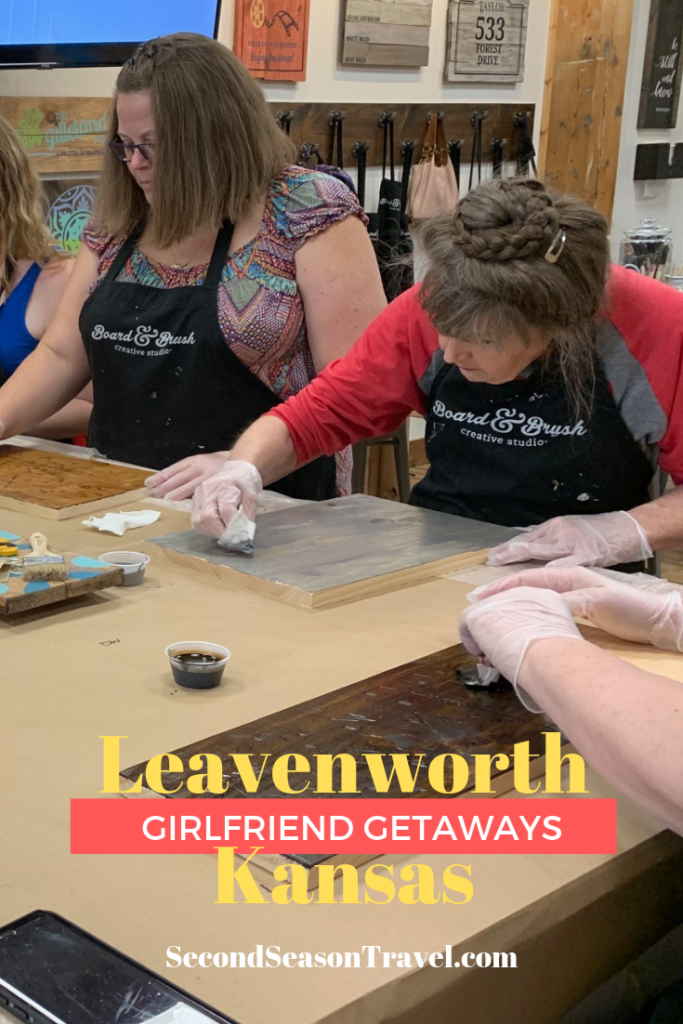 "Perfect" was our first thought as we entered our rooms at the Fairfield Inn & Suites
We instantly knew when visiting Kansas that the Fairfield Inn & Suites would be a perfect place to stay. The small kitchen which allows visitors to cut their food costs by fixing meals instead of eating out is a a great asset. Plus, how fun to fix a favorite meal for an evening to share with a best friend on a girlfriend getaway.
Another lovely feature is the desk area, which helps combine both work and pleasure. Connect a laptop to their free WiFi and work on projects while you're there or upload your photos to share with friends and family.
Also great if you need a little face time with your family to stay connected with them while you're on the road.  Video chats are a great tool for reassuring young children you are still present and thinking of them.  It's also a wonderful way to say "goodnight" and keep your nighttime routines intact while traveling.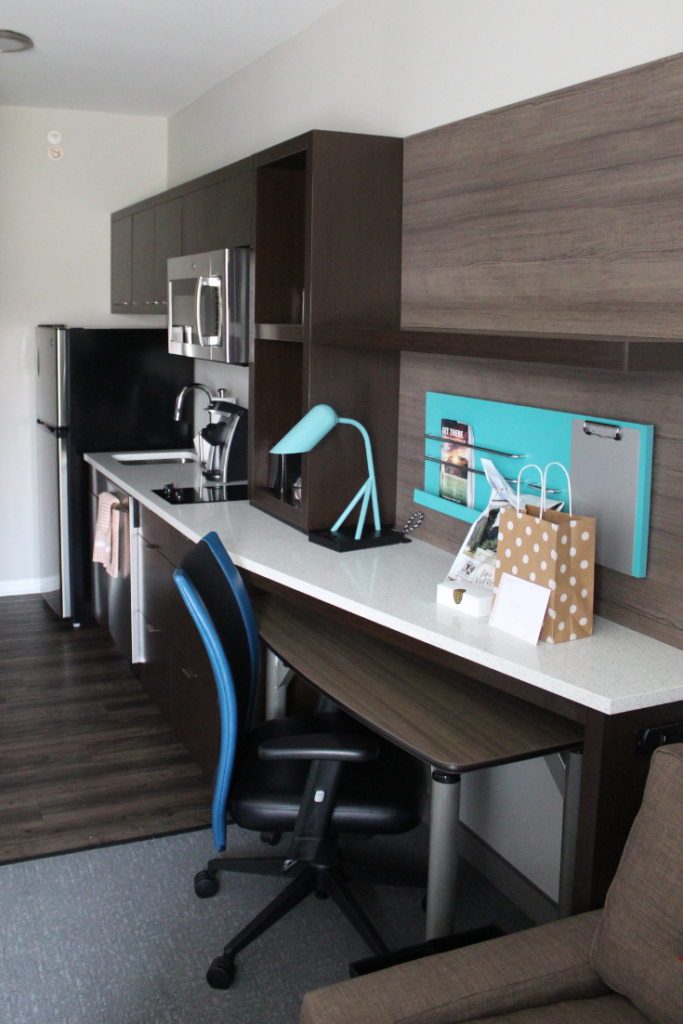 Comfortable beds, house cleaning and a lovely bathroom also await all who visit the Fairfield Inn &  Suites.  There's a 24 hour fitness center, outdoor pool and a free buffet breakfast is included with your stay (another great budget-friendly feature!)
Fairfield Inn & Suites is an ideal place to stay for a short trip or an extended stay.  The lobby area is also inviting – a great spot to meet up for a cup of coffee and/or a chat with your friends.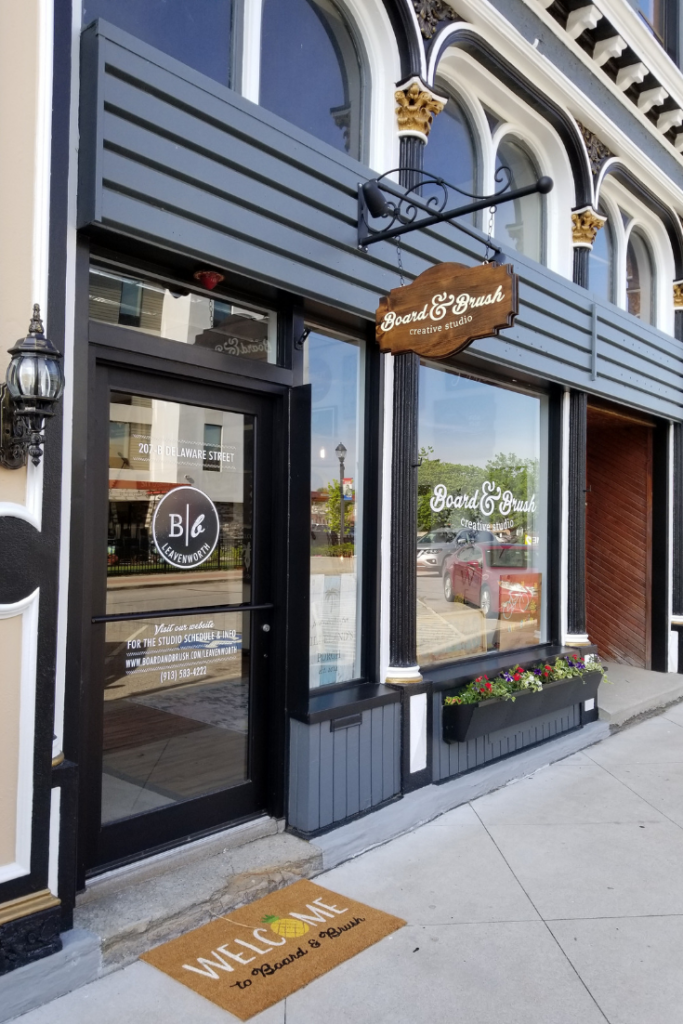 Take Time for Creative Pursuits
After you've had a good night's rest and are fueled up for your day, a fantastic activity to add to your girlfriend getaway is an artistic one!
When you're participating in creative activities, you really get to know each other's preference and talents better.  It's a special way to bond and can be a fun way to take you out of your comfort zone to help stretch your imagination and artistic skills.
Leavenworth Board & Brush is a DIY wood sign workshop where you can spend time with your friends creating home decor.  You'll get to make a mess without having to worry about clean-up, create a beautiful memento of your trip, and share loads of love and laughter with your friends.  When it comes to the makings of a fun day or evening, this could be just the relaxing and creative space for you!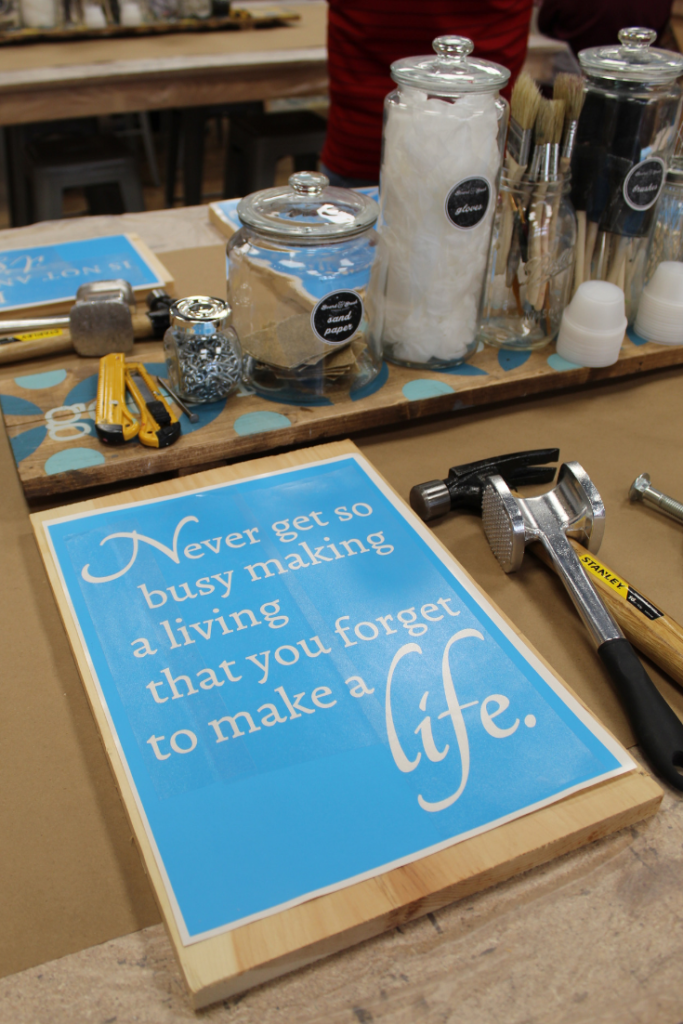 Don't Stress the Details
We each chose different projects for our home and it was interesting to share with each other why the design we chose resonated with us.  A few things we learned during the process are:
It's loads of fun to distress a piece of wood.  Bopping it with a hammer, dropping chains on it, pounding it with a mallet and so on can be good "de-stress" techniques for you, too.
Designs with lots of details can be a bit intimidating and you will need to allow more time to complete a project with small detail.
Help is available when you need it!  It's awesome to share your creativity with friends and to help each other out.  We all have something to offer, even if it's just affirmation of color choices.  The staff will also help you out in a pinch with composition and crafting.  Doug came to our rescue several times helping us to have picture-perfect projects we'll proudly display in our homes.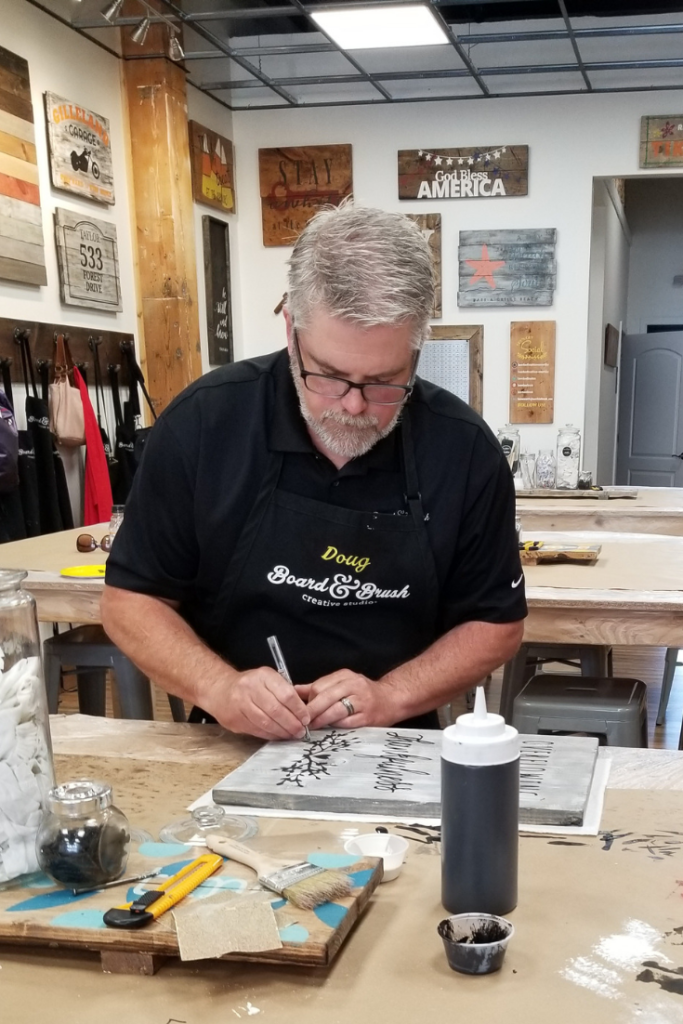 If you are in the Leavenworth area for a girlfriend getaway, do check the class schedule ahead of time for opportunities!
Discover the Magic of Main Street Shopping
With its beautifully renovated buildings and eclectic mix of specialty shops, there's truly is a little bit of something for everyone in downtown Leavenworth.  You'll find home & garden, pottery, candle, jewelry, clothing, specialty foods, antiques, furniture and even quilting supply shops to explore.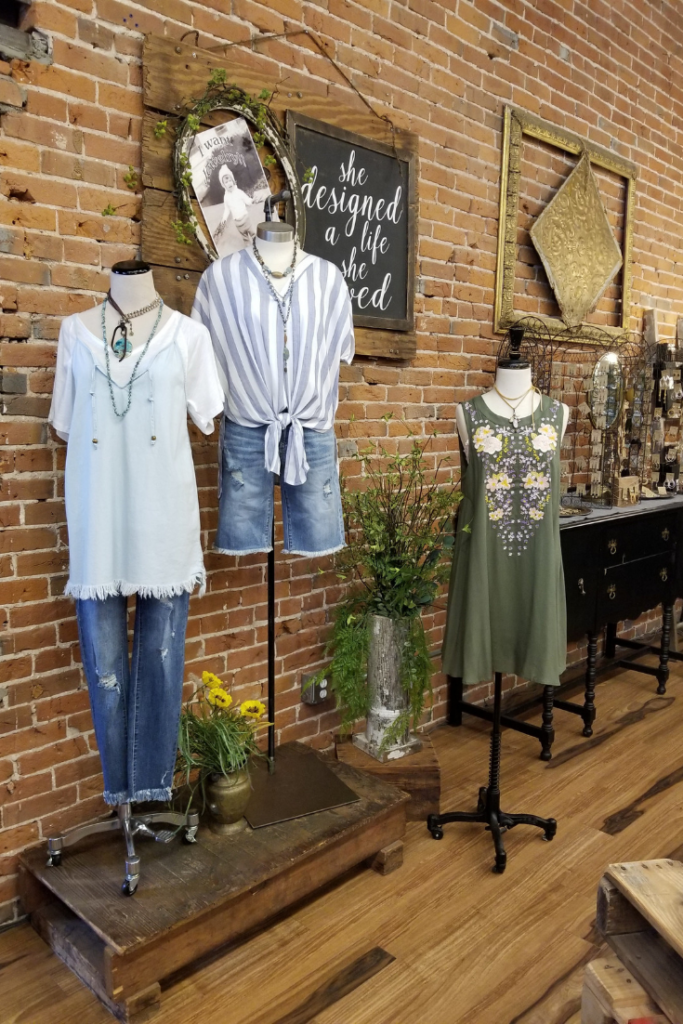 We were truly impressed by the revitalization efforts of this lovely downtown area.  Many of the buildings have been given an updated modern "vibe" inside but the architectural integrity and many of the historic features have been preserved beautifully.  A wealth of restaurants, over ninety retailers, entertainment venues and a picturesque river view will keep you entertained all day and night.
Stop by Artistic Works by Lu for free-spirited fashion and bling from jewelry artist, Lu.  Pop over to Candle Queen Candles where you'll find over 100 candle scents and fun gifts.  Stroll a bit further and stop in C.J. Gift Co. for seasonal decor, University of Kansas collegiate items, souvenirs and gifts.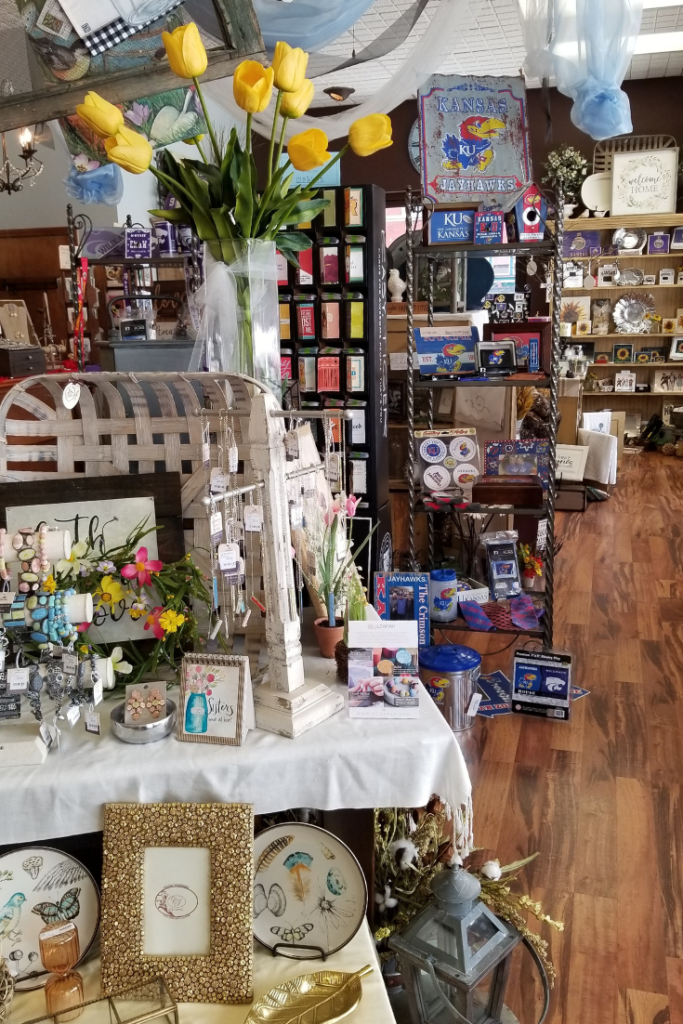 Top off your day with olive oil and vinegar tastings at First Taste Olive Oils, Vinegars & More.  You'll want to bring plenty of these artisan goodies home, but don't worry about having to find room in your suitcase, you can have them shipped!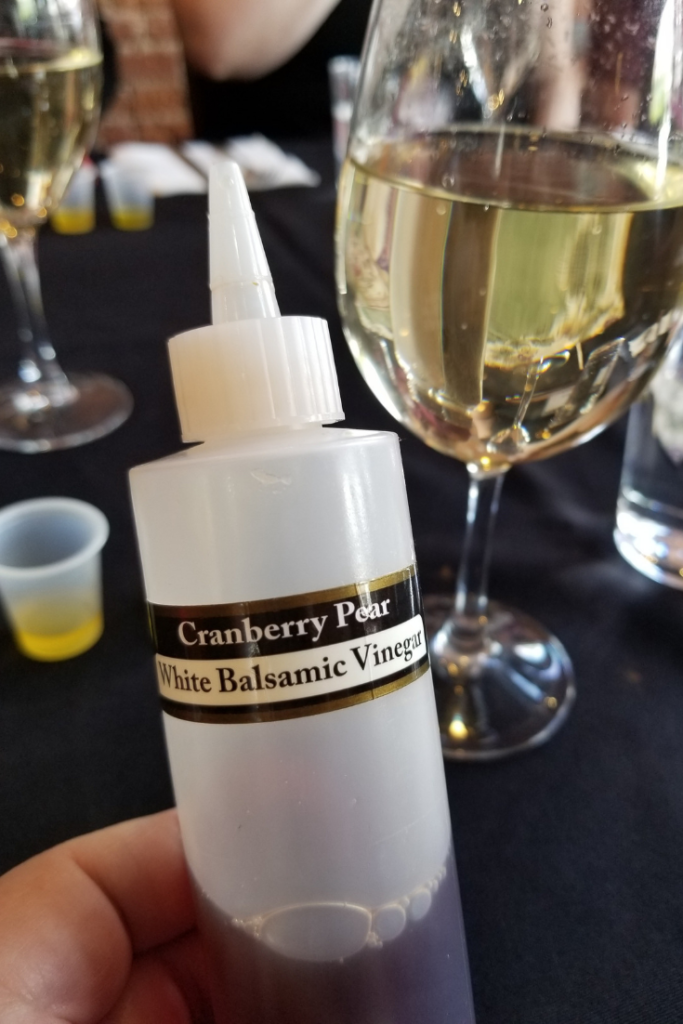 Enjoy Some Spa Time
How perfect to add a little pampering time on our girlfriend getaway while visiting Leavenworth at Bella Vita Salon and Spa. Those hands and feet can take a beating while traveling and cementing that girlfriend bond.
A sad but true fact is that we often look down at our hands and feet en route to a destination and realize we did nothing for our nails! The same was true on this trip but Bella Vita Salon and Spa took care of these oversights!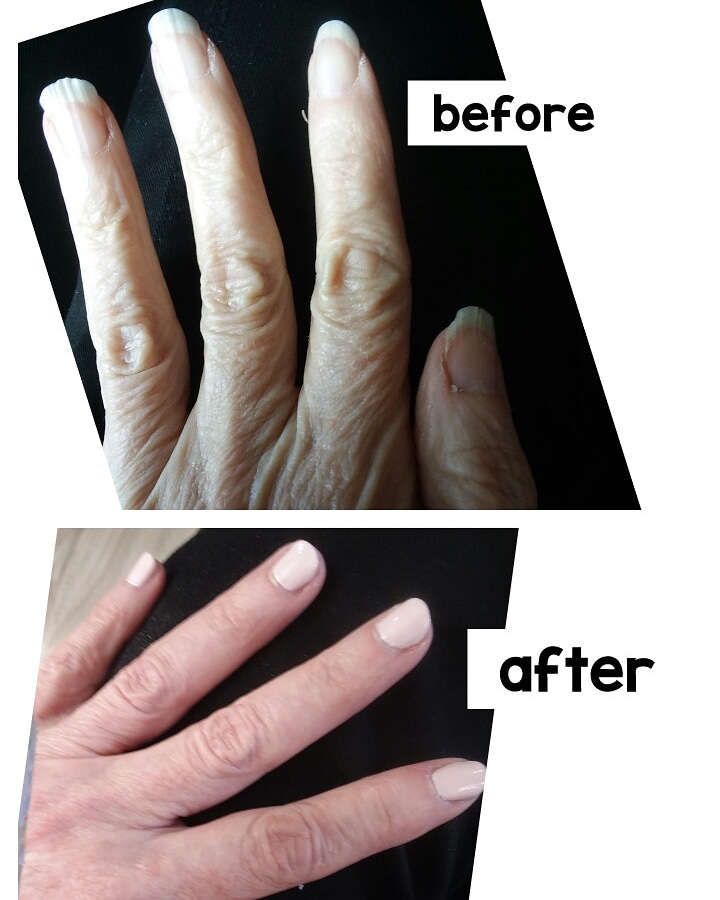 Therapeutic massages, spa packages along with nail, skin and hair care are all offered at this relaxing salon.
Grace enjoyed a wonderful manicure and Barb opted for a pedicure and a chair massage.  The wonderful thing about a full service salon is that each person can choose what services will best fit their beauty and/or relaxation needs.  You still get to enjoy pampering in the same spot but also have custom-tailored services.
We were able to meet up after our services and compare notes while our nails dried.  Not only was it a relaxing experience but it was also an opportunity to talk to the staff and ask about their recommendations of places to visit and sights to see.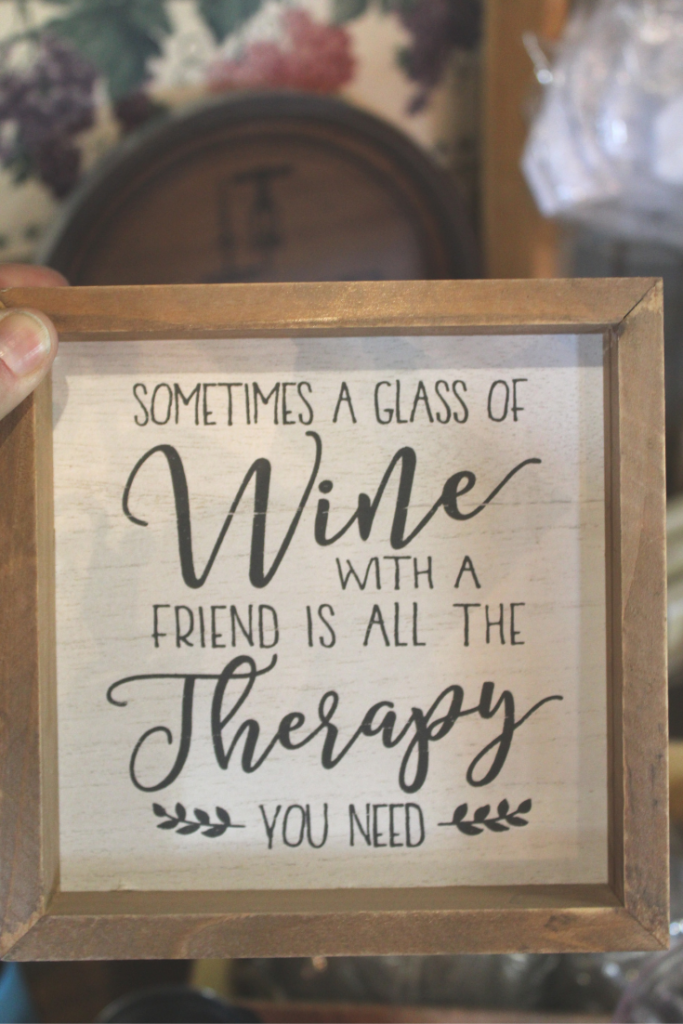 Relax and Unwind
As we love to do in nearly every location we visit for a girlfriend getaway, we reserve nighttime for a great meal to enjoy after our busy day!
Reserving time to enjoy a glass of wine and a snack or a full meal is a fabulous way to celebrate your friendship.  It also gives you time to reflect on the day and share your thoughts with each other.
Taking time to do this really enhances our journey and our relationship.  We get to quickly discover likes and dislikes.  The discussions generally reinforce what we need to do more of and what we might do differently in the future.  This gives us the ability to enhance our next girlfriend getaway, taking each time up a notch for better and better experiences down the road.
Coffee Wines and Country Italian Dining
During our Leavenworth, Kansas trip we discovered two gems you'll want to add to your itinerary:
Z&M Twisted Vines Wines Winery, a casual farm to table wine tasting space.  It's offers a cozy environment to sit and chat while enjoying a tasting or a glass of some unique blends.  Your taste-buds will definitely feel as if they've been on a journey, too!
Do try the coffee wines.  This is something we haven't seen before and if you love coffee and love wine, it's and interesting and delicious pairing.
Mama Mia's Italian Restaurant in Leavenworth is everything you expect and everything you hope to enjoy in Italian cuisine.  The atmosphere is casual and the food is wonderfully prepared and presented.
Portions are very generous, but if half portions are available for many dishes.  This was a terrific option to have, especially for travelers.  We sometimes avoid ordering items we love because we know there's no way we'll finish them and won't have time to enjoy the leftovers later during our travels.  Having the ability to order a half portion also means you can easily share and appetizer and/or dessert with your friend and not feel over-stuffed.
As with most Italian restaurants, Vegetarian choices are also available, too.  The Eggplant Parmesan is an excellent choice for all foodies!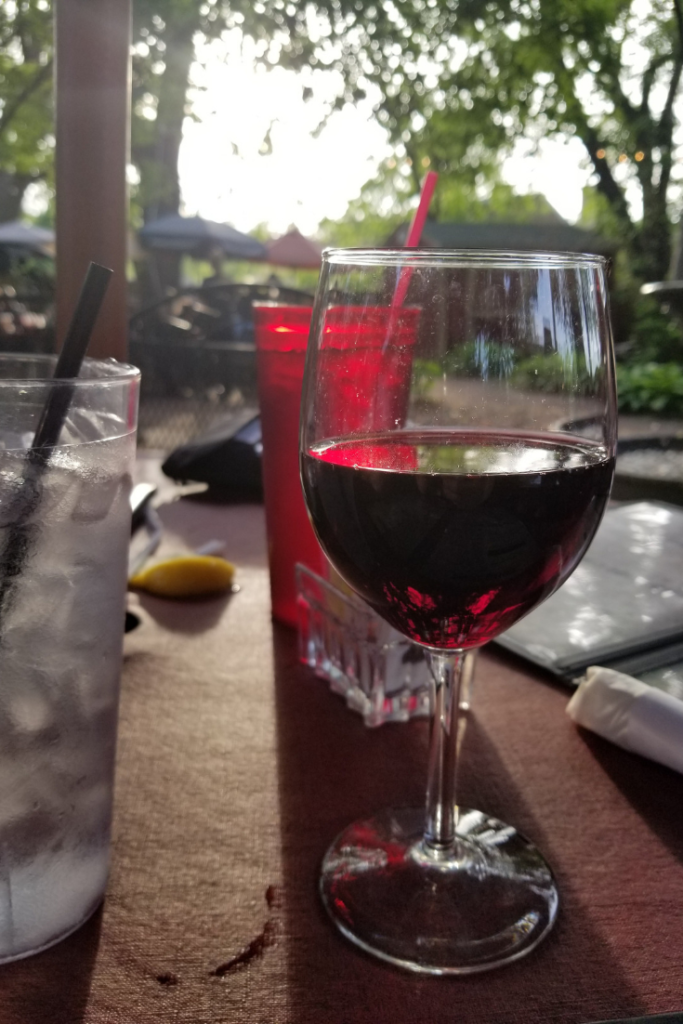 Build Long-Lasting Memories
A sure-fire way to measure the success of your girlfriend getaways is by the amount of joyful memories you have to treasure after.  Kansas City, Bonner Springs and Leavenworth Kansas all certainly gift you with a treasure trove collection!
Kansas Thoughts from Grace:
I really loved visiting Kansas. The three cities we visited were unique. Each had a their own vibe and I love that as I don't experience that often when traveling from city to city within a state.
The people are not only friendly but also helpful and proud of their state. They seem so supportive of their businesses and each other.
I began reading a book while I was there because the state piqued my interest so much about their history. Appetite for America by Stephen Fried. Kansas played a very important part in building and improving North America through tourism involving the railway. I realized that Kansas has a long history of knowing how to treat visitors.
If traveling and learning about historic finds are on your bucket list then the state of Kansas should be on your list of places to visit.
Kansas Thoughts from Barb:
Kansas gave me plenty of heart smiles and I hope to return to this lovely state soon!  There's so much more I'd love to explore, especially as it pertains to agritourism, farm to table foods, and shopping!
Around 88 percent of Kansas is farmland and no matter where you go, community spirit and pride is easy to find.  In all of the areas we visited, even though they are quite populated, there's still a kinship and closeness to the community as you may expect from a charming small town.
It's a laid back atmosphere that makes you feel welcome where ever you go.  I rarely felt like a tourist, but more like an out-of-town friend in for a visit.  Everyone we encountered was eager to share their lovely insights about this beautiful state. I had some of the best conversations I've ever had on a press tour of an area!
Enjoying all the Kansas City, Bonner Springs and Leavenworth areas have to offer with my soul sister Grace was dreamy.  Girlfriend getaways are such an amazing way to enhance your friendship and this area has so much to offer, you'll truly be grateful you added it to your bucket list of destinations.