We hope you enjoyed our insights and steps for strengthening our friendship on a girlfriend getaways journey in Kansas City, Kansas.  As we continued our travels in Bonner Springs, we discover even more ways to connect and enhance our relationship.
Hopefully, you'll find new ideas and inspiration to create your own girlfriend getaway.  Hint: you'll truly be glad you did!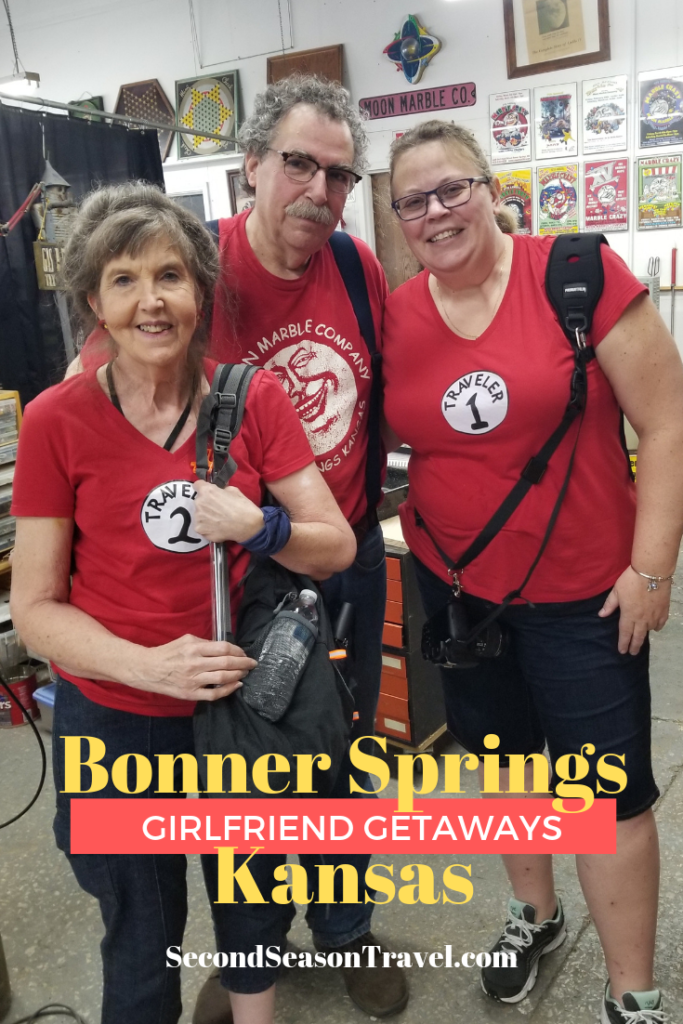 Have a Cup o' Jo
As you may have noted in our bio, we hold a great cup of coffee in high regard!  On a past girlfriend getaway the highlight of our morning was watching the sunrise over the ocean with a cup of java in hand.  While there may not be an ocean in Bonner Springs, you will find spectacular sunrises and a cozy coffee shop to enjoy.
Third Space Coffee prides itself on being a comfortable community hub with quality coffees and it certainly is all that and much more!  This beautiful, bright building is filled with plush seating, cozy corners and open spaces for socializing.  The coffee selection is delightful and the fresh food and pastry options are a perfect complement.   If you want to connect on your girlfriend getaway, this is the ideal spot to relax and chat.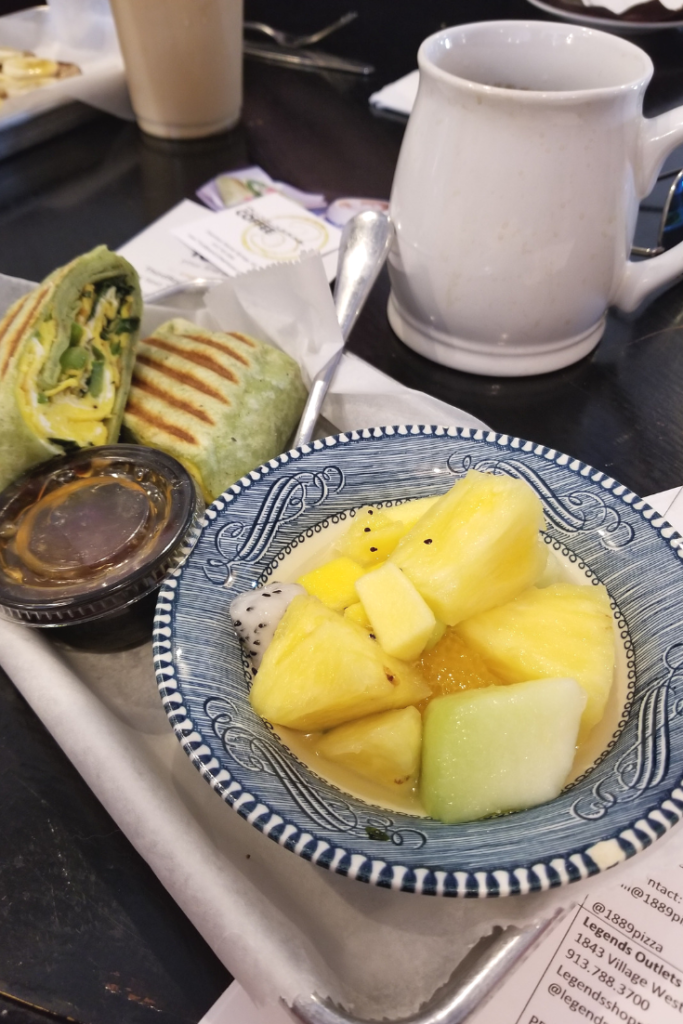 Take a Trip Down Memory Lane
Moon Marble is a highly recommended stop when in Bonner Springs. Not only did we learn about the art of marbles but we were also jetted back to our early childhood.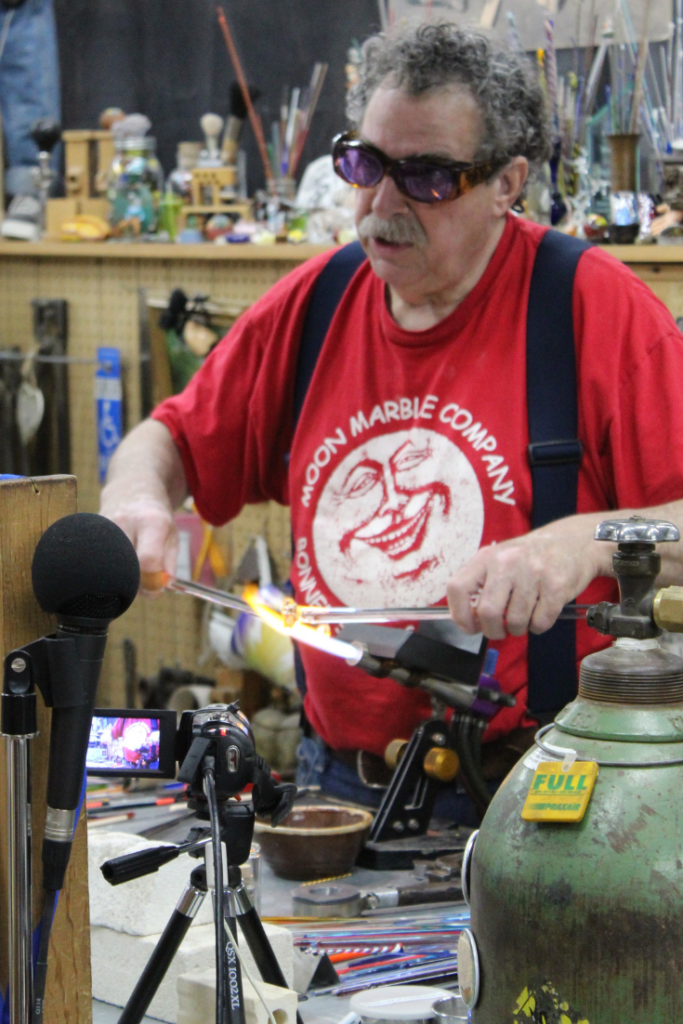 Learning about the fascinating world of marbles
Walking into the store one is immediately surrounded by bulk marbles of every shape, size and color imaginable. We soon found out that not all marbles are machine made but are an art form of their own. The marble demonstration, which is offered daily, is fascinating. Watching a marble take form from a glass cane heated with a torch and artistically swirled with other colors awakens the respect of this art form. Hours of practice goes into this technique and suddenly one realizes that if they had not been a marble fan in the past then they now have the opportunity to be one now.
After the demonstration we wandered through the store with a deeper appreciation of the contemporary handmade marbles available for purchase.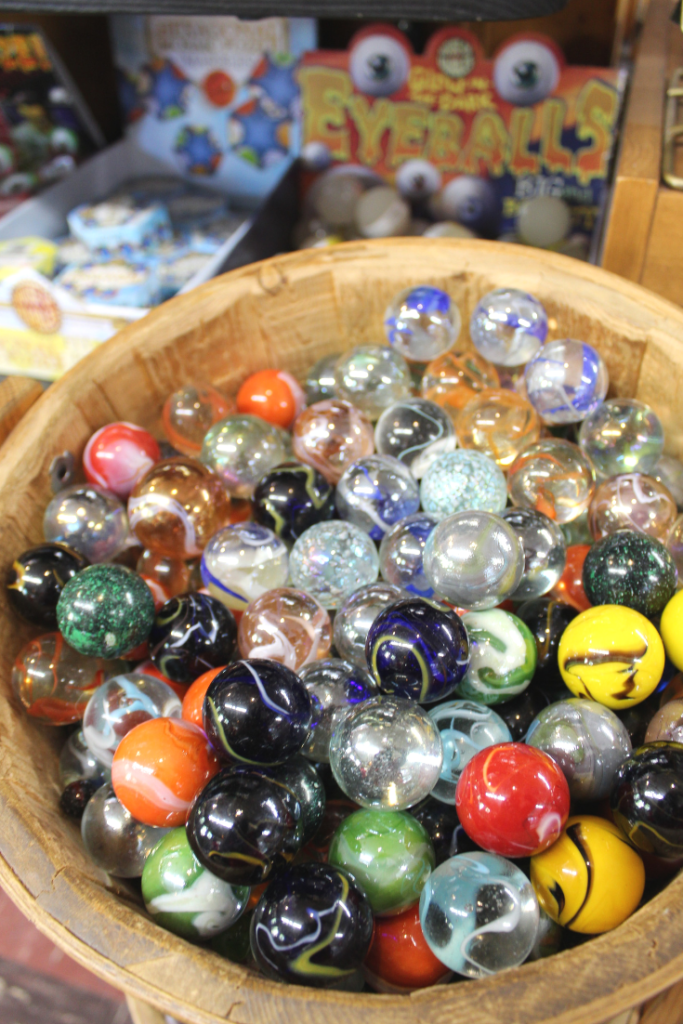 Memories of A By Gone Era
Memory lane awaits for those growing up in the 40's to 60's. Nostalgic games are available here to reminisce about or purchase. There is even an area reserved for past marble players to knuckle down and compete as they did in their childhood.
Last but not least, souvenirs await to be bought reminding visitors of the great time they had at Moon Marble.  Truly, we could have spent all day at Moon Marble admiring the artistry, shopping and reminiscing.  Do add plenty of time in your itinerary for this stop – you may wish to spend the entire day!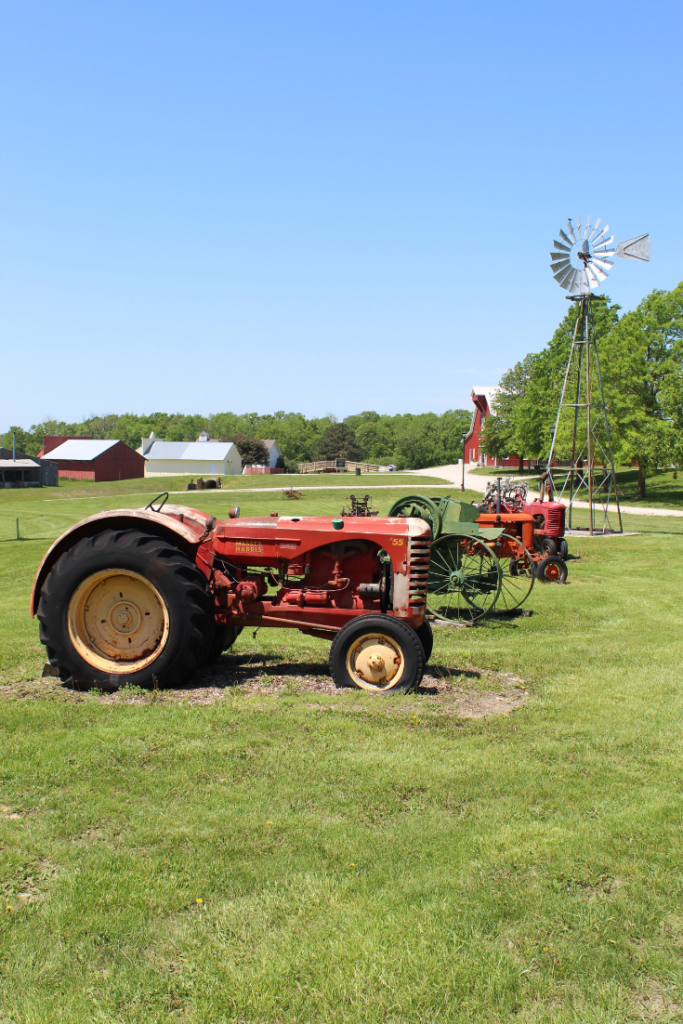 Celebrate Agritourism in Bonner Springs
We both have a deep appreciation for agriculture, which puts Agritourism high on our list of favorite activities.  Kansas is among the top states in the U.S. for agriculture production.  Cattle, hogs, wheat, corn, and soybeans are some of the top products produced each year.
The National Agricultural Center & Hall of Fame celebrates Kansas agriculture with historical exhibits, museum, tours and special community events. They're even equipped to host weddings, if you have visions of beautiful farm backdrops.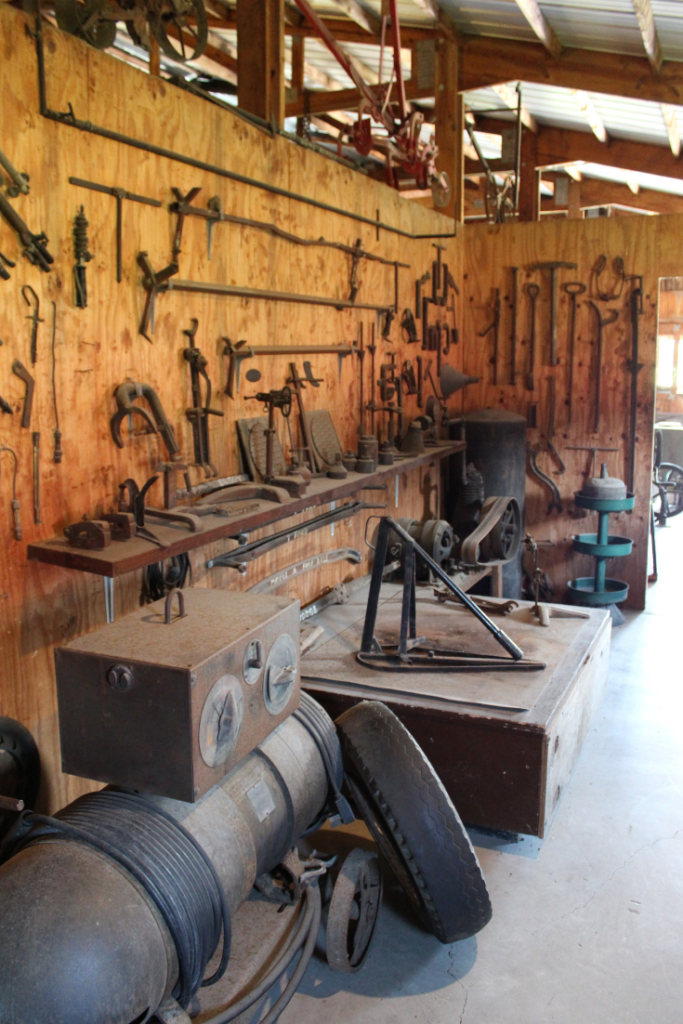 Surprises lay around every corner of this wonderful space.  The grounds are absolutely gorgeous and the historic buildings full of farm artifacts will hold your interest for hours. We also loved seeing the Master Gardeners' garden which aims to help support local pollinators.
Exploring the museum and exhibits gave us a great appreciation for the past and future of farming.  We were delighted to see  a wealth of kid-friendly play areas, activities and a fun train ride available.  This is an excellent stop for your girlfriend getaway but also for family vacationers, too.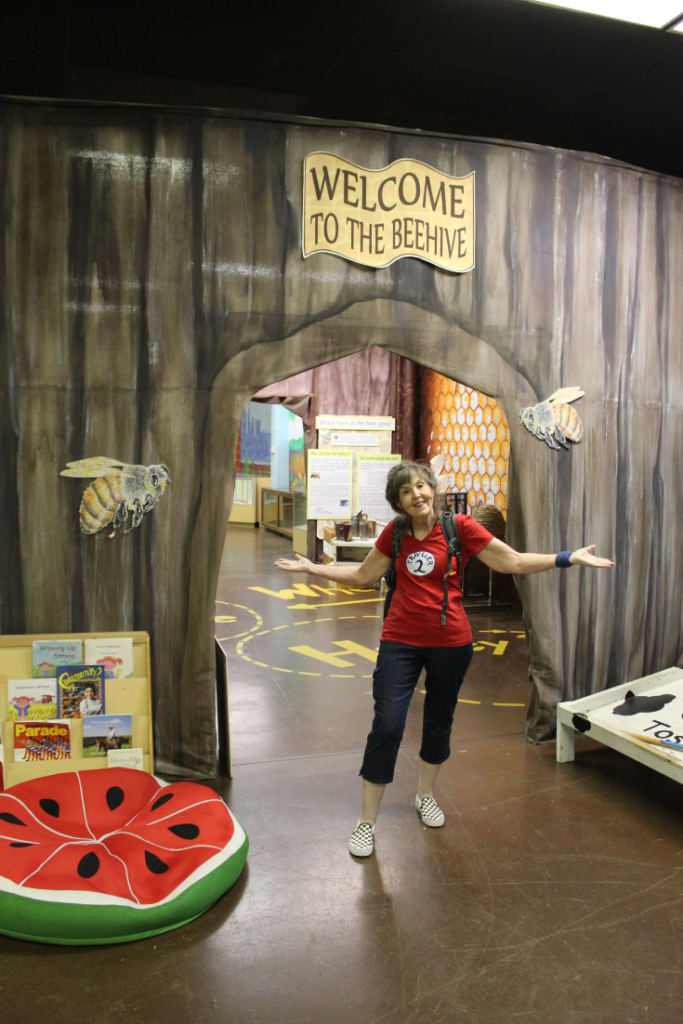 Choose Your Own Path
Sometimes you'll find your girlfriends have a different agenda for traveling than you do.  This is totally reasonable and there's no need to compromise on every activity.  When you plan your trip, simply have everyone list the top activities they'd like to do in the area.  Then set aside a day or time in each day for you each to go off on your own adventure.
In Bonner Springs, there's a variety of activities suitable for every interest.  Many are quite close in proximity, so you can still share a vehicle.  Just set a time for drop offs and pick ups and when you get back together, you can continue sharing new experiences.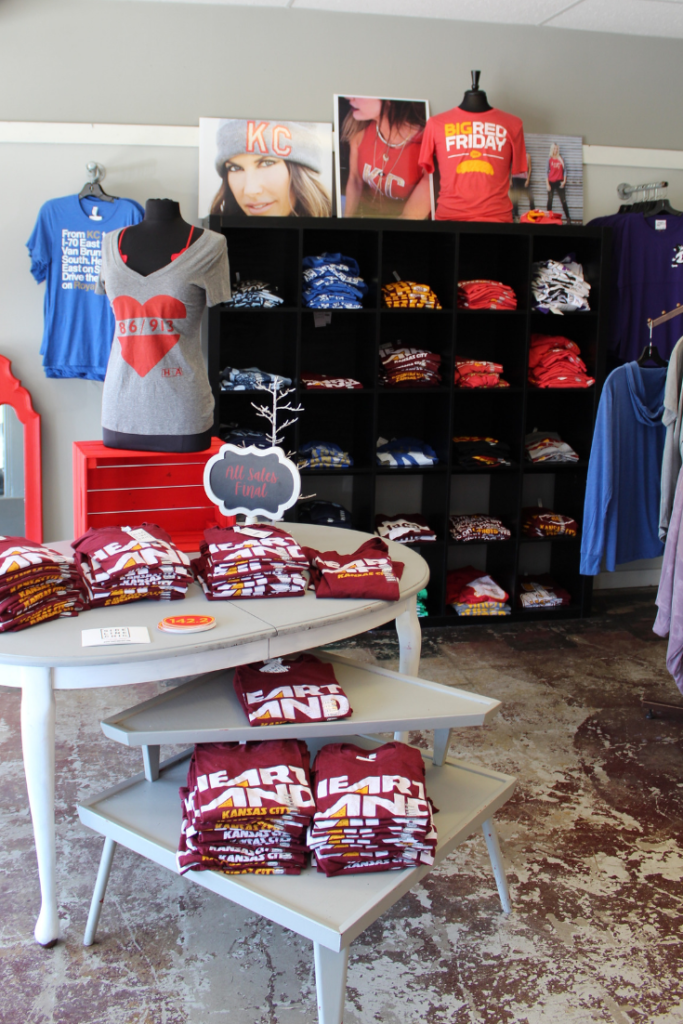 For example, adventure travelers will truly enjoy Zip KC.  Their zip lines go over the bluffs of the Kansas River, stretching over 5,800 feet and reaching speeds of up to 50 miles per hour!  If someone on your trip wants to take on this challenging course, but other don't, they can go hiking or shopping nearby.
From agricultural-focused stores to souvenir shopping to visiting nearby wineries, everyone will find an interest to enjoy.  We found some awesome souvenirs and fashions at Sideline Chic (for incredibly reasonable prices, too!)
Of course, while one person jets off for an adventure, you can always opt to sleep in or read a book poolside at the hotel.  It's healthy to maintain your separate interests while traveling and gives you plenty more to chat about over dinner as you each share your experience.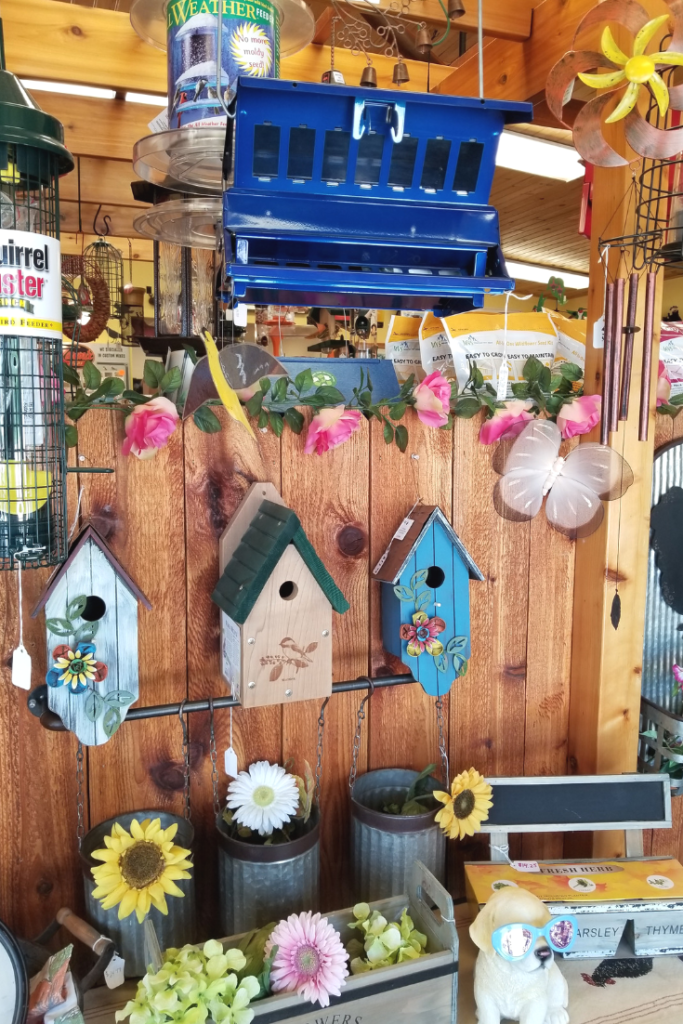 Authentic Mexican Food Awaits Travelers to Bonner Springs
We immediately felt the festive nature of El Potro as we walked in and took a seat. Family owned and operated the meals you experience here are made with pride with quality in mind.
This is a wonderful family restaurant for dining of all ages. With generous portions these meals are filling and ones you will dream about until you return to order them again.
Barb particularly enjoyed the tamales and the shrimp cocktail (which is a must-try!)  Grace had no problem finding vegan options even though routinely most entrees feature meat. There are some meals without meat and the staff obliged with requests of omission of cheese ingredients. Olé!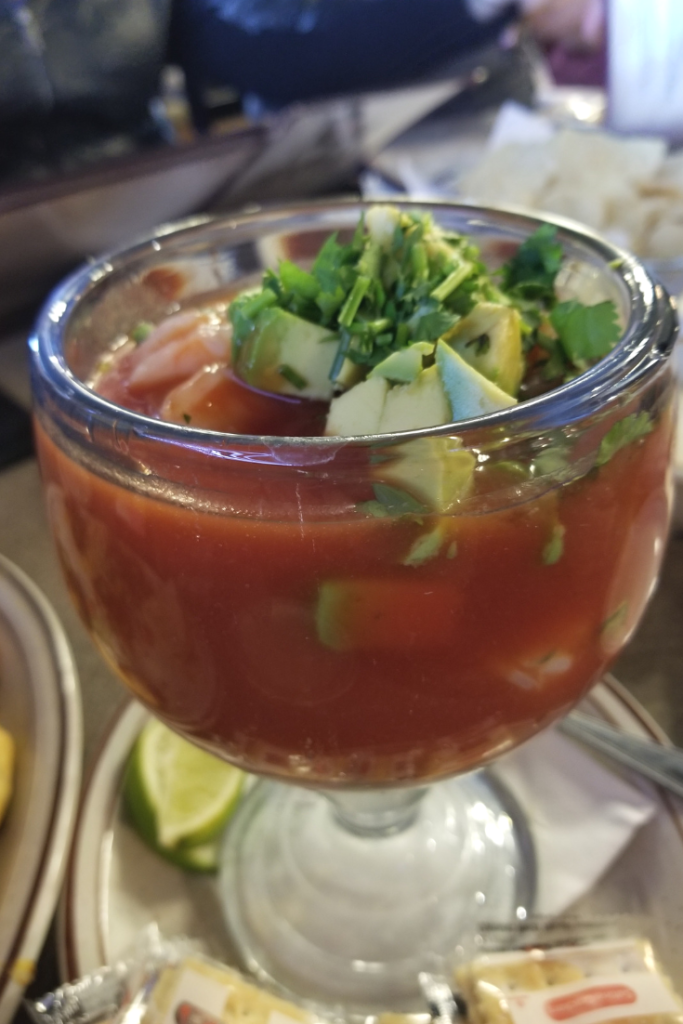 Wind Down with an Affordable Good Night's Sleep
We loved staying at the Super 8 in Bonner Springs. They were remodeling when we arrived and it was fun to experience the transformation. Clean, comfortable, stylish and secure.
Viewing the itinerary before the trip we both were happy to see this motel listed. Due to the fact that most of us want to enjoy our time on vacation, without incurring needless debt, the Second Season Traveling Duo love staying in these type of franchises to guide our the readers to safe, comfortable and affordable lodgings.
We knew this was a place to recommend after staying here.
Guests will enjoy free amenities:
High speed WiFi
HDTV
Hypoallergenic pillows
Iron and ironing board
Large desk
Non smoking rooms
Bathroom amenities with bathtub/shower combination
Hair dryer
Alarm clock
Cribs and rollaway beds available
What to do Next for your Girlfriend Getaways?
Book your trip to Bonner Springs, Kansas, of course! Then, join us for more insights and tips for strengthening your friendship. We'll be uncovering all Leavenworth, Kansas has to offer for your girlfriend getaways adventures soon.