Did you know Bed and Breakfasts were once the only option for travelers in America? Surprisingly, today, many people are misinformed when it comes to Bed and Breakfasts (also commonly known as B&B's).
A businessman in the 1800's would travel to the city and stay at a small B&B. Here he would have a comfortable bed, a warm meal and friendly conversation at the dinner table. Over the years, large chain hotels gained popularity and travelers choose cheaper, amenity filled accommodations.
But Bed and Breakfasts are beginning to gain popularity once again. Vacationers are beginning to see the benefits of staying at these small accommodations, but there are still many of the myths that keep travelers away.
Let's dig in and break some of common myths about Bed and Breakfasts!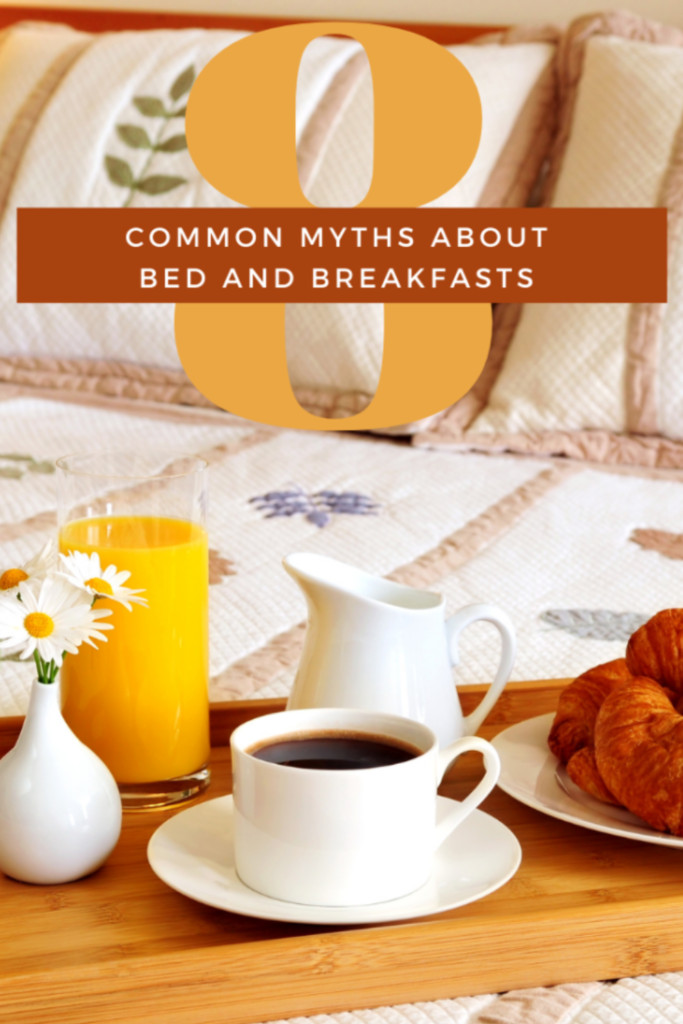 Lack of Privacy
Bed and breakfast owners will not knock on your door at five in the morning. Nor will they intrude with your stay, even in the common areas. Most go out of their way to ensure you privacy. Many offer breakfast in your room and private entrances. In smaller bed and breakfasts it is likely you will not even see the owner upon checking in or during much of your stay.
There may be other guests staying in the B&B with you, but you likely won't see much of them either. You may encounter other guests on the grounds or in common areas, but if you don't wish to chat, most travelers are understanding and many often wish to have their privacy, too.
Old-fashioned furniture and outdated bathroom facilities
Most bed and breakfasts have moved away from using patchwork quilts and personal items to decorate guest rooms. Nearly all rooms are decorated tastefully with modern decor. Some proprietors have even gone as far as decorating each room with magical or European themes. Guests do not go without class when staying at bed and breakfasts.
Of course, you can find B&Bs with a more historic feel, as well, if preferred. Do a little research to learn about the property prior to your stay.
Out of the way locations
One of the most common myths about Bed and Breakfasts is they are only located in small, out of the way towns. The truth is that most vacation spots offer a variety of B&Bs within walking distance to attractions.
You will find plenty of offerings in the country or suburbs, but you'll also find plenty of urban spots.
Price
Bed and breakfasts are not beyond your budget! With the prices increasing everyday at hotels and resorts, everyone can find a comfortable bed and breakfast in their price range. With a little research anyone can find an affordable room.
When we toured Ireland, we found that B&Bs were definitely less expensive and more spacious than hotel rooms. During our stay on the Mississippi Gulf Coast, we also found B&B's to be less expensive and farm more charming.
Mealtimes will be spent at a table with strangers
Not necessarily. Although many find this one of the best things about bed and breakfasts, finding one that will allow you private dining times is not difficult. What could be more enjoyable than having dinner with your loved one in front of a fireplace in a private dining area?
Some even offer farm fresh breakfast in bed options and staggered mealtimes so that guests can dine separately.
Amenities are lacking
It is true that you may have to give up visiting the hotel gym first thing in the morning or swimming in the hotel pool. But amenities in bed and breakfasts are vast. From beautifully landscaped gardens to picturesque ocean or mountain views you will find the trade well worth it.
Many owners are now offering satellite television, wireless internet, cappuccino and cigar bars, and luxurious private Jacuzzi's.
No room service available
If you are looking for tuna salad at midnight, you probably will be out of luck. Bed and breakfast do not offer 24 hour room service but owners are often happy to fulfill your requests.
Would you like a certain type of wine brought to your room? Request it in advance. Would you like to have a romantic picnic with your new spouse? Talk to the owner and plan it the night before. Most proprietors love arranging romantic getaways for you!
Many B&Bs also have a snack station set up with water, tea, coffee and light snacks like cookies. This is generally found in the common area or dining room and available throughout the day and night.
The vacation will be boring
Not true at all! Locals often own B&Bs and are the best ones to ask about attractions or activities nearby. They know their communities and love to share information. Want the best restaurant for local seafood? Your hosts are sure to send you to the best place in town!
Some B&Bs, like Shaker Village in Kentucky, have an entire attraction (or community) built around the B&B. These are fantastic places to have a quiet retreat with entertainment (when desired) just steps away.
Although bed and breakfasts have been overshadowed by the big business name hotels for the past few decades, guests are suddenly wanting and receiving more personalized service at these accommodations. Now that we've debunked the common myths about Bed and Breakfasts, if you are looking for a comfortable, clean, romantic, quiet vacation, look no further than a B&B!