From the very first Guardians of the Galaxy film, my family and I were instant fans! What's there not to love? Quirky characters, excellent actors, fantastic script, creative effects, and amazing accompanying soundtracks.
The newest installment, Guardians of the Galaxy Vol. 3, currently on Digital and arriving on 4K Ultra HD, Blu-ray and DVD on August 1, continues the arc of brilliance we've come to expect!
Thanks to our friends at Disney and Marvel Studios', we had the opportunity to pre-screen the digital release. It's absolutely a wonderful film for a family movie night! Vol. 3 is a bit more character driven than the prior films, rather than galaxy-saving, but it absolutely does not detract from the amazing film-making we've come to expect with this franchise.
It's a fun-filled rollick with plenty of belly-busting and heart-warming moments, interlaced with loads of action. Whether intentional or not in this installment (and I suspect it's intentional on James Gunn's part), it was fun to watch some clever nods to sci-fi films of the past throughout the movie. This film feels both lighter and simultaneously more intense than Volumes 1 and 2. Again, a testament to genius in filmmaking.
Highly recommend scheduling a family movie night asap to enjoy Guardians of the Galaxy Vol. 3! To get you started, we have some clever ideas to enhance your viewing experience:
Guardians of the Galaxy Vol. 3 Family Movie Night
About the Film: In James Gunn's epic conclusion to the Guardians trilogy, Marvel Studios' Guardians of the Galaxy Vol. 3, our beloved band of misfits is looking a bit different these days. Peter Quill (Chris Pratt), still reeling from a terrible loss, must rally his team and embark on a dicey, action-packed mission to defend the universe and protect Rocket. Meanwhile, a new, unpredictable force threatens to bring the Guardians down for good. Guardians of the Galaxy Vol. 3 is written and directed by James Gunn.
Whip Up some Guardians-Inspired Cuisine
Get creative in the kitchen by preparing Guardians-themed dishes. Make "Star-Burgers" or "Gamora's Galactic Green Smoothies." You could even bake Groot-shaped cookies or cupcakes.
Not in the mood to cook? Find fun items at your grocer like rocket-shaped popsicles. Or create a custom snack mix. Check out our Rocket Road Mix, Moonage Munch Mix, and Awesome Mix Vol. 1 article for inspiration!
Make it a Costume Party
Encourage family members to dress up as their favorite Guardians of the Galaxy characters. Host a costume party where everyone can showcase their creativity and have fun together.
Or just have everyone put together and outfit inspired by a character. You could also get everyone Guardians of the Galaxy t-shirts or buy white t-shirts and fabric paints. Have everyone decorate their t-shirts with the Guardians' logos and symbols.
Play Games
Plan a Guardians-themed game night with various space-themed games and challenges. Include activities like a scavenger hunt or trivia games. Host a dance-off inspired by Star-Lord's iconic moves.
For the dance off, compile a playlist of favorite songs from the Guardians of the Galaxy soundtracks. Dance and sing along as a family, and maybe even have a karaoke session with everyone's favorite tunes.
Remember, the most important thing is to have fun and bond as a family while celebrating your favorite Guardians of the Galaxy characters.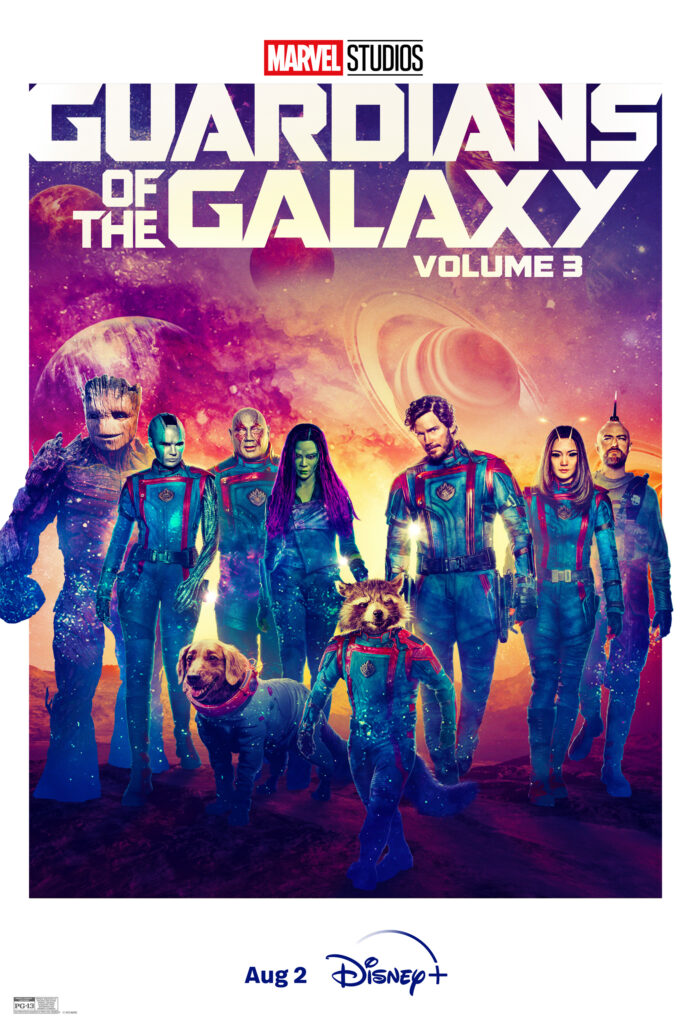 View the Extras!
After the film has ended, everyone always wants to continue the experience. Be sure to check out the bonus features* available with the digital version of Guardians of the Galaxy Vol. 3 including:
FEATURETTES
The Imperfect, Perfect Family – View the evolution of the Guardians through the cast and crew's passion for each other and the entire franchise. Join this tight knit "found family" as they leave behind a legacy and recount their best memories wrapping up this epic trilogy's final film.
Creating Rocket Raccoon – Director James Gunn talks about bringing Rocket to life and how personal the character is to him. Uncover BTS footage, the research and development of the visual effects process, and the inspiration for Rocket through conversations with cast and crew.
DELETED SCENES
A Bit Much – Adam Warlock explains to Ayesha what he plans to do with the Guardians.
A Lending Hand – Peter lends a hand to an injured humanimal on Counter-Earth and shows he means no harm.
Drax's Analogies and Metaphors – Drax gives Peter some interesting life analogies and metaphors.
The Perfect Society – The High Evolutionary reveals his mission to perfect the universe.
The Search for 89P13 – Behemoth brings not-so-good news to The High Evolutionary.
Annoyed Peter – Peter gets annoyed while altering the shield.
A Burning Escape – Peter runs back to grab his music player before escaping a blazing inferno on the Arête.
Knowhere After the Battle – The High Evolutionary is brought back to Knowhere and locked up while Kraglin recruits Adam Warlock.
GAG REEL
Take a look at some of the fun outtakes on set with the cast and crew of Guardians of the Galaxy Vol. 3
DIRECTOR'S COMMENTARY
Watch the film with audio commentary by director James Gunn.
*Bonus features vary by product and retailer