The number one hobby of Rural Mom readers is "home chef", so naturally, we've set out to find yousome great gift ideas for the holiday season. Whether for yourself, a friend, or even just a relative who enjoys making the occasion holiday meal, these are all delightful tools to have in the home kitchen.
Some of these ideas are ones you'd easily think of, but during the holiday season we all get a little brain fog. We find it's nice to have some inspiration and a handy list.
We've also picked out a product or two to go with each area. Some we receive via our marketing partners, others we've found on our own. Regardless, they all have a few things in common. These gifts are fun, inspiring, well designed, and ideal for gifting home chefs.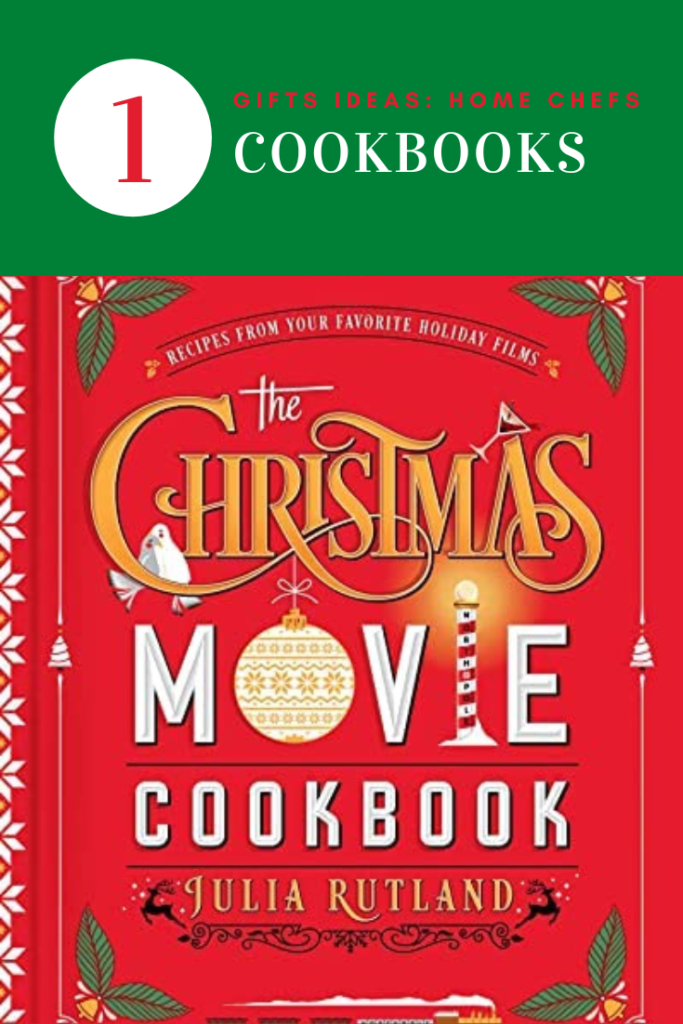 Cookbooks
Most home chefs love to make new and exciting meals. No matter how many cookbooks he or she already has, they want more. There are always new recipes to try.
You can opt for a book focused on their cooking style or try something new. Season titles like "The Christmas Movie Cookbook" by Julia Rutland are always a joy. Who wouldn't want to learn to make Really Rich Hot Chocolate like you'd find on The Polar Express? Or a Christmas Pudding from the favorite holiday classic A Christmas Carol?
Cookbooks from their favorite chef may be ones they already own, so look for top chefs that deal with similar cusines. If your foodie friend has a favorite kitchen gadget like their air fryer, look for cookbooks that have a modern twist on this kitchen staple.
Other avenues to pursue are seeking out cookbooks developed around favorite television shows. Ones that cater to particular interests like "sci-fi" or "wine" are fun finds, too. You can even find titles like "The Unofficial Universal Theme Parks Cookbook" by Ashley Craft. From Minion Apples to to Goose Juice and Krusty Burgers, home chefs bring the best of the theme park to their kitchen.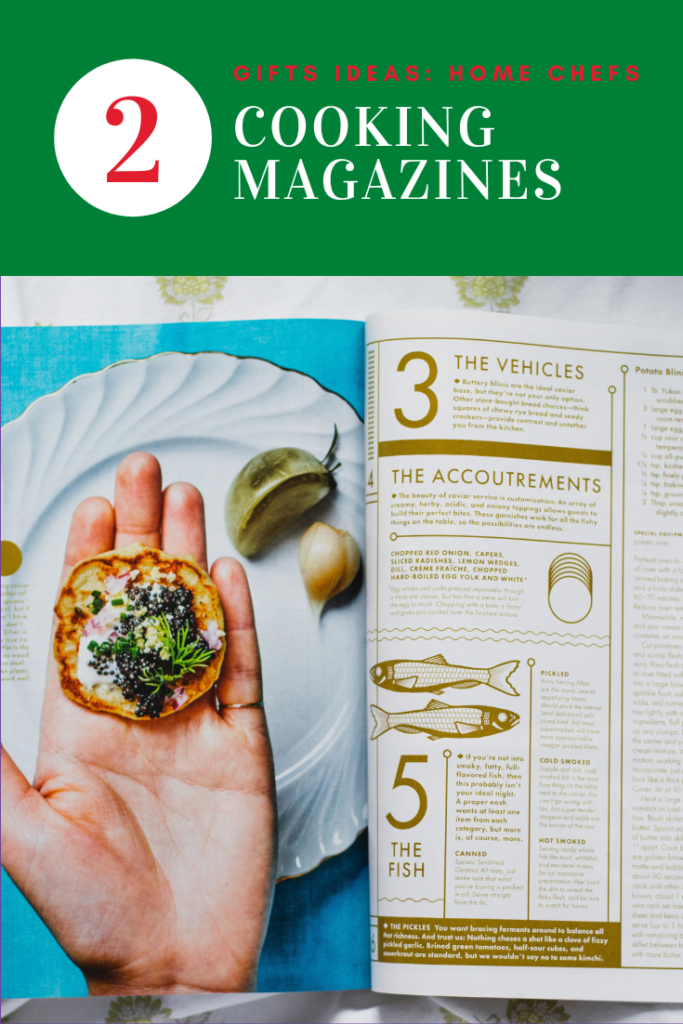 Cooking Magazines
There are a wealth of magazines dedicated to cooking and/or food. Some are related to a specific type of food or cause such as "Vegetarian Times".  Others focus on cooking in general. Magazines like "Food & Wine" also have seasonal editions. You can find special editions for Thanksgiving meals, Christmas cookies and even New Years gatherings.
Magazines make great gifts because they are generally not too expensive. Their slim profile makes them easy to store on bookshelves and the content is generally full of modern trends and ideas. If you purchase a magazine subscription, buy the current edition and attach a personalized note letting your gift recipient know they'll continue to enjoy this gift again and again throughout the next year.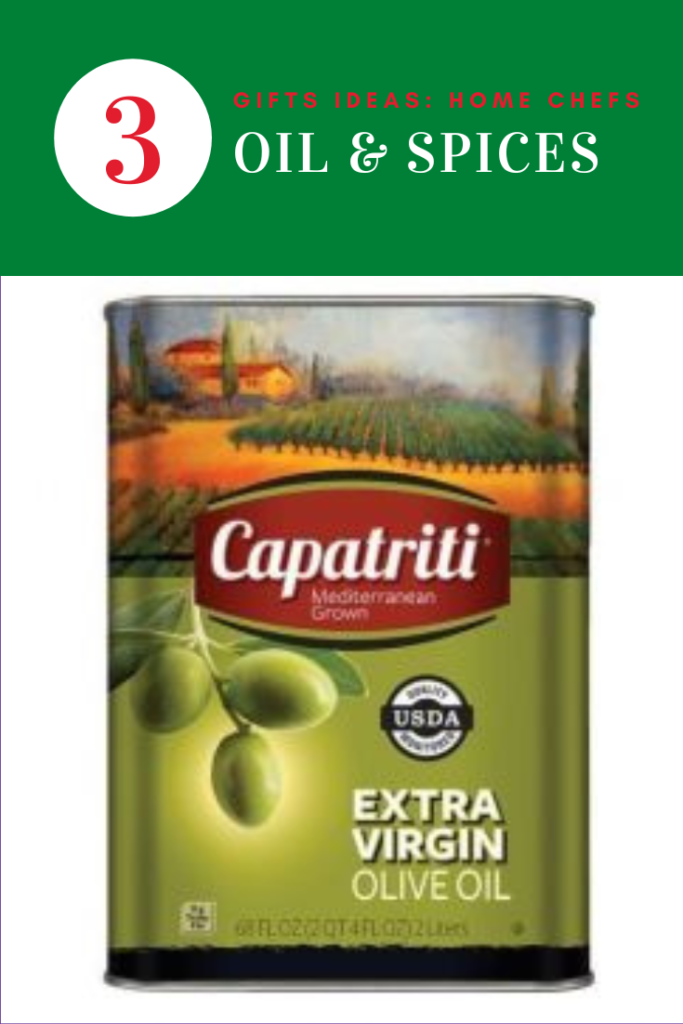 Oil & Spices
Every home chef has their go-to spices, but it's always fun to experiment with new flavors. Look for spice sets that give standard staples clever attributes like Bourbon Barrel Foods bourbon smoked spices.
Alternatively, look for unusual or exotic spices and pick out a variety to gift. You can also select a spice that gives a new spin on their traditional staple. For example, if your home chef friend loves to use thyme, pick up some savory and marjoram for them to play with.
Think outside the spice box, too. As someone recently commented to us, "who doesn't want a 64 ounce can of olive oil for Christmas"? The obvious answer being – everyone wants one! A great premium olive oil like those made by Capatriti elevate every home chef's kitchen.
From finishing dishes to creating marinades or dips, a quality olive oil makes all the difference. Don't believe us? Check out our olive oil tasting notes with tips from the experts.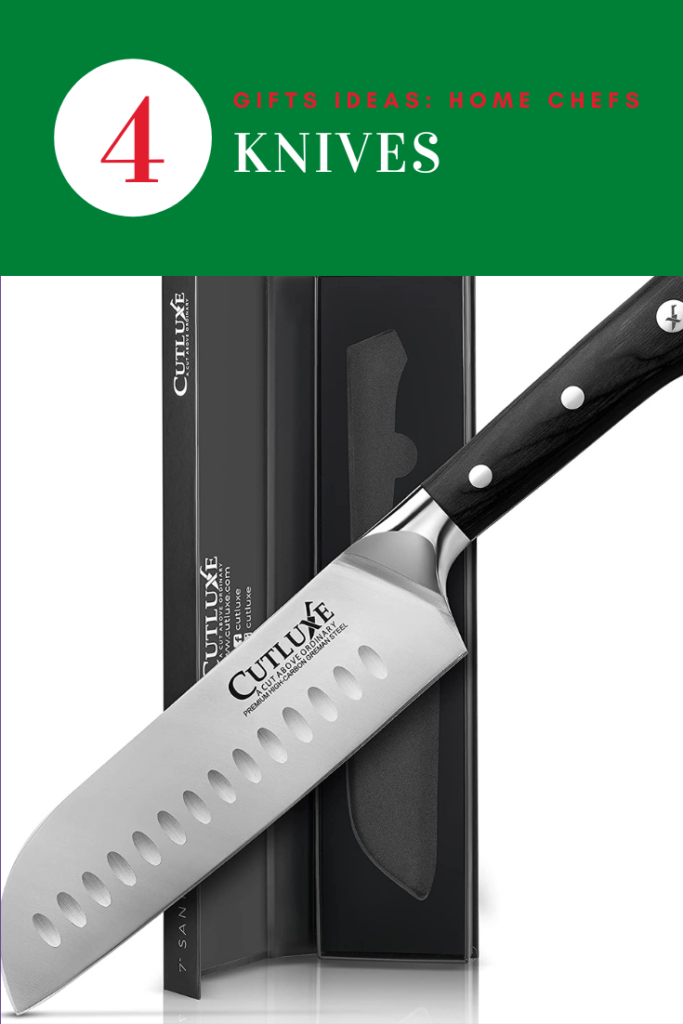 Knives
In my 40 plus years of food prep, cooking and baking, I've learned the sharpness of a knife matters. Whether cutting vegetables or slicing ham for the holidays, you learn to appreciate what a difference a fine-tuned blade makes. The feel and weight of a knife matters too.
Cutluxe kitchen knives are revolutionizing meal prep and make chopping ingredients quicker and easier. Both attributes home chefs will truly appreciate. Thier 7-inc Santoku Chopping Knife is an all-purpose kitchen knife that's ideal for heavy duty work such as chopping, dicing, and mincing.
A holiday or task-specific knife like the Cutluxe 12-inch Slicing Knife is one size most home chefs do not own, but would love to. This knife is designed for slicing and carving meat, fish, and poultry. Featuring a high-carbon, stainless steel blade, it's hand-honed to hold a sharp edge. From daily cooking to gourmet meal preparation, this knife will be the pride of the kitchen and a very well-received gift!
Utility knives, steak knives, and pairing knives are always safe bets, too. Chefs use many of these when prepping and serving, so it's always great to have spares on hand.
If you really want to go all out, check into some of the high-end Damascus steel knives. They are not only well-crafted, they are works of art!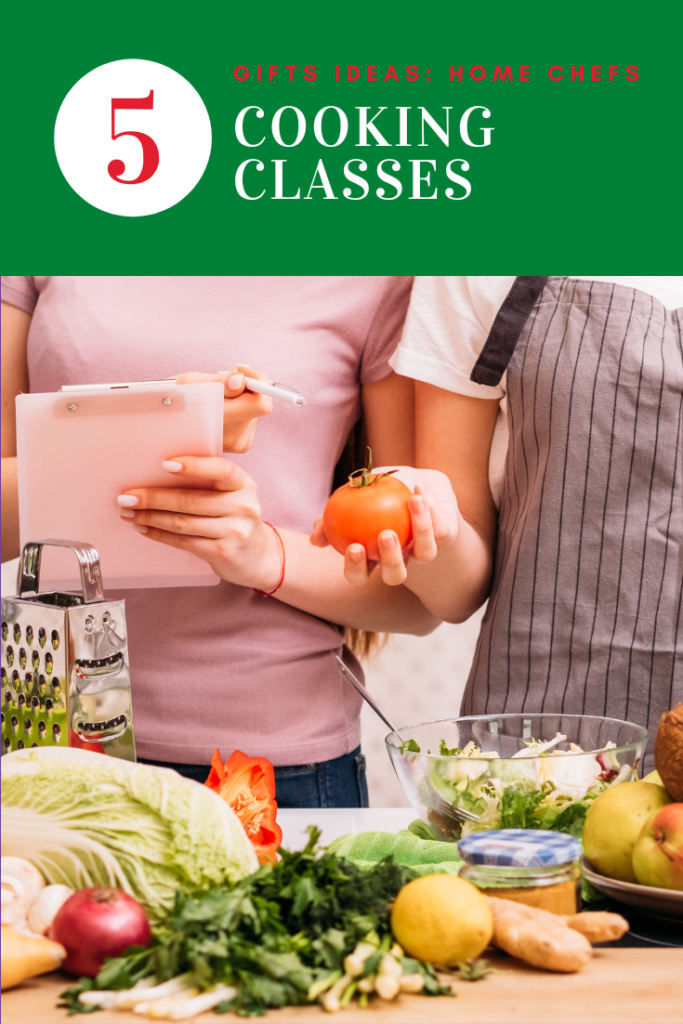 Cooking Classes for Home Chefs
We've yet to meet any home chefs who don't love cooking shows, workshops or classes. Most love to learn new cooking styles or recipes, too. If they are not an expert, or even if they are, they may like to work with different people to hone their skills.
Look for local cooking schools that offer classes and ask they if they have gift certificates you can purchase for the holidays. That way your gift recipient can select their own course. Or you could schedule a class for you both to take together, making it an even more personalized experience.
There are also plenty of online course available for purchase. Sur La Table is well known for their excellence in online classes and their reasonable pricing. Gift cards are available.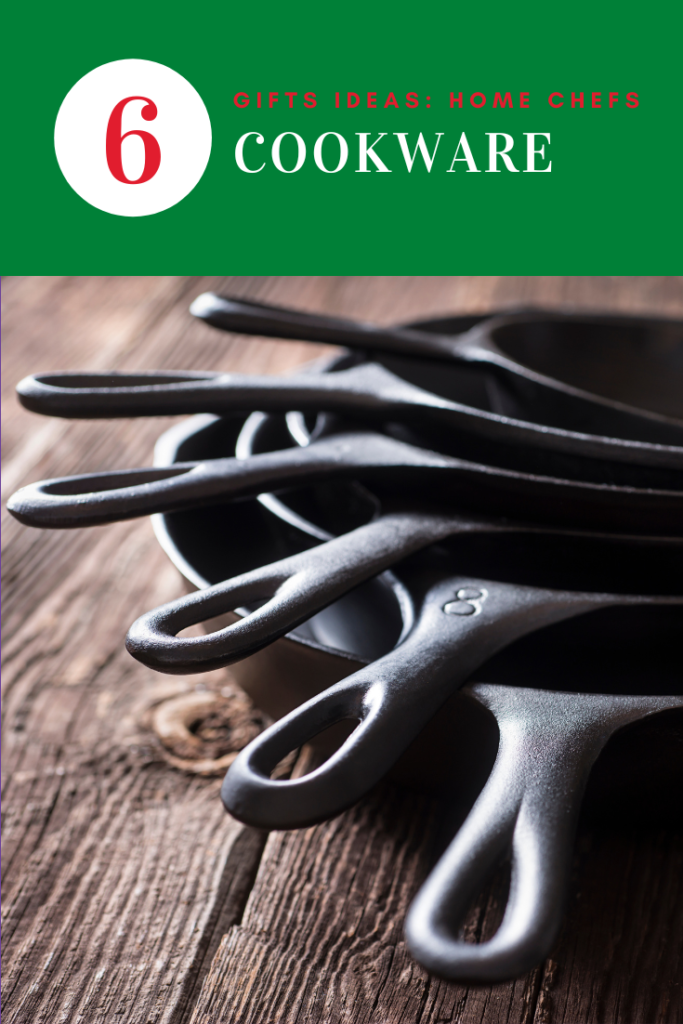 Cookware
Of course there are many different types of cookware that a cook may love. Many cooks are very specific in the type of cookware that they use so make sure that you know about any preferences. Also make sure that you do not get them a duplicate item.
This is the most challenging of all the gift ideas. Rather than risk purchasing an item they already, look for new cookware helpers, like spoon rests that attach to pans or splatter guards. These are always welcome additions to the kitchen.
Search for new innovations they may not even know they need, as well. FinaMill was our top pick for foodies last year and remains among our top most handy kitchen items to own.
You'll find other new trends in cookware like minature blenders and food scales that connect to iPads. Home chefs who love new technologies will appreciate all the latest cookware.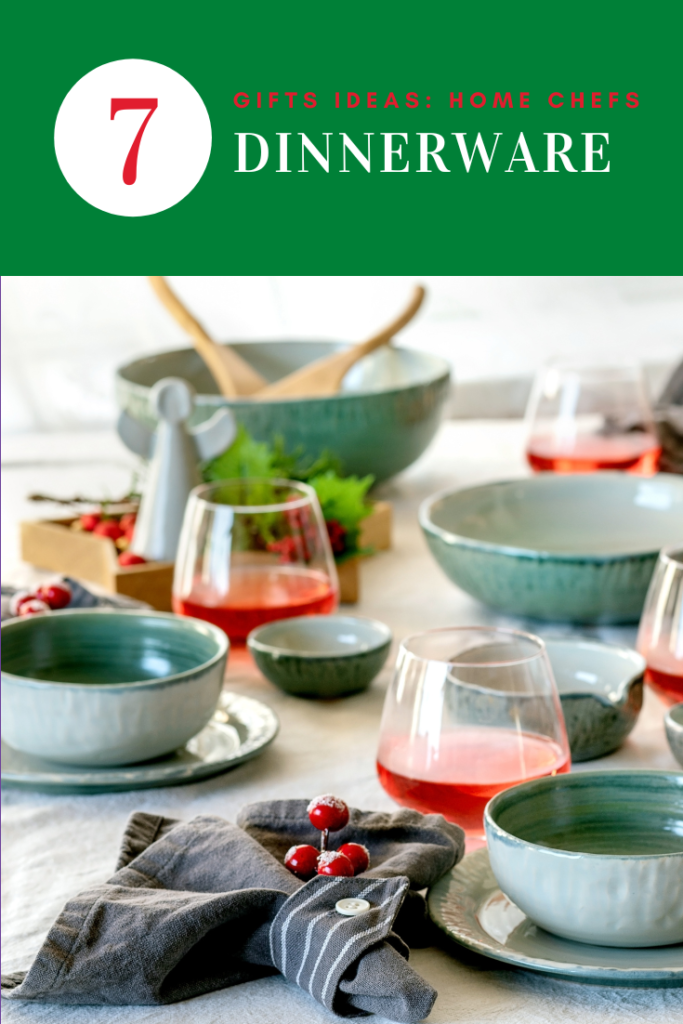 Dinnerware
Last, but certainly not least, home chefs love when tables look as nice as their food. You can get them some quirky, classic, or seasonal plates or dishes.
Serving platters are a great choice. Especially hand-crafted and specialty ones. Bold colors and wood-carved items are in trend at the moment.
Look around your local craft fairs for one-of-a-kind serving trays, fine pottery bowls, and detailed serving platters, too.