Did you know apples are the most discussed fruit in the US, if not the world? Known as the fruit of knowledge, it's also commonly known as the staff of good health – after all, one a day keeps the doctor away. When baked in a pie, it is pure ambrosia!
My grandmother taught me the value of an apple when making an apple pie. Her advice? Simply put – You can have the best spices in an apple pie and a fabulous crust. But an apple pie without the correct apples tastes terrible.
Before looking at the apple varieties that are best for apple pie, learning how to spot quality apples is equally important.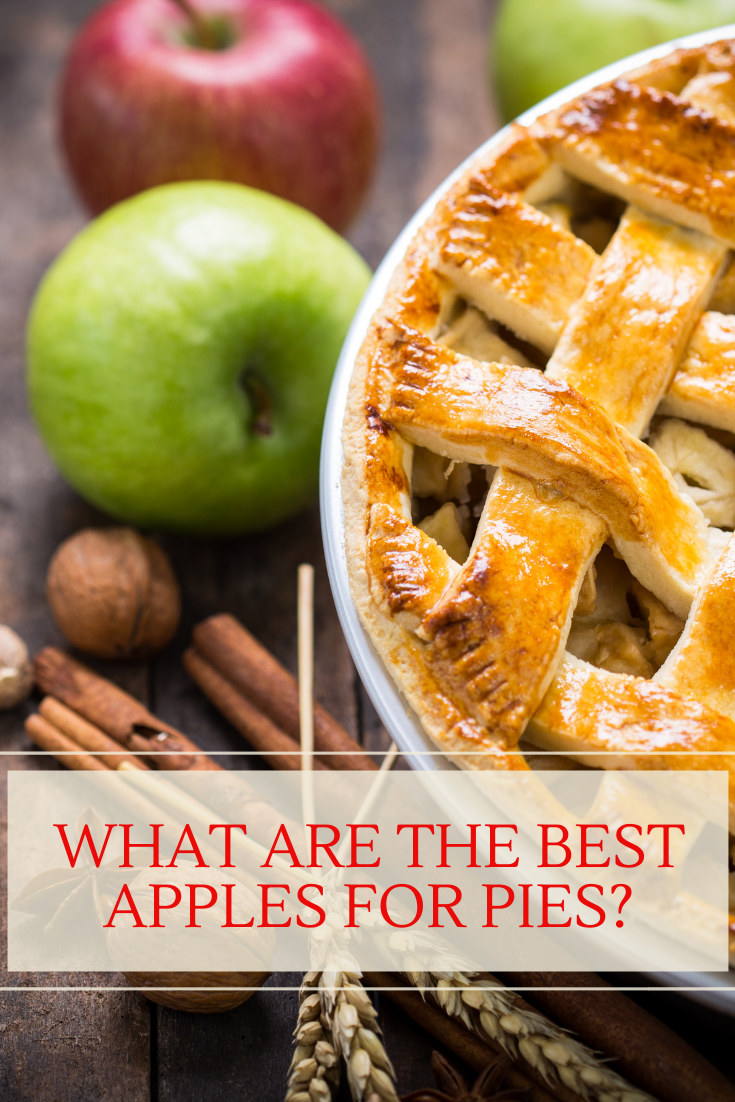 Freshness
If you have access to a farmer's market or an orchard, that is the best place to pick apples. They are at their prime peak.
Those that are in a large city often have to depend on stores. Some smaller stores tend to carry fresh and local produce more frequently than the large grocery chains.
Quick tips for picking fresh apples:
Check that the apple's color is consistent with the variety.
Check for bruises. If there are bruises on the skin, it will be brown on the meat.Look at the stem and note whether or not there is a softness or browning.
The skin should be smooth without blemishes or wrinkles.
Texture
If you are not sure of the type of variety, check the texture. The best apple pies are made with firm apples that maintain their shape when cooked.
Feel the apple and be sure that it is firm. Soft apples are usually sweeter and give a little when squeezed gently.
Taste
Taste is the most subjective taste of all.
Some people like really sweet apple pies. Others like their pies tart. Some people like the combination of the two mixed together.
If you have the chance to visit a farmer's market or apple orchard, head directly to their sample stations to discover with varieties you like best.  If not, pick up an apple in each variety from your local grocery and complete your own taste-test at home.
Best Apples for Pies:
Though you don't have to, it pays to use apples that are grown in your region.  You'll get the freshest varieties and ones that are known to grown well in your area.  When the growing conditions are perfect for the variety of apple, they are at their peak taste.
For ease of knowing what's best in your region of the US, we've broken out the apples into convenient categories.  However, all of these apple varieties are well known across the US as being the best apples for pies.
West Coast
Granny Smith – Tart, hard, crisp – Available year round.  Most bakers swear by this apple for pies, it's one of the most popular.
Gala – Very sweet, delicate, crisp – Available year round. Become mushy when cooked and syrupy sweet. This is included for those of you who like sweet apple pies. Plus it works well with the tart apples as a contrast.
Fuji – Sweet-tart, hard, crisp – An excellent choice if you want to use one type of apple.
Braeburn – Tart-Sweet, hard, crisp. – Another excellent choice for one type of apple – This is listed as tart first because the first taste is tart and aftertaste is sweet.- Available Oct – Jul.
Cripps Pink – Tart-Sweet. Hard, Crisp – Similar in taste as Fuji – Available Nov – Aug.
Cameo – Sweet-tart, Crisp – This is first bite sweet and an aftertaste is tart. – Oct – Aug.
Honeyscrisp – Crisp, juicy, tangy, tangy sweet. – if you are lucky enough to find this apple, use it. You will know what heaven is like. – Available Sep – May.
Jonagold – Sweet-tart, delicate, crisp – Available Sep – Apr.
East Coast
Crispin – Sweet – Available Mid-October.
IdaRed – Sweet-tart – Available Late September.
Northern Spy – Tart – Available Late October – The saying for it is, "Keep your eyes on Northern Spies."
Rome– Sweet – Available Mid October.
Golden Delicious – Mild, sweet, juicy, crisp – Available Sep – June.
Northern Apples
Regent– Sweet – Available Early October.
Haralson – Tart – Available Late September.
Fireside – Sweet – Available Late September.
Southern Apples
Gala – Sweet-tart, crunchy, crisp – This variety, grown in the South, apparently is better for pies than the variety in the West. You be the judge! Available – Late August.
Jonathan – Sweet-tart, round, firm – Sep – Nov.
Rome – Sweet, crisp, firm – Available – Oct – Apr.
York Imperial – Sweet, crisp, firm, hard – Available Mid Oct – Feb.
Nothing is finer than apple pie. When you get the best apples in your region, you will have the best apple pie your guests have ever tasted. After all, apples are the most important ingredient in apple pies!