Do you remember the joy of receiving your first STAR WARS toy?   Thanks to my partnership with Disney, my sons and I had the chance to recapture the joy of our childhood with the exciting opportunity to check out some of the awesome new toys and collectibles for the new film SOLO: A STAR WARS STORY.
From 1977 to now, I've been a bit obsessed about collecting Star Wars memorabilia centered around my three favorite characters in the STAR WARS universe:  Han Solo, Chewbacca and the Millennium Falcon (as iconic as this ship is, it's definitely a character, or at the very least, full of character!)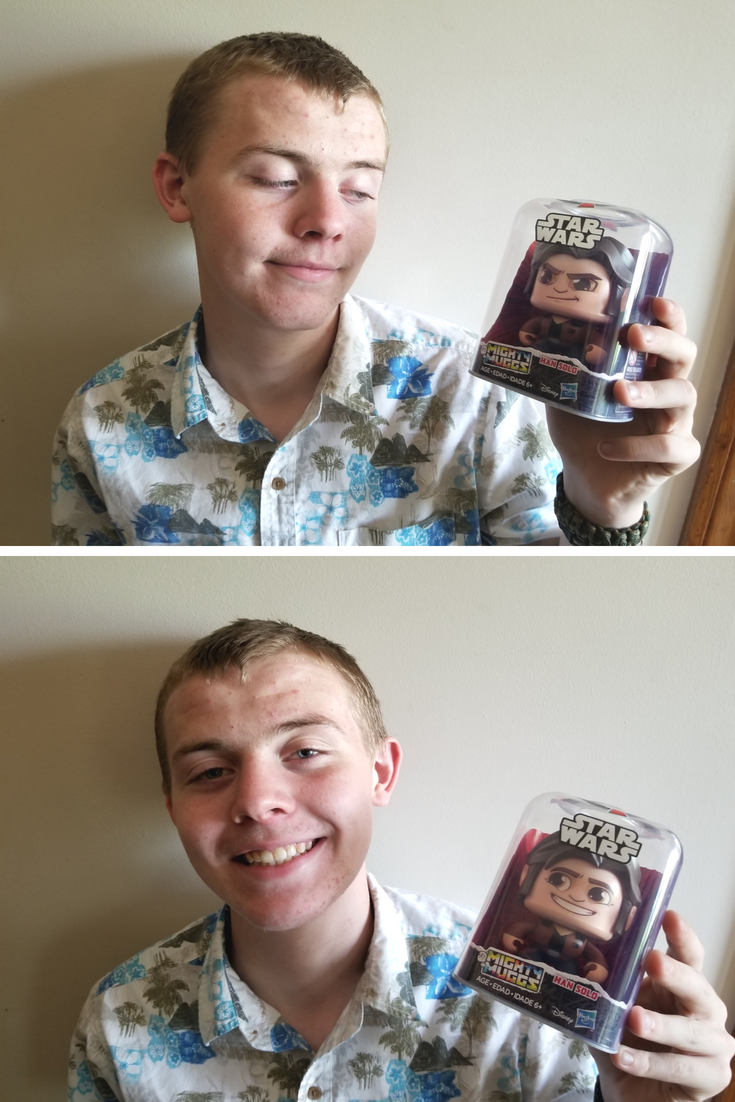 My sons grew up watching the films, playing with some of my childhood STAR WARS toys and began forming collections of their own.
The second I heard about the debut of SOLO: A STAR WARS STORY, I knew I would soon be in a space of "STAR WARS shopping nirvana" with a whole new world of magical memorabilia to explore.
After getting a first look at the merchandise during the SOLO press junket (see video below,) I immediately started making my shopping list.  When my sons saw all the cool new toys coming out, they quickly made theirs, too!
Have you drafted your shopping list yet? Hang on, there's much more to love on the way… it's a very, very good time to be a fan of Wookiees, nerf herders and the fastest ships in the galaxy!
SOLO: A STAR WARS STORY Toys Shopping Guide
There's a whole lot of merchandise available celebrating SOLO: A STAR WARS STORY that it can be a bit daunting to begin shopping.  When in doubt, start with the toys!  We've put together a shopping guide to SOLO: A STAR WARS STORY toys to help you navigate your way through.
Whether you are mom shopping for toys for summer vacation fun or a seasoned collector who wants to enhance your collection with a few new prize pieces, there's definitely something for everyone!  Check out our un-boxing video to get started and then scroll down for highlights of some of the SOLO: A STAR WARS STORY toys top picks.
SOLO: A STAR WARS STORY toys featured in the video:
Solo: A Star Wars Story Figure Play Set – This beautifully rendered six-piece figure play set features characters from the film including Han Solo, Chewbacca, Qi'ra, Lando Calrissian, Enfys Nest, and Range Trooper. (Note: Available only at Disney Store and shopDisney.com)




Funko Pop! – Every one loves Funko Pops for good reason, they are adorable and just plain fun to collect!  All of the main characters from SOLO: A STAR WARS STORY are currently available.




Hot Wheels Solo: A Star Wars Story Battle Rollers – My oldest son is the Hot Wheels collector in our home and he loved the unique scaled down design of the vehicles complete with mini characters behind the wheel.




Star Wars Star Destroyer Slam & Race Launcher – Let's you launch and race your favorite Hot Wheels Battle Rollers. Comes with Han Solo and Moloch Battle Rollers (and is compatible with all Hot Wheels Battle Rollers.)




Hot Wheels Solo: A Star Wars Story Character Cars – In my oldest son's word "it doesn't get any cooler than this!"  SOLO: A STAR WARS STORY characters are reimagined as Hot Wheels cars.




Star Wars: The Black Series 6-inch Figures – Definitely designed with collectors in mind!  These premium 6-inch scale figures have impressive detail. Characters include Han Solo, Chewbacca, and Lando Calrissian.




Star Wars Droid Factory Figures Set – As my youngest son mentioned in the un-boxing video, one of his favorite things to do is build droids when we visit Walt Disney World (there are several stations throughout the parks.)   This set brings you some of the iconic and new figures featured in SOLO: A STAR WARS STORY including R2-F1P, R2-232, R2-S8 and R5-PHT.




Mighty Muggs – Guaranteed to make you grin!  The SOLO: A STAR WARS STORY Mighty Muggs characters have faces that spin around with a click of a button to change their expression. Figures available include Han Solo, Chewbacca, Lando Calrissian, and Qi'ra.




Star Wars 12-inch Figures – Large action figures poised and ready to crash Barbie's Dream-house party and take your play to a galaxy far, far away!  Characters include Imperial Patrol Trooper, Han Solo, Qi'ra and more.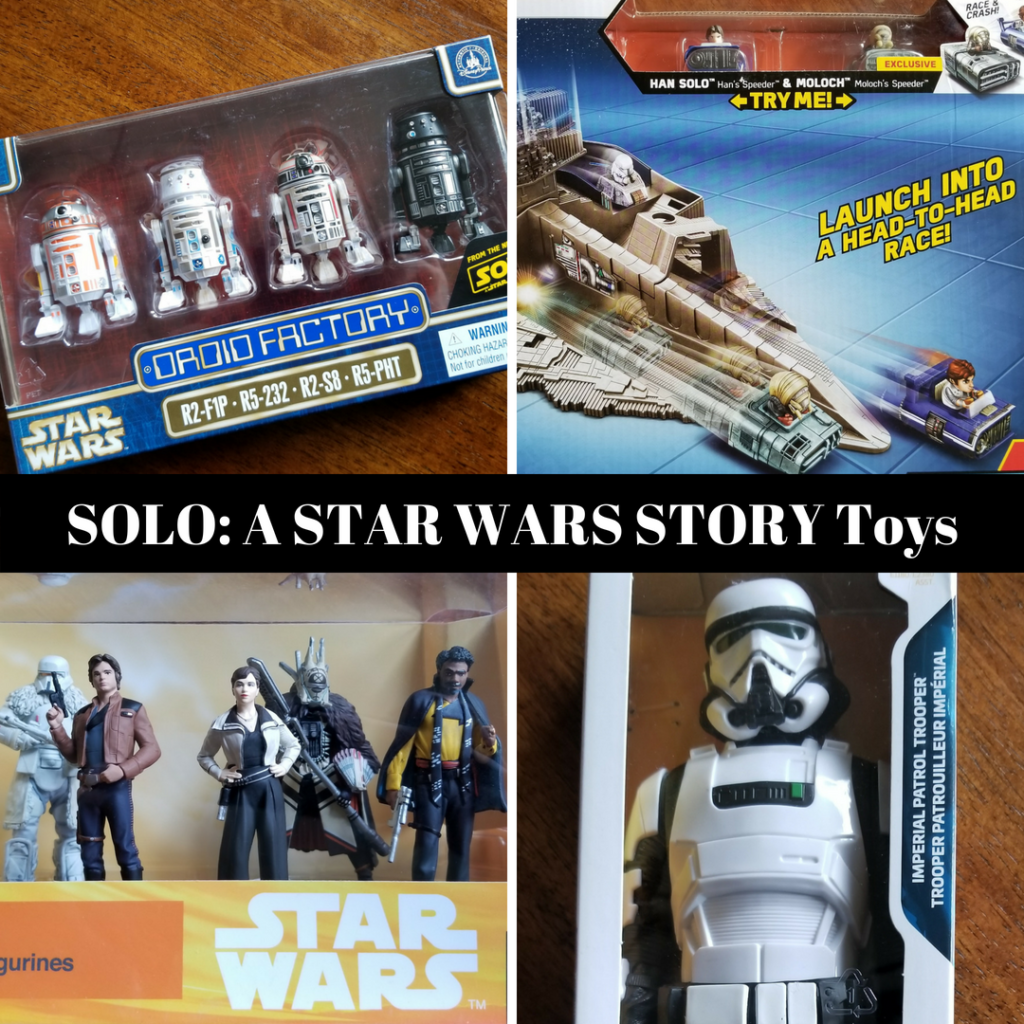 Additional SOLO: A STAR WARS STORY toys you'll likely want to own:
Star Wars Ultimate Co-Pilot Chewie – This 16-inch tall, plush Wookiee is ridiculously cute.  It features over 100 sound and motion combination and responds to external movements and sounds.




Play-Doh Chewbacca Set – You can grown Chewbacca's hair and cut it with BB-8 Scissors. Enough said.




LEGO Star Wars Kessel Run Millennium Falcon – In numerous interviews, Emilia Clarke said she wanted to be a LEGO figure.  In this set, her dream comes true.  Plus, it's a LEGO version of the new Millennium Falcon, what's there not to love?




Star Wars Force Link 2.0 Starter Set – This is the newly designed Force Link wearable technology that allows you to activate movie sound effects and phrases with compatible toys.  Comes with an exclusive Han Solo figure only available with the starter set.




Solo: A Star Wars Story 3.75-inch Kessel Run Millennium Falcon Vehicle – Complete with flashing lights and sounds, it's a fun way to pretend to make the Kessel Run!  Also comes with an exclusive 3.75-inch scale Han Solo figure and removable mini ship which are both Force Link 2.0 enabled.




Star Wars Monopoly: Han Solo Edition Game – Yes, you have a number of Monopoly games already but you don't have a Han Solo edition, so yes, you need one.  Rationalize it however you want to because playing this game is something you'll have a great feeling about!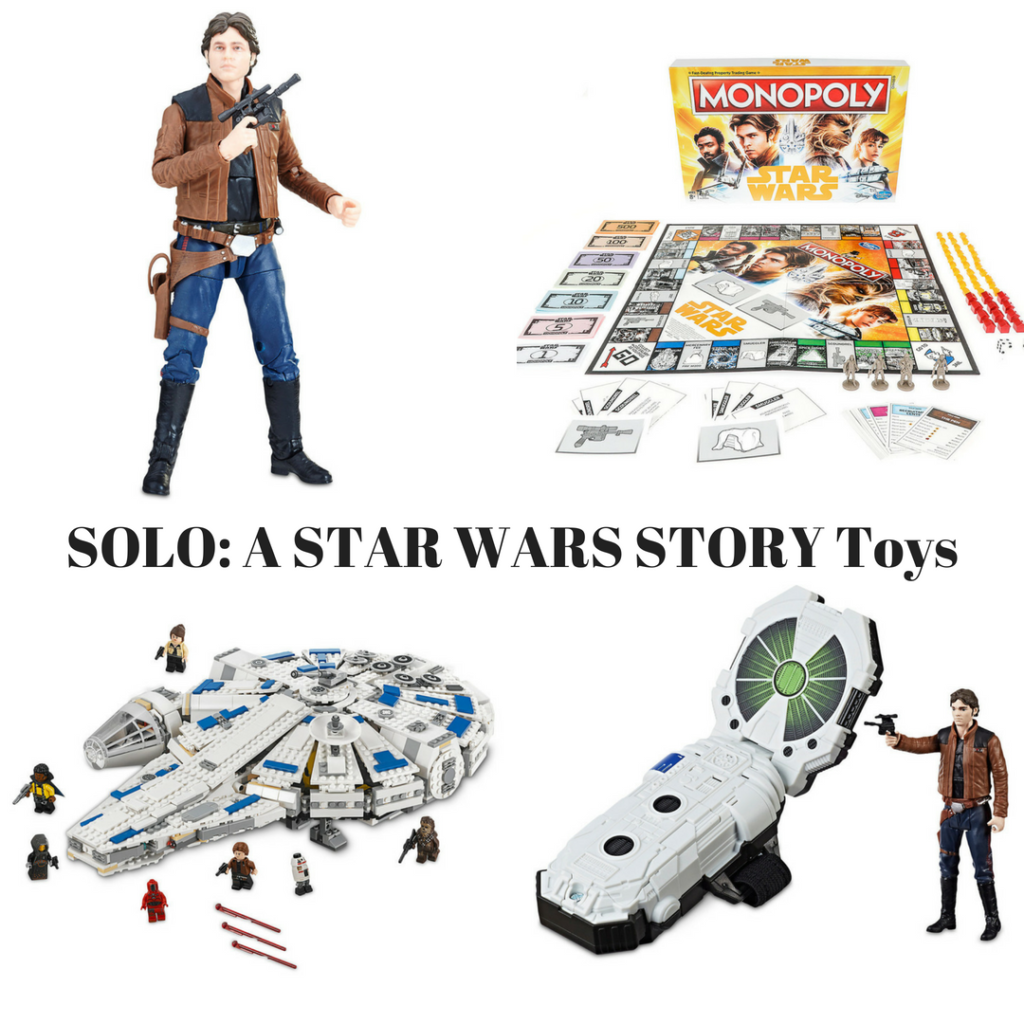 What's on your SOLO: A STAR WARS STORY toys shopping list?  Did we miss one you are looking for?