With a 6'4″ husband and a son who is already 6'5″, I've certainly spent my time feeling a bit on the short side, but standing next to Joonas Suotamo, who stands a a full 7-feet, I got a sense of how the Ewoks must have felt when Chewbacca stepped on the scene!  His performance as Chewbacca in SOLO: A STAR WARS story was excellent, as expected, but he also gave us wonderful new Wookie quirks to love as a younger version of his furry self. Thanks to my partnership with Disney, I had the chance to attend an exclusive interview with Joonas Suotamo right after the world premiere of the film.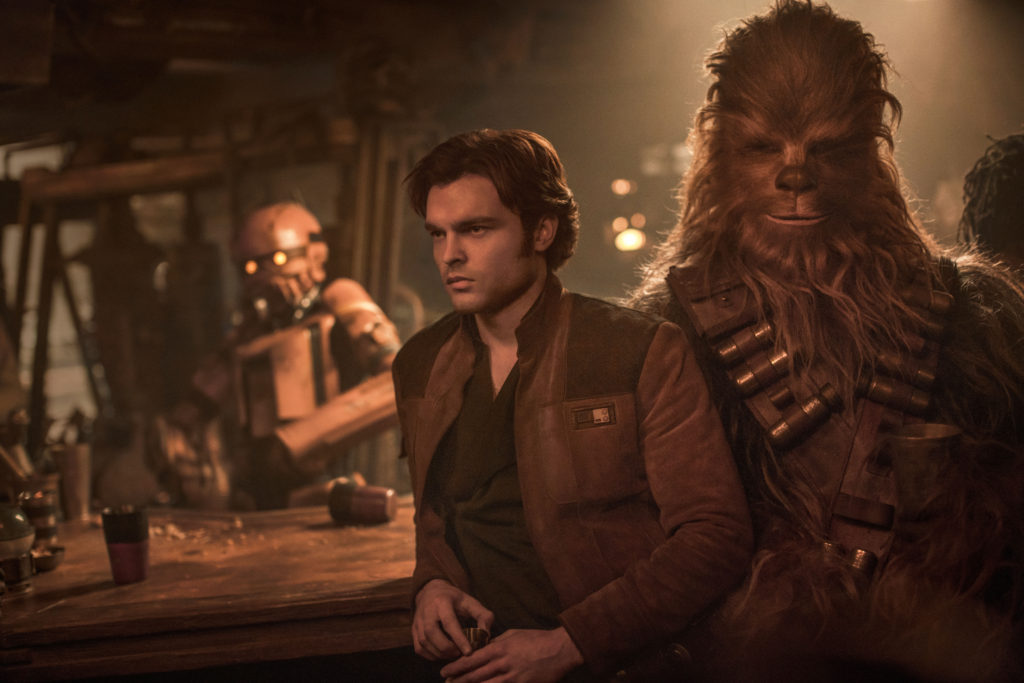 His fellow cast member Alden Ehrenreich (Han Solo) praised Suotamo for performance as Chewbacca.
"He's just the whole package," said Ehrenreich.  "He's seven feet tall with blue eyes. He went to film school, he is hilarious. He's just perfect for the role and I don't think everyone even realizes the amount that he has to do technically. He also has this big heart and exudes that and it's- you really feel it."
Suotamo lavishes the praise right back, saying that Ehrenreich "did such a great job in embracing the character and becoming Han Solo for us."
Ultimately, the relationship between Chewbacca and Han Solo is a bromance.  Ehrenreich shared that part of the development of Han and Chewbacca's camaraderie off screen was both training together for stunts and during their downtown, playing Halo with Suotamo at the hotel.  They also talked about the arc of their friendship in the film and how to ensure the audience would see the beginning and the development of the relationship.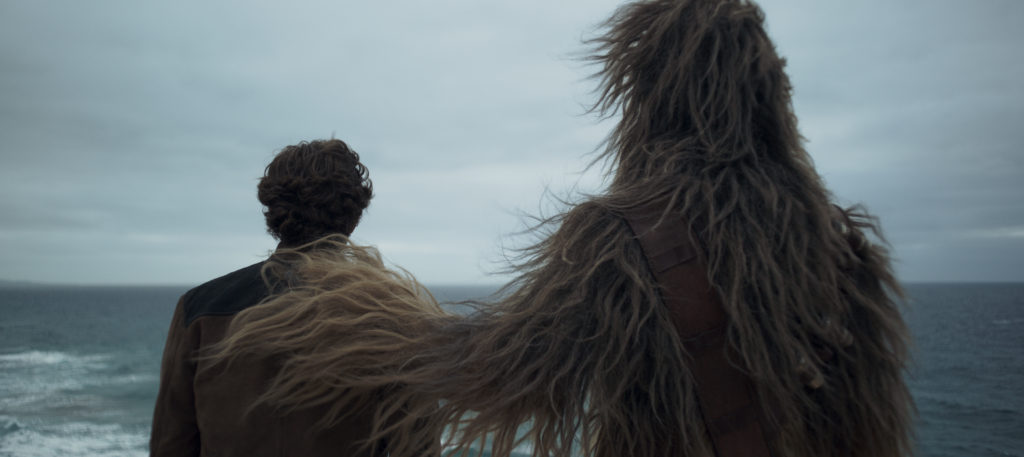 Suotamo is no stranger to the Chewbacca/Han Solo bromance, though, as he previously played the role with Harrison Ford (Han Solo) in STAR WARS: THE FORCE AWAKENS.  He says that when he found out he was going to be working with Harrison Ford, he pushed to learn to speak Chewbacca as quick as possible.
Originally, to train to become Chewbacca, Suotamo consulted with the former Chewbacca actor, Peter Mayhew.  They had a week long session Suotamas refers to as "Wookie Bootcamp," where Mayhew and he watched the original films, studying the way Chewbacca moved.
"I had done some studying up myself previously," said Suotamo. "To hear from the master himself how and why did he do those things helped me tremendously in preparing for this role.  But, I've assured him [Mayhew] that he'll always be the original Chewbacca and there's no on who can take that away from him."
"Because he was played by Peter Mayhew, the legendary, original Chewbacca, I want it to be that the fans going to these films see the same Chewbacca who was in the original films," said Suotamo. "Chewbacca is so loved and I would not want there to be a feeling that Chewbacca somehow feels different this time around."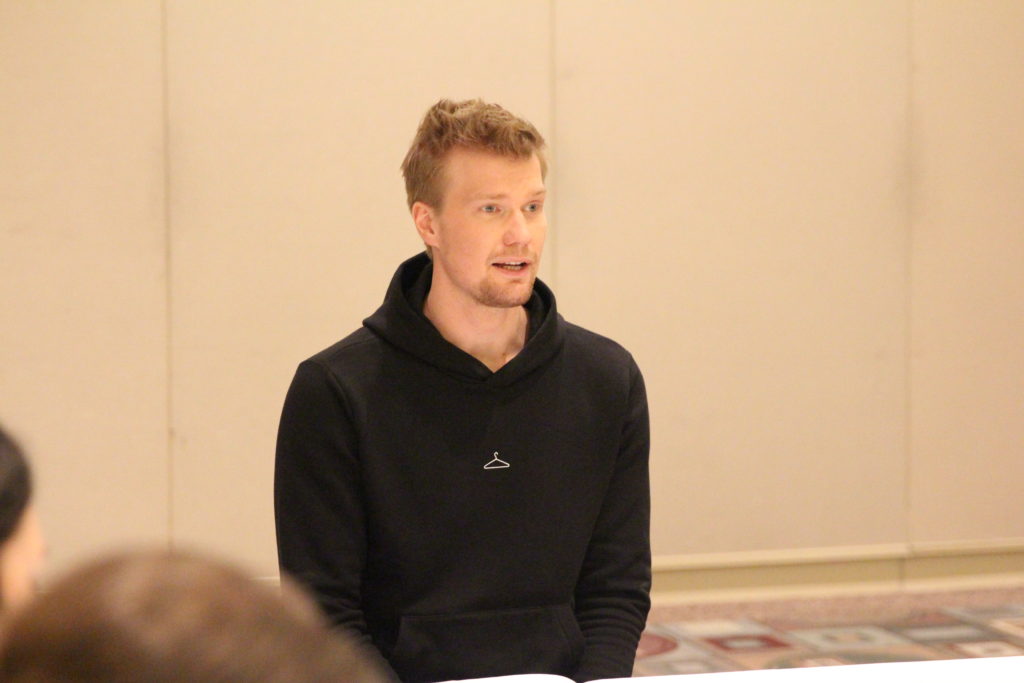 While respecting the legacy of Chewbacca, Suotamo did look forward to portraying the character in a new light in SOLO: A STAR WARS STORY as Chewie is quite younger in this new film.
"I approached it as Chewbacca is very much looking for a way out and going on his own somewhere because he has a family. He has a commitment to his tribe," said Suotamo. "He walks around with worry on his shoulders, because he doesn't know where this road will take him.  This movie also shows what that new life for Chewbacca is going to be and if he will take that. And it was very interesting to do, because he doesn't have any kind of structure in his life at that point."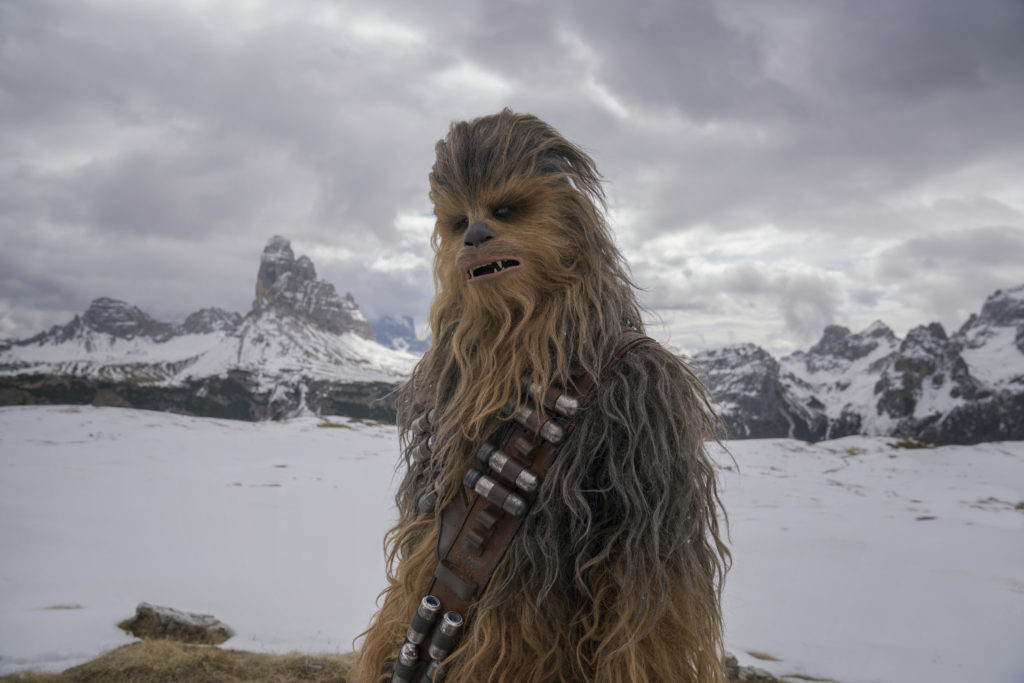 Whether he is playing a younger or older version of Chewbacca, Suotamo faces quite a few challenges wearing the suit.  The whites of his eyes have to be dotted with black makeup every day.  Hairs have to be constantly be removed from the mouthpiece and eye areas.  Overheating and endurance are issues he contends with and Suotamo also has to be careful what movements he makes in the suit and be conscientious of protecting it.
"You gotta constantly be aware of the suit, how it moves and how it looks on camera," said Suotamo.  "That's why I have to go and look at the screens after the takes, making people think that I'm sort of a diva or something [LAUGHS]. It's just really I wanna make it look right.  I trust the directors, but I still want to see and if I could do something myself to improve the next day."
All of the hard work, effort and enthusiasm Suotamo pours into the role is obvious when you watch SOLO: A STAR WARS STORY because it's easy to instantly believe he is Chewbacca, he is incredible true to character and a marvel to watch!  Fans will adore the younger, spunkier and a bit more ragged around the furry edges Chewbacca and certainly fully appreciate the lovely opportunity we get to experience "when Han met Chewie!"
SOLO: A STAR WARS STORY is in theaters May 25