Get ready to rev up the excitement and ignite the adrenaline with a thrilling cinematic experience like no other! Buckle up for a high-octane adventure as we invite you to join us for an unforgettable Fast & Furious movie night featuring the latest installment in the franchise, "FAST X." As the engines roar and the action unfolds, prepare to be transported into a world of daring heists, heart-stopping races, and a bond of family that knows no limits.
With "FAST X," the saga continues, promising a turbocharged evening of entertainment that will leave you on the edge of your seat. So, grab your popcorn, put the pedal to the metal, and immerse yourself in a night of pulse-pounding fun that even Dom Toretto would approve of!
Send Custom Invitations
Let the excitement begin even before you walk through the door with our specially crafted "classified mission" invitations. Designed like top-secret agent files, these invitations provide a sneak peek into the electrifying adventure that awaits you. Adorned with the iconic Fast & Furious logo and brimming with details about the movie night, these invitations will set the tone for a night of epic proportions.
Decorate with Race Car Decor
Step into a world of high-speed glamour as we transform our living room into a dynamic race car pit stop. Checkered flags flutter in the air, and tire tracks crisscross the floor, guiding you towards your seat. Toy cars sit atop the tables, serving as centerpieces that pay homage to the movie's automotive prowess. With makeshift "pit crew" stations, you'll feel like you're right in the heart of the action, ready to support your favorite characters as they race to victory.
Dress up!
Channel your inner street racer as you don leather jackets, bandanas, and sunglasses. Embrace the Fast & Furious spirit by dressing up as your favorite characters or creating your own unique "street racer" style. From Hobbs to Letty, every member of the family can become a part of this thrilling world, adding a touch of authenticity to the evening.
Craft Customized License Plates
Unleash your creativity and customize your own "street racer" license plates. With blank cardboard cutouts shaped like license plates and an array of markers at your disposal, you can design a personalized emblem that showcases your love for speed and adventure. These plates will serve as mementos from the night, a reminder of the bonds you've strengthened and the memories you've created.
Serve up Car-Themed Snacks
Fuel up for the excitement ahead with an array of delectable "fuel-up" snacks. Mini sliders resembling mini burgers satisfy your hunger while keeping you in the street racing spirit. Quench your thirst with "nitrous oxide" (blue) and "engine oil" (black) punch drinks that add a dash of thematic flair to your refreshments. And don't forget the "tire track" brownies that offer a sweet ending to your culinary journey through the Fast & Furious universe.
DIY Drive-In Theater
For a truly immersive experience, venture outdoors and indulge in the nostalgia of a classic drive-in theater. Set up a DIY version in your backyard using a projector and a large white sheet or screen. With blankets and cushions scattered around, you'll be able to enjoy "FAST X" under the stars, relishing the sensation of being part of a larger-than-life spectacle.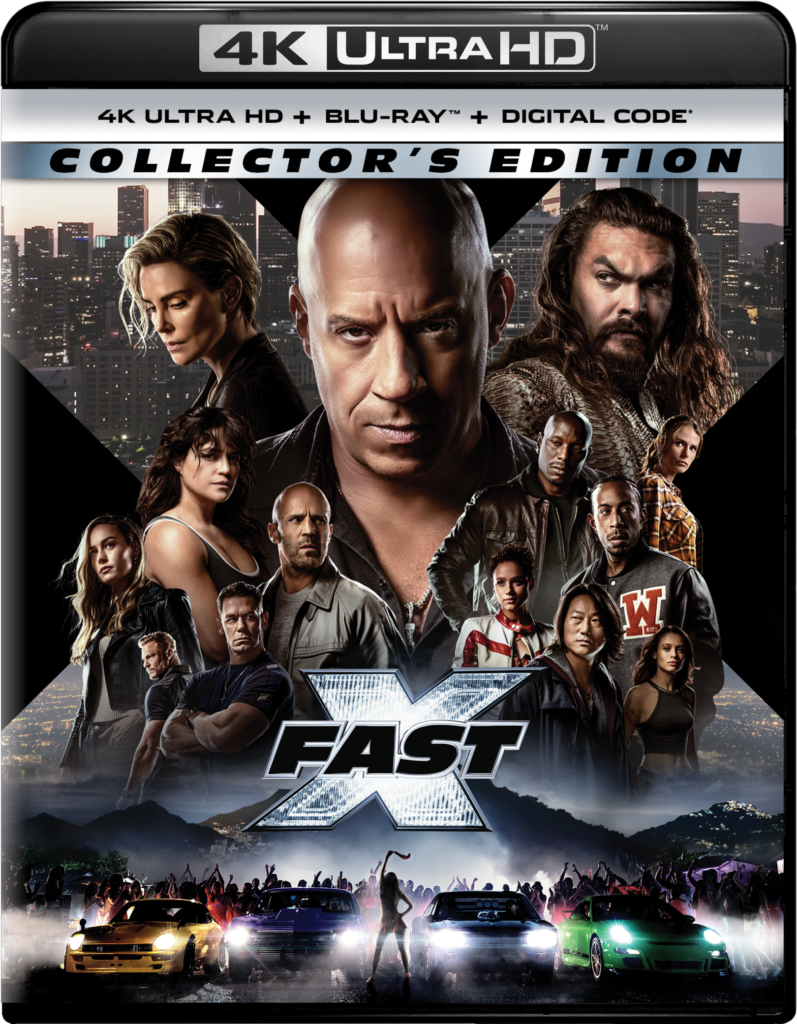 About the Film
Showcasing an all-star cast with full-throttle action and high-octane thrills, FAST X stars Vin Diesel (The Fast and the Furious), Michelle Rodriguez (The Fast and the Furious), Tyrese Gibson (2 Fast 2 Furious), Chris 'Ludacris' Bridges (2 Fast 2 Furious), John Cena (F9: The Fast Saga), Nathalie Emmanuel (Furious 7), Jordana Brewster (The Fast and the Furious), Sung Kang (The Fast and the Furious: Tokyo Drift), Scott Eastwood, Daniela Melchior, Alan Ritchson, with Helen Mirren (The Fate of the Furious), with Brie Larson (Captain Marvel), with Rita Moreno, and Jason Statham (Furious 7), and Jason Momoa (Aquaman) and Charlize Theron (The Fate of the Furious) and a few surprise cameos from the franchise's past.
Ever since their saga started on the streets of L.A.'s underground racing scene, Dom Toretto (Vin Diesel) and his family have overcome impossible odds to outsmart, out-nerve and outdrive every foe. Yet when the team took down a nefarious kingpin back in Brazil, they had no idea his son Dante (Jason Momoa) was watching from the shadows. More lethal than any other enemy they've faced, Dante now rises as a terrifying new nemesis who's fueled by revenge and determined to shatter their family and destroy everything and everyone that Dom loves. From London and Brazil to Antarctica and Rome, new alliances are forged and old enemies resurface. But everything changes after Dom discovers his eight-year-old son is Dante's ultimate target.
Host a Trivia Challenge
Before the engines roar and the action takes over, put your Fast & Furious knowledge to the test with an exciting trivia challenge. Dive deep into the history of the franchise, exploring trivia about the characters, movies, and behind-the-scenes anecdotes. Prizes await the most knowledgeable members of the family, adding an extra layer of competition and camaraderie to the evening.
Use the BONUS FEATURES on 4K, BLU-RAYTM & DIGITAL to help you gain insight into the film and franchise, including:
THIS IS FAMILY – Family bonds are always the strongest. Reunite with your favorite FAST family members as we introduce new characters, travel across continents, reveal intimate views of epic stunts, and get personal about the beginning of the end of the FAST franchise.
FAST BREAKS: SCENE BREAKDOWNS WITH LOUIS LETERRIER* – Director Louis Leterrier gives insight into some of the magic that went into making FAST X, breaking down how he filmed these unforgettable action scenes in legendary locations around the world.
XTREME RIDES OF FAST X – In FAST, we cast cars like we cast characters. Take a closer look at how classic FAST cars were rebuilt for FAST X, and which new vehicles are customized and introduced to enhance the lifeblood of the franchise.
BELLES OF THE BRAWL – The women of FAST X are not to be messed with. Watch as they add their special talents to huge fight scenes, from rehearsal to the real thing.
TUNED INTO RIO – Revisit FAST's past as our story takes us back to Rio de Janeiro, where we'll experience a non-stop party, exotic cars, and a classic FAST quarter mile street race.
JASON MOMOA: CONQUERING ROME* – Jason Momoa joins the FAST franchise to portray a villain that pushes the team to the brink of disaster. Watch as Momoa discusses his approach to the character, biking down the narrow streets of Rome, and performing his own stunts.
LITTLE B TAKES THE WHEEL – Get to know the youngest member of the Toretto family as we dive into Little B's journey in FAST X and introduce Leo Abelo Perry.
A FRIEND IN THE END – The FAST franchise has a history of shocking end-credit tags, and FAST X is no different. We take a special look at this scene and why, if you're watching a FAST movie, you never want to get up before the end credits are finished!
Set up a Car-Themed Photo Booth
Capture the essence of the night with a car-themed photo booth, complete with an array of props that pay homage to the Fast & Furious universe. Slip on racing helmets, grip a steering wheel, or don oversized sunglasses as you strike poses that capture the heart-pounding excitement of the franchise. The photo booth offers a fantastic opportunity to document your night of adventure and create lasting memories.
With each element carefully curated to bring the Fast & Furious universe to life, our movie night featuring "FAST X" promises an unforgettable journey into a world of speed, action, and family. Join us for an evening that combines cinematic magic with immersive experiences, as we celebrate the latest chapter in this legendary saga. So mark your calendars, gather your loved ones, and prepare to be swept away by the adrenaline-fueled spectacle that is "FAST X"!