I don't recall exactly what year in the 70's I discovered the book "Are You There God? It's Me, Margaret." by Judy Blume, but it made me a lifetime fan of the author. This book addressed so many questions and struggles I faced as a young girl with a brilliant mix of quirk and humor. No surprise, I'm thrilled to see this book finally blossom into a film!
"Are You There God? It's Me, Margaret." arrived on Digital June 6, On Demand June 27, and will be on Blu-ray™ + DVD + Digital Combo and DVD July 11. Thanks to Lionsgate, I received a review copy of the film and am truly delighted to experience this long-awaited movie adaptation!
It's fantastic to rediscover all the things that I first found fascinating as a young girl in my adulthood -the honest approach to adolescence, the humor, and the unapologetic willingness to address timeless taboos. Menstruation, body image, friendships, religious identity – all the things we crave guidance and answers for, but no one truly seems willing or ready to discuss.
The all-star cast of Abby Ryder Fortson (Ant-Man and the Wasp, Forever My Girl),Rachel McAdams (The Notebook, Mean Girls), Benny Safdie (Licorice Pizza, Good Time), and Kathy Bates (TV's "American Horror Story," Misery) bring the story to life in a magical way, breathing life and relatability into their characters. The film delivers a modern voice and sense of validation for young girls grappling with the changes and uncertainties of adolescence.
Bravo to Lionsgate for delivering a wonderful, quality film that stays true to its author and origins.
This is a film I truly enjoyed watching and one I'm excited to share with my granddaughter. Have no doubt, she's going to relate and will love this film, too!
Are You There God? It's Me Margaret. Follow-Up Activities
After watching "Are You There God? It's Me, Margaret" with your preteen or teen, here are some activities you can do together to further explore the themes and engage in meaningful discussions.
Talk About It: Have open and honest discussions about the themes and how they relate to your own experiences. Encourage your teen to share their thoughts, questions, and insights. Discuss topics such as puberty, self-discovery, friendships, and personal beliefs.
Journal: Encourage your child to keep a journal where they can reflect on their own experiences and thoughts after watching the film. They can write about their feelings, challenges, and the changes they are going through. This can serve as a private space for self-expression and exploration.
Research: Together, explore topics addressed in the movie, such as puberty, menstruation, and religious identity. Encourage your teen to conduct research and learn more about these subjects. Discuss their findings and encourage them to ask further questions or seek guidance if needed.
Creative Expression: Engage in creative activities inspired by the film. Your child can write their own short stories, poems, or even songs that explore similar themes. They can create artwork or collages that depict their interpretations or feelings after reading the book.
Volunteer or Advocacy Work: Encourage your teen to take action based on the movie messages. They can get involved in volunteer work or advocacy efforts related to issues such as promoting body positivity, supporting girls' education, or engaging in community outreach programs.
Remember, the goal of these activities is to foster meaningful conversations, encourage self-reflection, and provide support to your teen as they navigate the challenges of adolescence. Allow them to express their thoughts and emotions in a safe and non-judgmental environment.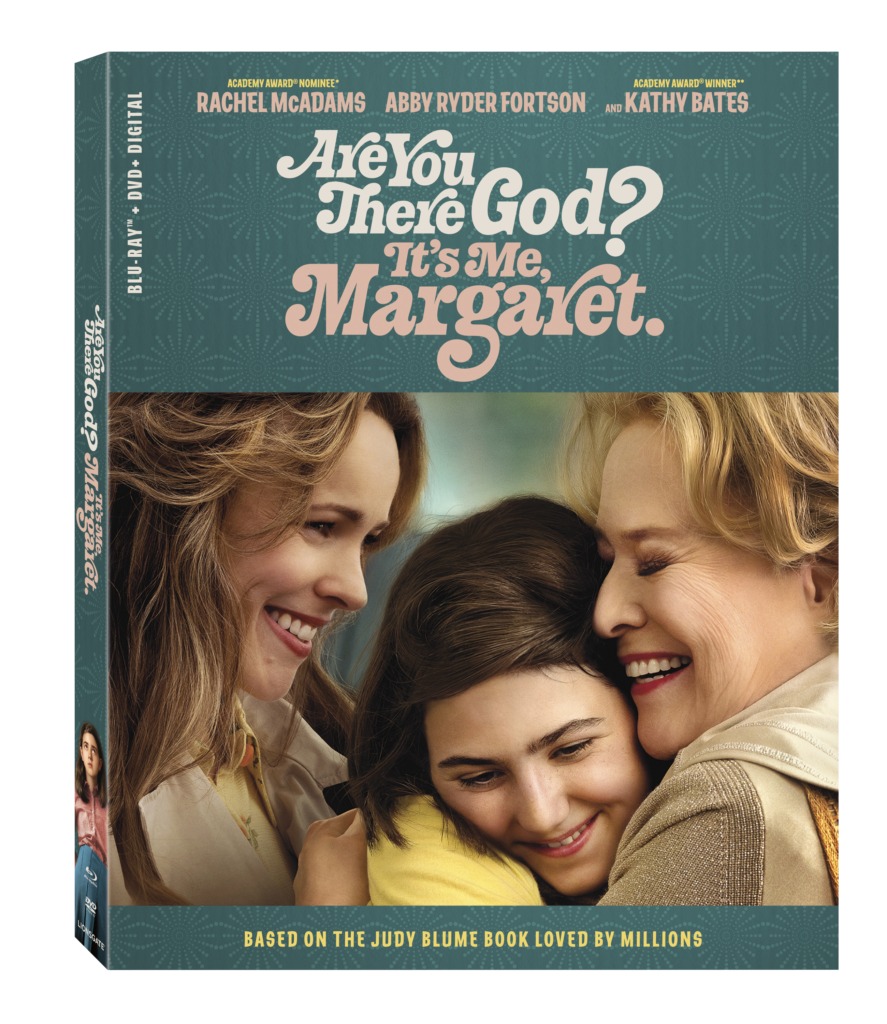 In this long-awaited movie adaption of Judy Blume's classic, groundbreaking novel, eleven-year-old Margaret (Abby Ryder Fortson) is uprooted from her life in New York City to the suburbs of New Jersey, going through the messy and tumultuous throes of puberty with new friends in a new school. She relies on her mother, Barbara (Rachel McAdams), who is also struggling to adjust to life outside the big city, and her adoring grandmother, Sylvia (Kathy Bates). A timeless coming-of-age story, Are You There God? It's Me, Margaret sparkles with insightful humor while candidly exploring life's biggest questions.
BLU-RAY/DVD SPECIAL FEATURES:
Finally That Time: Making Margaret
Are You There Margaret? It's Me, Judy.
The Secret Crew Club: Margaret and Friends
Bringing the Period to Life: Designing Margaret
Deleted Scenes
Roundtable Discussion
Theatrical Trailer