Deck the halls, it's time for the winter holidays! Is your home holiday ready? From Christmastime to Valentine's Day, it doesn't take much to invite a little holiday cheer into your home. As the family room and dining room are typically focal points for you and your guests, it's the perfect place to invoke the holiday spirit.
Thanks to our ambassador partnership with Scott's Liquid Gold we have a few tips and tricks to get you started! As a Scott's Liquid Gold Brand Ambassador, I receive products and incentives to share my thoughts and ideas, but as always, any product I represent on Rural Mom is one that I personally use and love, love, and am glad to share and recommend!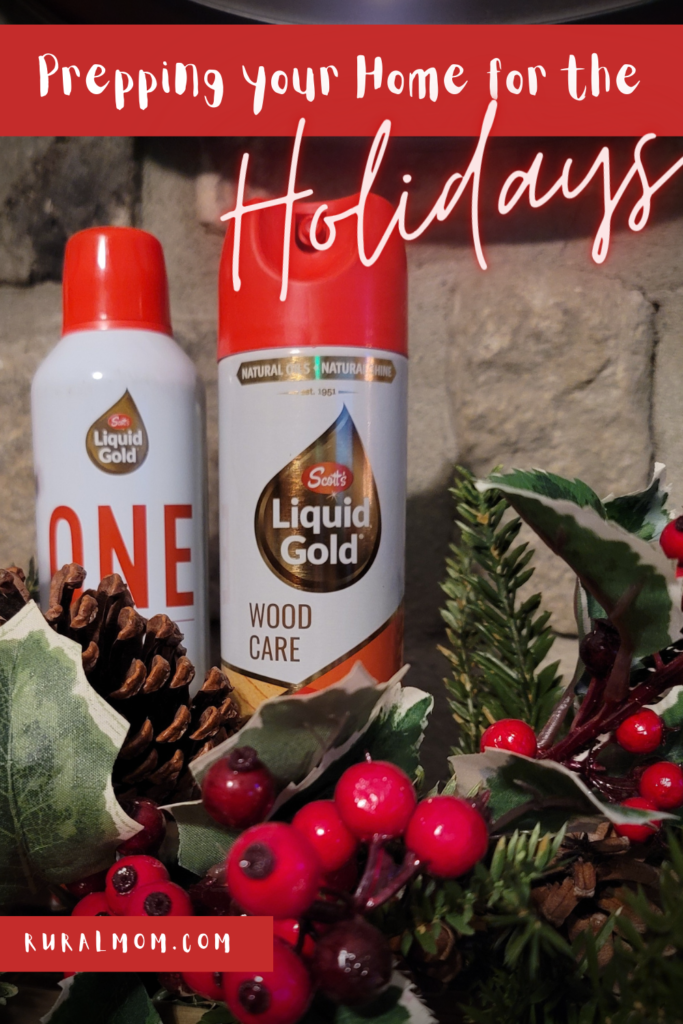 Clean Up Before You Decorate
Before every holiday, I schedule a day to deep clean the rooms we'll be using for the celebration activities. I don't have to, but it makes a world of difference in how I feel about our home when others visit. It gives me confidence and joy to know we have a clean, fresh space to gather for the holidays.
Scott's Liquid Gold is my fantastic holiday helper for this task. We spend a lot of time around our holiday tables eating and playing games, so I need them to be in tip-top shape.
Known for their excellence in wood care products Scott's Liquid Gold products help me nourish, and protect our our wood tables, chairs, cabinets, and more, giving them a wonderful holiday glow! The light almond scent give the room a toasty feel while the natural oils give our wood the TLC it needs.
For my appliances, countertops, and other hard surfaces, Scott's Liquid Gold One Clean Home helps me clean everything lickety-split. I love that it knocks the grime off stainless steel – we have a lot of it in our kitchen and it's great to have a product that does it all. It has a grapefruit scent that instantly brightens the room, too.
When I'm done sprucing up my furniture and tabletops, out comes the vacuum, brooms and mops to finish the job. I also wash any drapes or blankets and so forth that need it.
Stash Your Stuff
If your room is cluttered with everyday items that you'll use again after the holiday gathering, find a few storage boxes to stash them away in temporarily. You can easily move these to a bedroom or garage and then move them back after the festivities.
Also put away your usual knick-knacks, framed photographs and decorative accents to make way for your holiday decorations. Rearrange your furniture to create a spot for your Christmas tree, if needed. If the living room is still crowded put away an end table or coffee table to make room for extra chairs and floor space.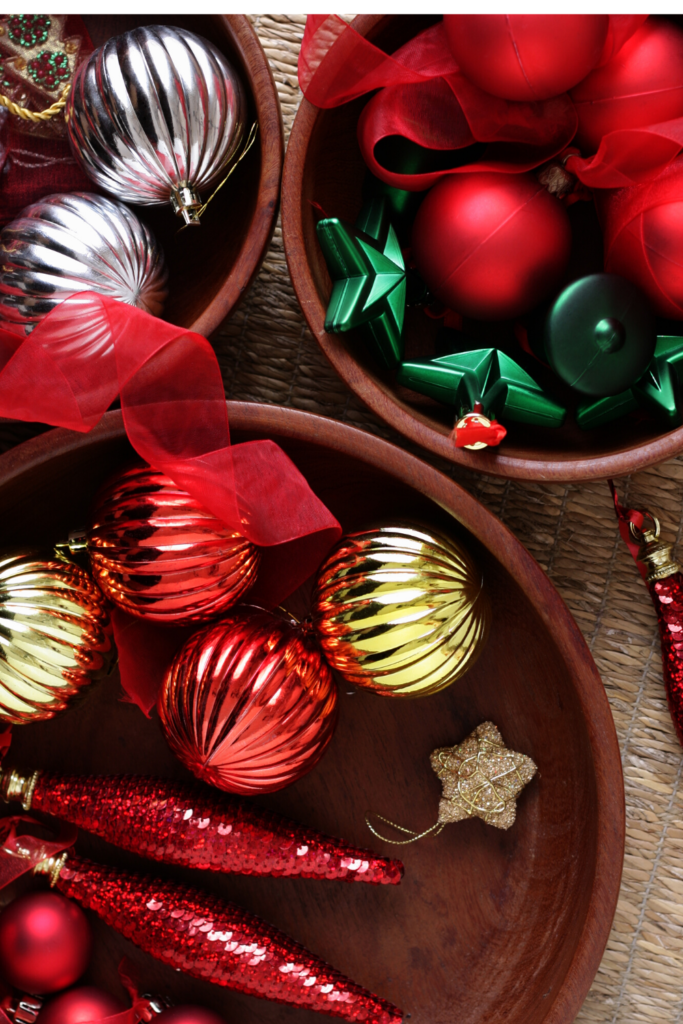 Ornaments Aren't Just For Trees
Christmas ornaments in odd places will add interest to your living room. Hang a handful of glass balls or other ornaments with a unified theme on lengths of fishing wire in your window, or frame them in shadow boxes to hang on your walls.
A large bowl of glass balls makes an elegant accent for an end table, or fill a clear glass vase with two or three to grace the spot that usually holds cut flowers. These are also great to use for New Year's Eve or even Valentines Day. Just change out the ornament colors for each holiday.
Speaking of ornaments, why not decorate your tree for all the holidays, too? Remove your Christmas ornaments and just add lots of sparkle with tinsel for New Year's Eve. If you want to keep the magic going, decorate the tree for Valentines Day with hearts and red or pink tinsels. You can even handcraft some heart ornaments to make a special presentation.
Utilize Your Holiday Cards
Holiday cards are a great supply of themed art that arrives at your doorstep full of good wishes and cheer. And they're free! Hang a string horizontally across your fireplace or along one wall and hang your Christmas cards off that for a homey feel.
Use one or two of your favorites as accents in your bookshelf or on an end table, and save them for next year to cut up and use as tags for gifts.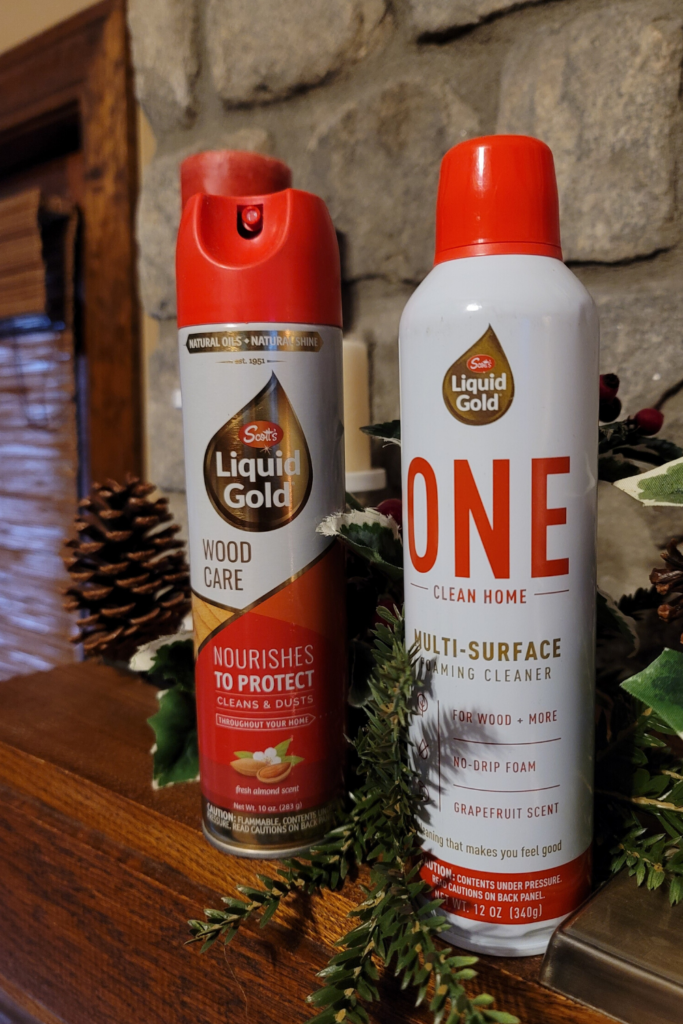 Evergreen Swags Aren't The Only Option
Evergreen swags are traditional, but tinsel garlands look great wrapped around stair banisters and can evoke the feel of Christmas presents. They'll also reflect the lights from the Christmas tree and send sparkles to dance on your walls.
Try a length of tiny Christmas lights along your fireplace mantle, or fill a vase with evergreen branches and red berries for a festive look.
Tip: If you have a wood mantle, be sure to brighten it up with Scott's Liquid Gold Wood Care! It's a one-stop product that dusts and cleans. Plus there's no wax, silicone, nuts or nut by-products!
Don't Forget The Little Things
For your festivities, play holiday-themed music softly in the background to help everyone get in the mood. Hang mistletoe through New Year's for fun. Put out bowls of snacks to munch on.
Most of all, relax and enjoy your freshly cleaned home! Don't stress out over whether or not your ornaments match or if your couch cushions are pale blue instead of red and green. The best way to make a living room feel special is to simply make it feel welcoming. It doesn't take much – a Christmas card on the bookshelf or a few ornaments glittering in the window – to invoke a cheery nod to the holidays.