This post is sponsored by The National Frozen & Refrigerated Foods Association (NFRA). All opinions are my own. For more inspiration during #JuneDairyMonth, be sure to check out delicious ideas from NFRA at EasyHomeMeals.com #JDM2020
Summer and citrus are simply a perfect match, just like muffins and butter. Which makes my Summer Citrus Oat Muffins a truly delicious way to celebrate Dairy Month.
My youngest son refers to these as "citrus dream muffins" and they certainly are that. If you love a rich, moist muffin bursting with flavor, these are totally the ticket!
The recipe is dreamy for many reasons including their ease to prepare. Ready in under 30 minutes, you can have this fresh breakfast treat or tasty snack whenever you desire.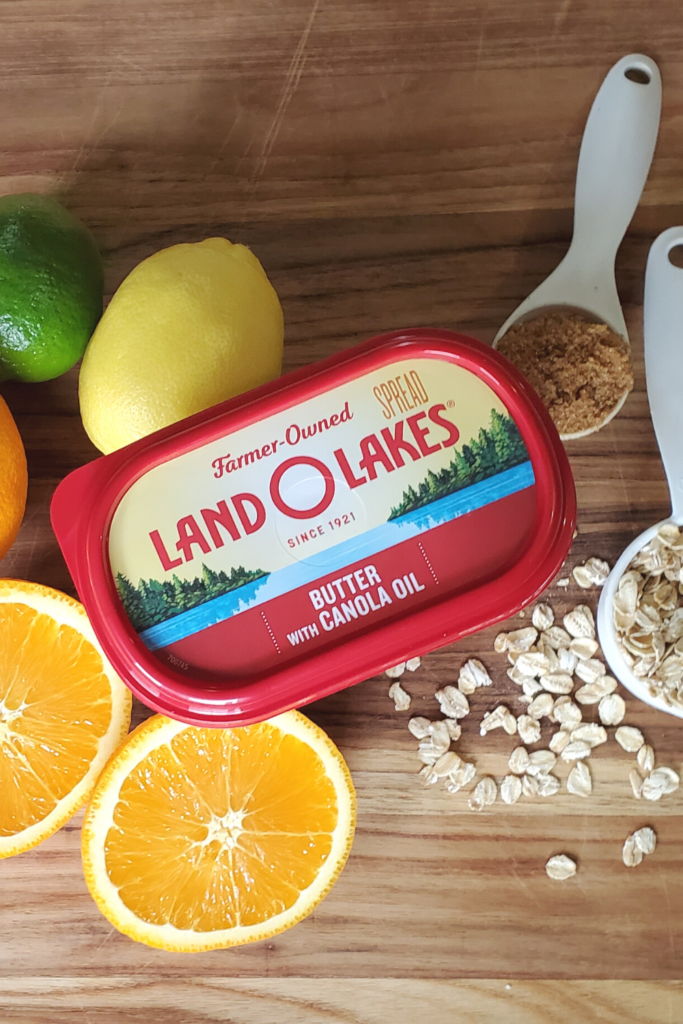 One of the key ingredients in my Summer Citrus Oat Muffins is Land O Lakes® Butter with Canola Oil. It's not only chock full of the fresh buttery taste I love, but it's a dream ingredient to use in my muffin mix as it so easy to incorporate.
Many muffin recipes call for melted butter, but Land O Lakes® Butter with Canola Oil can be used as a 1-to-1 to butter. It is softer and spreadable straight out of the package, which is great for this recipe. Plus, when the muffins are fresh out of the oven and ready to eat, you can top them off with an extra dollop of buttery yum!
I use three types of citrus zest in these muffins and it really does make them extra-special. You can choose to use lemon, lime, or orange zest, depending upon what you have on hand at the time. If you don't have orange juice available, you can also swap out lemon juice or lime juice for a completely new flavor. Any way that you opt to customize them, they have a lovely burst of citrus in each bite.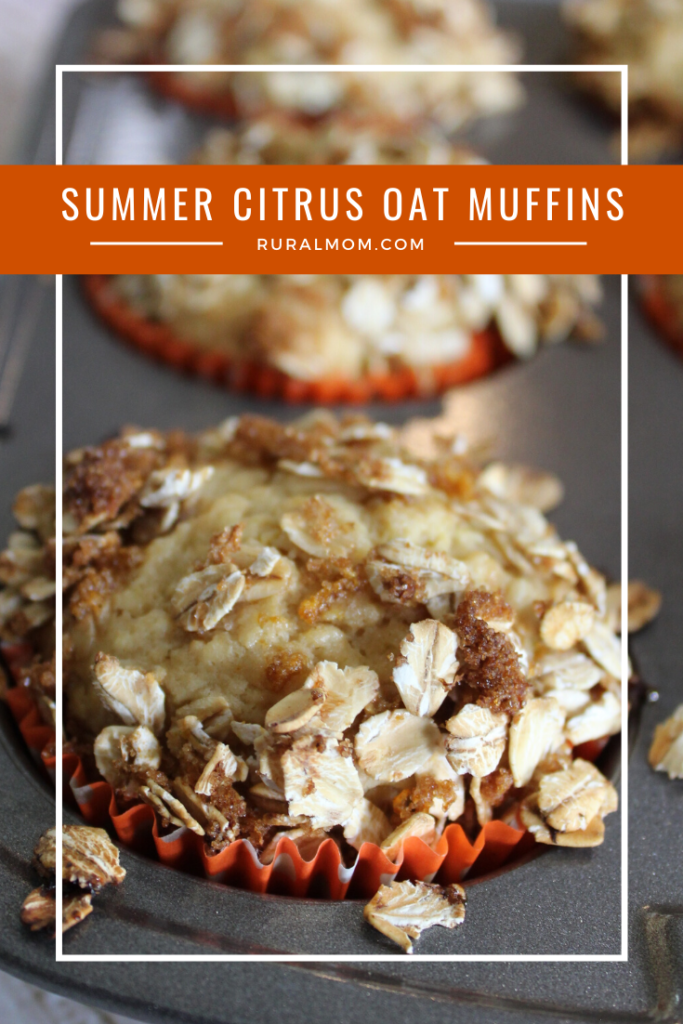 Summer Citrus Oat Muffins
Yield: 12 muffins 
1/2 cup Land O Lakes® Butter with Canola Oil
1 2/3 cups all-purpose flour
2/3 cup sugar (I like to use maple sugar but pure cane sugar works well, too)
1 cup sour cream
1 egg
1/4 cup orange juice
1 Tablespoon lemon zest
2 Tablespoons orange zest
1 Tablespoon lime zest
1 Tablespoon baking powder
1/2 teaspoon salt
Oat topping:
1/2 cup oats
2 Tablespoons brown sugar
1 Tablespoon orange zest
Preheat oven to 400 degrees Fahrenheit.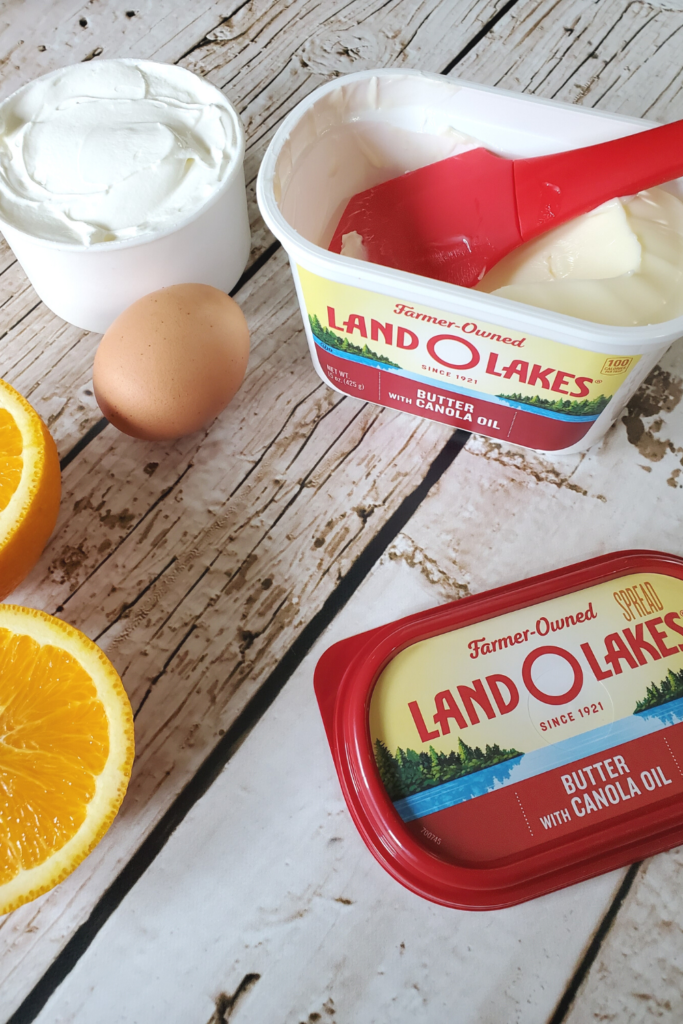 Prepare topping – in a small mixing bowl, add oats, brown sugar and 1 Tablespoon of orange zest. Using a spoon (or spatula,) gently mix ingredients together until all are fully distributed. Set bowl aside.
In large mixing bowl, add orange juice, 2 Tablespoons orange zest, lime zest, lemon zest, egg, sour cream, and Land O Lakes® Butter with Canola Oil.  Using electric mixer (or a fork and lots of elbow power!), cream ingredients until fully incorporated.
In a medium mixing bowl, add flour, sugar, baking powder, and salt. Using a spoon (or spatula,) gently mix ingredients together until fully distributed.
Add dry ingredients to wet ingredients. Using a spatula, fold ingredients together until dry ingredients are fully moist and incorporated. Mixture will be a little thick.
Line muffin tin (or tins) with paper liners. Distribute mix evenly between the muffin rounds. You should have enough to equally fill each of the 12 muffin rounds about 1/2 full.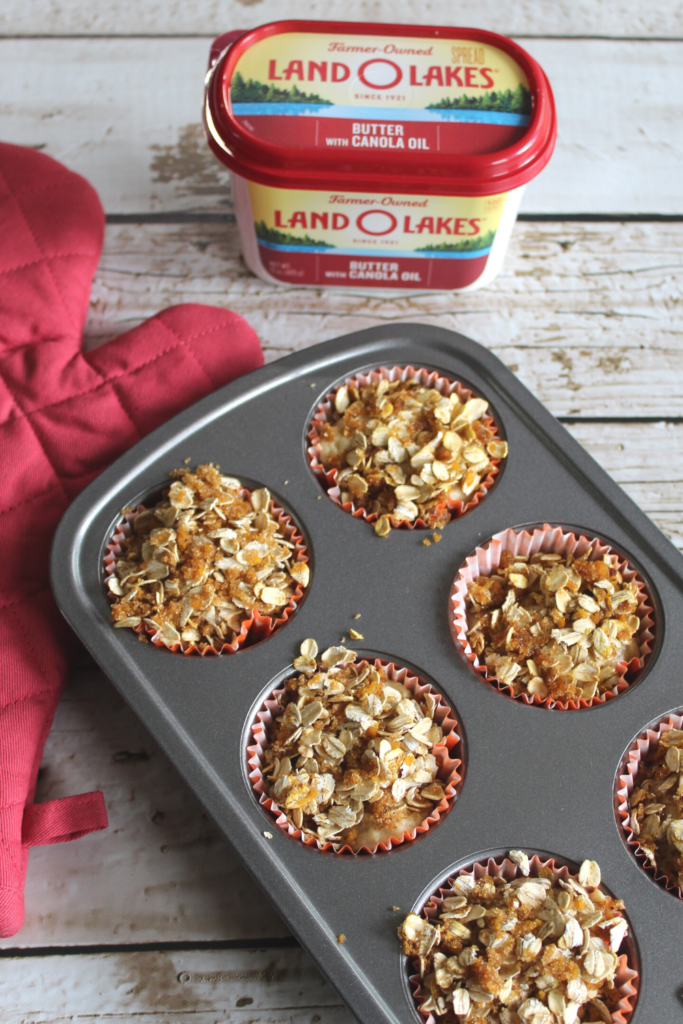 TIP: I like to use an ice cream scoop to fill each muffin liner with muffin mix. It's an easy way to measure out the mix and get them into the tin mess-free.
Top each muffin with 1 Tablespoon of oat topping.
Bake muffins for 18-20 minutes, or until lightly browned and fully baked. The tops will spring back when touched (or if you prefer, use a toothpick test. When the toothpick is inserted and comes out clean, the muffins are finished baking).
Remove from oven and allow to cool on cooling rack for 5 minutes.  Remove muffins from tin and continue to cool or serve and enjoy!
Having one for an afternoon snack is favorite way to enjoy these citrus delights. I pour a small cup of coffee or a tea, slice the muffin open, spread on a bit of Land O Lakes® Butter with Canola Oil and take a much-needed moment. It's a wonderful pick-me-up that keeps me fueled until dinnertime and gives me a great excuse to stop and enjoy a quality break time during a busy day.
Summer Citrus Oat Muffins Printable Recipe Download:
[embeddoc url="https://ruralmom.com/wp-content/uploads/2020/06/Summer-Citrus-Oat-Muffins-Recipe.pdf" download="all"]

Win a Coupon Prize Pack featuring Land O Lakes® products!
Would you like to try Land O Lakes® Butter with Canola Oil and some other great Land O Lakes® products? Well, three Rural Mom readers will have that good fortune thanks to the awesome folks at Land O'Lakes!
Three (3) Rural Mom readers will each win one (1) Coupon Prize Pack that contains:
• four (4) coupons for a Complimentary Land O Lakes® product. Total Prize Value: $20.46 (each)
US Residents only, 18+. No purchase necessary. Giveaway ends July 14, 2020 at 11:59pm EST. Winners will be notified via email. VOID IN CA.
ENTER via the Rafflecopter below:
Visit Easy Home Meals for great recipe and meal solutions and to enter the June Dairy Month Sweepstakes for a chance to win up to $10,000 in prizes!