Children love to help you outdoors in spring when the sun finally comes out. Tweak their interest with nature, the seasons, and get them thinking all about their place in the world ecology with these fun and thoughtful spring crafts.
Build a Modern Fossil Painting for an Educational and Artistic Spring Craft for Children
Start this project by collecting leaves from various delicate and intricately shaped plants. Ferns are great, Japanese Maple is good, money plant seed pods are fun, just use your imagination. Next pick three colors of paint that match your house. Use the medium hued color to paint the wall with brushes. Let dry.
Next, use a mix of leaves to stencil a patterns on the wall. Tape well-spaced leaves, then spray the lightest color paint over them. Let dry, then remove the leaves. Next, pour your darkest hued paint into flat dishes, frisbees work well. Dip the largest leaves into the paint and use them as wet decal to lay leaf colored splotches on the wall. Let dry. Ta da, you have a unique work of art.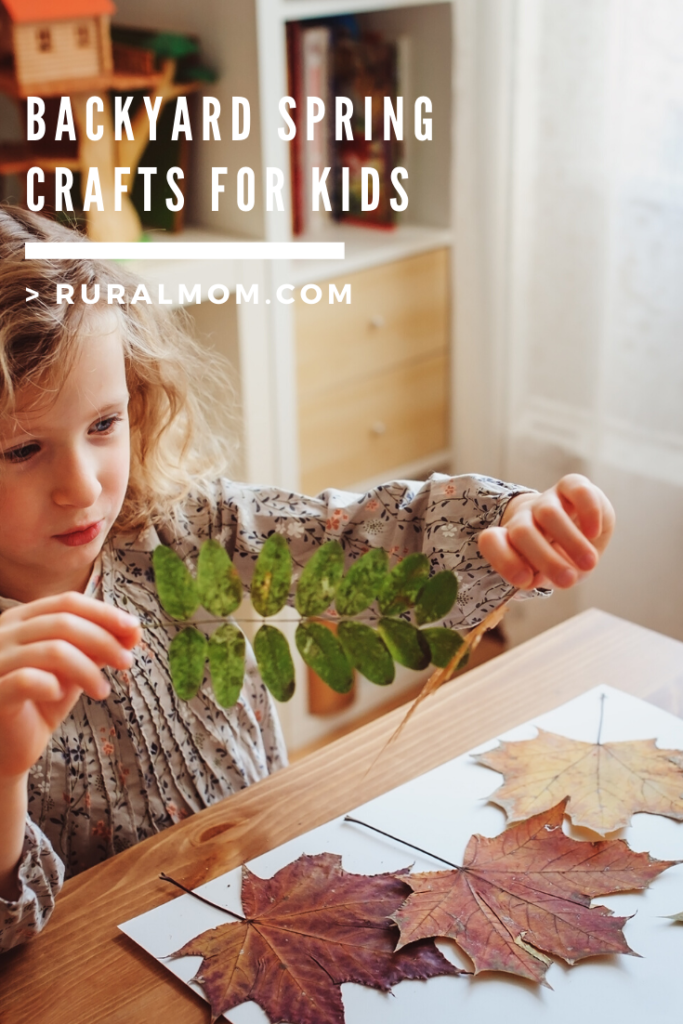 Create Cool Junk Collages for an Eco-friendly Spring Craft for Children
Take walks in your neighborhood, collecting junk from the street that you find cool. Make sure it isn't someone's favorite toy or tool and truly junk. Items can include bits of glitter, wire, washers, metal bands, rocks, whatever you can find that is colorful and interesting.
Have a contest to see who can find the most junk and the most interesting junk. Take as many trips as needed to get a good supply. Then, take a leftover metal can, a flat rock, a well-polished piece of wood, and decorate it by gluing the junk on in interesting patterns.
Create Mushroom Art for a Spring Craft for Children that Love Nature
Collect mushrooms from the woods on a hike. Take them home. Break off their stem and place them on a blank sheet of paper. Allow them to sit for several days.
This works also with ferns. Both mushrooms and ferns are casting seeds and will stain paper.
Build Popsicle Stick Eggshell and Lint Holders for Birds Spring Craft For Children
Build two rafts by laying down three Popsicle sticks parallel to each other then gluing three Popsicle sticks on top and perpendicular to the base Popsicle sticks. Let dry. Build a separation between the two rafts by gluing several Popsicle sticks on top of each other on the ends of one raft. Glue the other raft on top of the pile. Decorate the outside of each raft with paint, plants, and rocks, whatever looks pretty. Let dry.
Add a string to hang them from a hook. Drill and insert a cup hook off a roof, patio cover or other wood structure beam. Fill the holders with chopped up egg shell and lint from your dryer.
Children love the outdoors more when they can play and get creative with fun spring crafts using the best from the outdoors. Have fun.