While I love a great Easter basket, I think non-traditional baskets are super fun, too. As a practical person, I enjoy putting gifts in containers that can easily be reused or re-purposed later. That's what inspired me to come up with a flower box Easter basket craft idea.
The Flower Box Easter Basket is a creative gift idea for children, friends or relatives. Everyone will love the bright, cheerful colors and design. After the candy and treats are gone, the flower box can be used for Spring planting, to hold office or school supplies, or even as a catch-all bin for your counter.
Thanks to my partners at Oriental Trading, I found everything I needed to create this charming basket. They have a stunning array of Easter egg options you can't find anywhere else like the cute flower and bug eggs I used to fill and decorate the basket.
As always, your imagination is the only limit to this craft. You can follow my pattern step by step or choose other color schemes and eggs to fill the basket with. Whatever you decide, I hope you are inspired to enjoy a wonderful time crafting and have a lovely Easter holiday!
Flower Box Easter Basket Craft
Supplies
Unfinished Wood Planter Box
Small wooden Craft Sticks
Felt Sunflower Embellishments
Felt Tulip Embellishments
Acrylic Paints
Jumbo Carrot Plastic Easter Eggs
Jumbo Bug Plastic Easter Eggs
Flower Plastic Easter Eggs
Easter Bunny Pull-Back Toys
Styrofoam rectangle (sized to fit in the wood planter box)
Paper Easter Grass
Paint Brushes
Glue
Instructions
Choose an acrylic paint color for the wood planter box, the fencing (small wooden craft sticks,) and the stems of the flowers (small wooden craft sticks). I opted to paint my wood planter box green to make it appear as though it was grass behind the fence.  For the fence I chose blue and for the flower stems I choose dark green.
Decide on how many vertical fence posts (small wooden craft sticks) you will need for your fence.  I opted to have mine closely spaced. Don't forget to include two horizontal rows for your fence structure. For the planter I used, I had to add 6 extra craft sticks to create the horizontal rows.
Paint fence posts with preferred color.
Decide how many flowers you want to have in your garden.  Decide if you want to attached any of the Easter egg flower or bug shapes to a stem in your garden. Count out a small wooden craft stick for each stem.
Paint stems with preferred color.
Paint your wood planter box.  Allow all items to fully dry.
Glue felt sunflowers onto stems.  Glue stems to the back of the plastic Easter eggs you will be using for your garden.  Set aside to dry.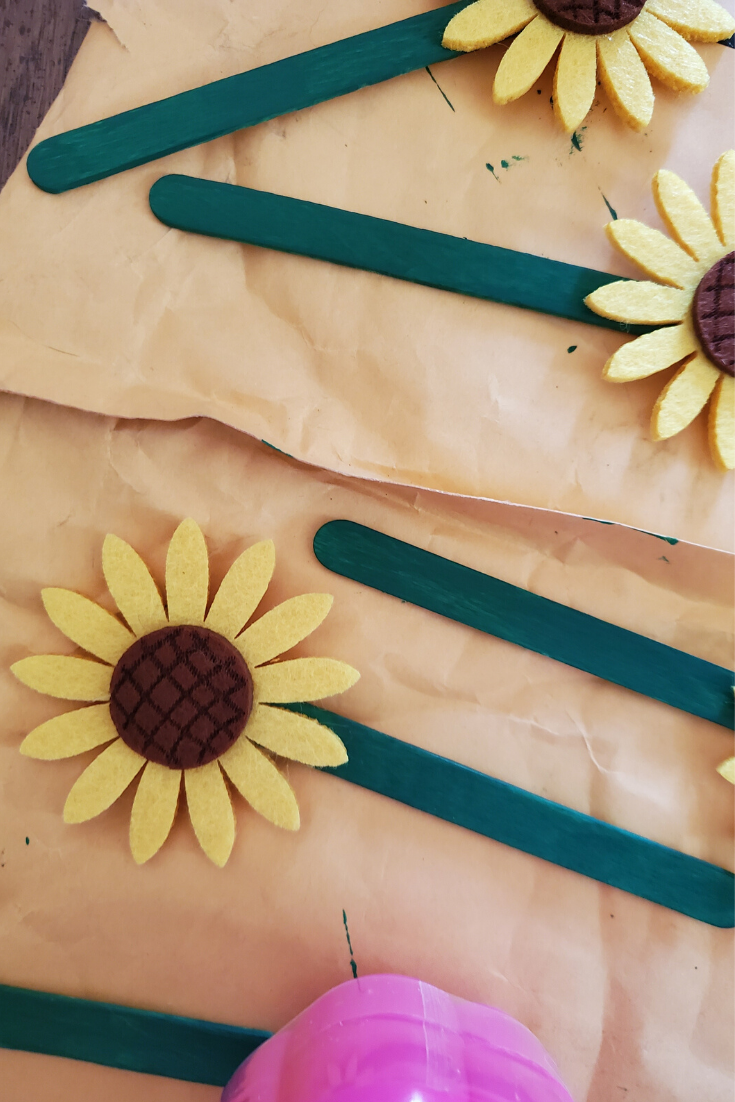 Begin gluing fence posts to wood planter box. Glue down two horizontal rows first. If you have any excess of the craft stick hanging over the edge of the planter box, trim the craft stick to meet the edge of the planter box.
Glue vertical fence posts, using your preferred spacing between each post. (The bottom of the craft stick should not over-lap the bottom of the planter box.) Allow glue to thoroughly dry.
Glue on felt tulip embellishments over the fence post on your flower box. Glue on additional embellishments, if desired. I used the top half of a lady bug plastic Easter egg to my fence for extra decor.
Begin assembling your Flower Box Easter Basket.  Insert Styrofoam rectangle and cover with Easter grass.
Arrange flowers and bug by pushing the craft stick "stem" into the Styrofoam. Place carrot Easter eggs, Easter bunny toys, and additional flower or bug Easter eggs in the grass inside the box.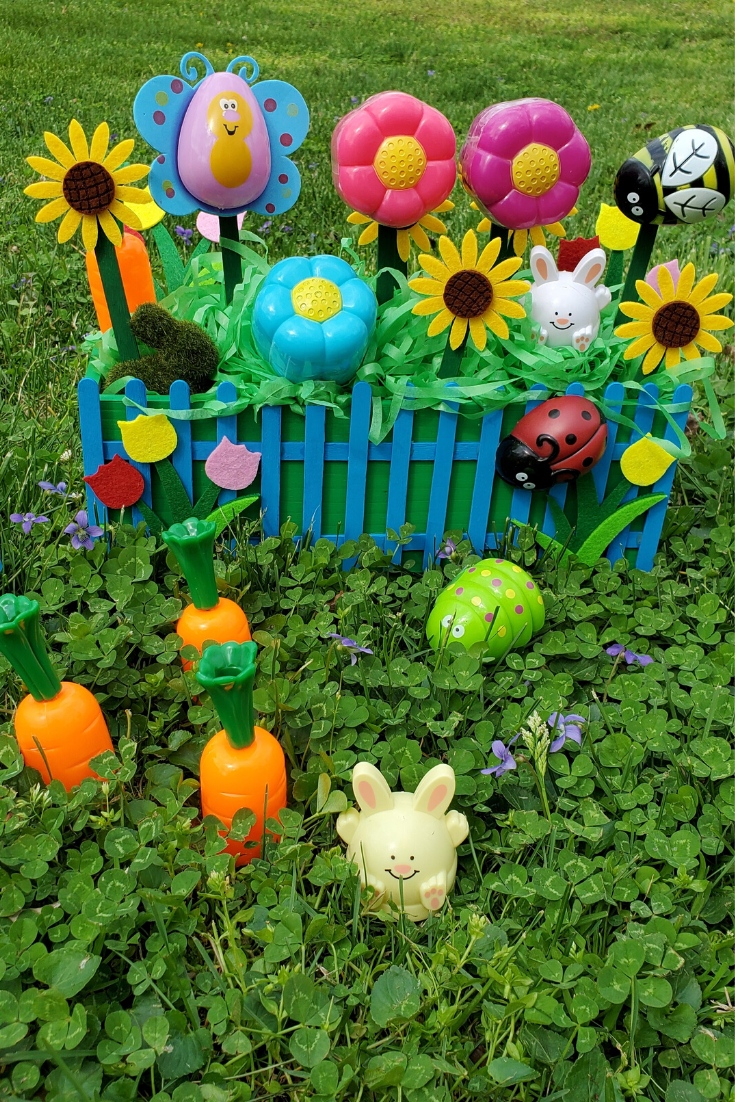 Enjoy your lovely Flower Box Easter Basket creation! Use it for gifting, as a table centerpiece, or as general decor in your home.