Who says that the barn doesn't need some holiday cheer? There are plenty of safe, equine-friendly holiday decorations for your barn that will enliven everyone's spirits!
When decorating the barn, it is essential to choose safe decorations. Ones that will harm neither the people nor the horses who patronize it.
Fortunately, it is not difficult to find safe decorations for horses. From decorating the horses' stalls to sprucing up the tack room, there are options you can all enjoy.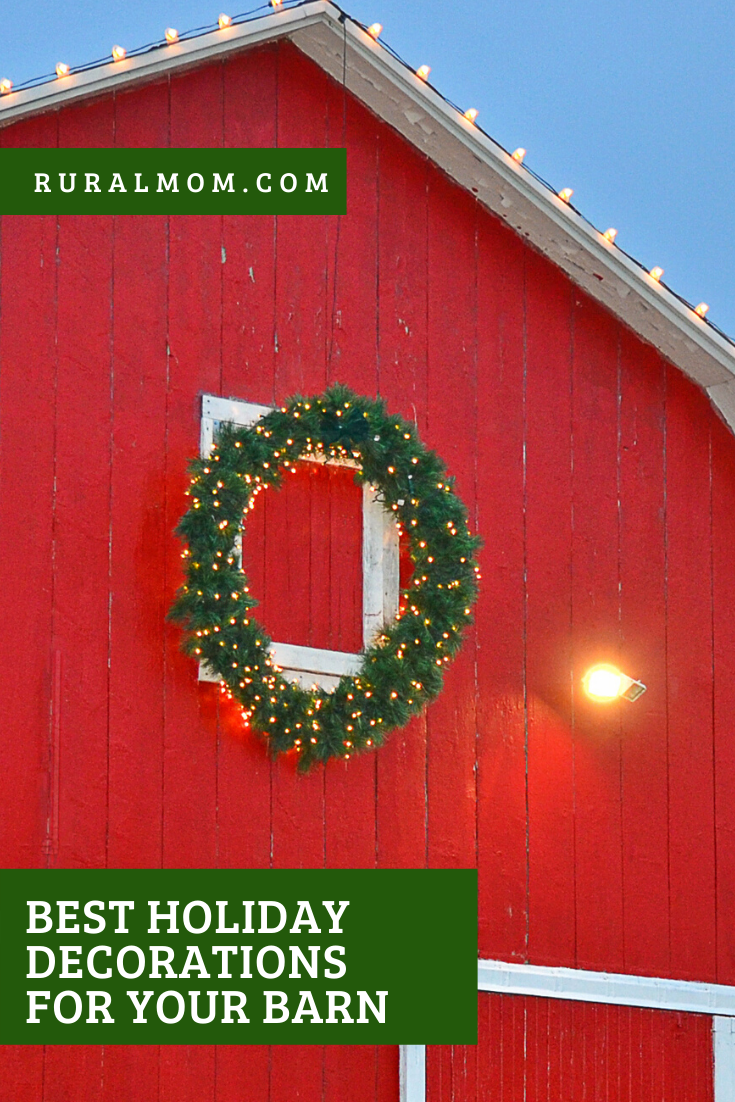 Putting Up Christmas Trees
The most obvious holiday decorations for the barn are Christmas trees. They are safe as long as the horses do not have access to them.
It is not a good idea to put up Christmas trees in barn aisle ways because they can obstruct traffic. Nor should they be set up in areas where horses graze. Pine needles can be toxic for horses if they are consumed in great quantities.
However, stable owners can create a festive equestrian holiday by putting up a Christmas tree in the barn office or the tack room. To add a personal touch, boarders and employees can bring ornaments from home or purchase horse ornaments at a local holiday store.
Hanging Tinsel & Garland
When decorating the barn for the holidays, obstruction is the primary hazard to avoid. Tinsel and garland are perfectly safe decorations for horses as long as they are hung at sufficient height to avoid catching on horses' ears, heads, legs or necks.
Many barn owners string garland around the light posts that illuminate their arenas or along the rafters of the barn itself. If wound tightly, it can also provide decoration for the arena or paddock fencing.
Decorating the Horses' Stalls
The horses' stalls are perhaps the most common subjects of holiday decorations for the barn. Horse owners can use their own imaginations and creativity to create the desired look, from stockings for horse treats to Happy Holidays banners.
The main thing to remember when decorating the horses' stalls is that horses are curious creatures. If they can reach their tongues through the stall bars and grab something on the other side (such as tinsel or a stocking), they will. Riders should make sure all decorations are inaccessible from inside the stall.
Stringing Lights
Another staple of holiday decorations for the barn is holiday lights, which can provide a festive and welcome touch to any decorating scheme. Again, however, safe decorations for horses are ones that present no safety hazards that might cause injury to either horses or their riders.
Lights should either be turned off at regular intervals or set on a timer. It is best to avoid stringing lights near hay sheds or inside the barn itself, unless decorating the tack room or barn office.
Lights around the front or sides of the barn are usually safe. Do set timers, though. Most lights have safety ratings but anything plugged into an outlet can be a hazard if left unattended for too long.
Adding Yard Decorations
Blow-up snowmen, Santas on moving trains, large nativity scenes and grazing reindeer typically make poor holiday decorations for the barn. Horses do not understand what they are and might spook if confronted with these unfamiliar figures.
A better idea is to keep yard decorations in the front of the barn, near the entrance, where horses will probably not encounter them. Otherwise, it is a good idea to introduce each horse to the decorations beforehand to desensitize them.
Best Holiday Decorations for Your Barn are Safe Ones
Unsafe holiday decorations for the barn include:
Objects that hang or dangle from the ceiling of the barn
Electrical decorations that might spark a fire or overload breakers
Wreaths that horses could bite or eat
Expensive decorations that might be stolen
Decorations that make noise
Otherwise, have fun decorating the barn for the holidays! There are numerous color schemes and design elements that can provide a unique aesthetic appeal for the stable. And everyone at the barn can get involved!