With it's delightful textures and rich flavors, apple crisp is a popular holiday dessert. My grandmother made this every Thanksgiving and it still brings me straight back to childhood.
Most or all ingredients will be found right at home. The apple crisp recipe calls for basic items such as oatmeal, brown sugar, flour, rolled oats, cinnamon and nutmeg, and apples. This delicious dish is quick and easy to make and always a crowd-pleaser!
We've included two variations on this classic for your use.  One uses fresh apples, the other apple pie filling, which you can prepare ahead of time when canning apples or find at your local grocer.  Either way you bake it, we hope you enjoy this delicious treat!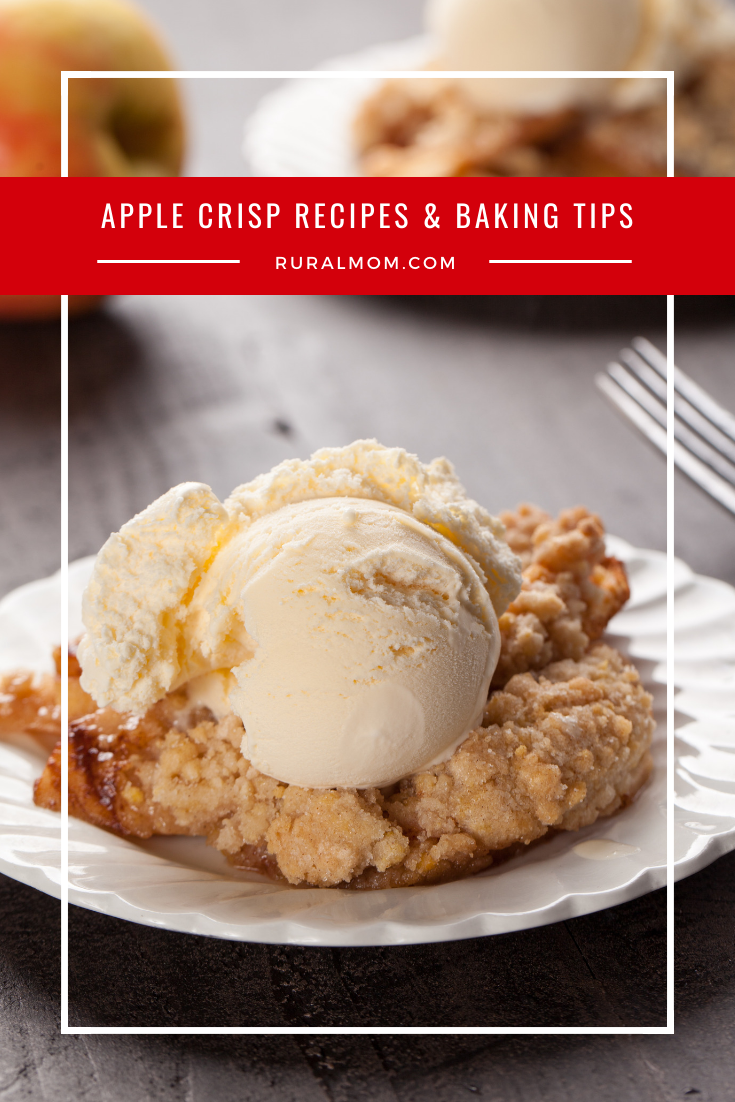 Best Apples To Use for Your Apple Crisp
When you bake with apples, make sure that you use apples that are specially grown for baking purposes. Baking apples retain their shape and do not become mushy with cooking. They have a nice sweet – tart balance.
Some of the best baking apples to use when making an apple crisp are:
Cortland – The flesh of these apples do not brown or discolor easily and they are a nice addition to wine and cheese plates. They are juicy and tart with bright red skins and very white flesh.
Empire – A cross between Red Delicious and McIntosh, Empire apples are firm textured and slightly tart. The Empire apple is a great all purpose fruit, wonderful for baking and fresh eating.
Mutsu (Crispin) – This is a large yellow green apple that is very juicy and very crisp. It is great for baking, fresh eating, salad, sauces, and freezing.
Golden Delicious – A sweet apple with a mild flavor, it is one of the best for all around cooking purposes. It also maintains its shape well after baking.
Granny Smith – This apple is crisp and very tart. Granny Smiths are enhanced when used with sweeter types of apples in pies and crisps.
Honeycrisps – Developed in Minnesota, this apple is honey sweet and tart flavored. They are also a great eating apple and also fantastic when used in baking or sauces.
Ida Red – This apple is a very old variety which is very tangy tasting. Sometimes the flesh is tainted slightly pink. Ida Reds hold their shape well when baked and they are also good in salads and for freezing.
Winesap – A firm and aromatic apple with a spicy taste, winesaps are rather sweet and great if paired with slightly tangier apples such as Granny Smiths.
Jonathon – A firm and tasty tart apple, Jonathons hold their shape well when baked. This apple has a yellow green base and blush stripe and is excellent for eating and cooking.
Fresh Apple Crisp Recipe
Ingredients:
4 cups of peeled apples
1/2 cup of apple juice
1 tablespoon of cornstarch
1/4 cup of water
2 tablespoons of white sugar
3/4 cup of brown sugar
1/2 cup of flour
1/2 cup of rolled oats
3/4 teaspoon of cinnamon
3/4 teaspoon of nutmeg
1/3 cup of softened butter or margarine
Directions:
Preheat oven to 350 degrees Fahrenheit.
Peel and slice apples. Place apples in a pot. Add 1/2 cup of apple juice and 2 tablespoons of white sugar.  Boil and simmer for 5 minutes.
Mix 1 tablespoon of cornstarch with 1/4 cup of water. Add cornstarch mixture to apples, stirring constantly. Stir until the liquid is slightly thickened and set aside.
Grease a medium sized casserole dish. Pour apples into dish and set aside.
Set out a medium sized mixing bowl. Add flour, oatmeal, cinnamon and nutmeg to bowl and mix all ingredients together.
Cut in butter or margarine until mixture is crumbly.
Cover apples and sauce with a layer of oatmeal mixture, distributing evenly.
Bake for 30 minutes or until golden brown.  Remove from oven and cool on cooling rack for 5 minutes.  Serve and enjoy!
Suggestions on How to Serve Apple Crisp
Serve apple crisp while warm
Add a scoop of vanilla ice-cream on top
Allow to partial cool and add a scoop of whip cream on top
Add a slice of cheese on top
Allow to fully cool and serve with a caramel drizzle
Apple crisp freezes well. Prepared dishes can be packaged and stored in the freezer until ready to thaw and warm.
Apple Pie Filling Apple Crisp Recipe
Ingredients:
1 can apple pie filling (20 ounce size)
1 1/2 cups packed brown sugar
3/4 cup margarine or butter, softened
1 cup flour
2 tsp ground cinnamon
1 1/8 cup quick oats
1 tsp ground nutmeg
Directions:
Preheat oven to 350 F.
Spray 9 x 13 inch glass baking pan with cooking spray.
Mix all ingredients except for apples and margarine or butter. Mix 1/4 cup of dry ingredients with apple pie filling (this helps prevent the bottom of dessert from becoming watery.)
Pour apple pie filling into 9 x 13 inch baking pan.
Add softened margarine or butter to remaining dry mixture with fork until crumbly.  Add the crumbly topping over apples, distributing evenly.
Bake for approximately 50-55 minutes or until golden brown.   Remove from oven, cool on cooling rack for 5 minutes.  Serve and enjoy!