It's easier than you may think to whip up some delicious specialty Halloween cocktails for your Halloween party.  Traditional favorites are always great to serve, but there's something extra fun about having a themed cocktail for your celebration.
Use these quick and BOO-zy Halloween cocktails to add some flare to your party.  No bar-tending experience needed!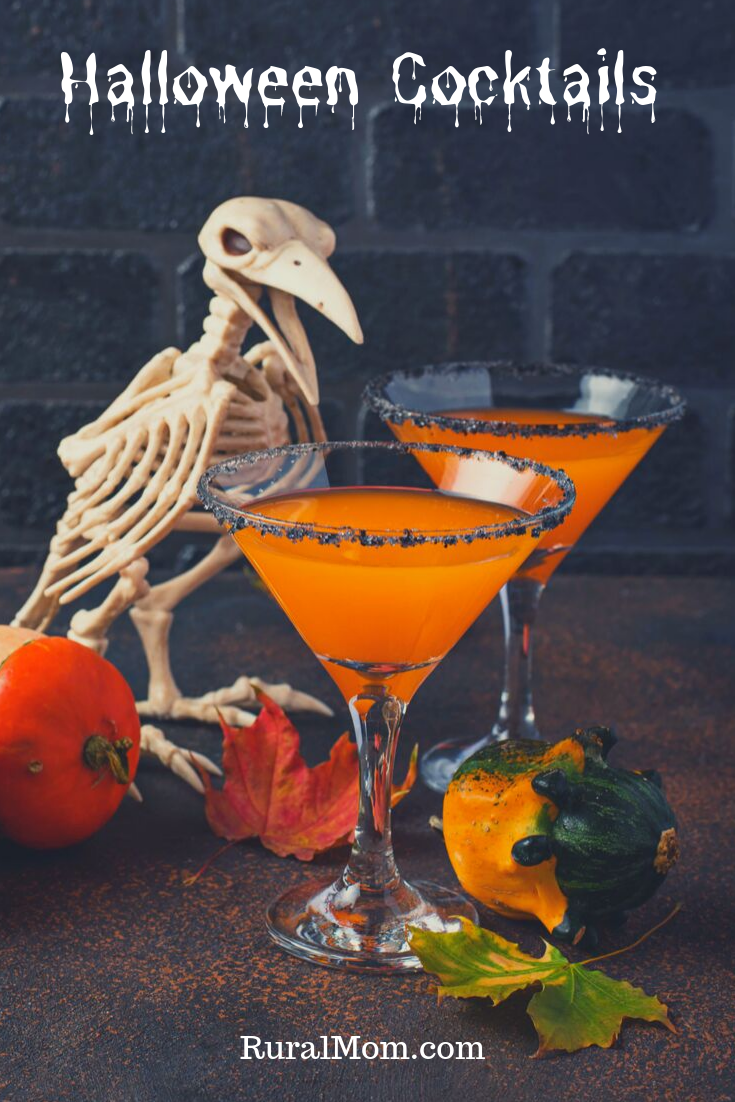 Swamp Water Mojito
A Mojito is a Rum based drink traditionally associated with Latin or Caribbean culture.  It can easily be made in to a delicious Halloween cocktail with just a few simple changes.
Typical Mojitos usually have a transparent appearance due to the use of white rum and white sugar. Instead, try substituting the white rum for amber or dark rum and the white sugar for brown sugar. This will alter the appearance from a clear liquid in to a slightly brown mixture with very little change to the taste. With a brown tinge and floating pieces of mint leaf, this tasty beverage will now have the appearance of murky swamp water – perfect for any Halloween party!
2 parts Amber or Dark Rum
4 parts club soda
4 – 6 mint leaves
1 teaspoon of brown sugar
½ oz of lime juice
Partially crushed ice
Place the partially crushed ice, mint leaves and brown sugar at the bottom of a glass and muddle.
Add lime juice, rum and club soda and then mix. Add another mint leaf on top to garnish.  Enjoy your swampy Halloween treat.
Bloody Sunrise
This is perhaps one of the easiest drinks to alter in to a Halloween themed concoction by just changing the garnish! A tequila sunrise is made with tequila, orange juice and grenadine. It is made in such a way that the colors layer from dark red at the bottom of the glass to nearly clear at the top (mimicking the appearance of a sunrise in a glass).
To give this a nice Halloween flare, add a full slice of blood orange on the side of the glass to garnish. This will give the appearance of a blood colored sun to match your sunrise.
2 parts tequila
6 parts orange juice
1 part grenadine
1 slice of blood orange
Add tequila and orange juice to a mixer with ice, shake, and pour in to a tall glass. Tip the glass slightly and pour in the grenadine down one side. Do NOT stir.
The grenadine will slowly float to the bottom giving the drink a dark red color at the base and a generally clear appearance at the top. Add a slice of blood orange to garnish.
Graveyard Sangria Punch (complete with worms and a frozen hand!)
Sangria is a popular drink more commonly associated with Spanish, Portuguese or Mexican cultures.  It's a crowd pleaser and with a few embellishments, you can make it standout at any Halloween party.
1 bottle of Red Wine
2 cups of Club Soda (Ginger ale also works as a substitute to make the drink slightly sweeter)
1 shot of Triple Sec
1 tablespoon of sugar
Sliced fruit (any generous combination of fresh fruit will do, but Orange and Lemon seem to be the most popular)
1 package of gummy worms
1 Frozen Hand!
First, find a surgical glove or other disposable rubber glove. Avoid anything with a powder coating or latex due to potential allergies or toxic chemicals. Wash glove thoroughly and fill with water. Tie off the end and hang from a rack or stand in the freezer and allow 24 hours to freeze.
Just before the party, mix all of the ingredients in to a large punch bowl and drop several gummy worms in to the bottom of the bowl as well as hanging over its edges. Take the glove out of the freezer and peel it off the now frozen hand (a very quick rinse with warm water should help it come off easily). Place the frozen hand in the punch and add some more fruit chunks or gummy worms in to the palm. This way, the punch will be kept cold as the party goes on and additional fruit or worms will gradually drop in to the punch as the hand melts.
More Halloween Cocktails
Need more Halloween drink ideas, we sure have plenty!
If you run out of time to create a cocktail, you can simplify your drink menu by picking up beers or wines with a Halloween-ish them.  Apothic Red and Apothic Dark are fun choices for wines.   You'll often find some specialty brews, as well, at your local liquor stores.