The bewitching season in nearly here.  Time to dust off the goblets and get ready for Halloween fun!  Use these Halloween cocktail party ideas to get you in the spirit to have a fabulous celebration this year!
Use Your Halloween Cocktail Party Invitations to Help Set the Theme
First, be sure the invitations reflect this is a cocktail party, versus just a Halloween party. This way, people who prefer to avoid alcohol will have the option of not attending. It also lets people who have children know that it's time to hire a baby sitter.
Invitation Halloween theme ideas include:
haunted house (you might even want to do an "escape haunted house" where you have escape room games planned for the event!)
skeleton
witch on a broomstick
Fright Night
corpse/graveyard
spiders
red devil
Send invitations two to three weeks in advance to be sure that party goers know about the spooktacular event you will be hosting. Depending on the day of the week Halloween falls on, it's best to throw the party on the Friday or Saturday night closest to Halloween.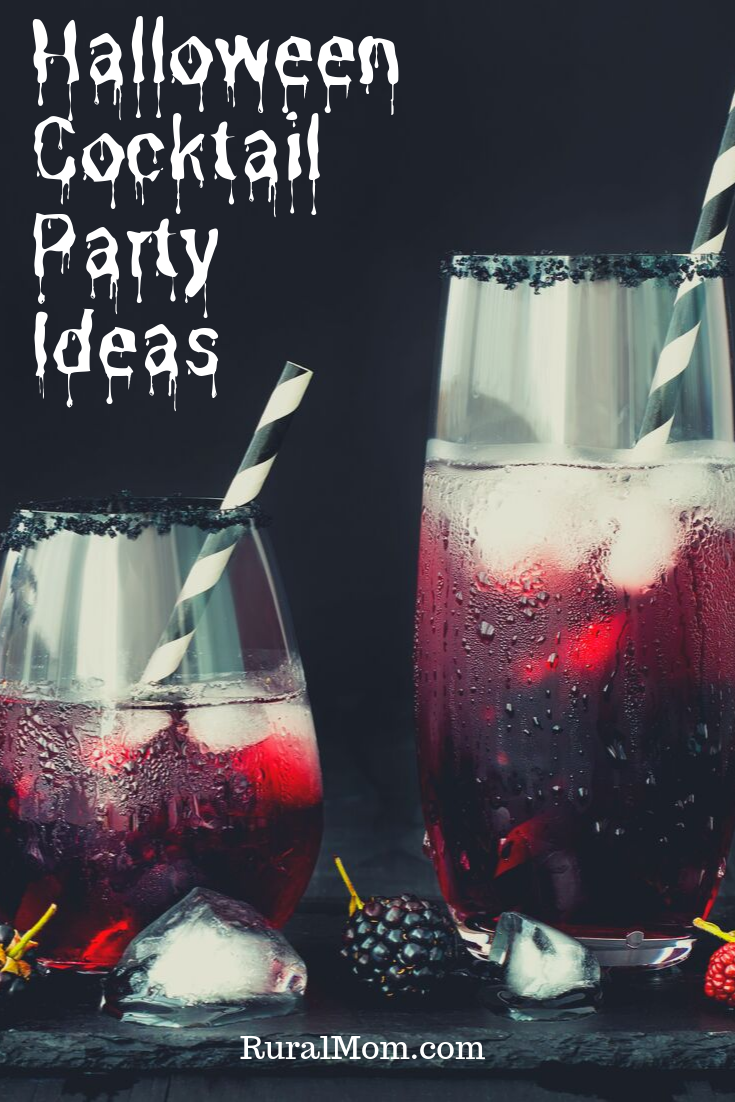 What Halloween Alcoholic Drinks Should You Serve?
A great Bloody Mary is always at the top of this list. In fact, drinks that reflect the colors of Halloween such as red, (for blood,) orange and black all make good choices.
Consider serving a Red Devil, Cosmopolitan, Hurricane or Strawberry Margarita, which could be renamed Icy Blood. If you want to go with a party punch, create a good rum punch and give it a Halloween theme name such as Witches' Brew or Blood Punch.
Want to go a little upscale with your Halloween drinks?  Try a Black Martini.
Of course, there are plenty of basic drinks, too, like a Screwdriver which creates a lovely orange cocktail, as can a Mimosa or Sex on the Beach.
Have a non-alcoholic drink option, as well, for guests who prefer them.  Try our Witches Brew Halloween Punch for a delicious twist.
Think about how you want to serve your drinks. You can use cocktail glasses from home or pick up some disposable plastic Halloween drink holders from a party store. Don't forget to consider serving Jello shooters, too, they are generally a hit.
Halloween Appetizers Can Add a Fun Element
Food is a practical must-have to include in your Halloween cocktail party plans.
You can go with popular appetizers like "pigs in a blanket." Just add a drop of ketchup and rename them "bloody fingers".  Another idea is to make stuffed deviled eggs, with a slice of olive on top. This can be called "Eye of the Newt".
This concept works with just about anything.  Pick any popular appetizer or main course, but give it a new name to fit a Halloween theme. For example, serve salsa and chips, but call it "Blood, Guts & Chips".
Prefer something more upscale? Wine tasting can be enjoyed at any holiday party.  Pull out a selection of reds.  Give them some ghastly names and have everyone vote on their favorite.
Adult Halloween Party Activities Amp up the Fun Factor
Bring on the decorations! Think spider webs, jack-o-lanterns, witches and more.
Since this is an adult party, consider the option of hiring a person who can read Tarot cards. It is believed by some that these cards can tell the past, present and future. It would definitely add a spooky-fun factor to the atmosphere of the party.
A Halloween costume contest is always fun, too. This way, everyone attending would get the chance to show off their attire. The best costume prize could be some kind of a trophy or gag gift, or could be a more serious gift such as movie tickets, a gift certificate to a local restaurant or a Halloween gift basket.
Music is a part of any party and can really set the mood.  Create a playlist ahead of time with Halloween classics or just upbeat music to lift to the party atmosphere.  If you have a home theater room, you might want to have some Halloween-themed movies on hand to play throughout the night as a backdrop to the fun or provide a comfy spot for guests to rest in and watch a bit.
Find nostalgic or modern board games and set up an area for guests to play them.  There are plenty of Halloween-ish games out there like "The Walking Dead Survival Edition of Monopoly" and tons of Harry Potter-themed card and board games.
Adult Halloween cocktail parties can be loads of fun. When planning one, start by finding the right invitations, and then match cocktails and food to your overall holiday theme to create a memorable night!