Don't you just love finding a great excuse for planning a girls' night?  Thanks to my partnership with Paramount Pictures, I've whipped up some fun recipes and ideas to inspire your girls' night in with BOOK CLUB!
With female friendship at the heart of this fun, funny, and inspiring romp of a film, it's the perfect movie to sit down and enjoy with your besties.  BOOK CLUB is now available to own on Blu-ray, so you can grab a copy and make plans to watch it at home this weekend!  The release includes hilarious bonus content, like the making of the film, deleted scenes, and much more.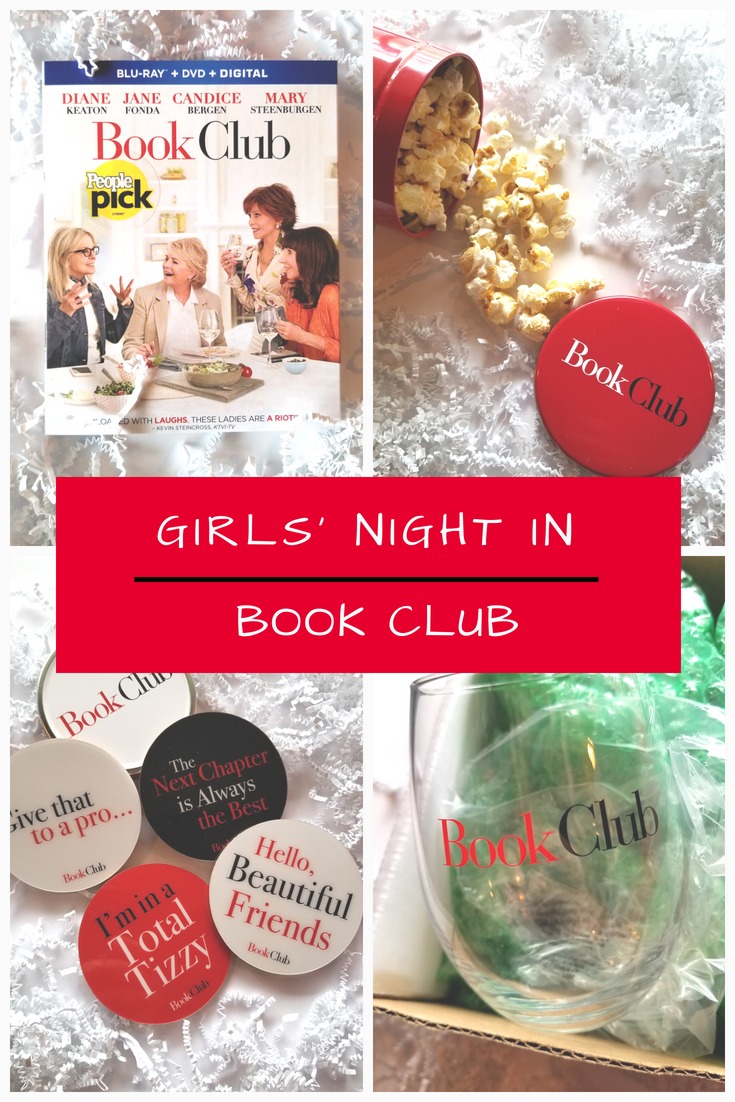 The first thing you'll fall in love with is the amazing cast of Hollywood greats like Diane Keaton (Diane,) Jane Fonda (Vivian,) Candice Bergen (Sharon,) and Mary Steenburgen (Carol.) My friends and I had a wonderful time sharing which leading lady character (or characters) we identified with best.  (I'm a bit of a mix of Sharon and Carol.)
The moment it begins, you'll adore the light-hearted humor and the central theme that's immediately presented – it's simply never too late to live your life to the fullest – a message we all need to take to heart!  As an almost-50-something, I enjoy having a film like the BOOK CLUB that I can truly relate to.
Whether I'm sharing a moment with my daughter, trading recipe tips with my niece or seeking the counsel of my dear friends, the women in my life fill my life with so much joy, support, and meaning.  The power of friendship is reflected in every facet of this film and it's beautiful to see such an empowering story with strong female characters facing real life challenges.
Diane (Diane Keaton) is recently widowed after 40 years of marriage. Vivian (Jane Fonda) enjoys her men with no strings attached. Sharon (Candice Bergen) is still working through a decades-old divorce. Carol's (Mary Steenburgen) marriage is in a slump after 35 years.

Four lifelong friends have their lives turned upside down to hilarious ends when their book club tackles the infamous Fifty Shades of Grey. From discovering new romance to rekindling old flames, they inspire each other to make their next chapter the best chapter.
Plan your girls' night in with BOOK CLUB
Every memorable girls' night in requires a little bit of planning but with a stellar movie like BOOK CLUB and a few tasty snacks and beverage, you can easily have the girls over for an impromptu evening.  With three simple steps, you can whip together everything you need in under an hour – shopping and prep time included!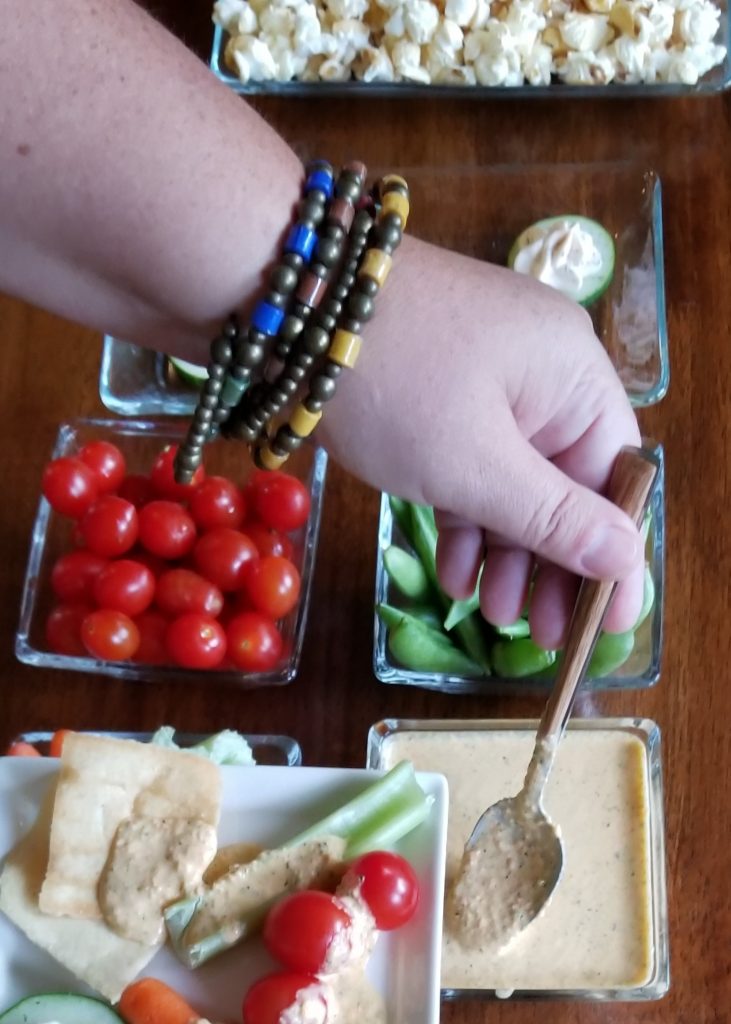 Choose your venue:  
Will you gather around the kitchen table?  Will you hang out in the family room or spend time on your patio deck? For a girls' night in BOOK CLUB viewing, you might opt to do all three!  I set up a variety of movie night snacks on my kitchen table, made sure our family room was free of obstacles (like stray toys,) and stocked a few candles on our deck so that we could hang out after to discuss the film.
PS: Be sure to pick up your copy of BOOK CLUB on Blu-ray while you're shopping for your party supplies!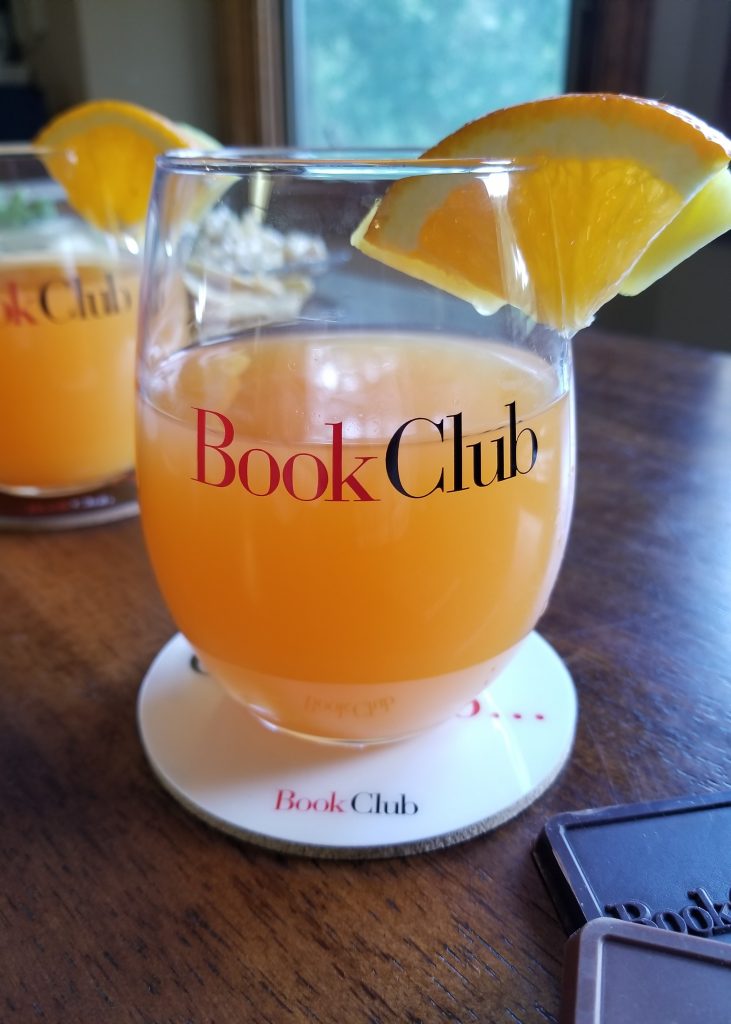 Plan your beverage: 
To keep things simple, I always stock up on a few good bottles of wine.  When I want to add an extra element of fun, I also like to toss a themed drink into the mix that complements our activity, in this case, the movie we are watching.  To add a little "cheeky" wit to our evening, I picked up ingredients to make and oldie-but-goodie classic, "Sex On the Beach" drink!
I made these ahead of time in a pitcher.  The following recipe will make enough for about 8-10 glasses:
1 1/3 cups Vodka
1 1/3 cups Cranberry Juice
2/3 cup Peach Schnapps
1 1/3 cups Orange Juice
Mix all ingredients in a pitcher.  Chill for 1 hour.  Serve and garnish with an orange slice.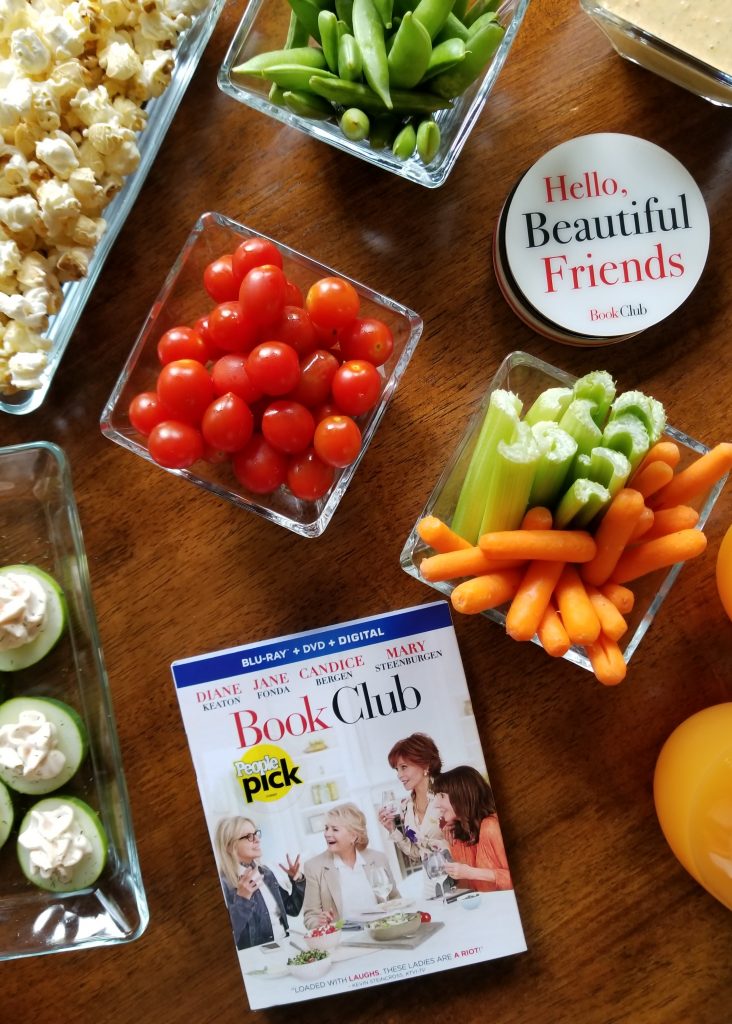 Prep your snacks:
Here's where you can really save time by keeping things simple.   Whenever possible, use pre-made snacks that everyone loves for movie-watching like popcorn, chocolate, candy and chips.  If you like to have farm fresh, healthier options on-hand (like I do,) then you can wow your guest with these two quick and easy recipes that are full of flavor.  Everyone will love the homemade touches and you'll be the only one who knows how little time it took to put it all together.
You can also give your recipes quirky names to fit the theme of the evening.  My Farm Garden Vegetable Dip became "Total Tizzy Dip," and the Cucumber Bites with Salmon Mousse became "Seductive Sea Bites."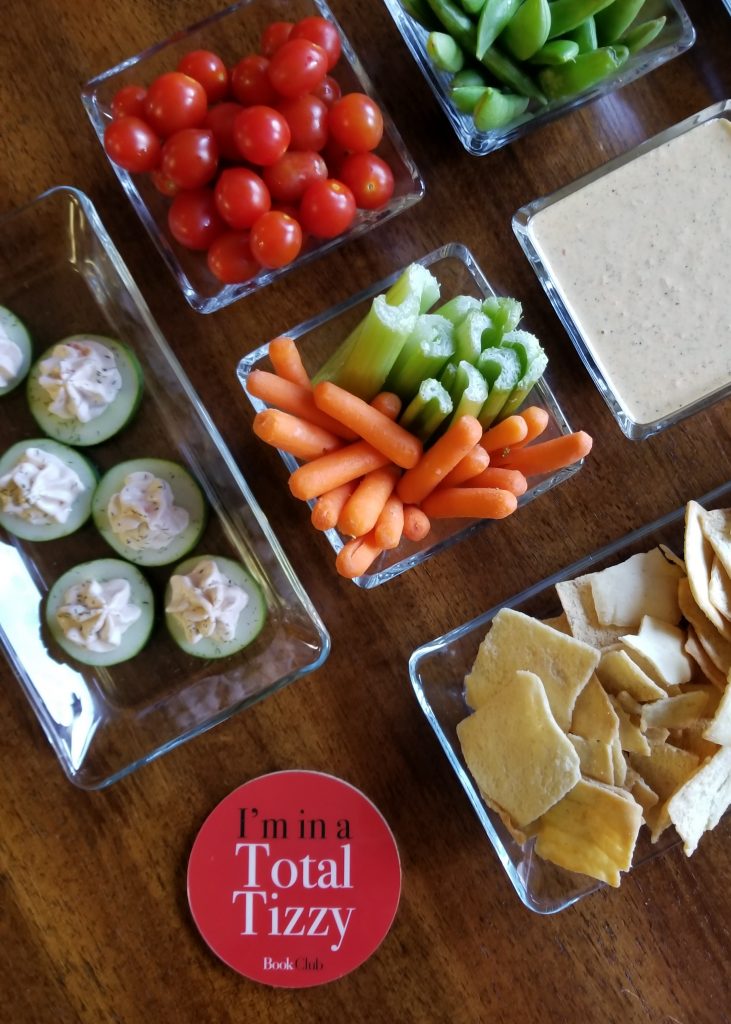 Total Tizzy Dip (aka My Farm Garden Vegetable Dip)
As all of these ingredients are whirred into a total tizzy by your food processor, the name suited this snack well!  Serves 8-10. 
6 Baby Carrots
1 Red Bell Pepper, seeded
1/2 cup Broccoli Florets
1/2 cup mild cheddar cheese, grated fine
12 ounces Creamy Organic Ranch Dressing
1/2 tsp. Ground Pepper
Optional (if you like a little extra spunk) 1/2 tsp. curry powder
Using a food processor, add carrots, pepper, and broccoli. Pulse until chipped fine and fully mixed. Add ground pepper (and optional curry powder, if desired.) Pulse until fully combined and smooth.
Add ranch dressing and cheese. Blend for 1 minute, or until fully combined and smooth. Pour into a dip bowl and chill for 1 hour. Serve with crudités and/or crackers.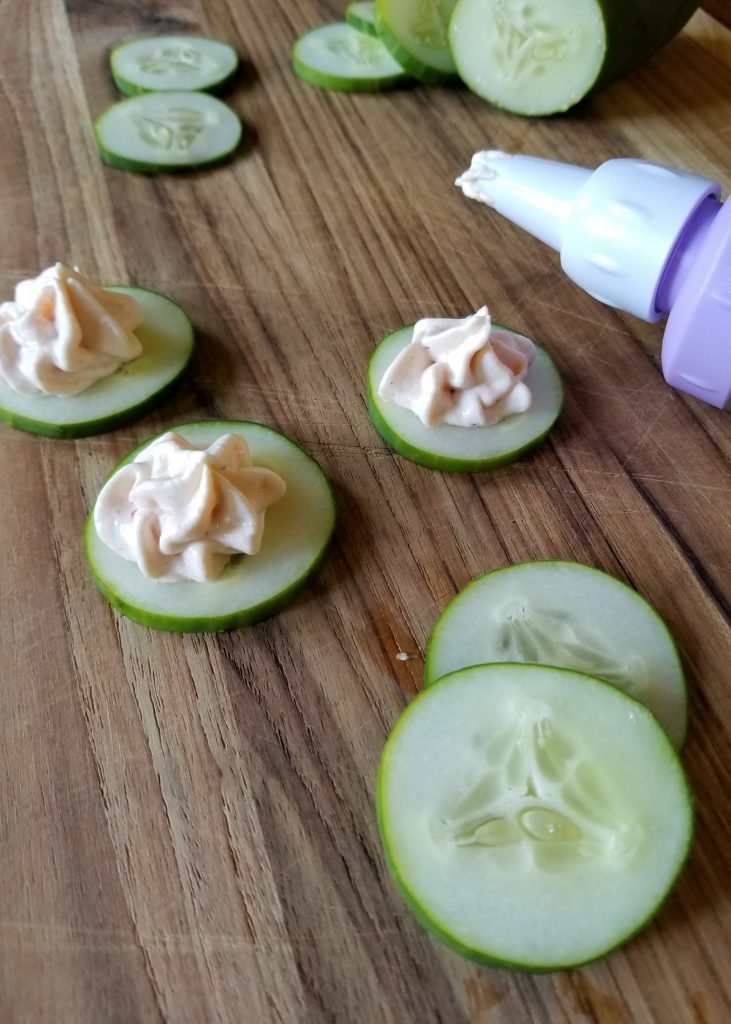 Seductive Sea Bites (aka Cucumber Bites with Salmon Mousse)
Silky smooth salmon with a dash of dill atop a thin slice of crunchy cucumber will definitely seduce your taste-buds!  Serves 8. 
8 ounces of Smoked Salmon
8 ounces of Cream Cheese
1 tsp Dried Dill
1 Cucumber, sliced into thin rounds
Optional: 1 clove Garlic, minced
Using a food processor, add salmon, cream cheese, dill (and optionally, garlic.) Pulse until fully combined. Blend for 1 minute or until fully combined and smooth.
Using a decorative icing bag with decorative star icing tip, pipe a dollop of the salmon mousse atop each cucumber slice. Dust with a little dried dill for garnish.