Phoebe Waller-Bridge is the powerhouse behind the new droid in the STAR WARS universe, L3-37.   Her quirky, adorable performance in SOLO: A STAR WARS STORY instantly captures your heart and tickles your funny-bone, this character is truly a treat!  Thanks to my partnership with Disney, I had the chance to attend an exclusive interview with Phoebe Waller-Bridge right after the world premiere of the film.
Despite her captivating role in SOLO: A STAR WARS STORY, Waller-Bridge claims to be one of the five people in the world who never saw any of the STAR WARS films. She thinks that this may have actually helped her land the role as she didn't feel constrained when auditioning by and idea or definition of what a droid is or should be.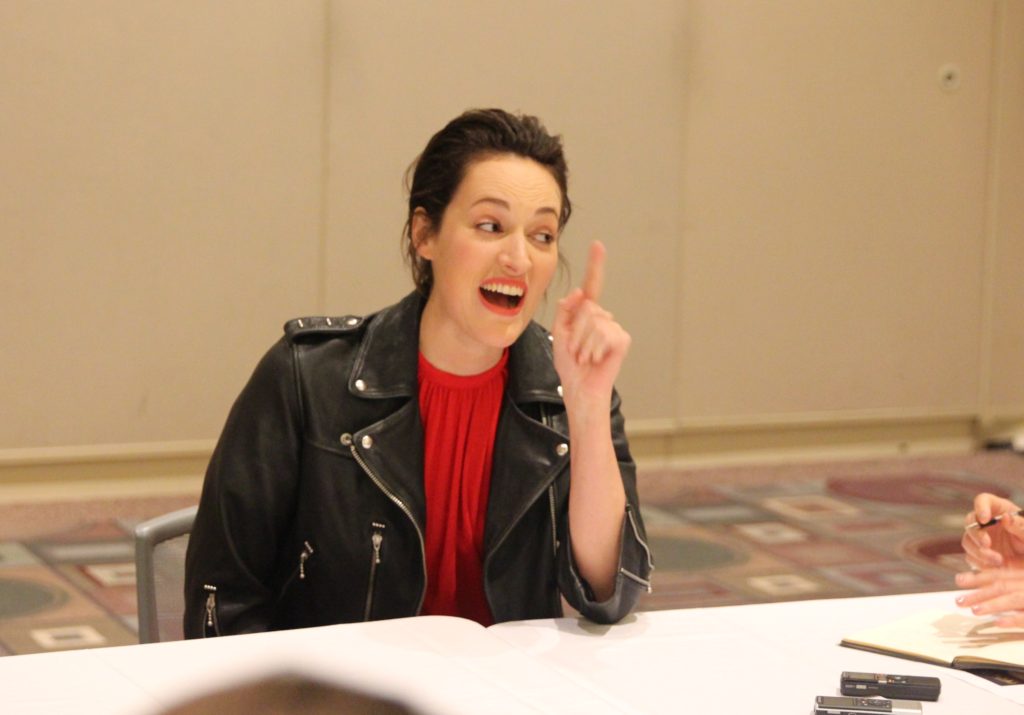 Later, she did feel the "awe" of being in a STAR WARS movie and got very excited when she first saw the Millennium Falcon and when she met Chewbacca.  She said she gave a little involuntary scream at both moments.
"The big one really came two weeks after we'd wrapped," said Waller-Bridge.  "I was just on a bus going get a sandwich for my love somewhere in London. And I suddenly just went, 'What just happened?' I called my sister and I was just like, 'Was I just in a Star Wars movie?' She's like, 'Yeah. Love, yeah. We came to set. We saw the whole thing.' My God! How did that happen?"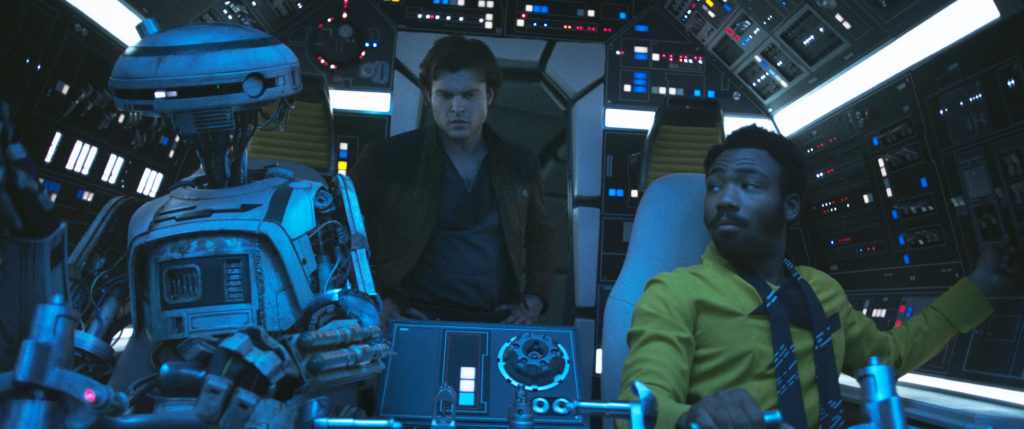 Preparing for her role as a droid was a little easier than Waller-Bridge first expected.  She was ready to work out to be stronger to help support the suit better.  She offered to change the voice and her mannerisms to be more droid-like, but was instead told to be more less uptight about it.
"Because L3-37 created herself, she built herself not to be more human, but more relaxed in her voice, and her body and everything," said Waller-Bridge. "I would offer something droid-y.  They would be like 'Stop that, pull that back. Be more natural.'"
Waller-Bridge said the script is wonderful and gives full credit to it for humor and heart of her character.  She felt that L3-37 was written to have a huge amount of heart and passion.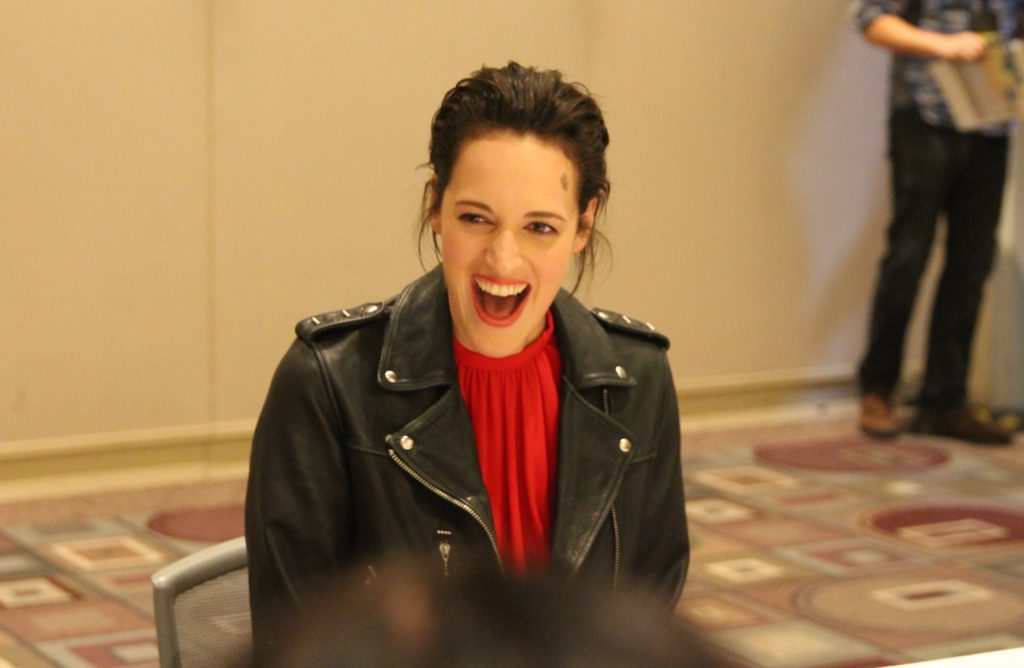 "Where there's humor, there's heart, and I think she's got a lot of it,"said Waller-Bridge. "L3-37 is like a social justice warrior, and she's a droid with an agenda that goes beyond her own existence.  That's very unique."
Getting into full character for L3-37 meant getting into a skin-tight green leotard which then has the legs, arms, chest plate and head of the droid attached to it.  Waller-Bridge had a full body scan prior to filming from which a complete replica of her body was built and then the suit was built around the replica so that it is a perfect fit.
"It was the first time that they'd created a droid that could move properly and be more flexible," said Waller-Bridge.  "I could move all of my joints. Because she's a self-made droid, L3-37 created herself to be more flexible, bigger, faster, and stronger than any other droids that she would've met."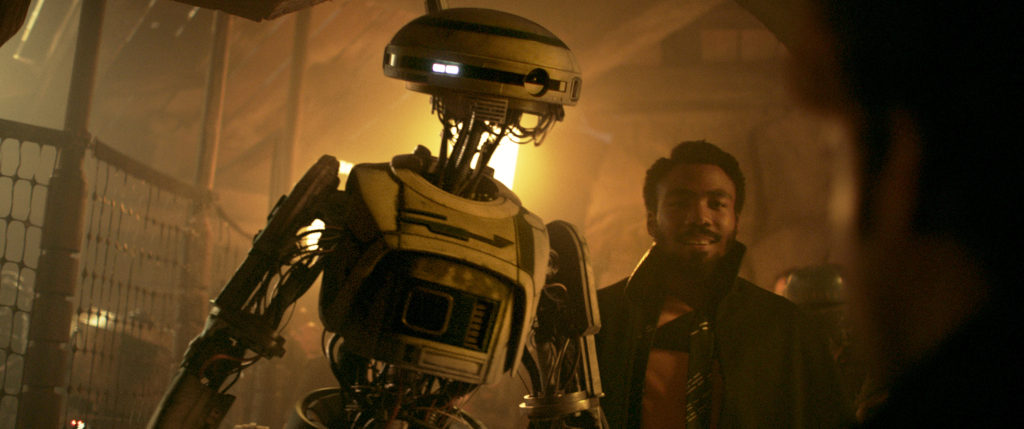 Waller-Bridge enjoyed that her character is somewhat the poster child for droid liberation, suggesting that she always has been personally that character at heart.
"It's a film celebrating individuality and individual causes and having courage of your own convictions," said Waller-Bridge. "There are so many amazing relationships in SOLO, and I think it's inspiring.  The trust it takes to partner up with somebody, I hope that inspires the audience, as well. But also wanting to be careful, because some people betray you. [LAUGHS] Trust no one. Lovely summer message!"
I have no doubt the audience will have a wonderful relationship with and reaction to Phoebe Waller-Bridge's droid character L3-37.  Without giving away any spoilers – expect to be surprised and delighted by L3-37's antics, beliefs and emotional arc!
SOLO: A STAR WARS STORY is in theaters May 25