Fruits and veggies really have a way of brightening your day, don't they?  Pair them with a hearty, multigrain grain cracker and it will lift your taste-buds and spirits, too! My newest recipe for Berry Mango Salsa with Back To Nature Multigrain Flax Seeded Flatbread is a easy to whip up and a delicious joy to eat. Thanks to my partnership with Back To Nature and participation in the Mom Blog Tour Natural Products Expo West, I was inspired to create this recipe to liven up your celebrations and help usher in some (much needed!) Spring sunshine.
I participated in Mom Blog Tour Natural Products Expo West (#MomBlogTourFF) on behalf of Wendy's Bloggers. I received Back To Nature products to facilitate my review, but my opinions and creative content are my own.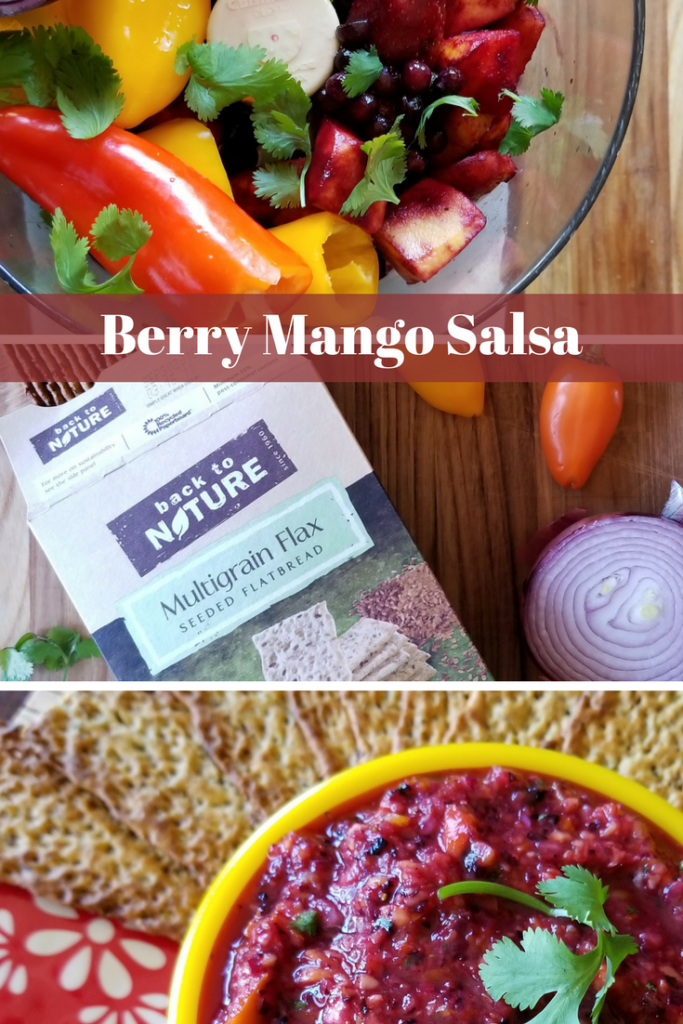 In most parts of the U.S. right now, Spring has been teasing us.  One day we have light breezes and 60 degree sunshine, the next, there is snow on the ground! It's a bit of a stretch to imagine that we'll soon be picnicking and ushering in the barbecue feasts of summer… but we will!  And I love to be ready to gather with all the farm fresh goodness that's already showing up in our Farmer's Market.
Herbs, like Cilantro, lead the way with their early Spring crop and the blueberry season has just begun.  To celebrate these amazing flavors, I've prepped a quick and easy salsa that packs a nutrient-dense, flavor-filled punch.  Paired with my favorite Back To Nature flatbread cracker that's perfect for dipping, it's a delightful accompaniment to your Mexican-themed dinners or to enjoy at your gathering as the star of any appetizer plate.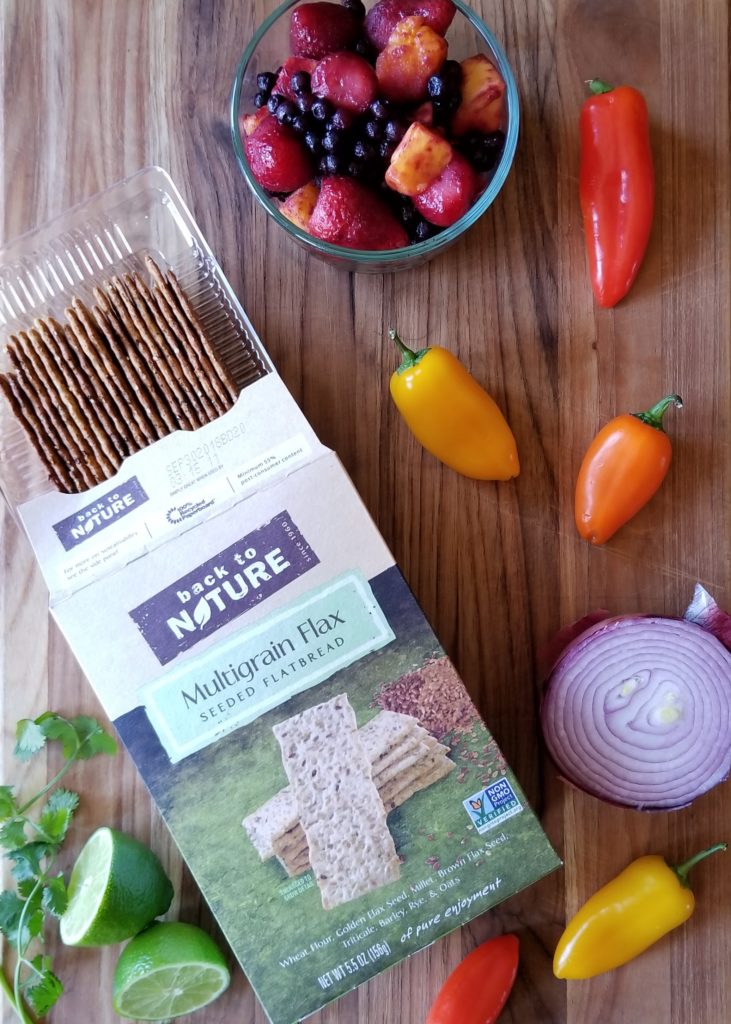 Back To Nature products are one of my go-to's.  You'll always find plenty in our cupboard as I not only love their taste, I'm appreciative of their commitment to providing wholesome foods that are Certified Organic and Non-GMO Project Verified.  What that means to me is that I'm serving my family and friends great-tasting, quality products with easily identifiable ingredients.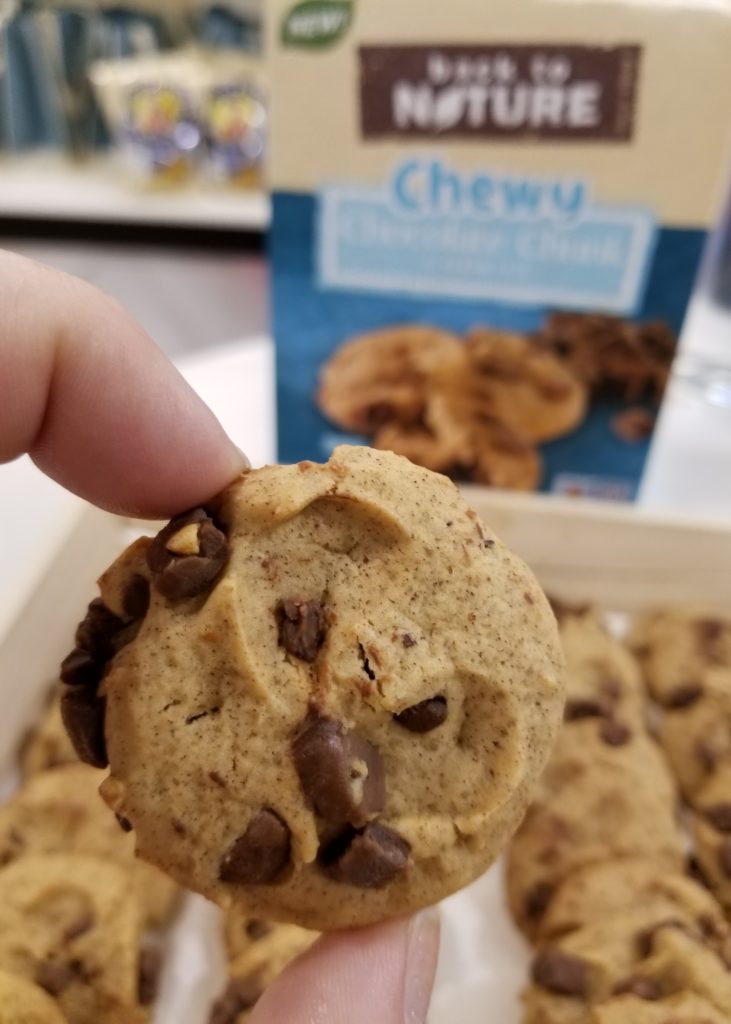 While attending the Mom Blog Tour Natural Products Expo West, I had the chance to visit the folks at Back To Nature to find out what exciting new products they are introducing this year like: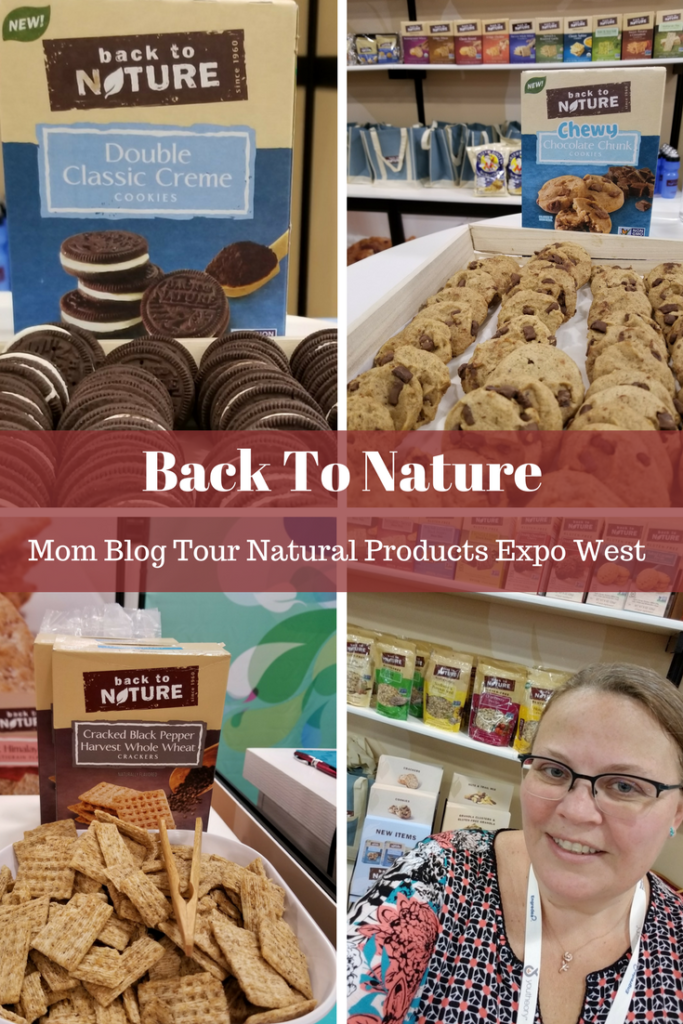 You're likely to see these products popping up in future Rural Mom recipes as they are fresh, delicious and perfect for adding texture, crunch and flavor happiness to your day!
Berry Mango Salsa Recipe
1/2 cup wild blueberries, 3/4 cup strawberries and 3/4 cup mango (or keep things super simple like I did and use 2 cups Wyman's of Maine Blueberries, Strawberries and Mango Chunks, defrosted)
1/3 cup sweet peppers, seeded (equivalent to about 4-5 small sweet peppers)
1/4 cup red onion
2 springs of cilantro
Juice from 1 lime
Salt and pepper, to taste (I use just a little pinch of each)
Optional (if you like spicy salsa): 1 jalapeno pepper, seeded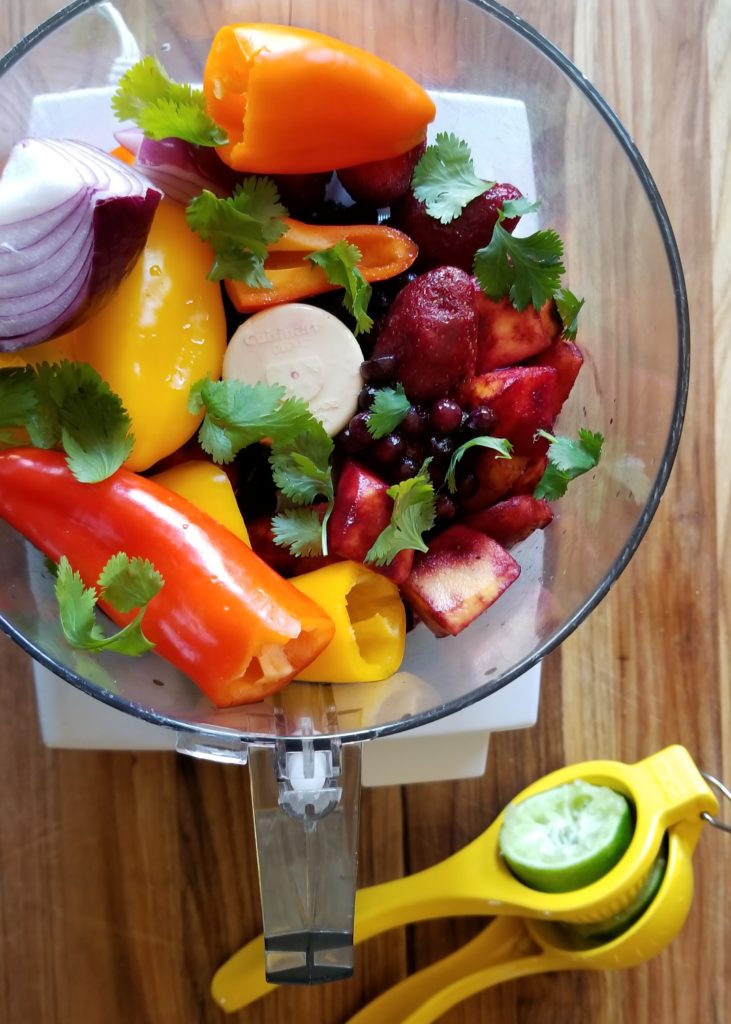 Thaw frozen fruit mix. De-seed peppers, rough chop into big chunks. Rough chop onion into 3-4 big chunks. Juice lime. Remove stems from cilantro.
Add all ingredients to food processor. Pulse food processor 10-12 times or until all ingredients are finely diced and fully mixed. If you prefer a smooth salsa, blend diced ingredients for 15 seconds or until fully smooth.
Pour into a serving bowl and serve with Back To Nature Multigrain Flax Seeded Flatbread or Back To Nature Multigrain Pink Himalayan Salt Multigrain Flatbread Crackers. You can also serve this salsa with tortilla chips, but a more sophisticated choice that will be super pleasing to everyone's palate is Back To Nature.  The hearty, complex blend of multigrain balances perfectly with the sweet and savor tang of Berry Mango Salsa.
Mom Blog Tour Super Colossal Giveaway
Thanks to our amazing sponsors, like Back To Nature, I have a wonderful opportunity to share with you – the Mom Blog Tour Super Colossal Giveaway! This is one giveaway you don't want to miss entering… the prize package is $1500 worth of healthy foods and products to help inspire creative mealtime in your home! Click on the link below to enter.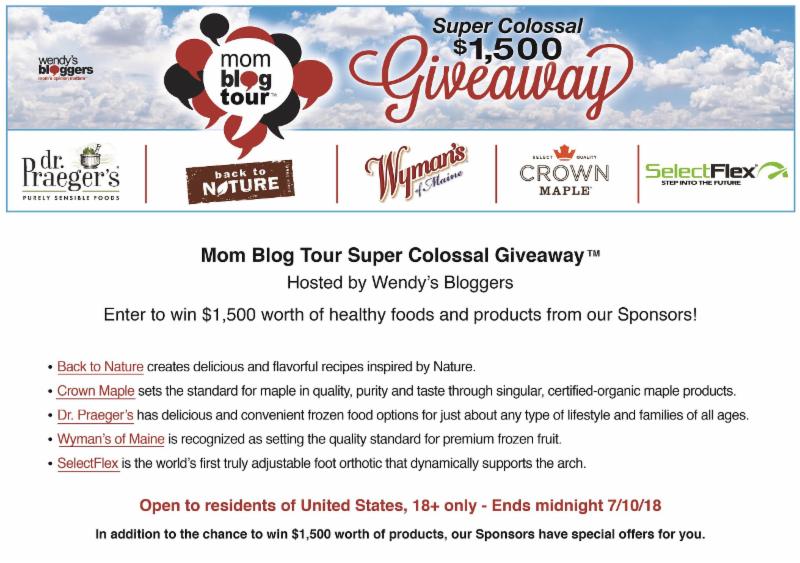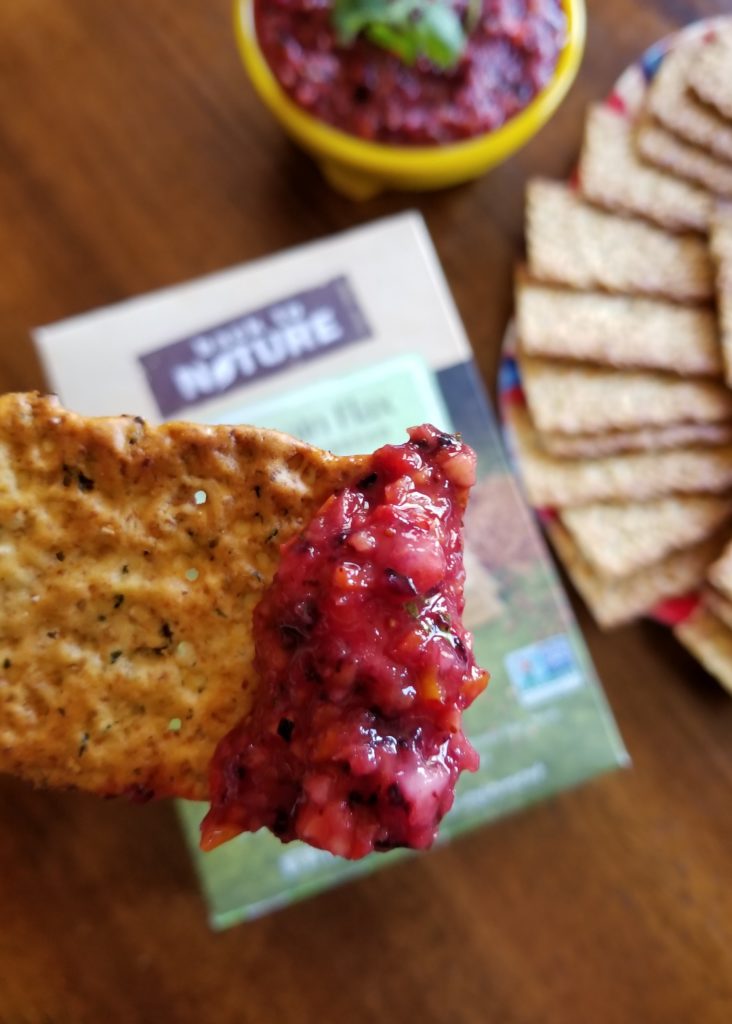 What's your favorite Spring produce?  How are you adding more sunshine to your pallet and plate?  I'd love to hear about it!