One of my favorite ways to celebrate Spring is with a Garden Tea Party! Tea, friends, my garden…does it get any better?  Thanks to our partnership with Oriental Trading, I'm sharing tips for creating a lovely garden tea party and a fun DIY Fairy Garden Tea Pot craft… read on for inspiration!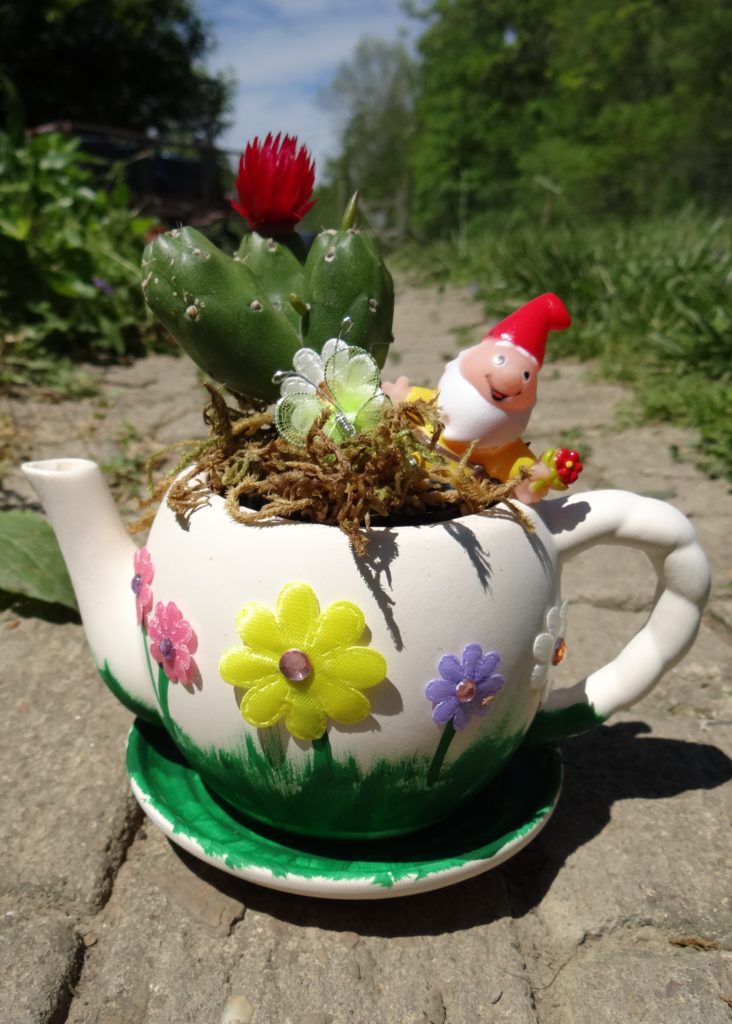 Garden Tea Parties sound like a really fancy idea (pinkies up!), but the truth is that they can be as extravagant or informal as you'd like to make them. Your guests can wear jeans or evening gowns – whatever they're the most comfortable in.  Whatever style you choose, check out these tips and our fairy garden tea pot craft idea to help make your celebration a memorable one:
Consider what type of party you'd like to have. Will it be formal or informal? Do you want to host a brunch-type party or an evening party? Will your guests be primarily adults, or will you be having a child-friendly party? You could also go with an entirely children's party – what little girl wouldn't love a princess garden party? How about making it a "working" party? Everyone knows that many hands make for light work. Why not team up with friends and help each other plant their gardens? After the work is done, you can kick back and relax! Each time, someone new can host.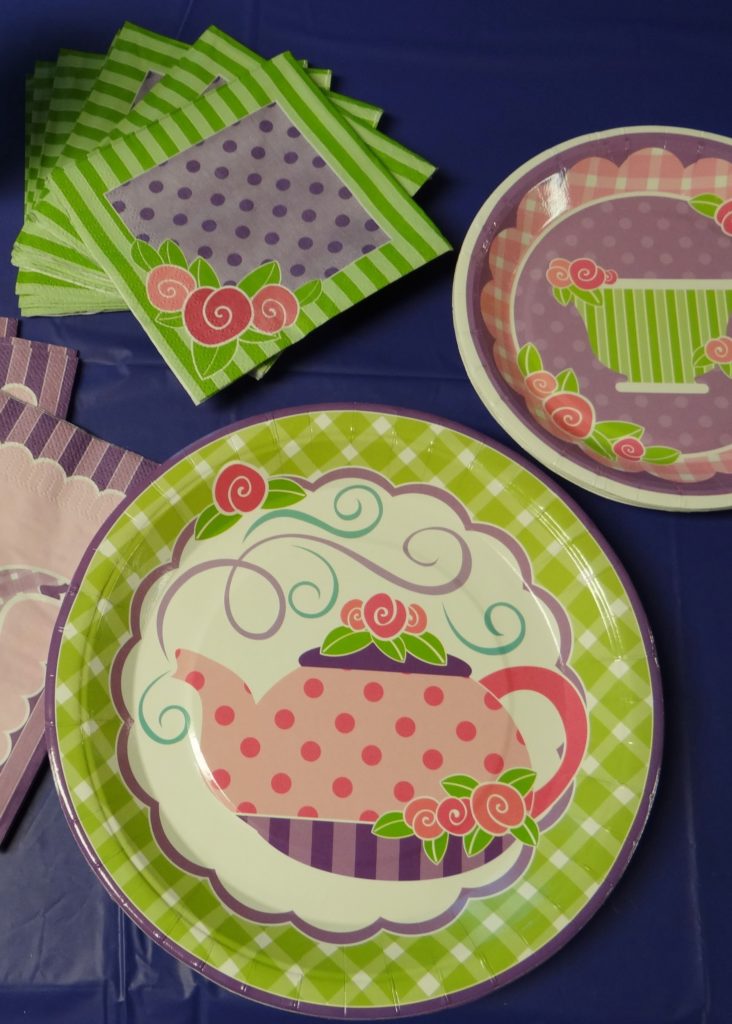 Choose a theme and color scheme to make your party pop. You could go with traditional Springtime flowers, but there isn't any reason why you couldn't go with contemporary colors and decor as well. What are you into? Roses? Fairies? Ladybugs? Cherry Blossoms? Rainbows? Teddy Bear Picnics? There are so many Springtime themes to choose from! Once you choose, take a look at Oriental Trading for your decor and supplies. They've got just about everything you could think of from decor to eating utensils, and it's available in so many different themes!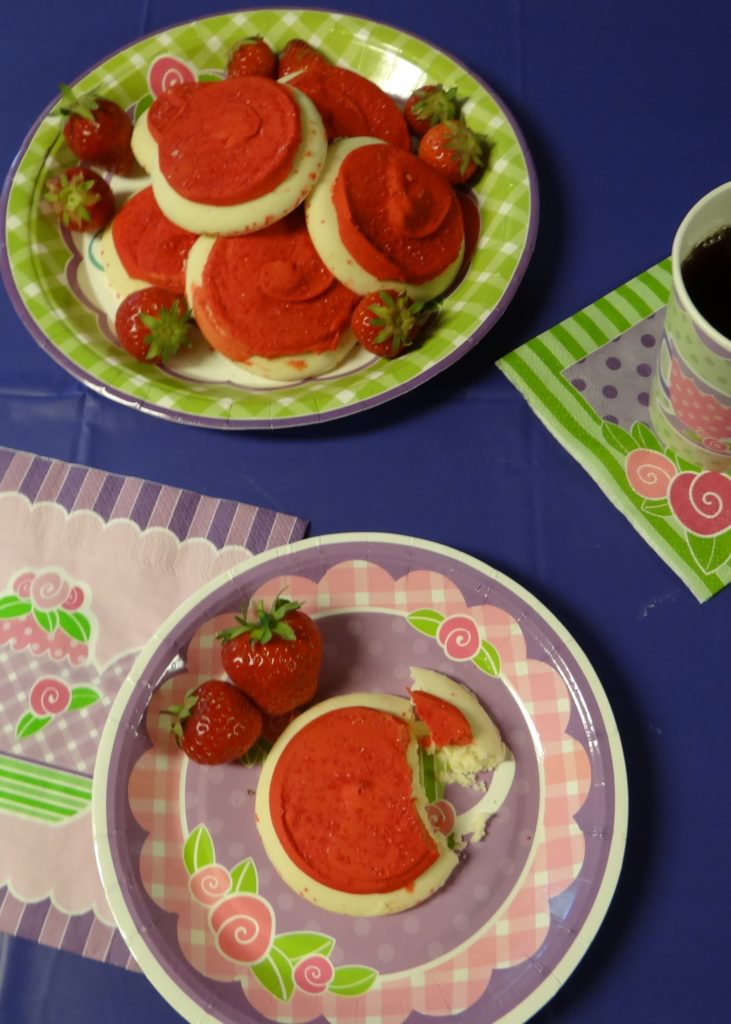 Food, food, and more food! Some fun finger foods I like to serve at garden parties are Vanilla Cherry Pecan Meusli Muffins or Sweet Irish Breakfast Scones, but you could serve some really fancy hors d'oeuvres or even cut up peanut butter and jelly sandwiches if that's what your guests like! As long as you cater to your guests' tastes, the party is sure to be a success.
The tea, obviously! I recommend having a few different choices so your guests are all happy. Start with black, green, and then maybe something fruity. Iced tea is an option, too.  Check out our Southern Style Tea recipe for inspiration. Be sure to have some fresh lemon and sprigs of mint for garnish!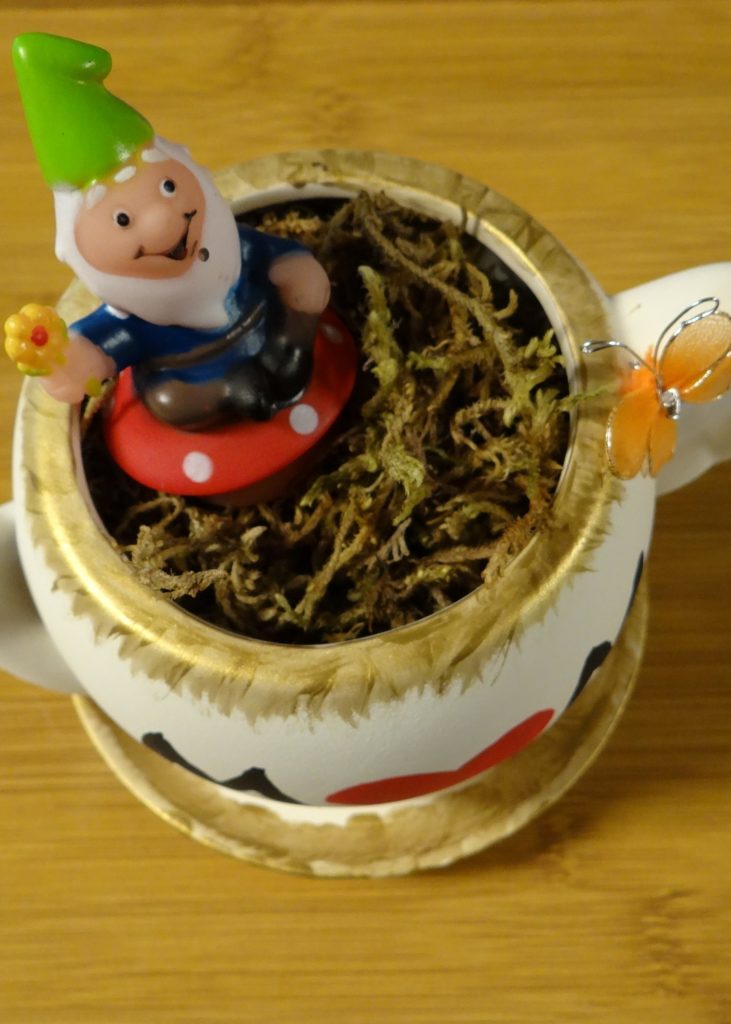 Send your guests home with something to remember you by!  Tea pot fairy garden crafts are a fun idea. I think fairies are so adorable and these are just so fitting for a garden tea party, don't you think? Guests will love making them and taking the keepsake home.
DIY Fairy Garden Tea Pot Craft
Supplies Needed (see links at the end of the feature to shop this post):
Ceramic tea pot planters
Acrylic paints (in various colors)
Paint brushes (in various sizes)
Small embellishments to decorate tea pot and/or add to fairy garden like butterflies, florals, small figurines and mini-mushrooms
Succulents or other small plants (succulents and cactus are ideal for fairy gardens)
Glue (optional, for securing embellishments)
Potting soil
Moss
Water and paper towels (for cleaning paint brushes)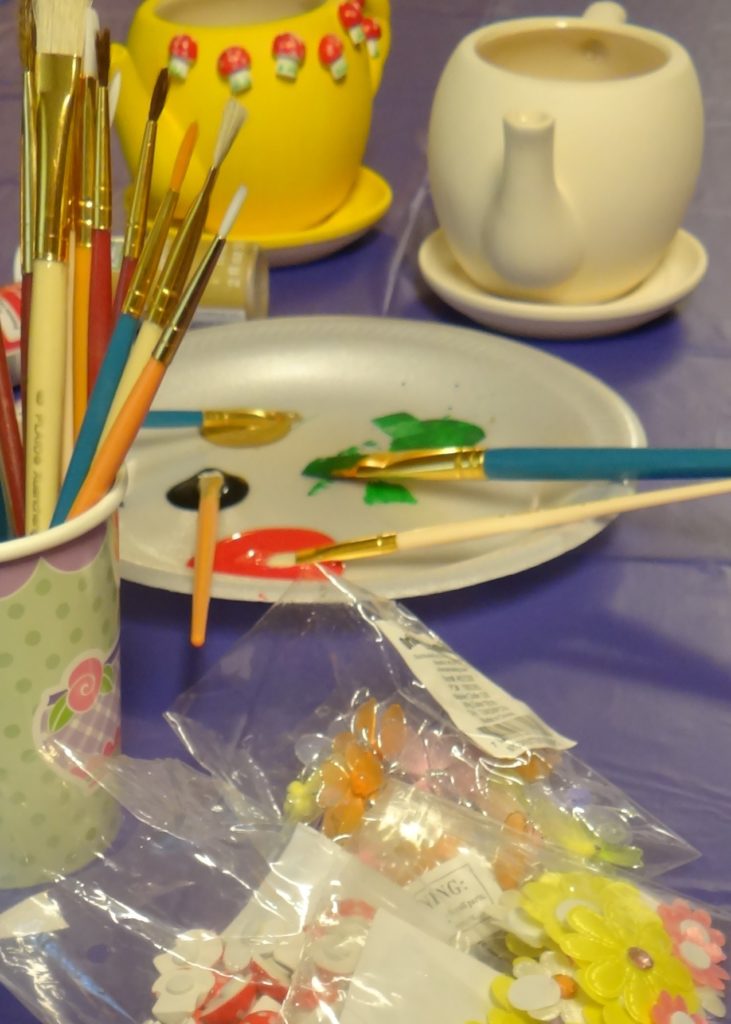 Directions:
This is a free-form art craft, so the tea pot sky is the limit!  Guests can paint the tea pot planter a solid color and add a few embellishments to it or paint on patterns, flowers, words or other artistic designs. In the illustration below, I used green acrylic paint and upward strokes of the paint brush to simulate a look of grass at the base of the planter.  Then I added a few green solid lines to act as stems for self-adhesive daisy flower embellishments.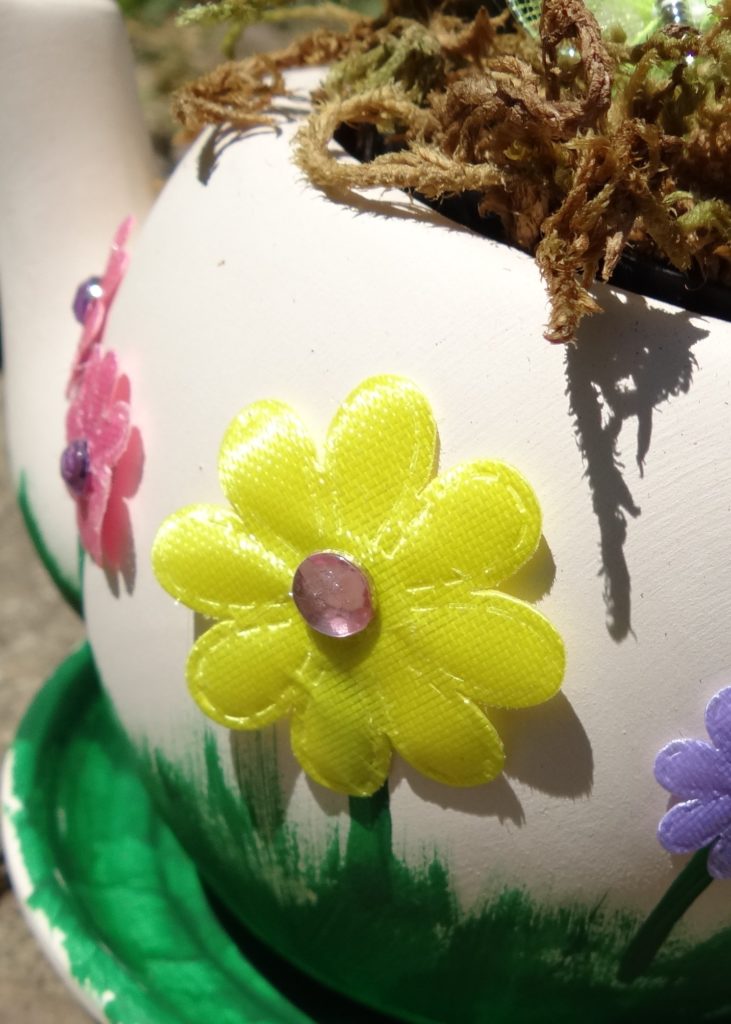 If you provide your guests with colorful paints and embellishments, it will be easy for them to create a bright and festive one-of-a-kind look.  This is also a great craft for kids and the fairy garden planters make a terrific Mother's Day gift.
Once the paint is dry, add potting soil to the inside of the planter and plant your preferred plant.  Place moss around the plant and then add in small figurines, butterflies or even miniature furniture pieces to complete your fairy garden.  If you prefer to gift the planter without adding a plant, you can simply fill the planter with moss and then add the figurines and/or embellishment to create a fairy garden scene (as illustrated in the "Mom" planter pictured in this feature.)
Shop This Post: IN-12/3843 Gnome Characters | IN-13696802 Tea Party Pack | IN-13764550 3D Self-Adhesive Mushrooms | IN-48/2326 Fancy Butterflies | IN-48/2836 Self-Adhesive Daisies with Jewel Center | IN-73/33 Plaid® Paintbrush Super Value Pack | IN-73/89 Acrylic Paint Set – Primary Colors | IN-13752222 Natural Moss |IN-13674927 DIY Ceramic Teapot Flower Planters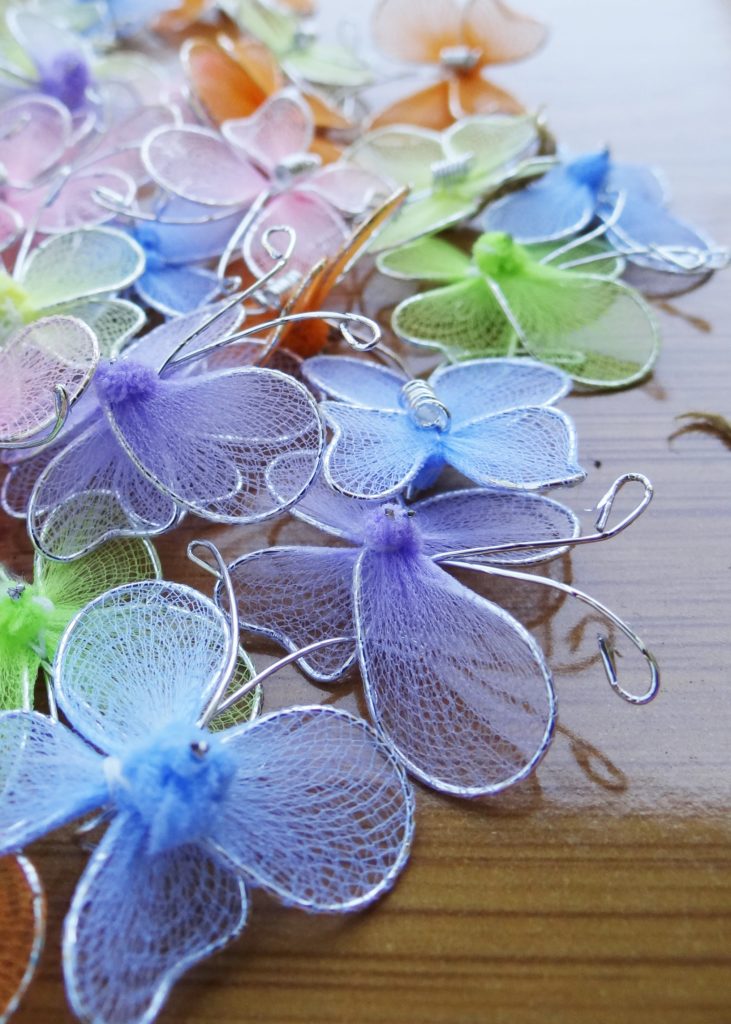 Now that you've got the basics, you're ready to put on your fancy hat and gloves and party! Remember that the object of the garden party is to have a great time with friends. Don't stress yourself out – if it doesn't go well, you can turn it into a tea-and-wine party instead 🙂