Embroidery encompasses the strengthening of coordination, academic, emotional and artistic skills.  Embroidery may be viewed as a feminine craft in the United States but it is not considered that in all countries.  In fact, studying the history of embroidery shows us that at one time boys were the only gender selected to become apprentices supervised by male masters of the trade.
Today embroidery is an equal opportunity hand craft that can be embraced by both male and females.  So what are some of the skills and social benefits that can be learned from the art of embroidery?

1. Embroidery skills learned and practiced actually help society.
Children gain a sense of pride from jobs well done and the attention they gain from their achievements. Every day we move towards a world that demands instant gratification.  Everyone enjoys getting the things we want now but instant gratification does not develop patience and discipline.  Society benefits from those that have respect for personal property that is owned or not owned by an individual.
Children learn respect for the time and labor that went into projects by learning these skills that embroidery teaches.  A child learns discipline, endurance, patience, and time management from accomplishing an embroidery project.  Leaning those skills for themselves also transfers over to gaining empathy towards others that have taken the time to take pride in the things they own.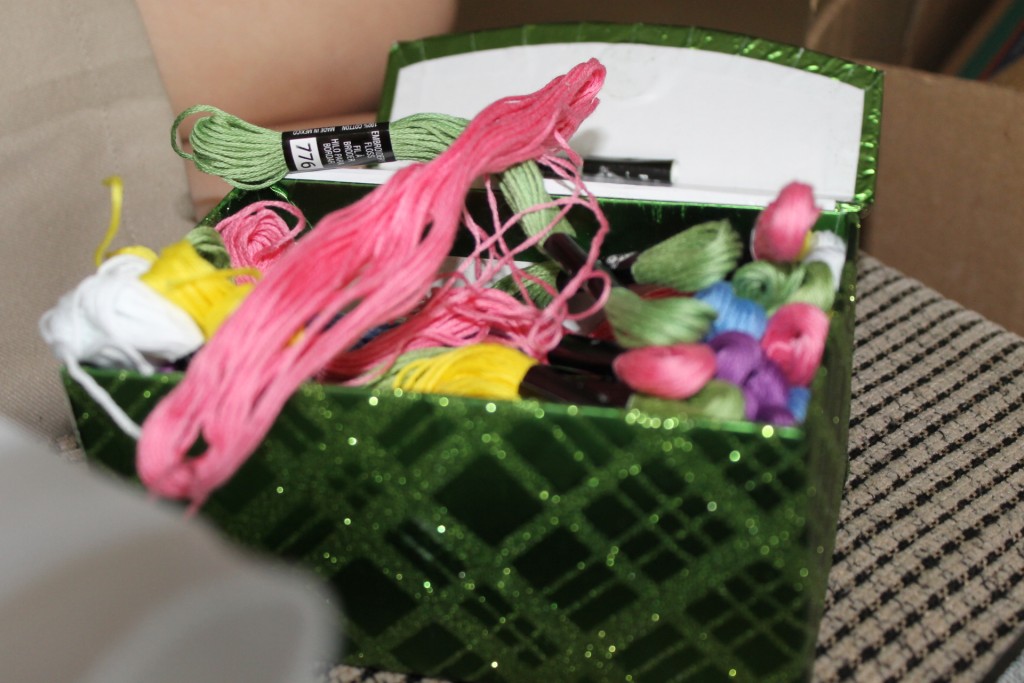 2. Skills learned from embroidery also nurtures creativity and ingenuity.
It gives children the ability to have the resources to tackle D.I.Y. projects.  Dreaming and anticipating about having a room decorated in their favorite character can be transferred into reality as embroidery gives a child control by allowing them to create their own world by embroidering those characters on pillow cases, curtains, dresser scarves and framed works that can be made and placed in their room.
Embroidery is an inexpensive craft to learn and maintain.  All that is required to begin is an embroidery hoop, embroidery needle, embroidery floss and a pair of scissors. I remember as a child that I took pride in the appearance of my room because of the time spent decorating it with my embroidery projects that also added unique decor and things that reflected my own personality.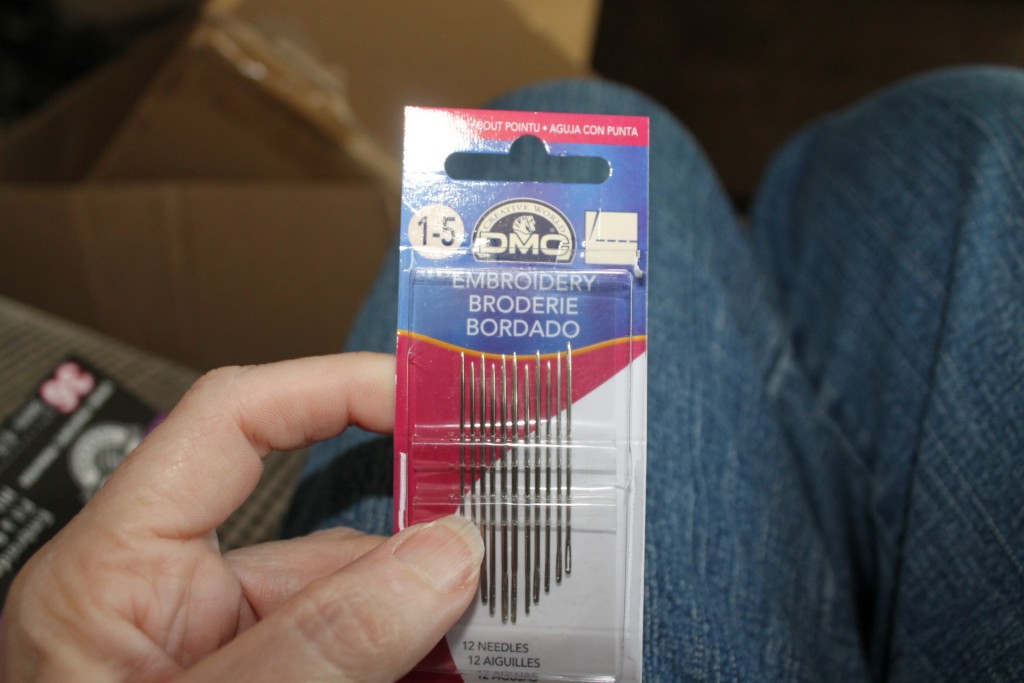 3. Those early D.I.Y. projects easily transfer over to life skills for adulthood.
Embroidery skills easily transmit over to hand sewing skills which are very much needed for sustainable living and outdoor enthusiasts.  Hand sewing is versatile as needles and thread are easily packed as necessary tools and used in the following ways:
Tent and canvas repairs
Clothing repair in home or out in the field.
Outdoors men and women have learned that sewing skills can permanently join cordage and straps when towing is needed.
4. Skills are learned that transfer over to other areas of the life of a child regardless of gender.
Eye-hand coordination, color theory, design and planning skills area all developed by embroidery.
These skills easily build academic skills as well by improving fine motor skills, manual dexterity and manipulative skills as well as a working understanding of art and life management skills.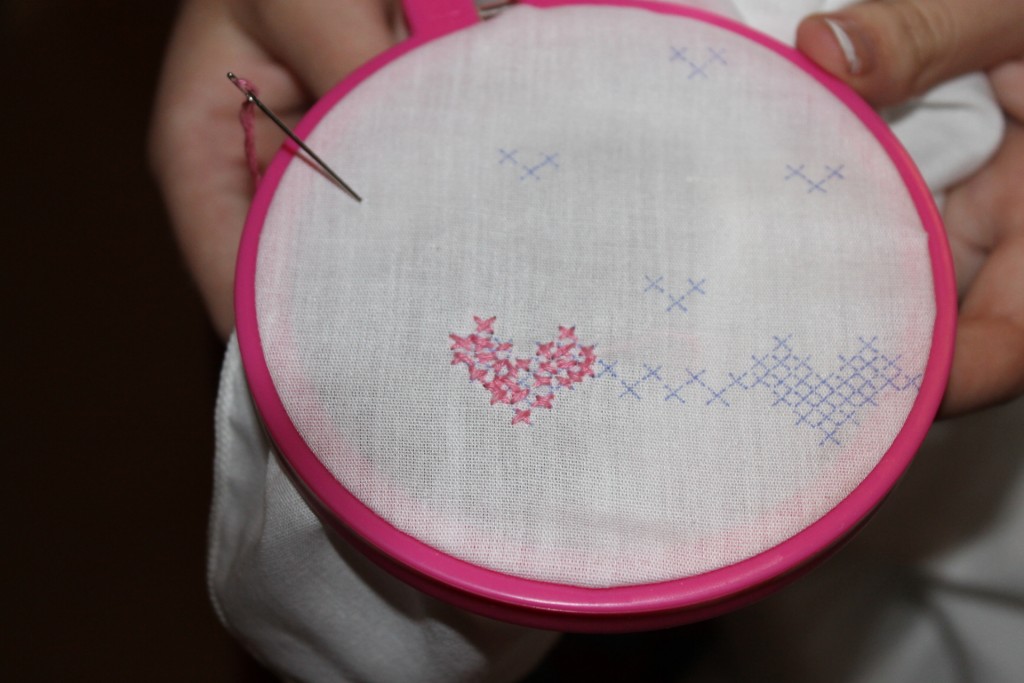 5. Entrepreneurs are easily grown from those that learn embroidery.
Embroidery can even teach a child money management.  Projects can not only be given as gifts which allows for saving money that would have been needed to purchase a gift but also allows the individual to spend it on other things while still giving a thoughtful unique gift handmade instead of purchased in the store.
The art form of embroidery can even launch a child into their own small business by selling their made items to friends.  Copy right laws should be taught so the child learns consideration for others hard work and designs but this knowledge also encourages uniqueness, originality and the ability to protect their own work and designs.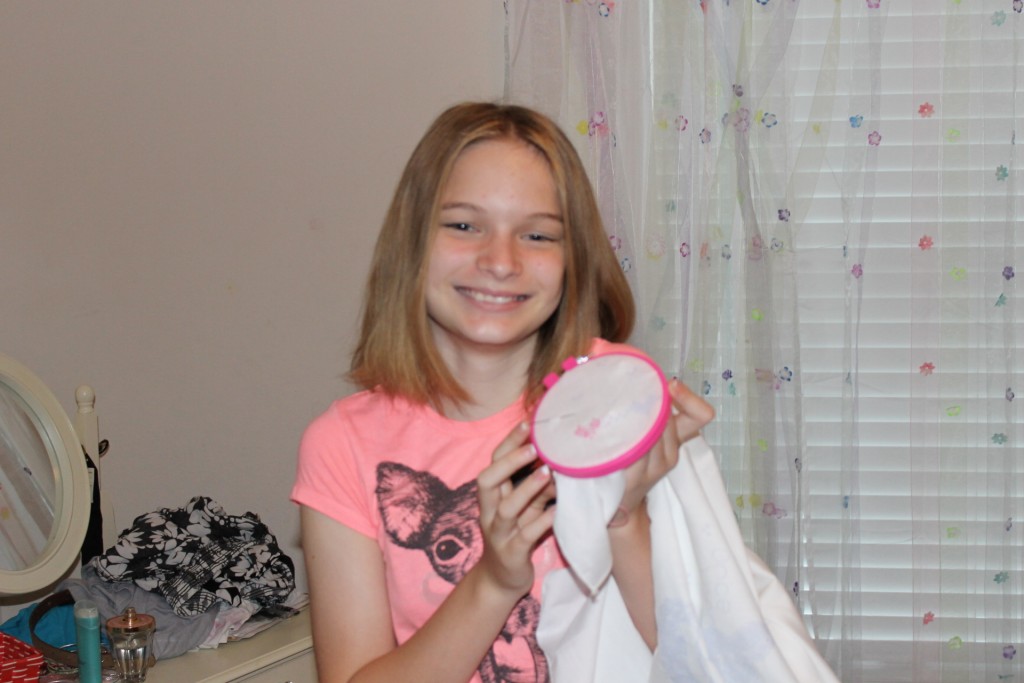 I began embroidering in the first grade and by the time I was in high school I was selling my own designed blue jean patches, embroidered jean purses and also did embroidery work for a seamstress.  I gained extra income to purchase things I wanted along with gaining self confidence, a sense of pride in my work and a great work ethic.
These five reasons given for a child to learn embroidery are skills that will benefit society and the child's development into well rounded conscientious and productive adult.