Do you have extra tires sitting around your homestead?  It seems like every year, just right before the holidays our vehicles all-the-sudden are in dire need of new tires!  This works out well as we head into the winter months to have new tires with a great grip, but certainly leaves us with an abundance of spares.  While we've found alternate uses for them, there are only so many tire planters, swings or barn wall hangings you can make.  So this year, thanks to some encouragement from our friends at Discount Tire, we've gotten a bit more creative and are using one of our old tires to create a new (and much needed) Christmas gift for our large breed Pyrenees.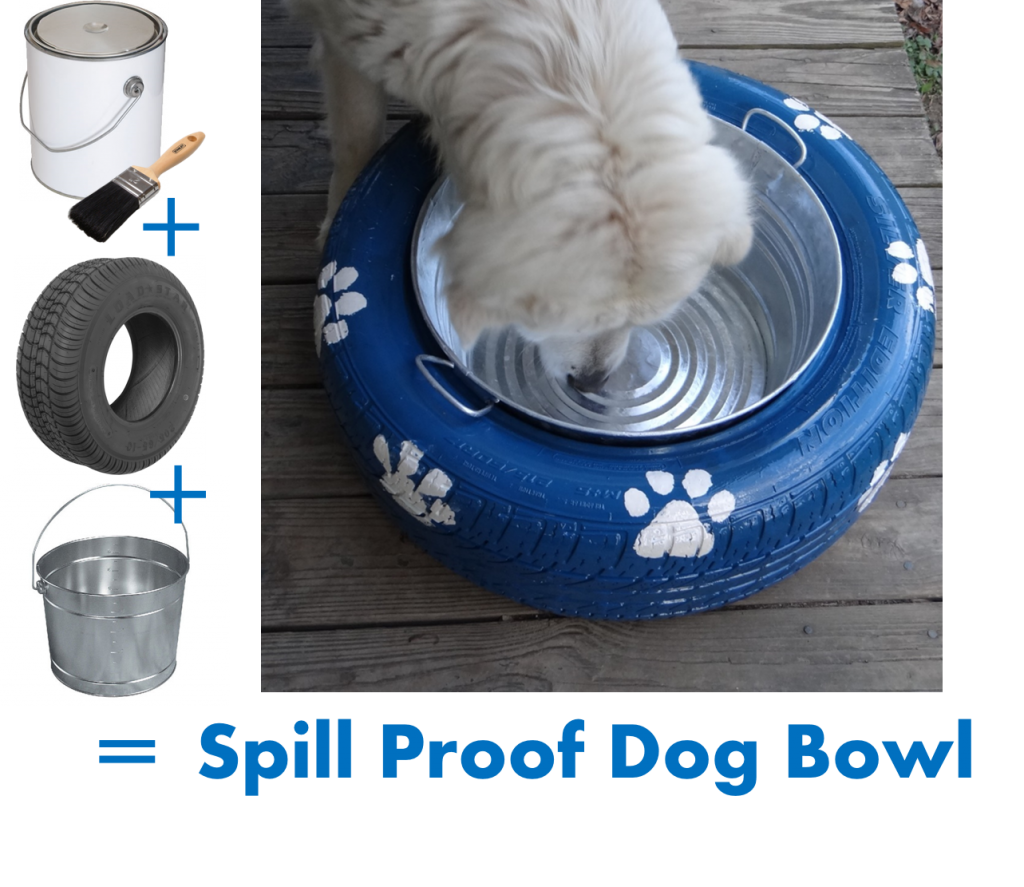 If you've been hanging out with us for awhile, you all know that all of our animals are family around here, so our pups are always included in our holiday celebrations.  We hang stockings up by our tree for them and we make sure they get a nice present each year, too.
Our present this year is a dual gift both for us and our dogs as we've decided to make a cute recycled tire spill proof dog bowl.  If you've ever owned a large breed dog, I'm sure you will appreciate what a great solution a spill proof bowl is!  Countless time my big guys have knocked over their water bowl.  And even when we get heavy duty bowls, they manage to scoot them across the porch and bam! right off the edge it goes.  While we have big tubs around the farm for them to drink from, too, it's so important to have water close to the house in the winter so we can make sure that they have fresh (not frozen) water to enjoy all day long.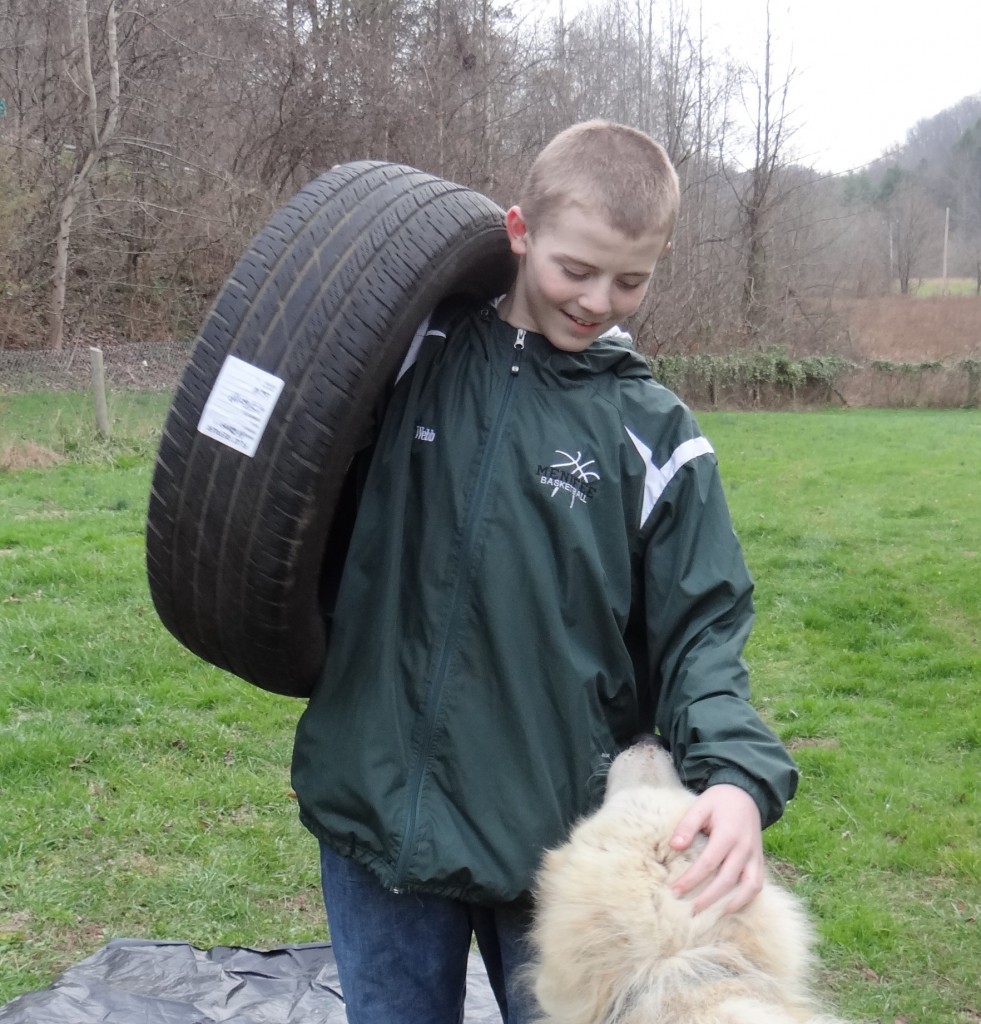 Lately, I've managed to wedge the bowls up against our grill, but that's certainly not an ideal situation either and as you can guess, they still manage to scoot it around the porch after awhile.  Putting two and two together, I realized that putting a tire around their bowl would be a crazy-good perfect solution!  The tire is heavy enough to keep the water (or feed) bowl in place and to prevent my pooches from uprooting it.
But, I didn't want to just put a tire on my porch as it didn't exactly mesh with any of my other decorative efforts.  I mean we are backwoods around here, but putting plain ol' tires on the porch seemed a little too "junkyard chic" for me.  Ha ha! So, we decided to show a little Kentucky pride and go with our preferred U of K "Big Blue" colors of blue and white to decorate the tires for a more fashionable display.  My sons quickly got in on the action to help me surprise the dogs with a shiny new waterer.

PS:  If you want more farm fresh ideas, we have plenty!  Visit our DIY section to check out what's new in the Rural Mom kitchen.  If you are into HOMESTEADING, GARDENING or looking for some delicious recipes, we have that, too.  Visit our  NOURISH section.  And of course, there are always GIVEAWAYS (so be sure to check them out.)
Recycled Tire Spill Proof Dog Bowl DIY
To get started on this recycled tire gift project, you will need:
1 used tire
1 galvanized, rubber or plastic bucket (sized to fit inside center of tire)
exterior paint (colors of your preference)
paint brushes
Note:  We used a 17″inch tire and matched it with a 7 gallon 17 5/8″ galvanized bucket for our project.  Use the diameter of the inside of the tire to gauge how big the outside diameter of your bucket should be for a snug fit.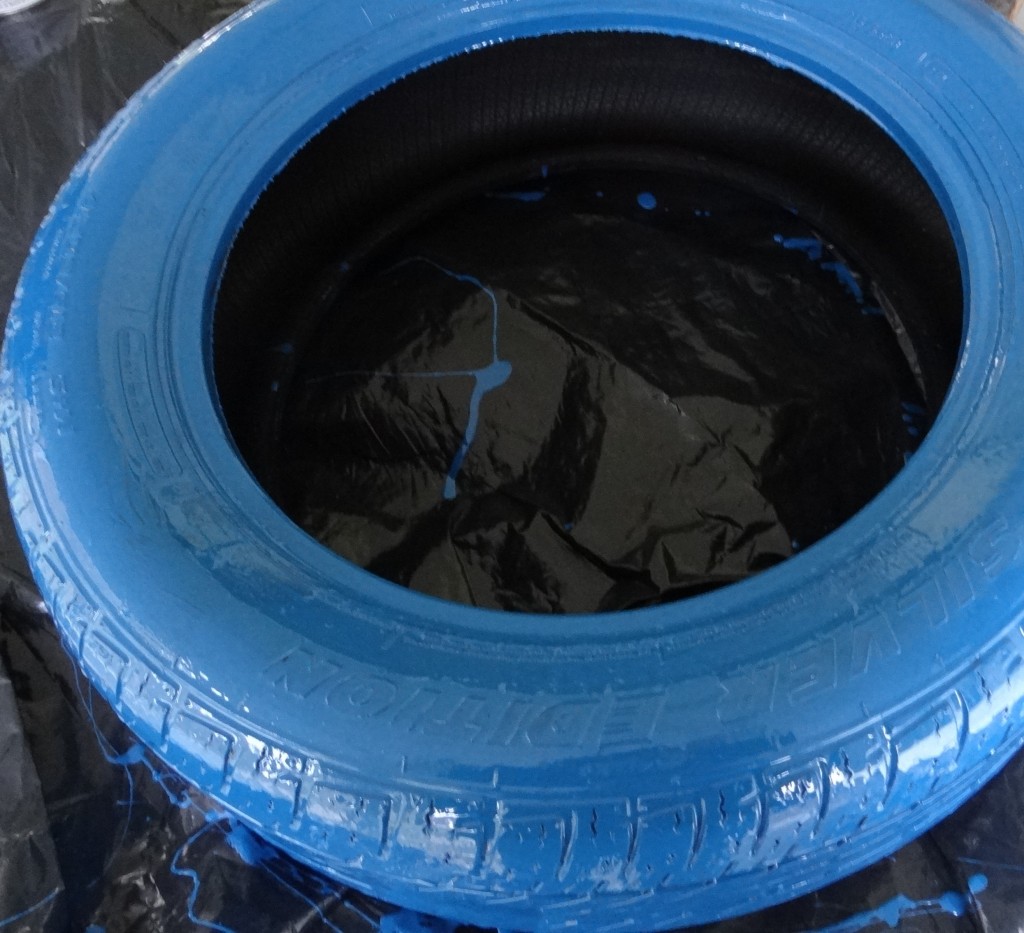 Decide your color preference for the tire and whether you would like a pattern on the tire surface.  As I wanted to use blue and white, I thought a blue tire with white paw prints would be super cute and of course, very appropriate for a dog bowl.  I also thought about making a striped pattern and I think simply having the base a single color would look great, too.  Whatever you color or pattern you decide on, simply purchase the appropriate exterior paint colors.  I purchased quart size paint in blue and white and had about a third of a can of blue paint left and plenty of white paint left over.  On hindsight, I easily could have gotten by with an even smaller size of the white paint.
For the first step, simply place the tire on a drop cloth and paint the outside of the used tire with your preferred paint color.  Make sure to fill in all the crevices of the tire.  Allow the paint to dry fully before applying a second coat or before adding any other embellishments.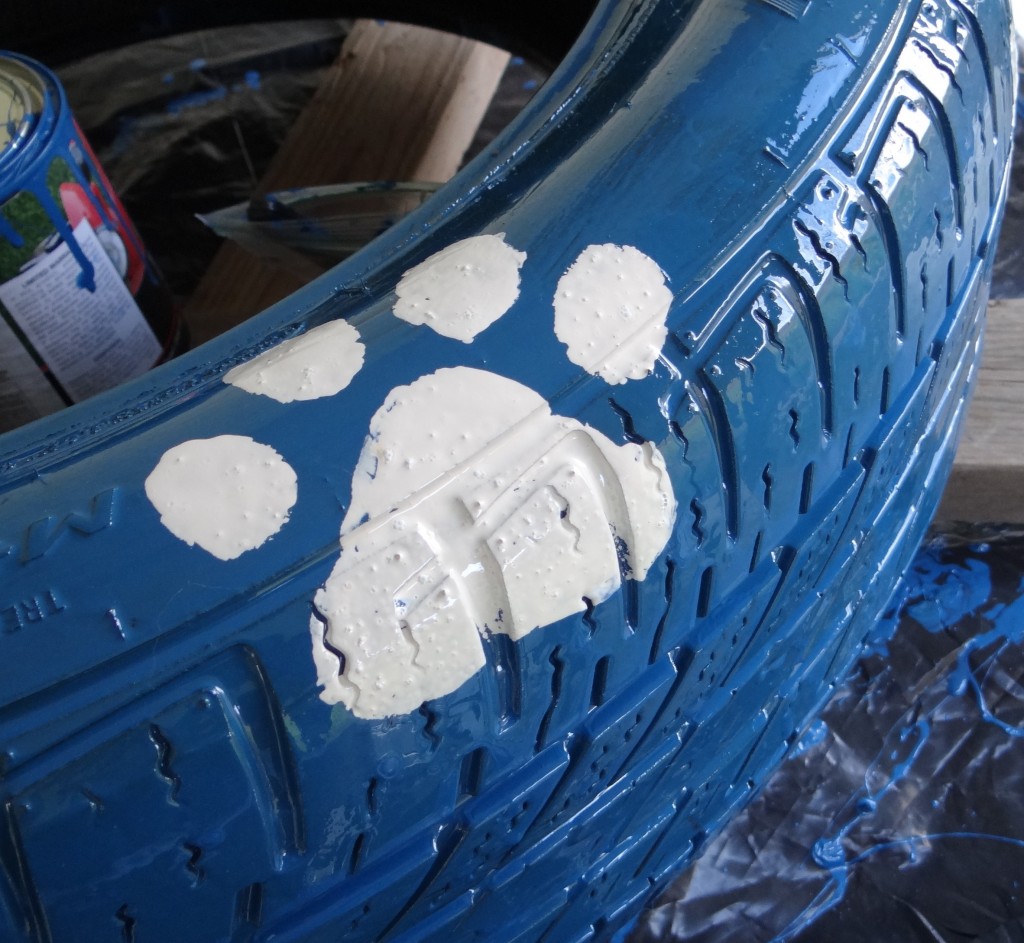 After the base paint has dried, add your embellishments.  I opted to freehand paint some basic paw shapes in white paint in random positions around the rim of the tire.  You could use a stencil for patterning, too or use the design of the tire for aid in creating stripes or other patterns.
Once all of your paint has dried, place the bowl for water (or feed) in the center and viola! You will have an attractive, recycled tire spill proof dog bowl!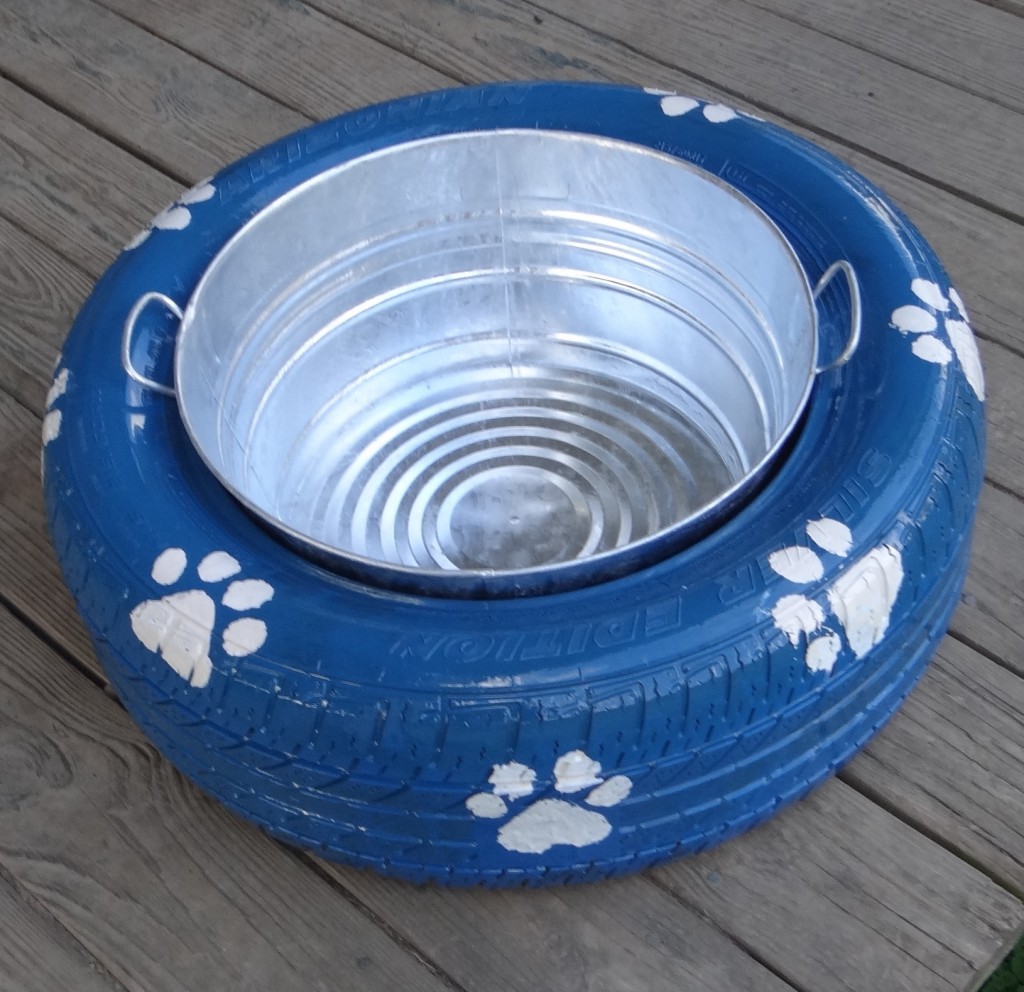 As soon as the bowl was ready for use, our Great Pyrenees were there to check things out and we seem to get the seal of approval from them as they are happy to regularly use it.  They haven't managed to budge it one inch yet, which makes me a happy owner who doesn't have to fill up the water bowl extra times during the day from spills.  Everyone that has stopped by our home has commented on what a cute and clever idea it is and I already have requests from two neighbors to make them one, too!  So, now I know it's not only a terrific holiday gift for us, but will be for us to gift to family and friends, as well.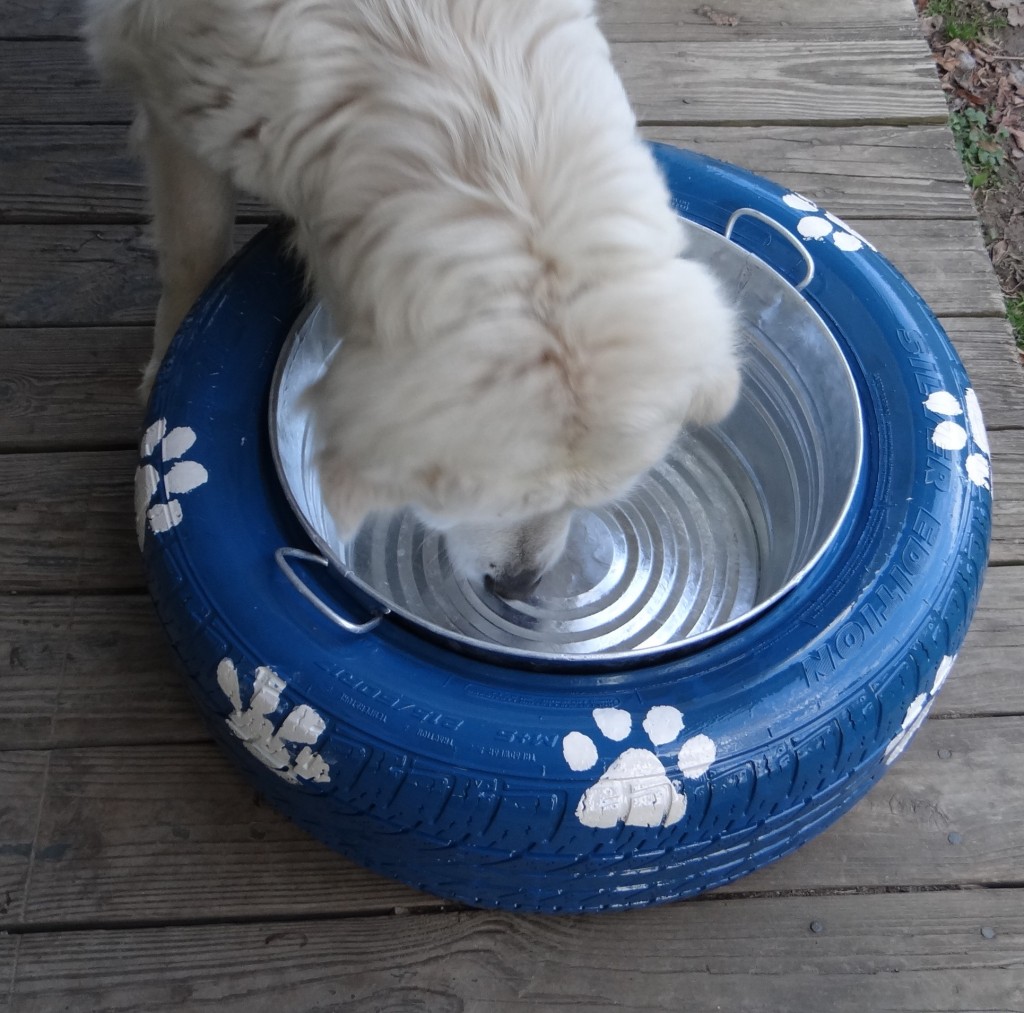 Are you in the market for a set of new tires this holiday season?  Discount Tire/America's Tire, is the world's largest independent tire and wheel retailer with more than 900 stores across the country.  For more information about Discount Tire/America's Tire visit discounttire.com or americastire.com
Are you working on any recycle projects and DIY presents this Christmas?  I'd love to hear your ideas, be sure to share in the comments!