As part of our continued celebration of the new 37th Edition of the Ball Blue Book® Guide to Preserving, we are sharing one of our favorite recipes, PB&J Cookie Bars (found on page 179 of the 37th edition of the Ball Blue Book Guide to Preserving.) It's a crazy-good way to enjoy your favorite jellies in a brand new way everyone will love. This recipe is perfect for potlucks and summer gatherings but also as an every-day treat.
When it comes to food preservation, my favorite go-to resource has always been the Ball Blue Book® Guide to Preserving. This feature article is brought to you by Jarden Home Brands, makers of Ball brand home canning products, but as always all thoughts, opinions and love of preserving nature's gifts are that of Rural Mom.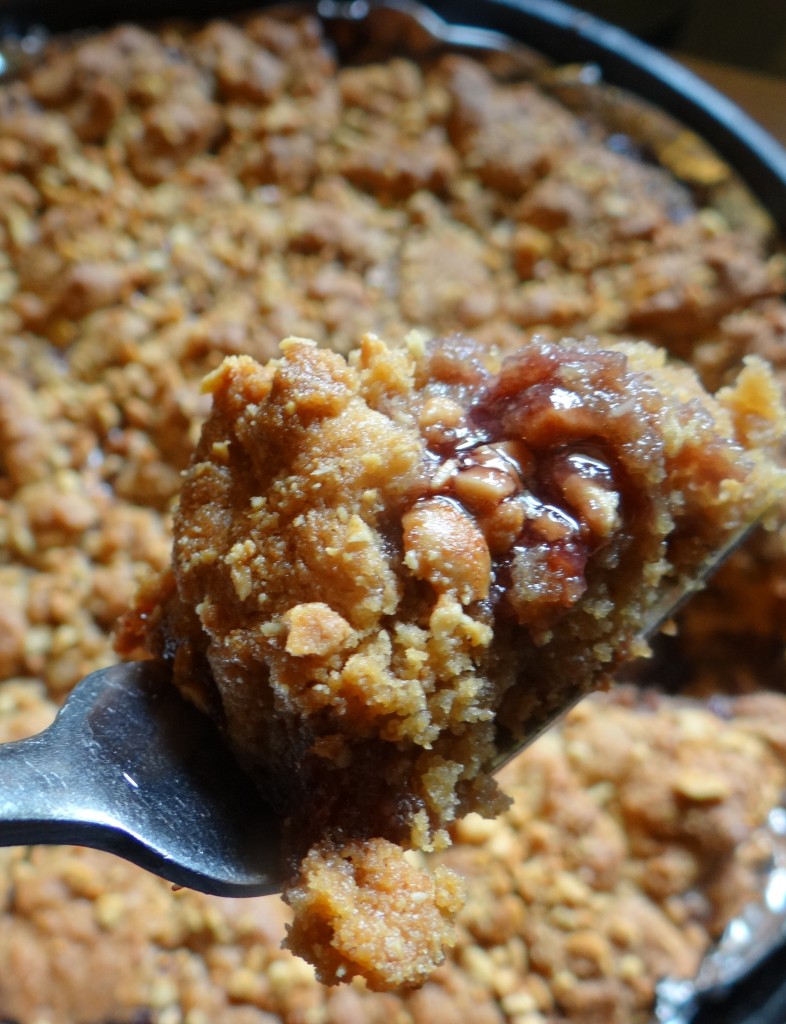 You may think that the folks at Ball Canning are the-go-to-experts on all things preserving (and you would be spot on!) but they are all culinary whizzes in the kitchen with all kinds of recipes, including some truly delicious dessert favorites.  In the 37th Edition of the Ball Blue Book Guide to Preserving, you'll find a huge section chock full of recipes from breakfast to entrees to sweet treats.  Many of them like this PB&J Cookie Bars recipe, incorporate your favorite preserved goods, too.  Hope you enjoy this recipe as much as my family does!
Ingredients
2 1/4 cups of unbleached all-purpose flour
1 1/2 teaspoons baking powder
1/2 teaspoons salt
1 1/2 cups creamy peanut butter
1 1/2 cups light brown sugar
1/4 cup unsalted butter, room temperature
2 medium eggs
1 1/2 teaspoons vanilla extract
1/ 1/2 cups grape jelly
1 cup coarsely chopped salted peanuts
Instructions
Line a 9 or 10-inch cast iron skillet with foil (for easy clean-up.) Lightly grease foil.
In a small bowl, whisk flour, baking powder and salt until thoroughly mixed. Set aside.
In large bowl, beat peanut butter, sugar and butter until smooth.
Add egg and vanilla. Beat on low setting until blended.
Add flour mixture to peanut butter mixture. Beat on low setting until blended.
Separate dough into two equal halves. Refrigerate one half of the dough for 10 minutes.
Press the other half of the dough into the bottom of the foil covered skillet, distributing evenly.
Spread jelly evenly over the layer of dough in the skillet.
Preheat oven to 350 degrees Fahrenheit.
Remove remaining dough from freezer. Crumble dough into small chunks (about grape-sized) and sprinkle evenly over the jelly layer.
Sprinkle chopped peanuts evenly over the top.
Bake at 350 degree Fahrenheit for 30 minutes or until the top is golden brown.
Remove from over, set pan on a cooling rack for 30 minutes or until completely cooled.
Lift the cookie bars out of the skillet, using the edges of the foil to help remove in one piece. Cut into pieces, serve and enjoy!
Store extra bars in an airtight container.
Notes
This recipe was adapted from the 37th Edition of the Ball Blue Book Guide to Preserving (page 179.) The original recipe varies and also calls for a 8x8x2 baking pan. I swapped in the cast iron skillet.
I also swapped in organic flour, organic natural peanut butter and my low-sugar grape jelly canning recipe. The results were excellent!
If you are not a fan of grape jelly, you could easily swap in strawberry, blackberry or whatever your favorite is.
https://ruralmom.com/2015/07/pbj-cookie-bars-recipe.html
copyright 2018 by Barb Webb, RuralMom.com
Ready to preserve your bounty this year?
For more information or to purchase the 37th edition of the Ball Blue Book Guide to Preserving visit http://www.freshpreservingstore.com/blue-book-guide-to-preserving/shop/633468/