When we first purchased our farm, we had little idea that a brood of wild turkeys would soon claim our wooded area as their home.  Not that we are complaining, it's great fun to watch them roost in the evening and we love having them wonder around the fields during the day.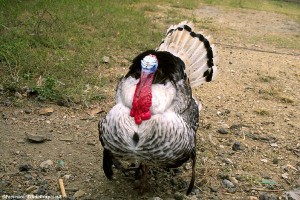 Our wild feathered friends have us to thinking about the possibility of breeding and raising domestic turkeys, as well.  Should we act on that notion, Storey Publishing has us covered with their newest addition to the animal raising series, Storey's Guide to Raising Turkeys.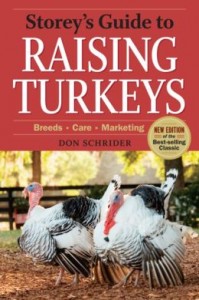 This comprehensive guide is chock full of every tidbit information you need to select, breed, raise, and protect turkeys.
Contents include breeds, equipment, feeds, brooding, pastured production, processing, protection and health.  History and varieties of turkeys are covered, as well as advice from experts and lists of resources.
Illustrations and charts add to understanding of topics and a glossary of terms and detailed index make it easy to find what you need at a glance.
One of the most surprising topics, to me, is the potential of raising turkeys for their egg production, a benefit I had not considered prior to reading.  The discussion of organic certifications standards and disease prevention were also highly enlightening.
Having raised poultry for some time now, many of the topics in the book were quite familiar but there are plenty of nuances that make this book a worth-while and well-recommended addition to your Rural Mom bookshelf if you are contemplating adding turkeys to your farm production.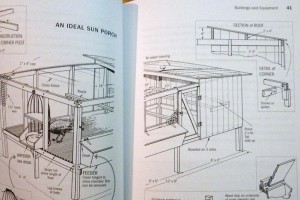 Inside peek at Storey's Guide to Raising Turkeys




























Special thanks to Storey Publishing for providing a review copy to facilitate this discussion.