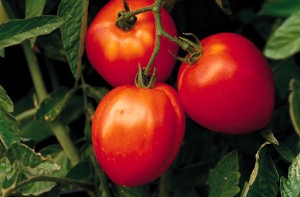 We're at the start of the tomato growing season here in Kentucky and canning the fruits of our labor and love seems far off, but now is the time to begin planning. How many tomatoes will you need to meet your canning goals?
The answer depends upon what varieties and what canning products you wish to produce.  Although the answers vary, a common gauge is to grow 4-6 tomato plants per person who will consume the products (sauce, juice, etc.) throughout the year after canning.
On average a tomato plant should yield around 5-10 pounds of tomatoes per season.  If you use tomato cages, that average can go up to 20 pounds per plant.  Cages also have an added benefit of helping to produce damage-free tomatoes.
According to the USDA National Center for Food Preservation, you'll need:
35 pounds of tomatoes for 7 quarts of thin Tomato Sauce
46 pounds of tomatoes for 7 quarts of thick Tomato Sauce
23 pounds of tomatoes for 7 quarts of Tomato Juice
22 pounds of tomatoes for 7 quarts of Crushed Tomatoes
24 pounds of tomatoes for 7 quarts of Tomato Ketchup
21 pounds of tomatoes for 7 quarts of Whole or Halved Tomatoes
30 pounds of tomatoes for 7 quarts of Spaghetti Sauce
To further determine how many tomato plants you ideally need, it helps to take a look at your current eating habits.  For example if you typically have an Italian dish using spaghetti sauce every other week, you'll likely need around 26 quarts.
Assuming a 10 pound yield on your tomato plants, at 30 pounds per 7 quarts, you will need about 128 pounds of tomatoes, which means you'll need to grow approximately 13 plants.  This should meet your spaghetti sauce canning goal of 26 quarts.
Using estimates should get you close to your goal, but of course factors like weather, disease, animal interference or a wildly-successful green thumb can dramatically affect your results.
If your yield happens to be under and each plant only produces 5 pounds of tomatoes, you will only obtain half of your canning goal. If this happens, there's no need to despair, you can pick up the extras from your local farmer's market or produce store.
If your yield happens to be over and each plan produces a whopping 25 pounds of tomatoes, use the abundance to enjoy extra meals throughout the year, to gift to family and friends, or perhaps to even make a few extra dollars by selling your abundance to someone who fell short on their plans!  Check with your local extension office and county office to find out where you might be able to sell your extra produce and if the county has any specific laws governing the sale.
Though you cannot predict the ultimate result, it still pays to plan ahead to get as close to your goals as possible.
——
Looking for a fresh tomato recipe?  Try our Easy Cheddar Tomato Pie