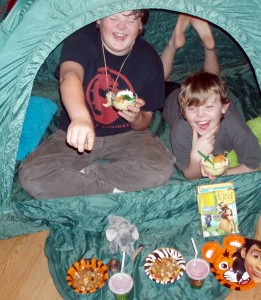 My favorite movies are the ones that makes them laugh! 
Running around carting the kids to soccer, band practice, dentist visits and the plethora of other after after school activities and appointments doesn't leave much time for family time at home.  So, when we catch a free night on the calendar, I like to schedule a fun family activity like hiking, fishing, board game or one of our favorites, family movie nights.
Family movie night gives us the opportunity to just relax and have some enjoyable "down time" from an active week.  Sometimes we just pop some air popcorn and lounge around.  Other times I like to theme the night to change things up and to add a level of extra-memorable fun.
You can be elaborate in creating a theme for family movie night, but adding a bit of excitement and flair can be as simple (and frugal) as picking up a few extra items on your grocery trip and utilizing items you already own, which is my preferred method because let's face it, there are only so many hours in the week to get everything done!
First step is to choose the movie.
 I always look for a family-friendly one that will appeal to everyone.  
The Jungle Book The Movie: Rumble In The Jungle
certainly fits that bill of order.  We are all fans of the original "
Jungle Book" movie
and I instantly knew it would be super easy to theme a family movie night around the jungle theme.
Available exclusively at Walmart (beginning 2/12,) The Jungle Book The Movie: Rumble In The Jungle limited edition comes with two special collectible toys, Mowgli and Baloo.  It's the first DVD release from the new series, featuring the exciting new adventures of Mowgli, Baloo and all of the other characters we love from Rudyard Kipling's classic tale.
The movie is recommended for ages 2 -6, but I think kids of all ages will enjoy this new spin on the old classic. My 10 and 12-year-old sons and my husband and I had a ball watching our old friends return for a new adventure, and my sons have already asked to re-watch the movie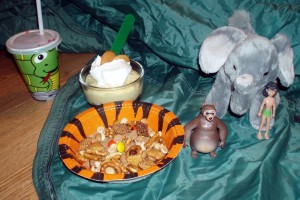 To enhance our movie experience, the
second step is to set the stage with props.
The Jungle Book The Movie: Rumble In The Jungle
set made it easy to begin with the collectible toys included.  As part of our review, we also received a mask, claw necklace and a plush elephant, so that certainly covered more bases but if we were to do this up properly, one has to go bigger!
To "rough it" in the jungle, I pulled out an old pup tent and set it up in our family room.  Absolutely a hit!  I think I could have likely just set up the tent and not showed a thing as the boys were so thrilled to have a tent inside.  They even wound up sleeping in it that night.
Lastly, I picked up some jungle-themed plates, bowls and cups for dinner and snacks that night.  This is a really simple, inexpensive step to tying your entire family night theme together and creating a festive party atmosphere to your evening.  Never underestimate the power of a fun patterned plate- my boys were instantly enchanted, picking out favorites to use, and even using the plates as masks.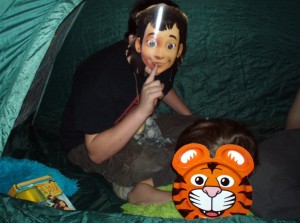 Shhh…. be very quiet, there's a tiger in the grass… 

The third step is the nummy part- the food!   As I cook our meals throughout the bulk of the week, it's refreshing to take a night off from heavy preparation and select pizza or take-out options from our local grocery store for a simple dinner, then make the movie snacks the center of the evening.
For our The Jungle Book The Movie: Rumble In The Jungle family movie night, I went with what every safari trekker needs, a good trail mix, then topped things off with a jungle-worthy dessert of banana pudding cups (vanilla wafers, bananas, banana pudding, and option whip-cream.)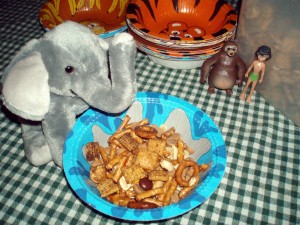 I used a combination of Great Value Peanut Butter Trail Mix and Turtle Chex Mix to create the ultimate jungle trail treat.
If you have time, you can certainly
add a fourth element of a themed craft
, which is particularly fun for the little 'uns.  You can find plenty of ideas via search engines or, naturally, on one of our favorite idea spaces:
Pinterest
.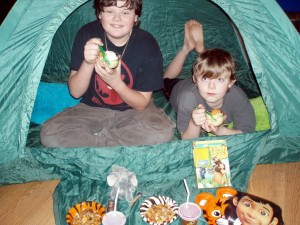 Disclosure:  Rural Mom received a "The Jungle Book" kit to help facilitate a family movie night review.  All thoughts and opinions are that of Rural Mom.