Evergreen shrubs are a must-have for all gardens. They provide color over the grey winter months, add structure to an outdoor space and act as a base for colourful flowers and plants in spring and summer.
However, not all evergreen shrubs are created equal. Some are incredibly popular because they grow well in the local climate, while others are sought after because their dense leaves are excellent for privacy screening. These popular evergreens are seen all over the country and sometimes seem ubiquitous, which is why it's a good idea to incorporate some more unusual species into your garden design.
While you're here check out Gardeners Dream Evergreen range.
What is an Evergreen Shrub?
Shrubs are woody garden plants that can grow to be quite large. An evergreen shrub keeps its foliage throughout the year. While deciduous plants and trees lose their foliage in autumn, evergreens don't drop their leaves or needles at any time of year. Once established, evergreen shrubs are usually hardy plants that are low maintenance and easy to care for.
Evergreens really show their value in winter, when many other plants have died or become bare for the dormant season. Evergreen shrubs can be used for hedging, clipped into decorative topiary shapes, placed towards the back of borders, scrambled over fences and walls or as a standalone feature.
Flowering Evergreen Shrubs
Crinodendron hookerianum
Better known as the Chile lantern tree, this is a medium-sized shrub or small tree with narrow dark green leaves and a bushy growth habit. It gets its name from the lantern-shaped flowers that bloom from late spring to mid-summer. These unusual crimson-pink flowers dangle from the branches and bring an exotic air to the garden.
Crinodendron hookerianum prefers a spot where it can soak up full or partial sun and grows best in acidic, well-draining soil. Plant this evergreen shrub in a sheltered area away from chilly wind and provide additional frost protection during the coldest months of the year.
Mahonia
Flowering from January to March, a mahonia shrub is an excellent way to bring late winter cheer to the garden when everything else looks drab. The fragrant yellow flowers look like azaleas, grow on spikes and are a magnet for early pollinators. They are followed by black or purple berries in early spring.
Mahonias are low-maintenance shrubs that are happy in most well-draining soil types. They are hardy in the UK and only need watered during particularly dry spells of weather. Perfect for brightening up a dark spot, these winter-flowering shrubs prefer a spot in dappled shade.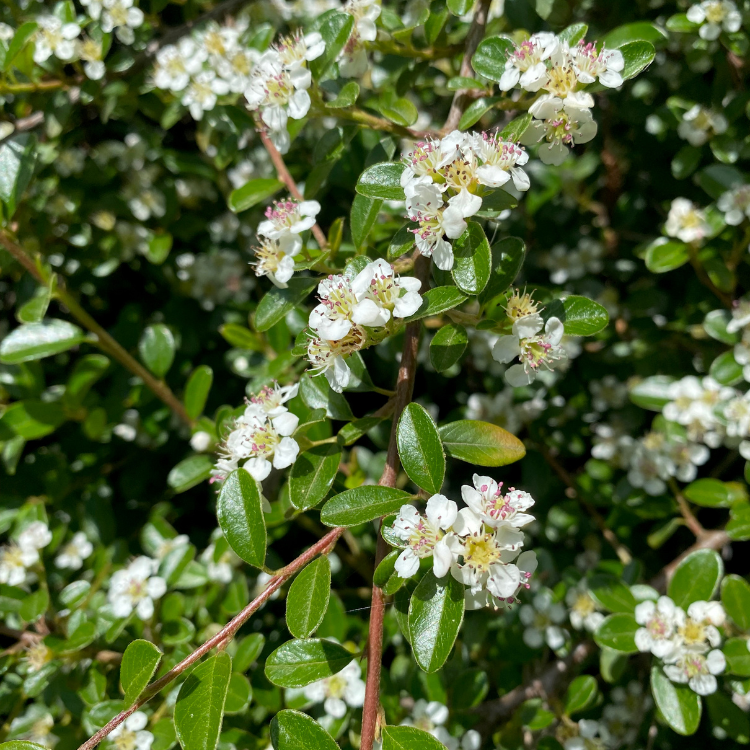 Creeping Cotoneaster
Excellent for providing ground cover, creeping cotoneaster grows up to a foot tall and 5 feet wide. It features small leaves of glossy green and bears white blooms in summer. These flowers are followed by pink-red berries that remain on the shrub well into the new year. It's easy to see why this prostate shrub is often called queen of carpets.
Plant creeping cotoneaster in full or partial sun for the best show of flowers. This shrub grows well in most free-draining soil types and survives temperatures as low as -20°C. It's worth noting that many varieties of cotoneaster can be invasive, so it's important to ensure it doesn't spread outside your garden.
Pyracantha
Also known as firethorn, pyracantha blooms clusters of small, fragrant white flowers from spring to mid-summer. These are followed by shiny red, orange or yellow berries that remain in place throughout autumn and winter. Pyracantha grows to around 12 feet tall and wide, but it responds well to pruning, making it suitable for any size of space.
This attractive evergreen shrub grows well in most soil types as long as the ground doesn't get waterlogged. It prefers full sun or partial shade and can be grown as hedging, a standalone shrub, or trained to climb a trellis.
Evergreen Shrubs with Interesting Foliage
Dwarf Japanese Cedar
While non-dwarf varieties grow as large as 60 feet tall, this compact Japanese cedar variety stops at just over 3 feet. Its dense, feathery foliage is mid-green from spring to autumn, and turns a dramatic shade of red-purple in winter. The soft needle-like leaves grow into a rounded bush ideal for smaller gardens.
Dwarf Japanese cedar is hardy but does prefer a sheltered spot out of strong winds. It thrives in most well-draining soil types and grows best in full sun or semi-shade.
Blue Holly
Like regular holly, blue holly is a large, slow-growing shrub with prickly glossy leaves, bee-friendly white flowers in spring, and an abundance of bright red berries on female plants. Usually associated with Christmas, holly is a fantastic garden shrub for year-round interest. As you've probably guessed from the name, the main difference is that blue holly has green-blue foliage as well as purplish stems.
Blue holly thrives in full sun or partial shade and prefers its soil to be moist but well drained. It is vigorous enough to withstand cold winter temperatures and copes well in both sheltered and exposed spots. Left unpruned, this evergreen shrub can reach up to 12 feet tall and wide, providing year-round interest in the garden.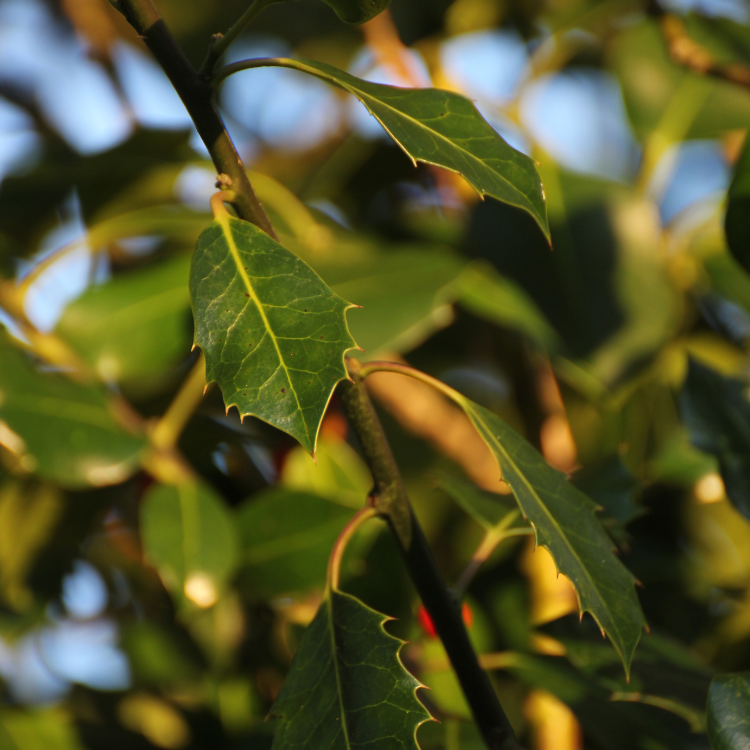 Japanese Aralia
Japanese aralia is ideal for shaded parts of the garden. It copes well with low light conditions but also tolerates full sun. Its large, palmate, glossy green leaves give the shrub an exotic appearance that complements coastal gardens nicely. Clusters of small white flowers appear in autumn alongside black berries that attract all kinds of birds to the garden.
Also known as fatsia japonica, this is a hardy shrub that grows well in most types of moist, well-drained soil. It prefers a sheltered spot and is a great option for container gardens.
Evergreen Hedging Shrubs
Bamboo
Technically a grass, but large and woody enough to make this list, bamboo has a bit of a reputation as an invasive plant. While this can be true of running varieties, they can be grown in containers to stop them from spreading. Clump-forming varieties make excellent hedging. Fargesia Murielae is a particularly dense variety ideal for privacy screening. Bamboo is a fast-growing evergreen shrub, so the privacy you crave will be yours in next to no time.
Once established, bamboo is generally hardy enough to thrive on its own. However, shrubs planted in containers need to be watered more often. Most types of bamboo thrive in full sun or light shade.
Photinia Red Robin
This handsome shrub boasts bright red foliage in early spring, maturing to dark green leaves as the seasons progress. Commonly used for hedging, photinia red robin bears large clusters of delicate creamy white flowers in mid to late spring.
This shrub prefers a spot in full sun but grows well in partial shade. It works well for screening in mild areas but is better grown against a south-facing wall or fence in more frost-prone parts of the country. Photinia thrives in moist, well-drained soil that is slightly acidic.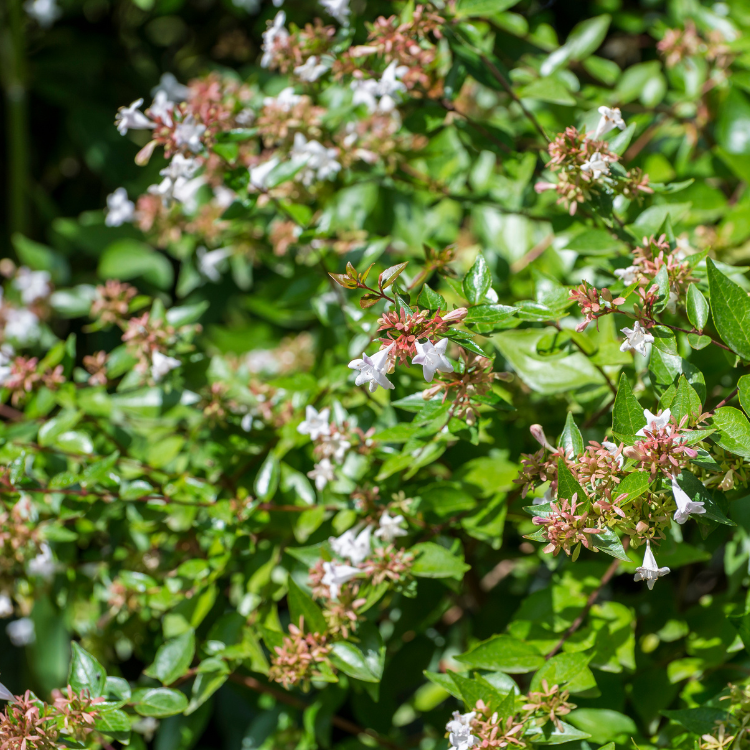 Abelia grandiflora
With its attractive foliage, semi-evergreen leaves and long flowering season, abelia grandiflora makes an excellent informal hedge for cottage gardens. The clusters of bright flowers are white, flushed with pink, slightly fragrant, and bloom from early summer to mid autumn. Some cultivars boast green and white variegated leaves for added interest.
Abelia grandiflora is easy to grow but isn't fully hardy in the UK. Plant this flowering shrub in moist but well-draining soil in a sunny, sheltered part of the garden and add mulch for additional insulation before the first frost.
Evergreen shrubs are the backbone of the garden, providing year-round interest and colour. Showy flowers, glossy green leaves and a pleasantly fragrant scent are added bonuses that can make a garden stand out. Planting an unusual shrub brings something different to an outdoor space, setting it apart from the neighbours and creating an interesting focal point. Don't be afraid to get creative by mixing and matching evergreens to add texture, combining evergreen leaves with needles and flowers.