The fall season is nearly here and, camping is in fashion once again. Before you head out for the campgrounds, though, it's important be prepared. Temperatures around the country are still soaring, so it's extra-important to take precautions to avoid heat exhaustion during your wilderness get-away.
Heat exhaustion is a very uncomfortable condition and can turn into worse complications, if not treated. Weakness, headaches, extreme thirst, dizziness, and even loss of consciousness can occur when suffering from heat exhaustion. There are ways you can avoid heat exhaustion while camping to prevent this from happening to you.
Load up on water
Be sure to have a plenty of containers with fresh water on hand for your camping trip. Drinking plenty of water can help prevent dehydration, one of the main causes of heat exhaustion.
Bring extra empty bottles in case you need to obtain water from a stream or water fountain. Keep in mind you will have to purify or filter the water if you obtain it from a stream. Do this in the morning so it is ready when you need it.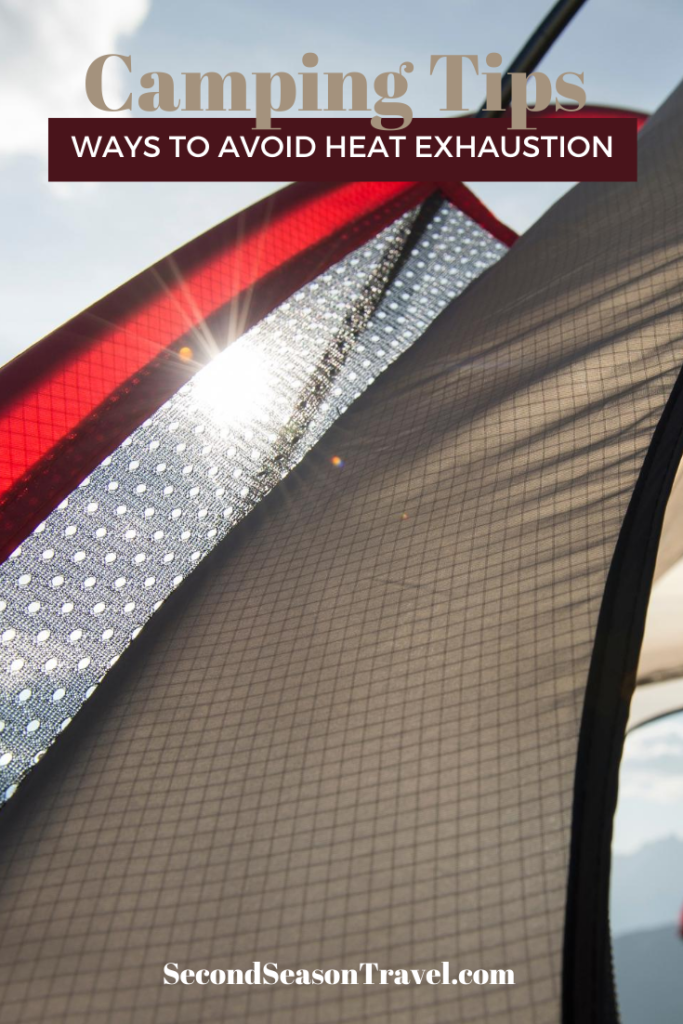 Avoid extreme activity
Camping often involves hiking or some other type of physical activity. Keep the exercise to a minimum when the temperatures are high to avoid symptoms of heat exhaustion.
Go slow and take plenty of breaks to rest. The waterfall you are hiking to will wait for you to enjoy its beauty!
Water sports can also lead to dehydration. One of the most common errors people make is thinking that because they are in the water, they don't need water. You still need to hydrate regularly when swimming or even when floating on a lounger in the lake or campground swimming pool.
Camp in the shade
Find a shady area to put up your tent, an area where there are a lot of trees or some other shade. Staying out of the sun will help keep you and your equipment cool.
Wear the correct clothing
Light colored clothing that is loose fitting is best for hot weather. The clothes you wear should protect as much of your skin from the sun as possible. A hat may also help to keep the sun from your head and facial area.
Of course, use plenty of sunscreen, too. When you have sunburn, your body temperature may increase and this will mean you need to increase your water intake. Avoid it all together by taking the necessary precautions.
Bring ice packs
Bring along some ice packs and a cooler to help avoid heat exhaustion. A portable fan will also come in useful for those hot nights.
These items will help tremendously if you think someone is suffering from heat exhaustion. Use them to help cool down the body quick.
Use wet towels
Bring a spray bottle, fill it with water to spray on you and your camping buddies. Soak a towel with cold water from a stream or river and put it on the forehead to cool down. You can also put the wet towel anywhere on the body and even use a few to get an all over body cool down.
Camping is a lot of fun, but if there is a chance of heat exhaustion it can turn into a bad situation. If at all possible avoid going camping in extremely hot weather conditions. If it turns out to be hotter than you thought use the tips above to avoid this condition.
Take a first aid kit with you and get medical treatment quickly if the person has severe symptoms. Be sure to take a cell phone so that you have some form of communication if anything does go wrong.