Part of the fun of planning a girlfriend trip is discovering what works best so that you can improve the next adventure! We've certainly learned a thing or two which helped us to plan our girlfriend getaway in Fayetteville North Carolina.
And of course, we learned even more along our travels that we are delighted to now share with you!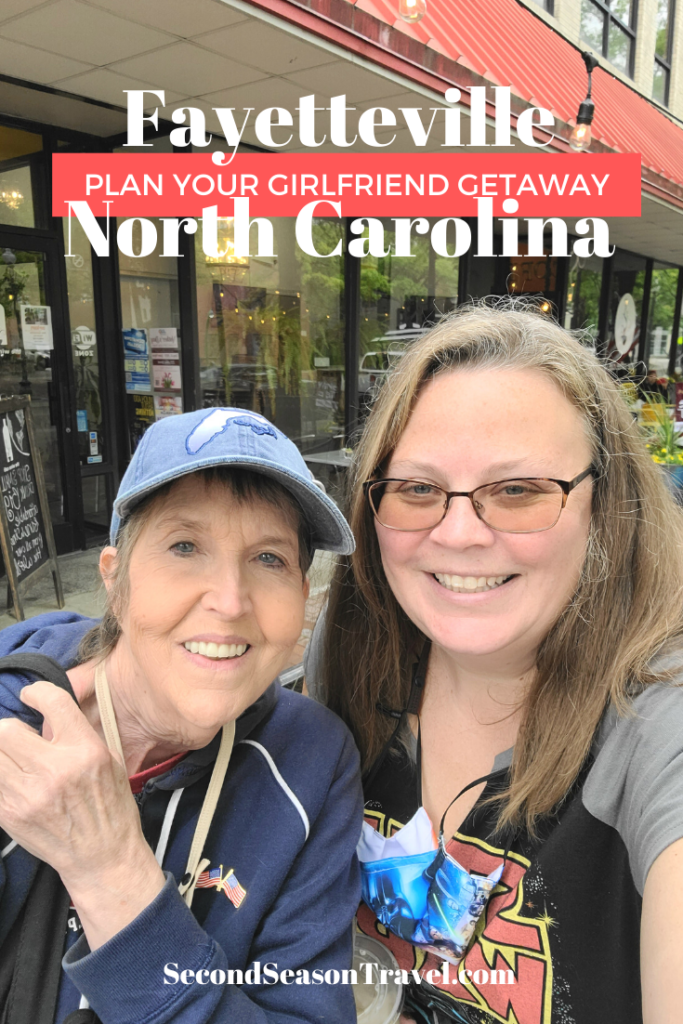 Enjoy Your Happy Space
The key to any great girlfriend getaway is choosing a location that not only offers comfortable accommodations, but also is within reasonable distance of your planned activities.
Rooms are not just for sleeping and TownePlace Suites (1464 Skibo Road, Fayetteville, NC) knows that. Adequate room to store our clothes, a full kitchen, table, two beds and a couch for lounging. Plus, they are centrally located, making it easy to get around and enjoy all Fayetteville offers.
We enjoyed our time here when not exploring the city. Having a fridge gave us the opportunity to bring home food from local restaurants and enjoy the left overs the next day. Spacious is the key word for these rooms as both of us could have our own space.
Don't worry about sleepless nights, either, as the beds are so comfortable. Our room was a perfect place for our girlfriend nights of long talks and getting ready for the new day.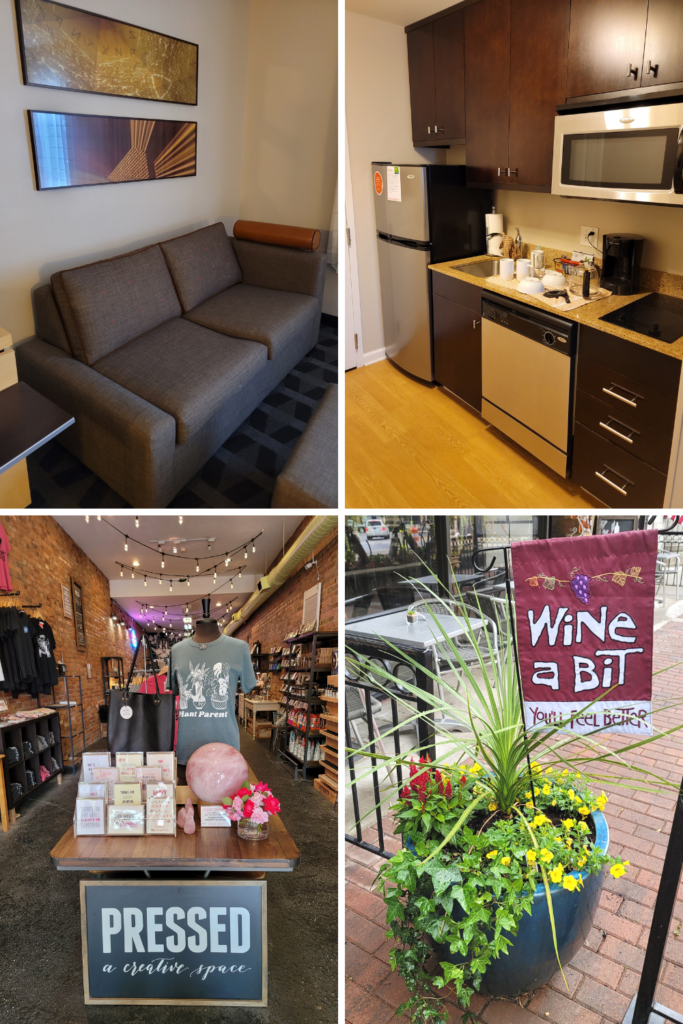 Shop Around
Shopping is a great girlfriend getaway must-do, but also a chance to further cement your friendship. As we've mentioned in the past, shopping offers ways to connect with your friends and find out more about their likes, dislikes and even their families. The gifts we pick out for others also express a lot about them and ourselves. Plus, shopping in a new area is just plain fun!
Carrying items from local artisans, PressedNC is a shopping treat. For those with a sense of humor, you'll find plenty of quirk to enjoy along with local goods, crystals, t-shirts, unique souvenirs and much more. We picked up t-shirts, specialty popcorn, decals and more during our trip.
PressedNC also features many of their designs in their online shop at https://pressednc.com/. Last year, when we weren't able to travel, I ordered treats from PressedNC to enjoy during the holidays as part of our shop local travel at home mission.
The sign says "A Bit of Carolina" but we are nearly convinced that they fit half the state inside! There's such a wide variety of Carolina gifts that you will easily find plenty of souvenirs for you and your loved ones back home. We especially enjoy finding local crafts, art, and artisan food items at the shop.
Each craft item has a history, too, and the owner shared with us the backstory of the people who created the items we purchased. It's awesome to know when you shop there you are supporting the local economy and artists in a multitude of ways. If you aren't able to shop at A Bit of Carolina, don't want to carry a lot on the plane ride home, or find a favorite food there you'd like to enjoy again, they have many items available for direct ship in their online store.
White Trash & Colorful Accessories
First, you have to just giggle and adore the name of this shop. Next you need to take plenty of time to explore during your Girlfriend Getaway in Fayetteville! Shelf after shelf of interesting novelties and gifts entice you as your work your way this eclectic and colorful store. If you don't have time to explore the entire shop, you can also shop online and have items shipped to you when you return home.
Everything we brought home to our loved ones was thoroughly enjoyed. We also found some sock soul sister socks here to take home! (Grace and Barb fondly refer to each other as #socksoulsisters as they both love colorful, cute and quirky socks. Each trip it's now a tradition to find a pair of socks from each location to help remind us of our fun travels.)
If you're seeking out a good variety of Carolina gourmet goods, you'll find them here.  There's also a variety of gifts for all occasions to send to loved ones or to pick up as a special treat for yourself.
They featuring independent brands and emerging artists, so you'll always find something fresh and new. Be sure to check out their online store, too at https://reveriegoodsandgifts.com/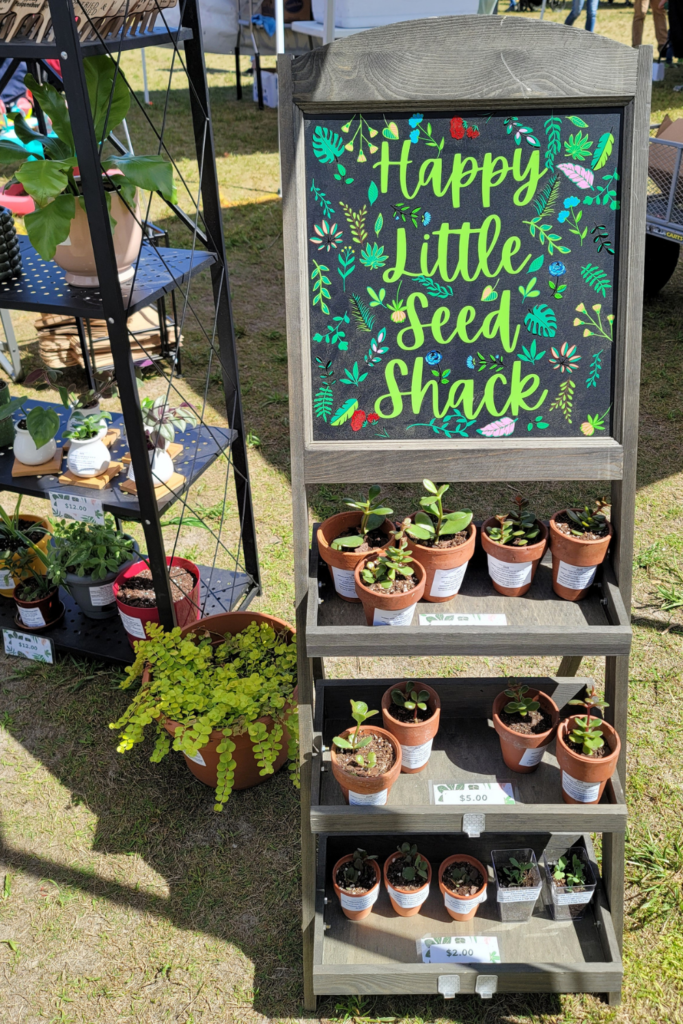 Plenty of plant-friendly and pup-friendly folks at the Dirt Bag Ales Farmers Market! In addition to fresh produce, stands offer local gourmet treats, pet supplies, accessories, supplements, toiletries and more. The Dirt Bag Ales Famers Market is only open Sundays (March 21-Nov. 21) from 10am to 2pm. If you are in the area and have time to stop in, you will be sure to find something unique to take home.
Plan to eat lunch there, too, as there are plenty of food trucks and a local restaurant on site. Looking for more foodie stops for your Girlfriend Getaway in Fayetteville? Check out our Taste of Fayetteville article for inspiration!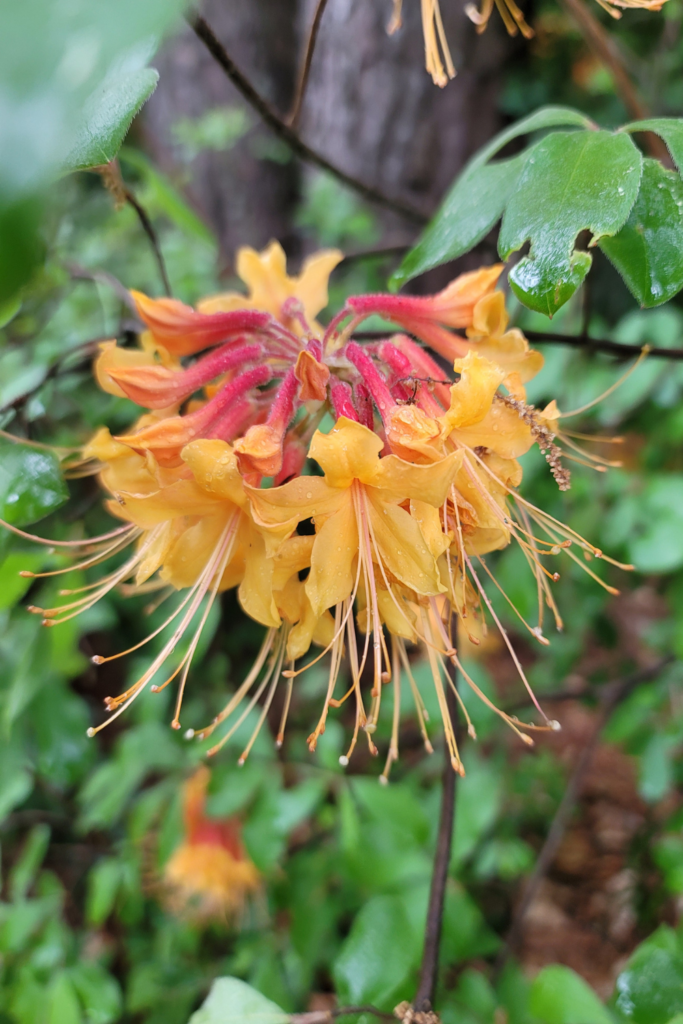 Hang Out and About
It's easy to spend an entire day wondering around the Cape Fear Botanical Gardens. Even a bit of rain during our trip couldn't put a damper on the extraordinary beauty you'll find there! Every inch of landscape is filled with natural wonders to enjoy.
We were fortunate to catch the native Azaleas and Rhododendron in bloom, they truly put on a lovely show along the trails. The Cape Fear Botanical Gardens boasts over 2,000 varieties of ornamental plants and has several specialty gardens like the Heritage Garden which features 1886 agricultural structures and a homestead. We hope to return soon as I'm sure the summer blooms will be breathtaking.
Taking time to celebrate our blessings, like amazing friendships can help lift up. We found a great spot on our Girlfriend Getaway in Fayetteville to let our hair down, shake off the stress, and light up our lives with candle-making at Hummingbird Candle Company.
I loved that we were able to pick out a custom fragrance that inspired us. I opted for scent #32. Later I learned it's called Fiddle Leaf Fig – a wonderful woodsy green fig & jasmine scent that makes me think of sunshine-filled days hiking in the Appalachians.
Hummingbird Candle is dedicated to promoting self-care by providing unique & fun experiences during their candle making workshops. The energy in the space is invigorating and the staff strive to make each moment memorable.
Joseph Campell once said "We cannot cure the world of sorrows, but we can choose to live in joy". Hummingbird Candle Co. embodies the spirit of this message with every candle creation session.
If you are not traveling yet, no worries, Hummingbird Candle Co. offers at-home kits, too! Visit to https://hummingbirdcandleco.com/ to grab yours today. It's a super fun activity for the whole family.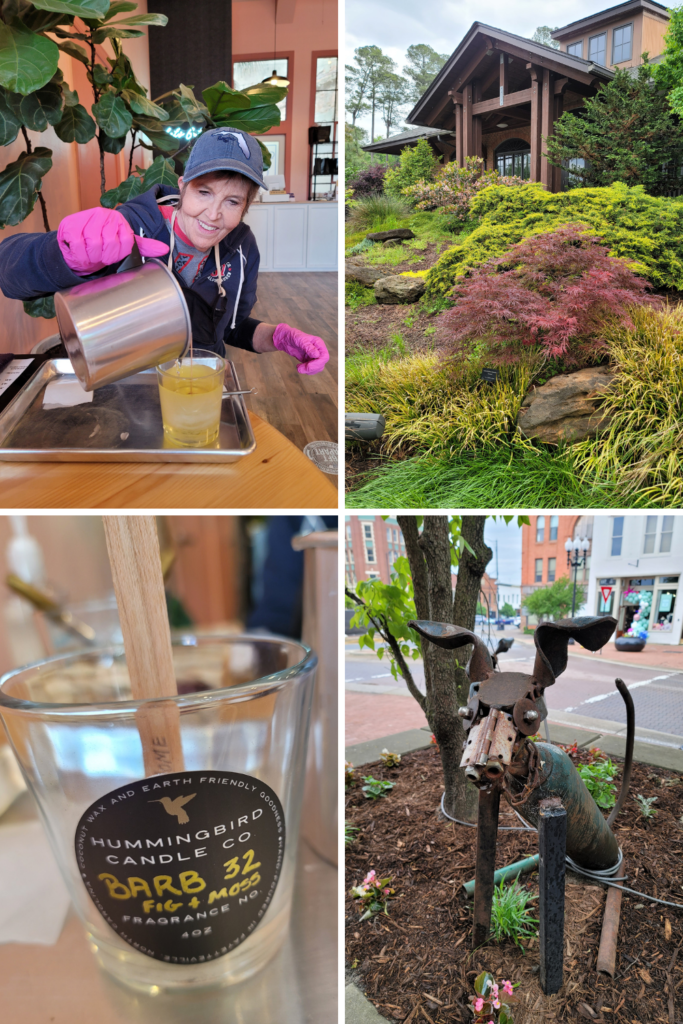 Looking for some off the-the-beaten path activities?  Try Skeet Shooting at Fort Bragg Clay Target Center or trail riding at the Deep Creek ATV Park.
There's a wealth of cultural and historical activities in and around the Fayetteville NC area, too. Be sure heck our our article on the Past and Present History of Fayetteville for more details!
And you'll find plenty more to explore on the Fayetteville Area Convention and Visitors website, as well, including free things to do, agritourism, and nightlife activities.