Christmas in July is a truly enjoyable midsummer celebration. Rumor has it the concept began in the South at a summer camp and it's now a bona fide tradition throughout the entire US. If you are seeking the ultimate experience, celebrating Christmas in July in Santa Claus, Indiana is where you need to be!
The Christmas-y of Christmas towns, Santa Claus, Indiana celebrates the season to be jolly all year 'round. There's absolutely no better place to celebrate in the summer as the town is also home to Holiday World & Splashin' Safari. This awesome theme park is full of holiday spirit and fun rides for the whole family.
This year, I'm pleased to share that I'm collaborating with Holiday World & Splashin' Safari. As a "holiblogger", I receive perks and season passes to the park to go behind the scenes and share all kinds of insider tips and info.
Even if I wasn't participating in the Holiblogger program, I would highly recommend this area. Our family has been regularly visiting this location for over 40-plus years. We keep returning for many reasons, including the mega fun-factors, charming location, and affordability. This area is a hidden gem that everyone needs to add to their bucket list.
Ready for to put a little jingle and joy into your July? Here's some of my favorite ways to celebrate Christmas in July. Hope this helps you plan your perfect holiday vacation adventure.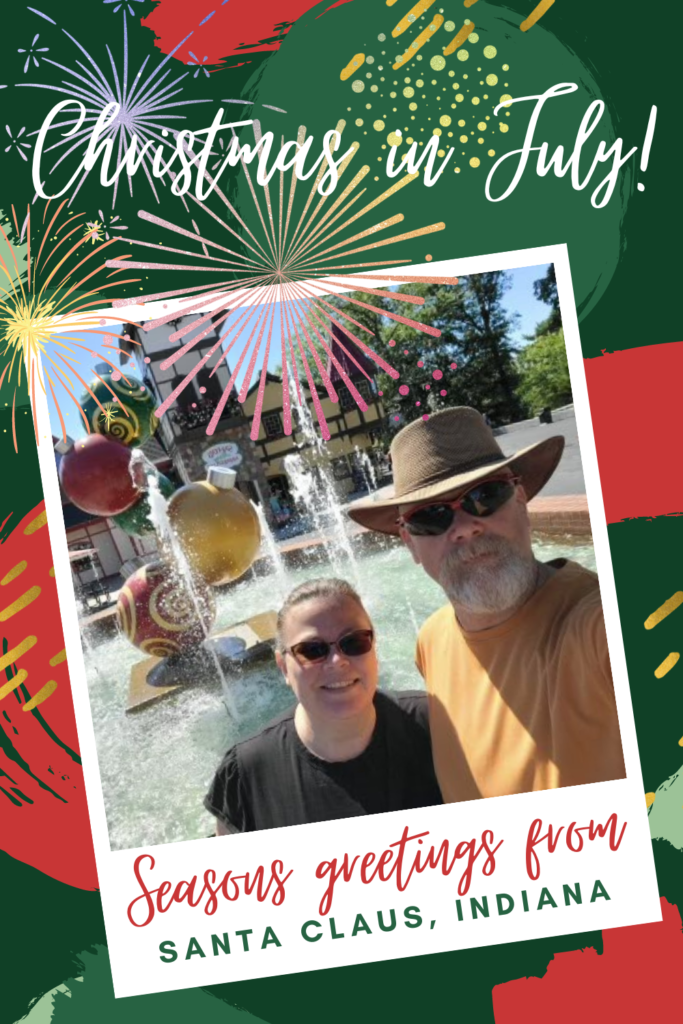 Stay at Sun Outdoors Lake Rudolph
Our favorite spot to begin our Santa Claus, Indiana experience is Sun Outdoors Lake Rudolph. You can pitch a tent or pull up your RV, but you don't need to own either to enjoy the campground. Sun Outdoors Lake Rudolph rents modern RVs and holiday cabins, in all different sizes to accommodate large and small groups. There are even handicap accessible cabins available so everyone can enjoy the experience.
One thing that always impresses us is the friendliness and cleanliness of the camp grounds and amenities. It's a great place to relax off the grid and enjoy family time around the camp fire.
This camp ground is always buzzing with fun activities, too. You'll even enjoy time with Santa during special times! There's also a huge swimming pool, playgrounds, basketball courts, mini golf, game rooms, paddleboats and more.
Tip: I highly recommend renting a golf cart during your stay to conveniently zip you around to all the activities. People also decorate the golf carts and have a parade each night. It's a lot of fun and one of our favorite features.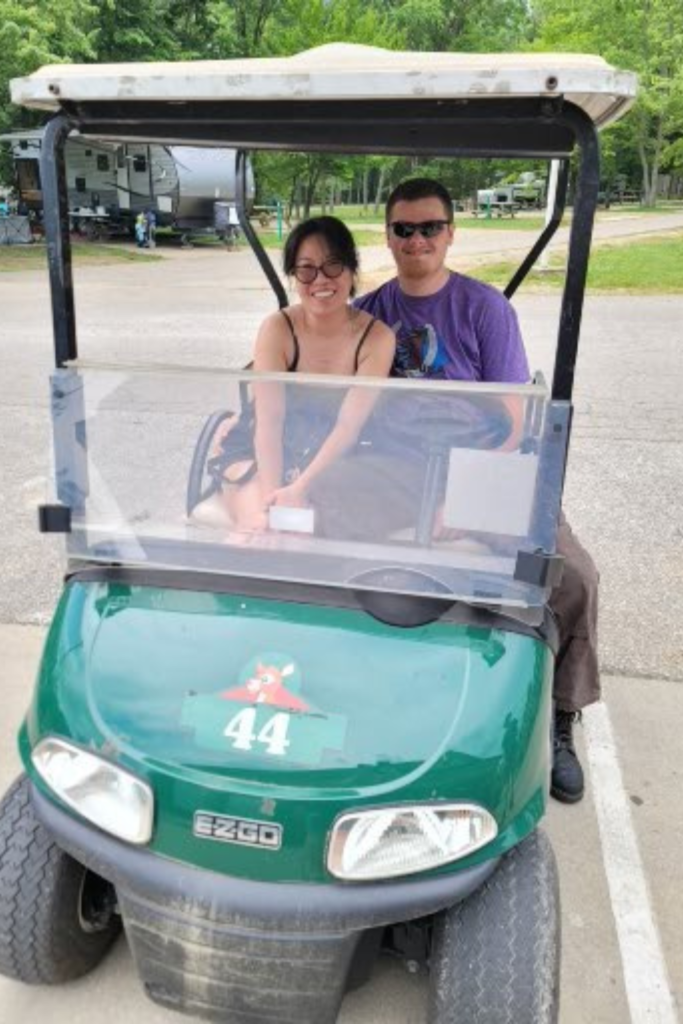 A complete vacation can be enjoyed entirely in the campground. However, you'll want to venture outside to enjoy all Santa Claus, Indiana has to offer.
A big bonus of staying at Sun Outdoors Lake Rudolph is that the camp ground is adjacent to Holiday World & Splashin' Safari. Another great perk is the free shuttle rides to Holiday World. This means you don't have to worry about parking at all during your stay. The shuttle drops you off right at the front gate. When you are weary after a day of fun, this is an invaluable blessing!
Head to Holiday World & Splashin' Safari
Of course, your visit would not be complete without a visit to Holiday World & Splashin' Safari. This multi-generational theme park truly has a little something for absolutely everyone. The Christmas section of the park will help make all your Christmas in July wishes come true.
Visits with Santa, holiday goodies, Christmas-themed rides, live shows, and shopping galore are just the start. Free drinks, free sunscreen and low entry-fees makes Holiday World & Splashin' Safari an amazing pocket-friendly trip for families.
In addition to the Christmas section, the park has Halloween, 4th of July and Thanksgiving sections, too. One of our favorite family things to do is to participate in an annual traditional in each section, like having Thanksgiving dinner and watching story time with Santa.
I'd be remiss if I didn't focus on Splashin' Safari for a hot minute, too. This is hands-down one of our favorite water parks of all time, and we've been to plenty! You'll find me on the lazy river or in the wave pools, but the more adventurous enjoy a wealth of water slides. There's also a special section just for kids where you can enjoy some time in the sun while the little ones splash around.
This year, Holiday World & Splashin' Safari has added an extra attraction that is the total bee's knees. Holidays In The Sky is their new Drone and Fireworks Spectucular (live through July 31, 2002). Calling it amazing is an understatement. This spectacular show will absolutely fill you with holiday joy!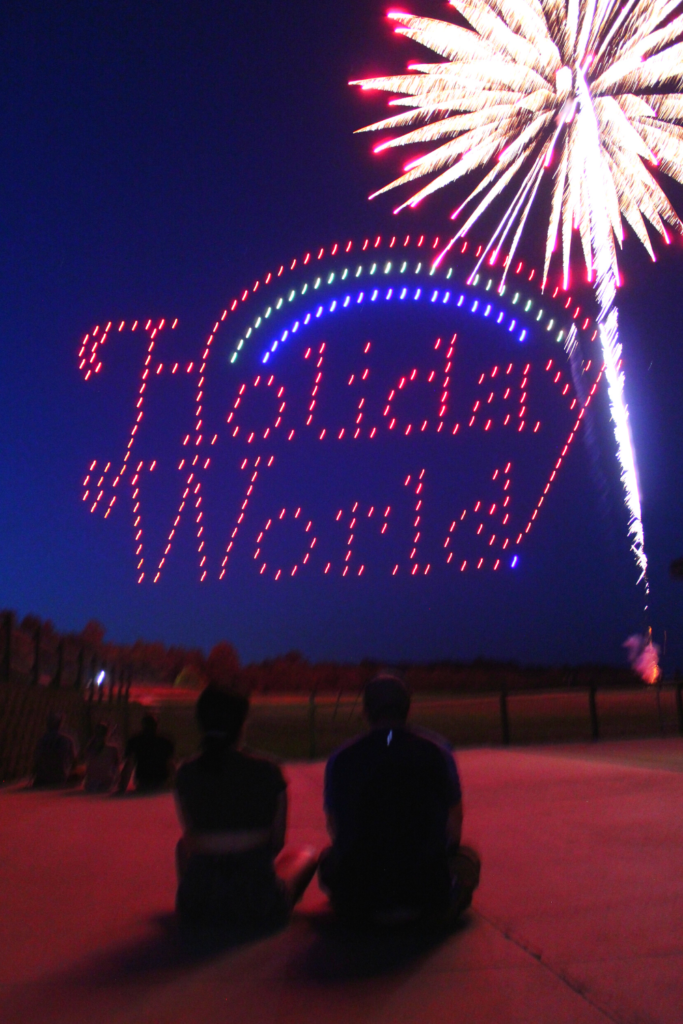 Shop for the Holidays
Holiday shopping is always one of my favorite Christmas activities. I love picking out gifts for my loved ones that suit their personalities or interests. I'm also a huge fan of holiday ornaments and decor. The challenge is always waiting for November to arrive to actually purchase Christmas decor.
Well, if you are in the mood to holiday shop, Santa Claus, Indiana has you covered. There are plenty of charming stores chock full of holiday spirt including the Santa Claus Christmas Store which has all your holiday needs covered. From ornaments to Christmas villages, it is truly a wonderland.
One of our annual traditions is to have a custom ornament made at the Santa Claus Christmas Store. It's the perfect Christmas in July souvenier.
Santa's Toys is another favorite. There you will find unique toys and lots of STEM and creative play options. If you are planning to give a few gifts during your Christmas in July celebration, be sure to pop in.
If you travel just outside of town, you can find some awesome artisan shops, too, like the Monkey Hollow Winery. This family owned winery has a lovely tasting room and a wide variety of wines including seasonal wines like "Spiced Pear". They also have Steckler Grassfed cheese available, too, which is a local farm that produces delicious raw aged cheese. Pick up a bottle to enjoy around the campfire during your stay at Sun Outdoors Lake Rudolph.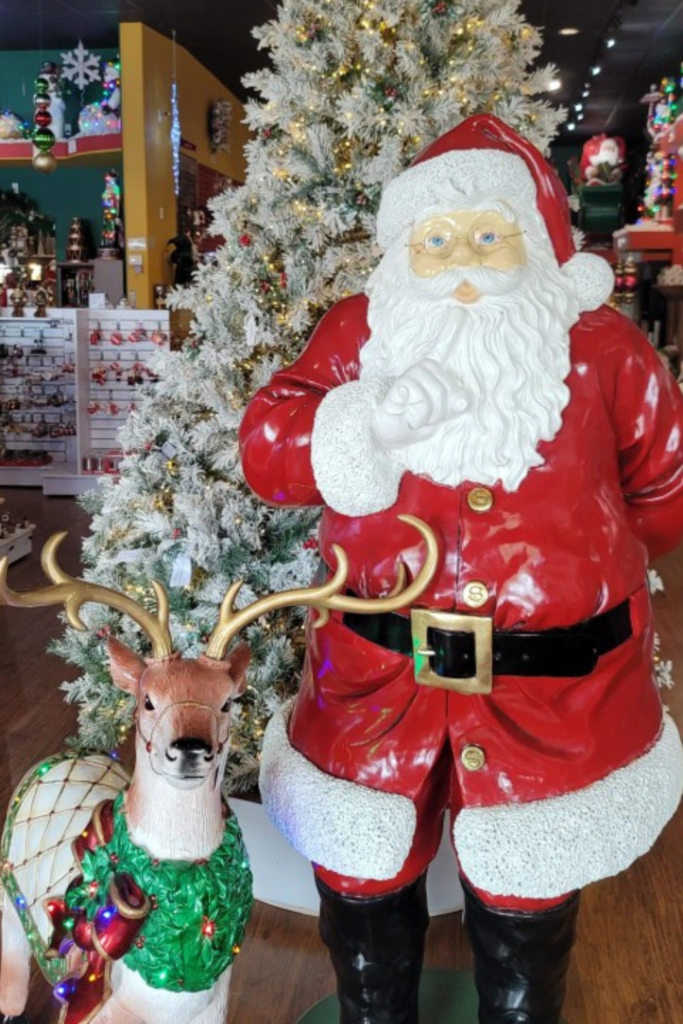 Enjoy a Sweet Treat
Frozen Hot Chocolate, homemade Christmas fudge, cookies, custom cupcakes… you'll find it all throughout Santa Claus, Indiana at the shops and inside Holiday World & Splashin' Safari.
If you're looking for a wealth of sweet treats, stop in Santa's Candy Castle. They have an awesome variety of nostalgic and novelty treats. Even things I haven't seen in years like Razzles and Zotz. It's just all-around fun to explore and great for getting a head start on stocking stuffers for Christmas.
For even more fun, bring your holiday stockings on your trip, fill them with treats from around town. Surprise everyone on your trip when they wake up to find "Santa" has made a surprise visit to fill the stockings.
Another thing we love to do when we celebrate Christmas in July is to do a holiday grab bag. Just bring bags and fill them up with treats and goodies from around town to exchange one night. It's great fun seeing what everyone selects.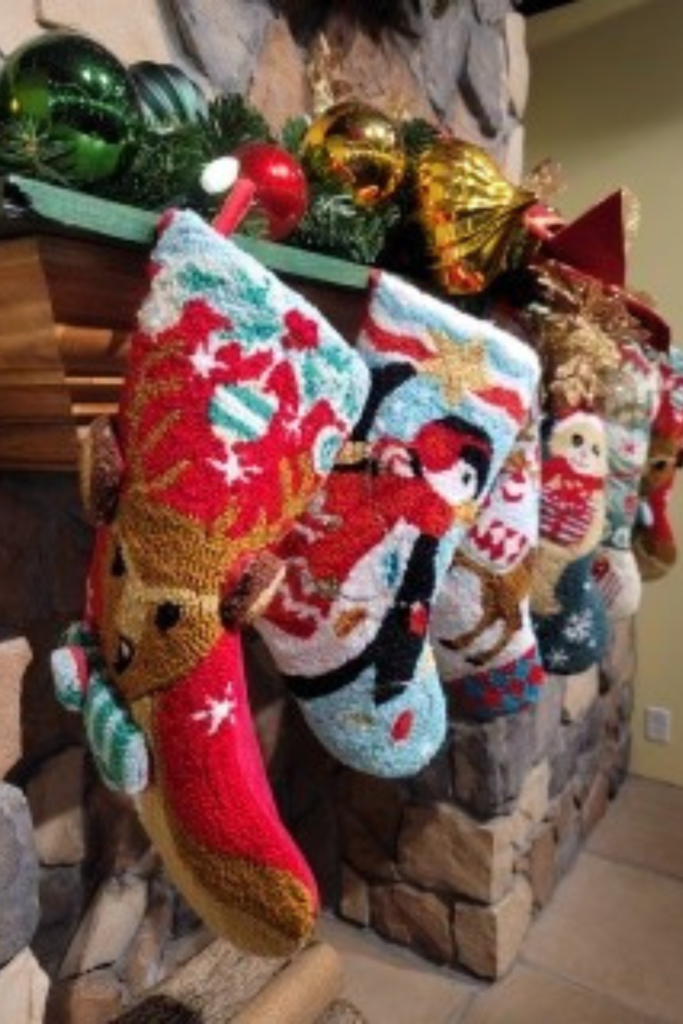 Write a letter to Santa
Also be sure to save time for a visit to the Santa Claus Museum and Village to learn more about the origins of Santa Claus, Indiana. While you are there, kids can write a letter to Santa and place it in a special mailbox. Hint: you can have a letter sent back to them during the holidays!
There's also a fabulous photo opp here. Take your family photo in front of the historic 1935 Santa Claus Statue. This one-of-a-kind statue is a treasure and provides a beautiful backdrop for your family photos.
Need more ideas? Be sure to check out all the Holiblogger articles on the Holiblog at holidayworld.com/holiblog/.
Enter to Win a Holiday World & Splashin' Safari adventure!