Nutmeg, ginger, and clove. Warm apples, figs and raisins. Golden-brown crust piping fresh from the oven – nothing conjuring holiday memories faster than the sweet scents of mince pie.
Sometimes referred to as minced pie, mincemeat pie, mutton pie or Christmas pie, the roots of this popular spiced pie trace back to Great Britain and then later introduced to Scotland and Ireland where this special treat became a household holiday staple.
When I was young, I thought everyone had mince pie for the holidays. My grandmother made heaps of it and my father had a knack for slicing pieces so big, they made my little eyes smile but my tummy nearly bust from the savory, rich goodness. As we always hosted Thanksgiving and Christmas at our home, I was well into my teens before I discovered that no one outside my paternal family celebrated the holidays with a heap of mincemeat pie.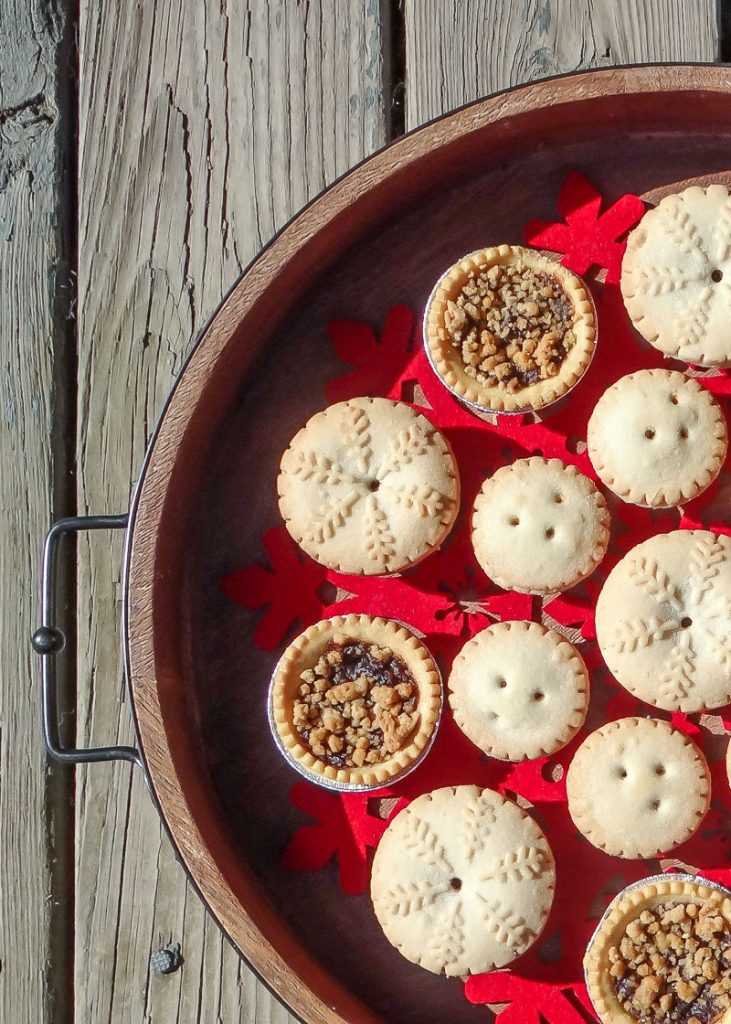 In fact, I often got funny looks from people when I even brought up this delectable dessert. Most had zero-to-no-idea-what-on-earth I was raving on about. It was at this point, I realized I was definitely and distinctly a member of an Old World Irish clan.
Cherishing Irish Traditions
Appreciation of heritage was something I lacked understanding of in my youth. Now, as an adult, I cherish the Irish family traditions that shaped my childhood experiences, filling our celebrations with warmth, love, joy and rituals that enriched our lives. I treasure the act of setting up a mince pie and a bottle of Guinness on Christmas Eve for Santa Claus, it's unmistakably expressive of my culture. I have come to understand that leaving our Christmas decorations up past the New Year is not a sign of laziness, it's one of good fortune!
From placing a candle in the window to opening advent calendars, I try to keep all the traditions from my heritage alive in our home during the holidays. My hope is that my children, at a minimum, will carry forward our two best traditions of spending time with family and enjoying holiday feasts filled with Irish treats. The four pillars of holiday goodies that you'll find in our Irish holiday home are:
Mince Pies
Fruit Cakes
Sweets (chocolates and hard candies)
Guinness and Irish Cream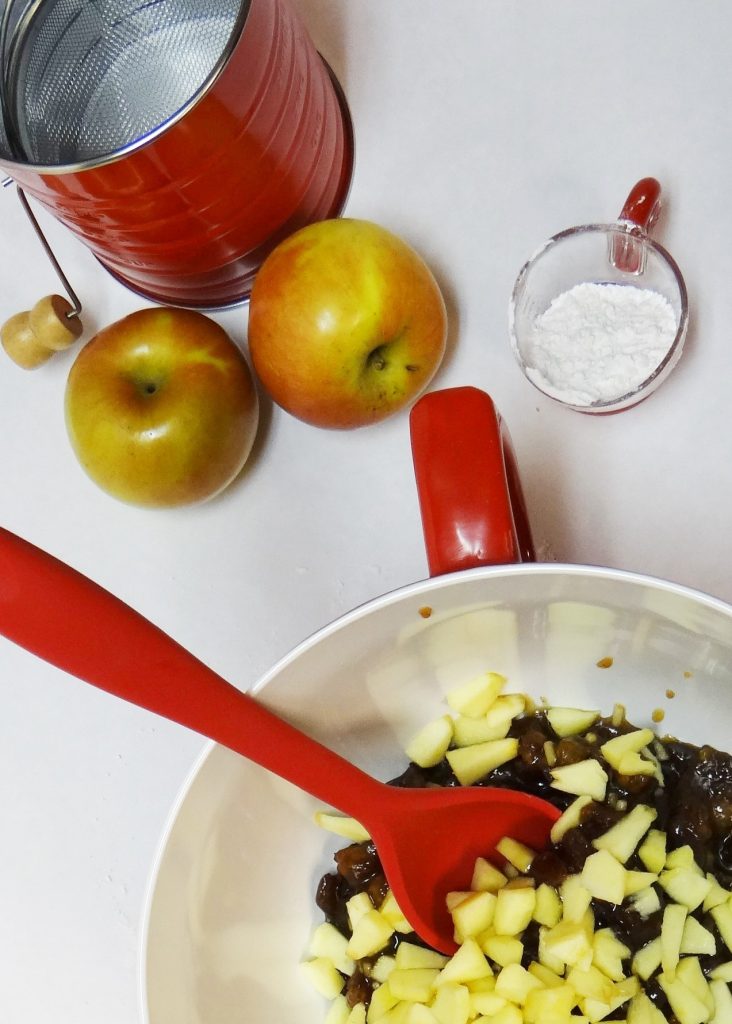 Making homemade Irish goodies and finding the brands from my childhood was often daunting. Now keeping my Irish holiday traditions alive is relatively easy. At holiday time (and throughout the year,) I love that I can always find a bit of home in the aisles. Brands like Robertson's, Walkers and Guinness are readily available. Of course, I love that I can also find plenty of home goods to enhance my baking and holiday experience, too, from serving trays to coffee mugs and tea holders that suit every style. As you may notice in my photos, I love good old-fashioned rustic holiday pieces and patterns (which also reminds me of my childhood!)
Making Mince Pie
I have a great homemade recipe I pieced together through the years. My recipe calls for making your own pie crust (which I prefer) but if you are really pressed for time, a pre-made crust will do in a pinch.
You may also note that I add apples to the mix… this is a tribute to my grandmother who always was heavy-handed with the apples in her recipe.  I've found over the years that every Irish household makes mince pie a little different, but the end result is always delicious.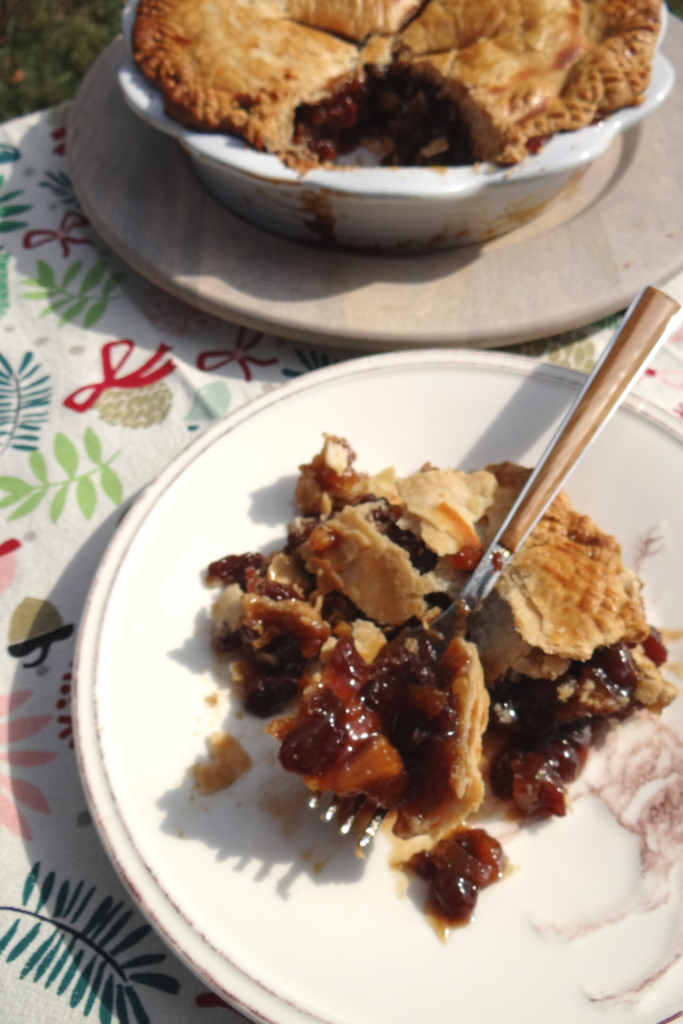 Rural Mom's Holiday Mince Pie
Serving Size = one 9-inch pie, feeds 8-12
Ingredients:
2 (14.49 ounce) jars Robertson's Classic Mincemeat (or other preferred mincemeat)
2 medium size apples, peeled, cored and chopped (Gala or Braeburn apples are my favorites to use)
3/4 cup unsalted butter, chilled and cut into 1/2-inch cubes
2 1/2 cups all-purpose flour
1/2 cup shortening
2 Tablespoons sugar
1 teaspoon salt
cold water
Pie Crust Directions:
In a large food processor, add flour, salt and sugar.  Pulse four times to mix ingredients.
Add butter.  Pulse until butter is coarse. Butter should be in small bits and well distributed through flour.
Add shortening.  Pulse until shortening is coarse and well distributed.  The dough should be crumbled (sand-like in appearance.)
Add 4 tablespoons of water.  Pulse four times.  Dough should now easily stick together when pinched with your fingers.  If the dough does not readily stick together, add one tablespoon of water and pulse four times.  Test dough again.  Repeat if necessary until dough clumps together.
Remove dough from food processor.  Divide dough into two equal parts.  Gently mold each mound of dough into a ball shape and then flatten each gently, pressing it into a disk-like shape.
Dust each disk lightly with flour, wrap in plastic (or insert into a plastic bag with an airtight seal.)  Refrigerate for 1 hour.
Preheat oven to 375 degrees Fahrenheit.
Lightly dust a pastry sheet or flat, clean surface and a rolling pin with flour.
Remove dough from refrigerator when ready and remove plastic covering. Place one disk of dough on pastry sheet.  Gently work dough with rolling pin, using rolling motions from the center of the dough to the outer edge.
If you have a pastry sheet with dough circles, use the 9-inch pie circle as your gauge to roll out your crust.  If you do not have a pastry sheet, use your pie pan as the gauge.  Turn the pie pan upside down and hold it over the dough circle.  Your crust should be flattened evenly into a circle that extends out approximately 2-inches past the rim (lip) of your pie dish on all sides.
When dough is rolled to the correct size, use your fingers or a pastry scraper to pick up one side and gently fold it in half.  Lift the dough and place the folded edge in the center of your pie tin.  Gently unfold the dough and shape it to the pie pan.
Mince Pie Directions:
In a medium mixing bowl, add Robertson's Classic Mincemeat and diced apples.  Gently mix until apples are fully incorporated into mincemeat.  Pour mincemeat apple mixture into the center of the pie crust.  Using a spatula, spread gently until filling is evenly distributed in pie tin.
Re-dust your pastry sheet or flat, clean surface and rolling pin with flour.  Repeat process of rolling out dough with the second dough disk.
When finished, place the folded edge of the dough in the center of the pie tin over the filling.  Gently unfold the dough and shape it to the top of the pie tin.  Fold the edges of the top dough over and then under the bottom dough edge.
Seal the dough edge by pinching with your fingers tips.  Alternately you can create a more decorative crisscross or petal crust edge.
For a crisscross edge, use the tines of a fork at an angle to make fork marks around the entire crust edge.  Then repeat the process holding the fork at the opposite angle to form an X pattern.
For a petal crust edge, place your finger tip to the inside of the crust edge.  Then press the crust around your fingertip to form a small pocket (or fluted edge). Continue this process around the entire piecrust edge.  Use the tines of a fork to gently press down and mark the center of each pocket.
Starting at the center of the top pie crust, use a small knife to cut four small (about 3-inch) slits in the top of the pie crust in an X shape.
In a small bowl, mix one egg and one tablespoon of milk until thoroughly combined.  Use a basting brush to gently brush mixture on the top of the pie crust and around the edges of the crust prior to baking.
Bake pie for 30 minutes or until pie is well set and crust is golden brown.
Remove pie from oven, cool on a baking rack for 1 hour.  Slice pie, serve with tea, coffee, Guinness, or Irish Cream and enjoy!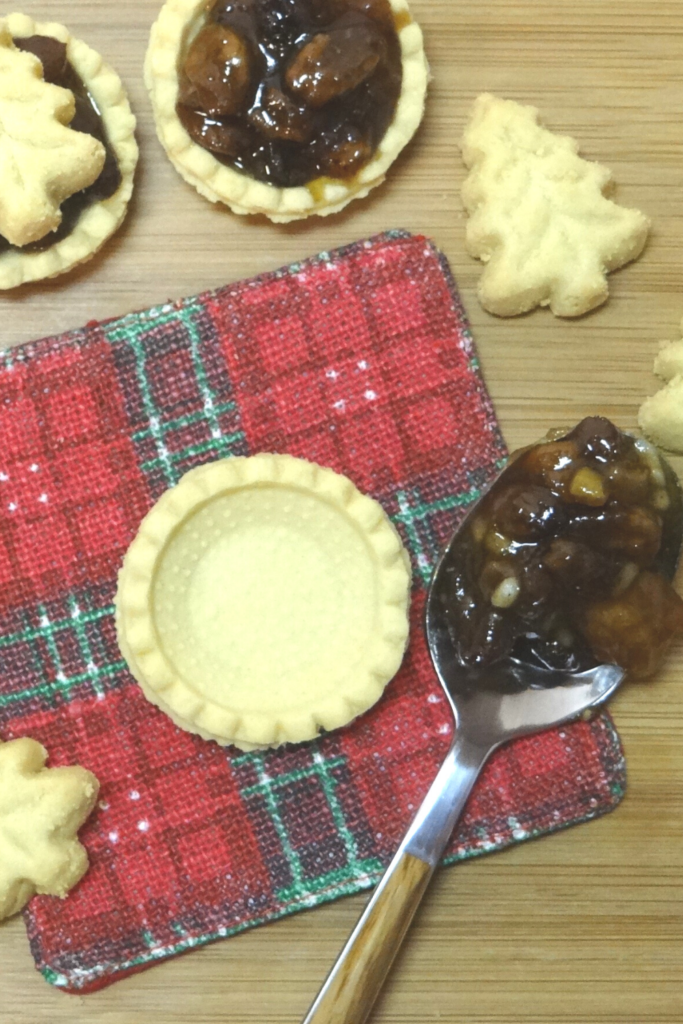 Looking for an even faster way to put mince pies on your sweets table?  
Every year, I find there's always an impromptu party to attend or unexpected guests in our home to entertain.  In these situation, there's little time to prep a baked minced pie.  As Robertson's Classic Mincemeat is ready-serve, I spoon the filling into shortbread tart shells and top with a Walker Mini Shortbread Christmas Tree Cookie.  This quick and easy treat always gets a favorable reaction and looks like I spent hours prepping!
I also love to stock up on Walkers Spiced Orange and Cranberry Mince Pie, Walkers Luxury Mincemeat Tarts and Walkers Luxury Mini Mincemeat Tarts (from Cost Plus World Market).  They are perfect for serving in a pinch and for gifting during the holidays.
Additional sweets for your Irish feast:
When you totally have the mince pie taken care of, a few complimentary treat are in order.  Modern fruit cakes will make you re-think the possibilities of fruitcake.  This rich, delightful treat sometimes gets a bad rap.  As a child, I loved the fruitcake my uncle sent us each year to enjoy during the holidays (it was a lot like Forchy's) but I've had plenty of fruitcakes that were dry or didn't quite hit the delicious note I was looking for.
It's a whole new world of fruitcake today and one I'm always glad to re-discover during the holidays.  I also love enjoying left-over fruitcake with a cup of tea or coffee after the holidays, it's a wonderful mid-morning indulgence.
Irish Beers and Irish Cream are traditional beverages served in our home each year.  They are the perfect after-dinner compliments to our sweets table and of course, chock full of flavor from the Isle!  They are also a great pairing with each other (as you may know if you've ever had a Guinness with a combo shot of Irish Whiskey and Irish Cream tossed in.)  I have relatives that like to take a small taste of Omara's Irish Cream right before drinking a glass of Guinness, which they tout as a "luxury" way to enjoy these spirits.
Whatever you choose to bring to your holiday table this year, I hope you are inspired to enjoy a bit of Ireland in your celebrations!