Just because lemon bars are super yummy and a great treat for the end of summer, I'm sharing my tried and true Lemon Bar recipe! Enjoy!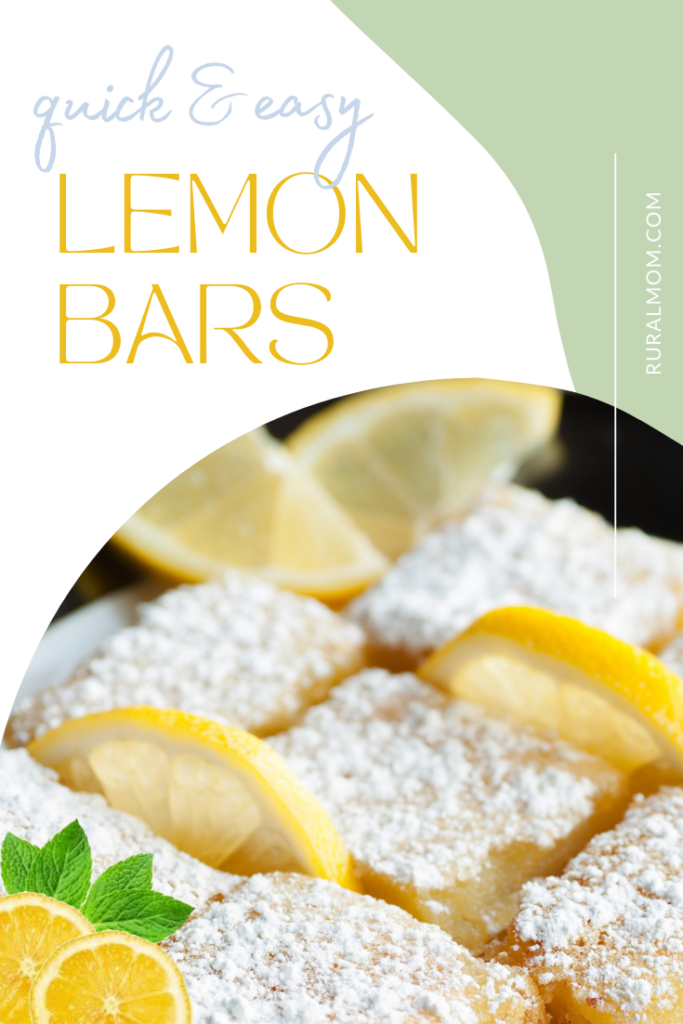 Lemon Bars
Ingredients:
2 sticks of unsalted butter
2 cups of flour
3/4 cup of confectioner sugar
4 eggs (beaten)
2 cups of sugar
1/4 cup of lemon juice
1 tablespoon finely grated lemon peel (optional)
Directions:
Heat oven to 325 degrees Fahrenheit.
In a large mixing bowl, mix butter, flour and 1/2 cup confectioner sugar. (Save 1/4 cup of confectioner sugar to sift and sprinkle on top of cooled lemon bars)
Press flour crust mix into bottom of ungreased 13×9 inch pan. Bake crust for twenty minutes. Remove from oven. Set aside to cool.
Mix together eggs, sugar, four tablespoons flour, lemon juice, and (optional) lemon peel. Pour liquid mixture over cooled crust.
Return baking pan to oven and bake another twenty minutes. Remove from oven and cool bars.
While bars are still slightly warm, sprinkle sifted confectioner sugar over the top. You can lightly dust or heavily dust the bars. I prefer a good coat of confectioner sugar.
When fully cooled, cut the lemon bars into squares. Serve and enjoy!
Baking Tips:
You can also use confectioner sugar templates to put designs atop the lemon bars. Most craft stores or department stores carry templates or shaker template covers. This is a fun way to decorate for holidays.
Swap out lemons for oranges or limes to create new flavors. You may mix and match. Such as using lemon peel with orange juice. Or use orange peel and orange juice. No matter the combination, the result is typically delicious!
Looking for more dessert recipes?
You'll find plenty of savory and sweet recipes on Rural Mom. Just head over to the NOURISH tab to find our favorites. Or search for the term "dessert" in the Rural Mom search bar. We have season recipes, too, so be sure to check out our holiday favorites!