What do farming and Pfeffernüsse have to do with each other? Thanks to my partnership with the Kansas Soybean Commission, Kansas Farm Bureau, and the Kansas Pork Association, I had the amazing opportunity to make the connection!
On a simplistic level, farming is a lot like baking Pfeffernüsse. All the ingredients must be handled skillfully and interact with each other in just the right way to produce a delectable end product.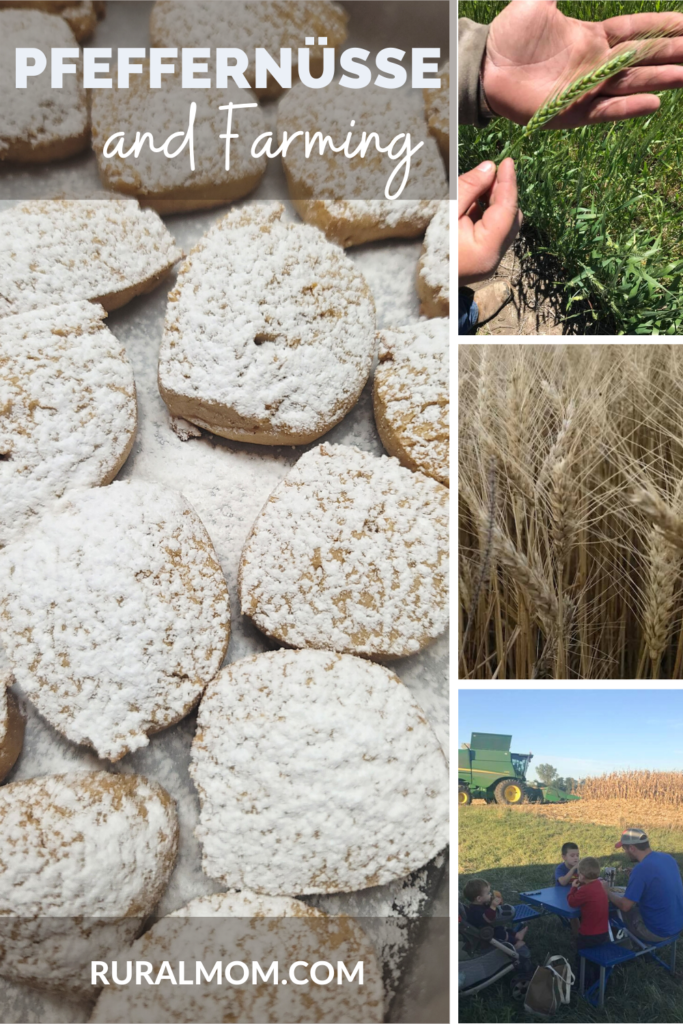 On a personal level, Pfeffernüsse (pronounced fef-fer-noos-a), also commonly referred to as "Peppernuts" (the literal English translation) is a traditional family favorite of third-generation farmer Austin Heiniger and his wife Kendall. This gingerbread-like cookie has a rich history, most commonly thought to be of German or Dutch origin.
The Heinigers have a special affinity to these small spice cookies as their family recipe features dark corn syrup and Kansas wheat.  Winter wheat is one of the crops you'll find Austin farming at the multi-generational farm Heinco, Inc.  Other crops include corn, soybean, and they also run a small cattle and hog operations.
Austin takes pride in being part of a diversified family farm noting "there's a lot of synergy in growing crops and feed for the animals you have on the farm."
This synergy is also found in ingredients for Austin's favorite winter snack, Pfeffernüsse which contains a lively blend of spices. Delicious with a cup of coffee or tea, Pfeffernüsse is wonderful for the winter holidays or an excellent anytime treat.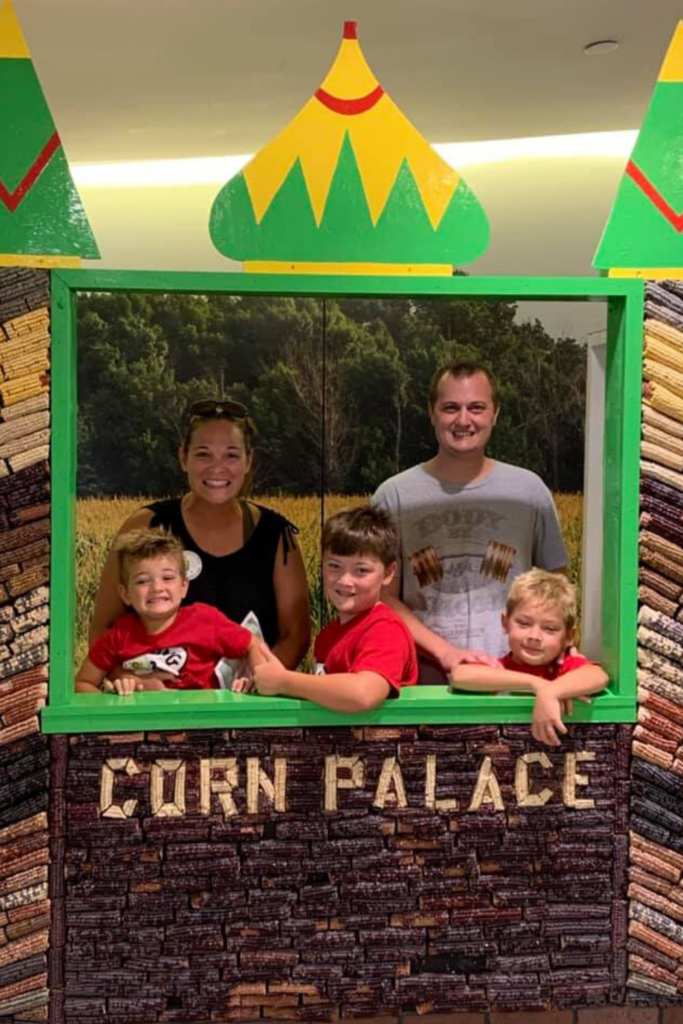 Pfeffernüsse Recipe
Peppernut (Pfeffernüsse) typically does not have any nuts, but it does have plenty of wonderful spice! The "nut" factor comes in from the size or shape of the cookie as it's generally small, about the size of a nut. There are plenty of variations on the recipe, each family may have it's own twist, but you'll generally find ginger, clove, cinnamon and dark corn syrup as staple ingredients in most.
Austin Heiniger suggests trying to find a "short patent" flour. The short patent milling process involves more grinding and finer sifting to create an extremely light, fluffy, and smooth flour for baking.  His personal favorite is Hudson Cream Flour from the Stafford County Flour Mills in Hudson, KS. https://www.hudsoncream.com/
Hope you enjoy this recipe as much as I did! I recreated it earlier this year and it's simply delightful. So glad the Heinigers shared this treasured family recipe with me, it's one that I'll be sharing with my family regularly.
The only thing I added/changed was to dust the cookies with powdered sugar after baking. You can opt to do this or not, depending on your preference. I like the little extra kick of sweet the powdered sugar add but I also love the effect it has, making the Pfeffernüsse appear as if they are snow dusted. Perfect for the winter season!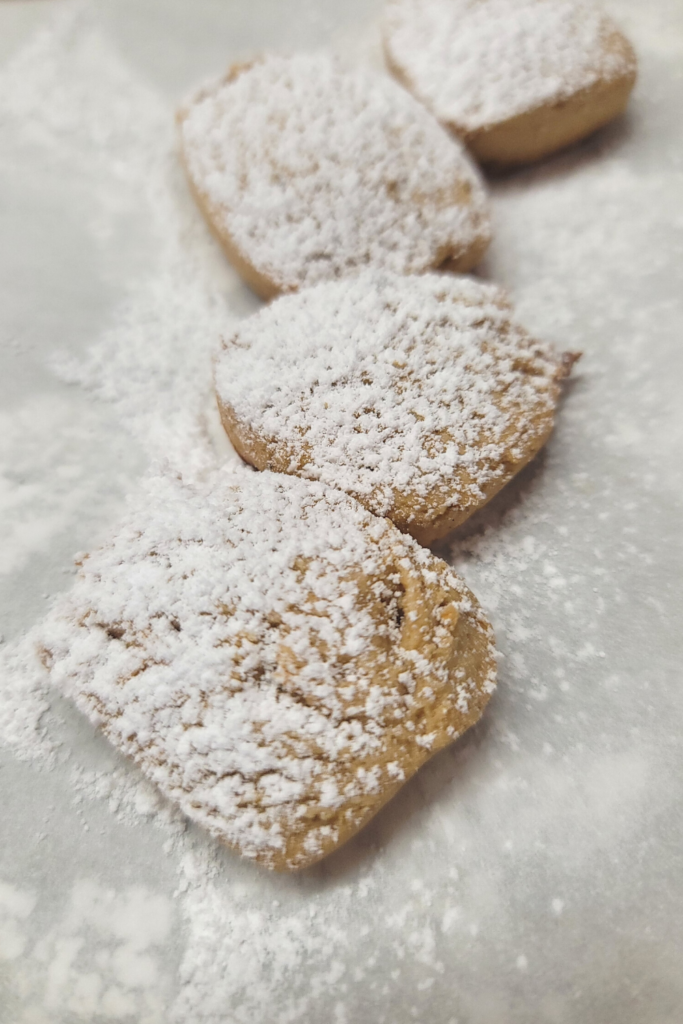 Heiniger Family Peppernut Recipe
1 cup butter, softened at room temperature
3 ¾ cup flour
1½ cup sugar​​​​
2 tsp. soda
1 egg, beaten​​​​
1 tsp. cloves
2 Tbsp. dark syrup​​​
1 tsp. ginger​
½ tsp. anise oil
​​​1 tsp. cinnamon
Pre-heat oven to 350 degrees Fahrenheit.
In a large mixing bowl, cream butter and sugar. Add egg, syrup, and anise oil, stir to incorporate all ingredients.
Stir together all dry ingredients in a separate mixing bowl until spices are fully distributed throughout mix.
Add dry ingredients to wet ingredients. Mix until all ingredients are incorporated and a dough is formed.
Chill dough for two hours (or overnight.) Removed from refrigerator, roll dough out into long rolls the size of your little finger. Slice dough into small pieces.
Line cookie sheet with parchment paper. Place cookies 2-inches apart on cookie sheet.
Bake in oven until lightly browned (around 8-10 minutes.) Remove from oven, cool on baking rack. East and enjoy!
Optionally, dust with powdered sugar onto cookies while they are cooling.
Store in an air-tight container for up to one week.