Have sore muscles from your New Year's resolution workout efforts? Or do you deal with chronic pain like arthritis? A CBD balm could be of great help in easing your strains and pains.
One of our favorite Kentucky-based companies, Cornbread Hemp has just launched a new topical CBD hemp balm that's fantastic for addressing your issues quickly, and neatly! Their CBD balm stick is designed to allow you to apply topical relief without getting residue from the product on your hands.
This less-mess feature makes it fantastic for on-the-go support. Just slip the Cornbread Hemp CBD Balm in your gym bag, purse, glove box, or backpack to use whenever and wherever you find yourself needing some quick relief.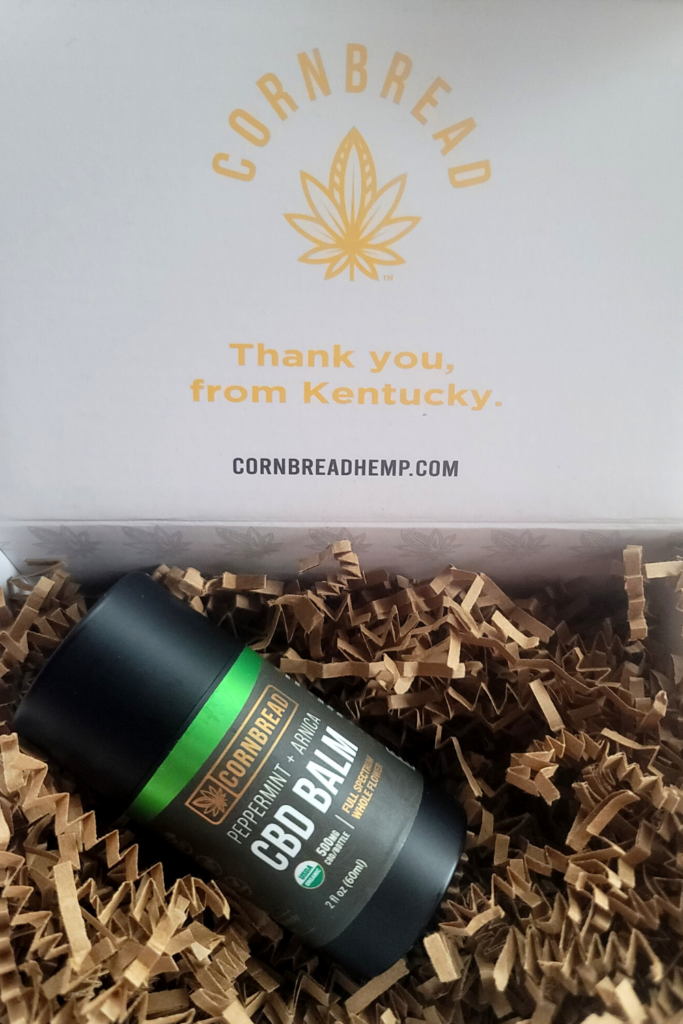 Why CBD Balm?
Multiple studies have shown that topical CBD application has the potential to reduce pain and inflammation. It's certainly not a cure-all, but like other topical pain and inflammation reducing products, has the potential to help lessen, reduce, and even temporarily eliminate pain caused from muscle or joint distress.
Cornbread Hemp CBD Balm contains full-spectrum CBD blended with additional organic ingredients (coconut, shea butter, carnauba wax, arnica oil, hemp extract, eucalyptus oil, and peppermint oil). Both peppermint and eucalyptus also have been studied for their ability to help comfort muscles and joints, making them excellent companions to boost the overall effects of CBD.
CBD, touted for its anti-inflammatory properties and anti-anxiety effects, has become the popular new "it" ingredient for the seed-to-self movement, including topical products. If you already use oral cannabinoid for pain relief or muscle inflammation, considering CBD products for topical relief is a natural progression.
Does CBD enhance topical pain products? Results vary and studies are still underway to determine all the amazing wellness properties of CBD. Recent studies show CBD topicals have therapeutic potential for relief of arthritis pain and inflammation. Ultimately, practicing nourishing self-care and providing much-needed relief to tired, sore muscles is always beneficial.
My Experience
As a side-effect of my occupation as a writer, I regularly contend with carpal tunnel and neck muscle pain issues throughout the month. I was able to sample the Cornbread Hemp CBD Balm and found it to be effect in delivering relief, particularly to my sore neck and shoulder muscles.
I love that I can keep this balm at my desk and apply easily without missing a beat when editing my upcoming book (Getting Baked: Everything You Need To Know About Hemp, CBD, and Medicinal Gardening).
Like Rural Mom, Cornbread Hemp believes in the power of plant-based alternative solutions for health and wellness issues. An all-natural CBD balm is absolutely a great tool to have in your health and wellness kit!
Have you tried using a CBD balm or other CBD topicals yet? Have you found them helpful for your wellness efforts?