This post is sponsored by BabbleBoxx.com
It's still hovering in the 80's in Kentucky but the forecast is quickly calling for a dip to the mid-60's by this weekend. Honestly, I can't wait for the crisp fall weather to arrive. I look forward to hoodies, bonfires and long hikes through the woods leaf peeping along the way at the stunning autumn colors.
What I don't look forward to is a potentially expanding waistline. While fall ushering in so many fantastical sights and scents, it's also the peak season for comfort foods and holiday fare. With busy schedules, it's also easy to slip into a routine of grabbing some less-than-healthy options for breakfast, lunch and dinner.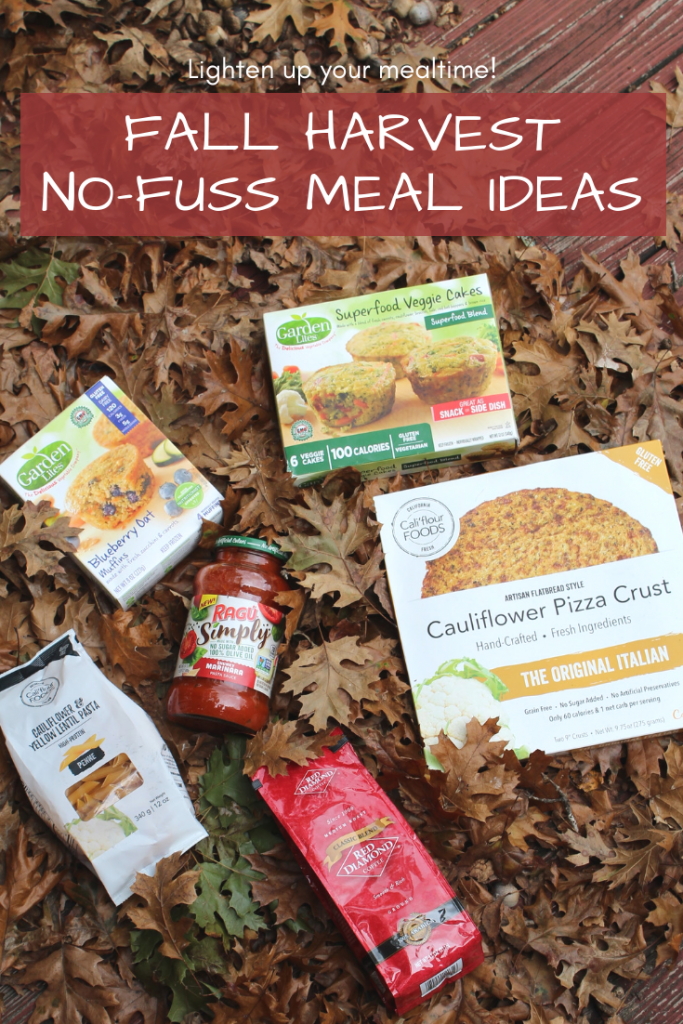 A meal hack I'm testing out this year to help keep me on track is taking the time to stock up on better-for-me versions of my mealtime favorites and keeping some grab-and-go options on hand for the morning rush that will fuel me and help me power through each lovely fall day.
New products like RAGÚ® Simply Pasta Sauces and Garden Lites make it super easy to fulfill my goal of keeping mealtime quick, flavorful and fuss-free.  They also allow me to indulge in my favorite comfort foods while still feeling good about what I'm serving to my family and myself.
I'm sharing a few ideas to inspire your no-fuss mealtime this fall.  Hope it helps you to put some comfort and joy on your table while ensuring you stay on track with your healthier-lifestyle goals!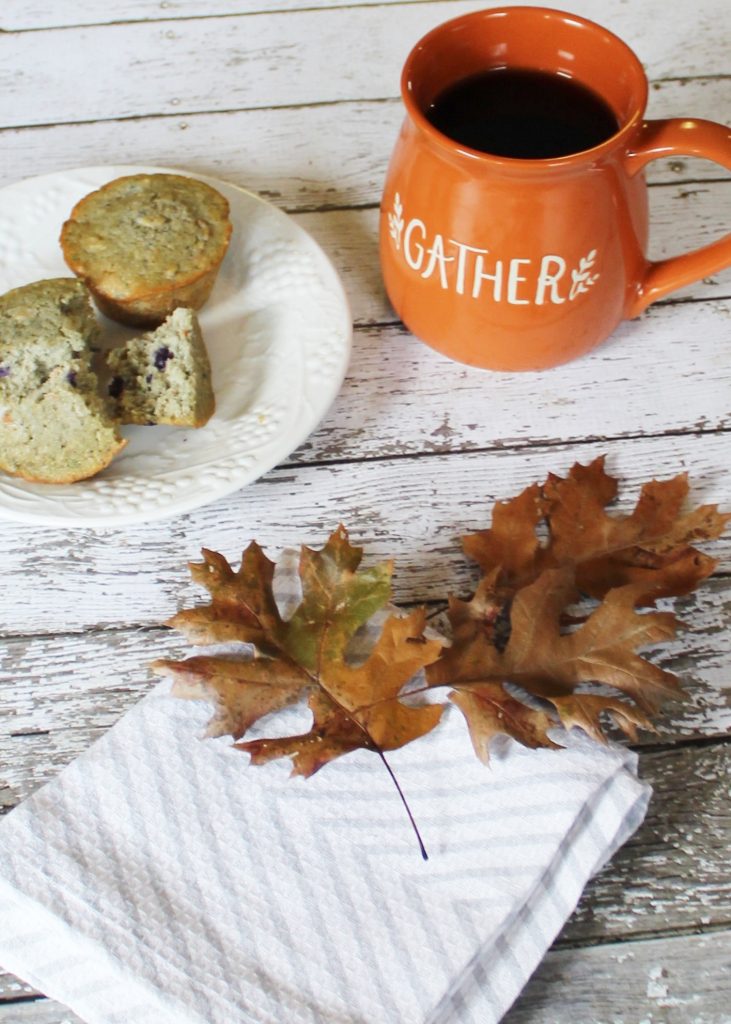 Breakfast No-Fuss Meal Idea
Do you have the bad habit of skipping breakfast in the morning?  Me, too!  Life comes at us quick and it's so easy to get busy knocking off our to-do list.  Before you know it, it's after noon and our tummies are rumbling.
A truly quick, easy and delicious solution is to grab a Garden Lites Blueberry Oat Muffin (or two) to help power up your morning.  In a convenient bite-size format, Garden Lites muffins are fantastic for on-the-go mornings, too.  They heat up in thirty-seconds and can easily travel with you.
I love that the first ingredient in Garden Lites Blueberry Muffins is zucchini.  Hidden veggies are my favorites.  You'd never know it was there, the muffins taste just like what you expect a hearty blueberry muffin to taste like.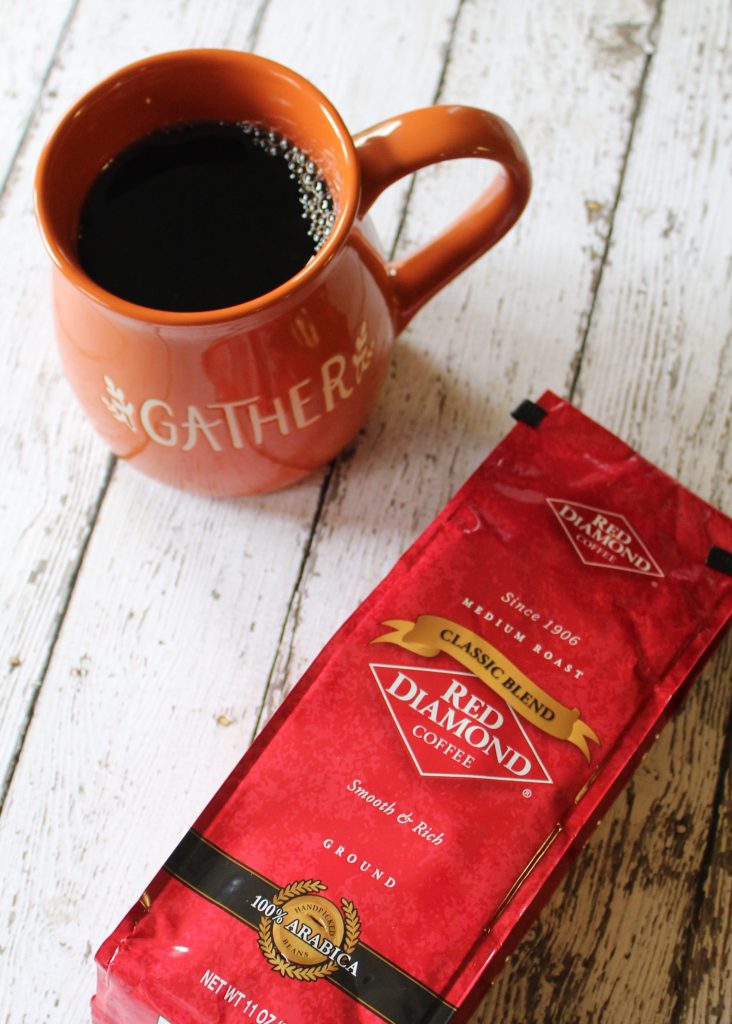 Of course, for me, no morning is complete without a great cup of java to go with my Garden Lites Blueberry Muffins.  When you truly want to start the day off on a bright note, it pays to choose a quality coffee like Red Diamond Medium Roast Classic Blend.  Their beans are grown at high altitudes, hand-picked, and roasted in small batches – which translates into a deep, rich, delightful flavor.
If you know me well, you know coffee is my favorite food group.  I use the pour-over method and drink it black with no additions, so it's very important to have a coffee that truly delivers on flavor and consistency.  I've found Red Diamond Medium Roast Classic Blend to do just that.  It's smooth, robust and delicious.  I'm looking forward to shopping for more of the 11 oz. bag of Red Diamond Classic Blend Ground Coffee and trying other varieties soon!
Special Offer: Use code coffee2018 for 20 percent off your Red Diamond coffee purchase at reddiamond.com.  This is a 1 use per customer code with no minimum purchase needed, effective until midnight Central Time on 12/31/2018.

Lunch No-Fuss Meal Idea
Can you have pizza for lunch without ruining your healthier-dietary efforts for the day?  Yes you can with Cali'flour Pizza Crust!  The Original Italian Cauliflower Pizza Crust is grain-free, gluten-free, low carb and is only 180 calories… for the entire crust.  That's super dreamy!
Add a little of your favorite sauce, a sprinkle of cheese and a few herbs and you can easily have a very filling, hearty pizza lunch without feeling guilty about the indulgence.
This was the first time I ever tried a cauliflower-based crust and I absolutely loved it!  So flavorful that I could actually see myself eating it on its own as a flatbread side for soups or stews, too.  I added a little bit of cheese, a sun-dried tomato pesto paste as my sauce and a few snips of fresh basil as my toppings.  This was definitely a lunch I could happily eat over and over again this fall season and beyond.
Special Offer:  Right now, you can use code NOFUSSFOODS for 15 percent off your order (plus free shipping) at califlourfoods.com.  Note that this offer cannot be combined with other discount codes or promos and is good only for one use per customer.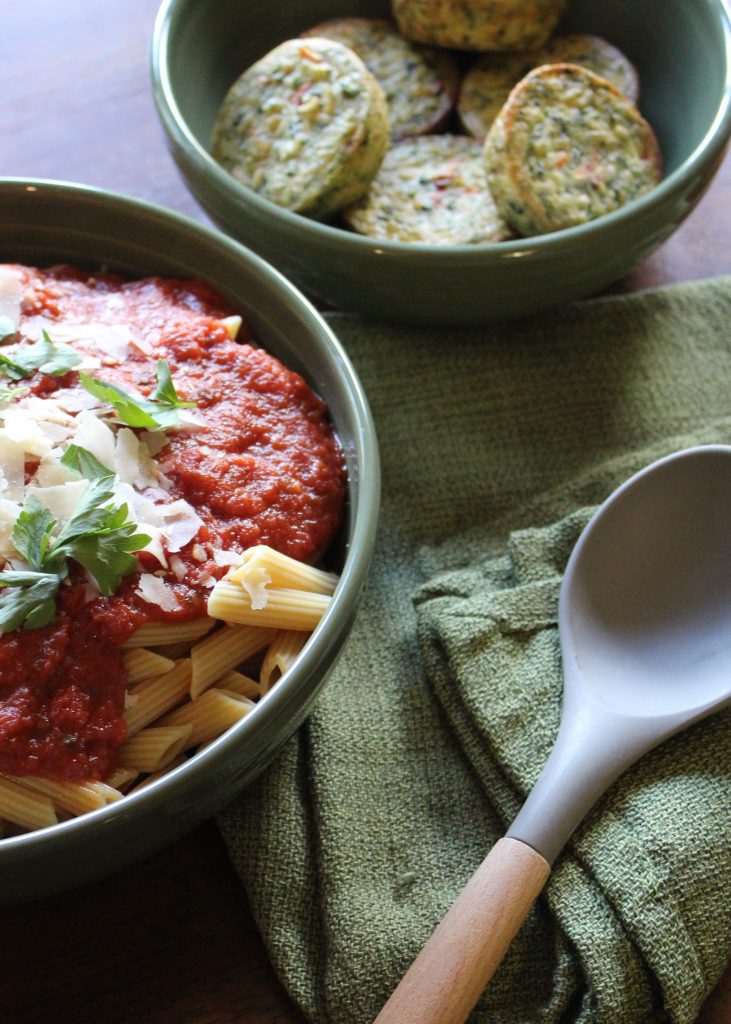 Dinner No-Fuss Meal Idea
While pumpkin spice is awfully nice, what I generally crave in the cooler weather are things like pasta and tomato-based soups and stews. Maybe it's because the last of the tomatoes are gone from the vine or just my propensity for Italian or Irish-style cuisines but I have yet to find an rich and hearty love-apple (tomato) dish I don't enjoy.
NEW RAGÚ® Simply Chunky Marinara Pasta Sauce is my new go-to for enjoying the pastas I love.  Made with 100 percent olive oil, no added sugar, chunky tomatoes, onions, garlic and spices, it delivers oodles of farm fresh flavor.
It's so simple to create a quick and easy family dinner with NEW RAGÚ Simply Chunky Marinara Pasta Sauce and another new fresh fall favorite, Cali'flour Cauliflower & Yellow Lentil Penne.  This high protein, grain-free, gluten-free, plant-based and low-glycemic pasta is made with two simple ingredients: Cauliflower and Lentils.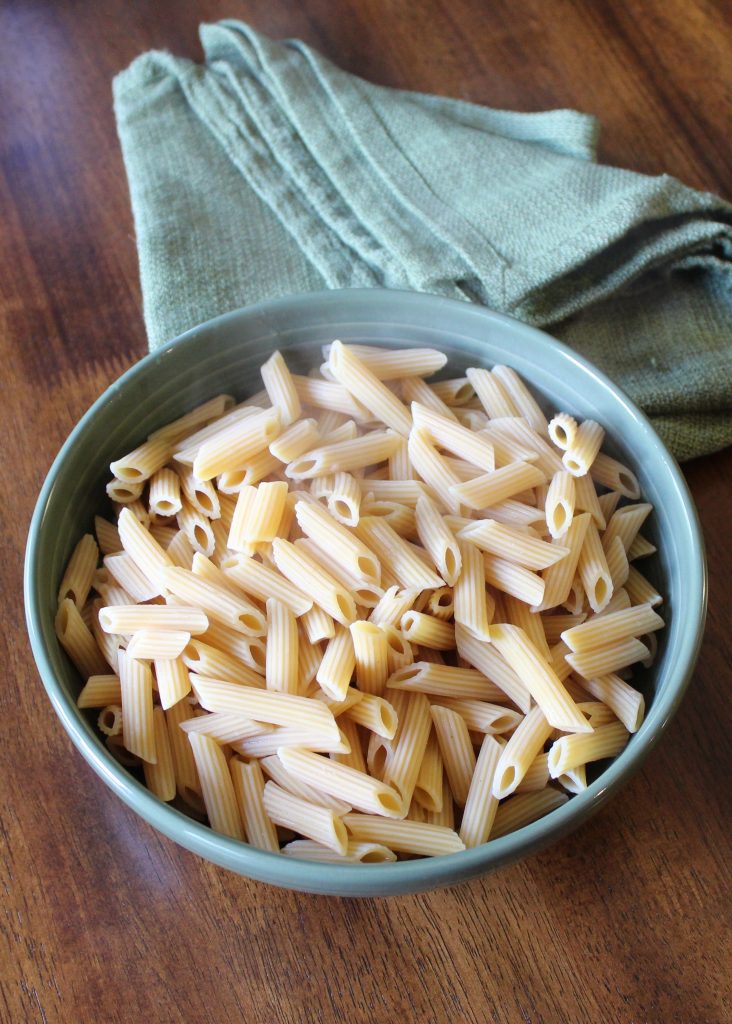 It cooks up just like regular pasta and has the same texture and taste you would expect.  Honestly, tough to believe it's not a traditional pasta, it's that good at mimicking the real thing!
We like to have Meatless Mondays each week and this duo is perfect for delivering great taste and a filling meal.  I like to dust the pasta dish with a little Parmesan cheese and Italian parsley to finish it off.
Do you crave bread with your pasta, too?  Bread is definitely my downfall in the winter months and I really miss it if I don't have some type of bread to accompany my pasta dishes.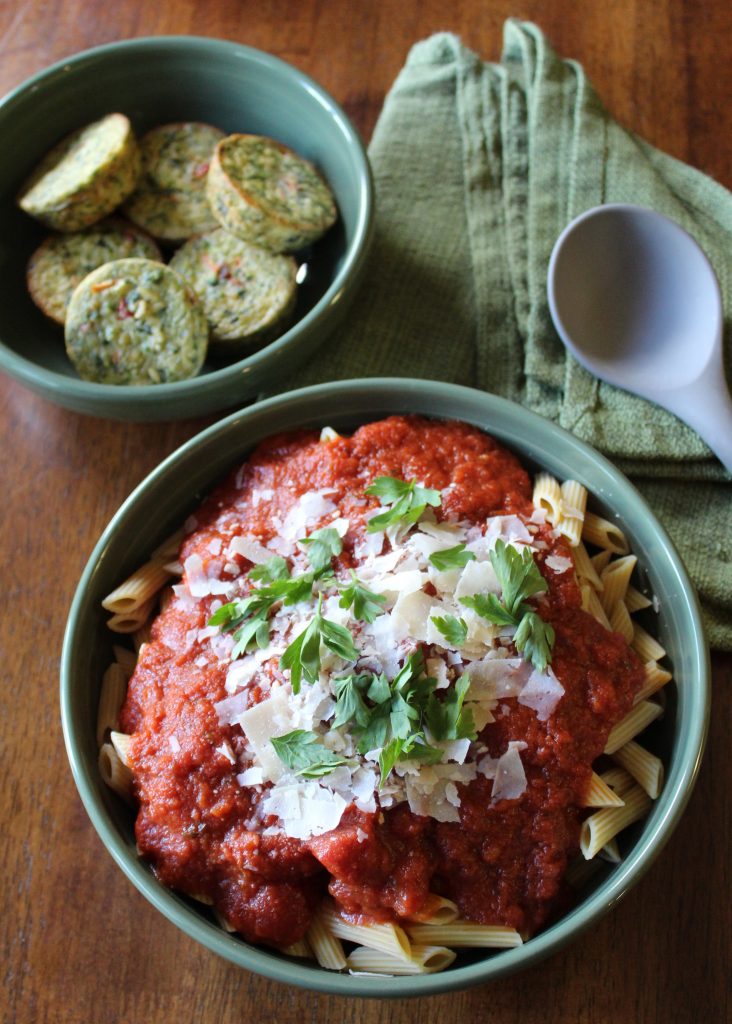 I found a delicious alternative, Garden Lites Superfood Veggie Cakes, to swap out for a bread side.  These wonderful veggie muffins give me the bread texture and appeal that I'm craving, but instead of empty carbs, they are chock full of nutrient-rich superfood veggies like kale and cauliflower.  They're also gluten-free and low in calories.
Special Offer:  Shopping for Garden Lites?  Use code BABBLE20 for 20 percent off your order at thehealthfoodstore.com.  You can also find printable coupons for $1.00 off Garden Lites at your local grocer HERE.
When you find the right better-for-me products to support your no-fuss, healthier meal time goals, it's really easy to stay on track this fall season and beyond!
What are some of your meal hacks that help create quick, flavorful, healthy and fuss-free mealtime solutions?