I always thought I should have been an October child as the latter half of the year has always been my favorite. From the first leaf of fall to the beginning snowfall, from Halloween to Christmas, I am bursting with holiday joy.
In this magical season, back when a when a pile of leaves or a heavy snowfall could still stand taller than me, I fell under the enchanting spell of The Nutcracker. We took a class field trip the the Chicago Auditorium Theater to see the dazzling annual ballet performance. The ornate architecture of the theater, the gorgeous pageantry of the stage, the delicate grace of the dancers – all had me spell-bound and smitten from the first note the orchestra played.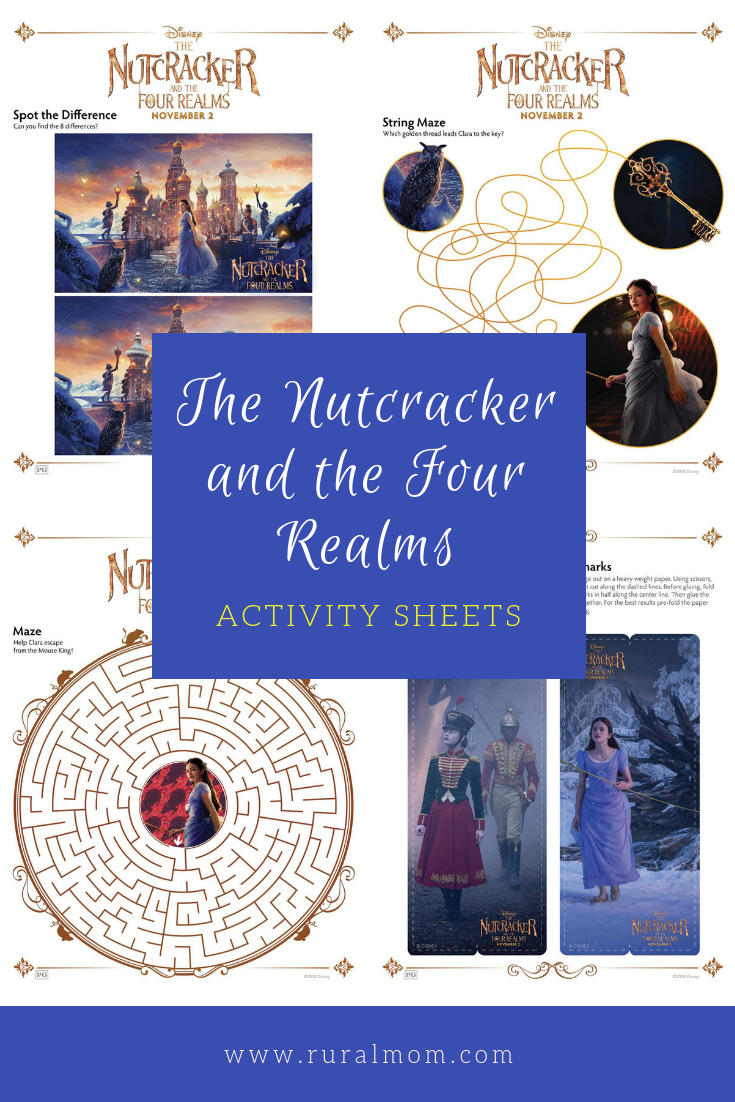 Since then, I've seen the The Nutcracker performed as a ballet and as a play numerous times and it always brings that childhood sense of wonder and spell-binding magical flutter of joyfulness straight back!
When I learned that Disney's THE NUTCRACKER AND THE FOUR REALMS will be opening in theaters November 2nd, you can bet it immediately made my "must-see" holiday movie list!   
Just watching the trailer gives me goosebumps.  The familiar music, the stunning costumes, the incredible setting, and the amazingly-talented actors and actresses involved, all lead me to believe that this may be the most magical production yet.
I cannot wait to enter this fantastical world!
In the meantime, I'll be content this weekend to print off some fun new THE NUTCRACKER AND THE FOUR REALMS activity sheets from my friends at Disney. They've gifted us with some truly lovely coloring pages, mazes, bookmarks and more to help celebrate this wondrous adventure (see below…)
We'll hopefully be seeing much more on this brilliant film soon and certainly counting the days until the release of this spectacular film!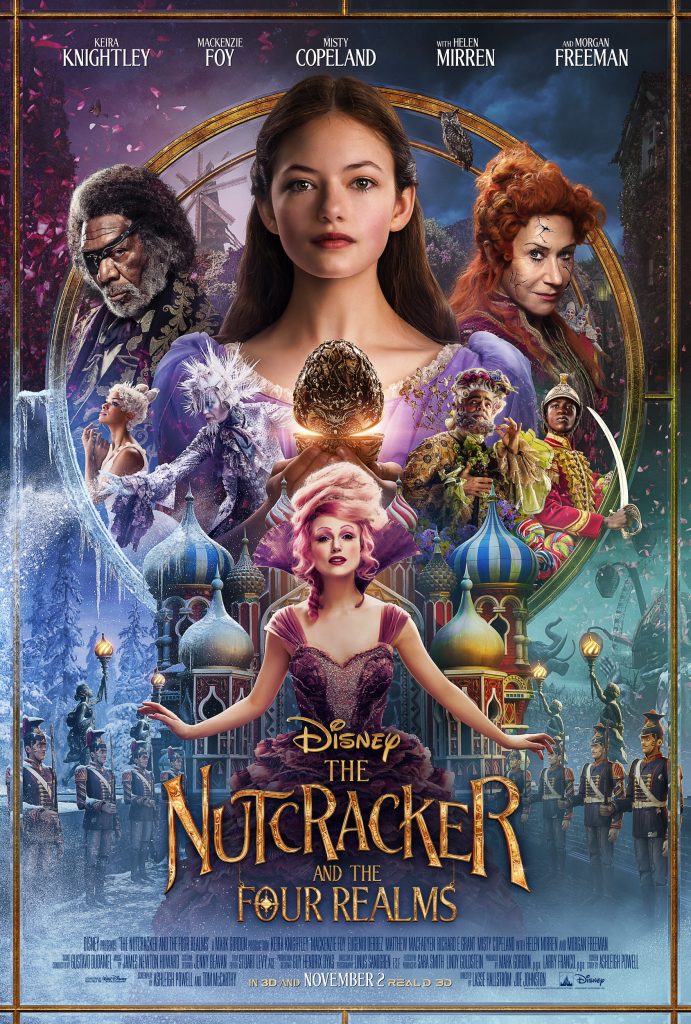 About THE NUTCRACKER AND THE FOUR REALMS
All Clara (Mackenzie Foy) wants is a key – a one-of-a-kind key that will unlock a box that holds a priceless gift. A golden thread, presented to her at godfather Drosselmeyer's (Morgan Freeman) annual holiday party, leads her to the coveted key—which promptly disappears into a strange and mysterious parallel world. It's there that Clara encounters a soldier named Phillip (Jayden Fowora-Knight), a gang of mice and the regents who preside over three Realms: Land of Snowflakes, Land of Flowers and Land of Sweets. Clara and Phillip must brave the ominous Fourth Realm, home to the tyrant Mother Ginger (Helen Mirren), to retrieve Clara's key and hopefully return harmony to the unstable world. Starring Keira Knightley as the Sugar Plum Fairy, Disney's new holiday feature film "The Nutcracker and the Four Realms" is directed by Lasse Hallström and Joe Johnston, and inspired by E.T.A. Hoffmann's classic tale.
THE NUTCRACKER AND THE FOUR REALMS Activity Sheets
[embeddoc url="https://ruralmom.com/wp-content/uploads/2018/09/TheNutcracker_pdf_5baaa2c80de40.pdf" download="all"]
[embeddoc url="https://ruralmom.com/wp-content/uploads/2018/09/TheNutcracker_pdf_5baaa2dd6bf2c.pdf" download="all"]
[embeddoc url="https://ruralmom.com/wp-content/uploads/2018/09/TheNutcracker_pdf_5baaa2ee92b05.pdf" download="all"]
[embeddoc url="https://ruralmom.com/wp-content/uploads/2018/09/TheNutcracker_pdf_5baaa2f944cbc.pdf" download="all"]
[embeddoc url="https://ruralmom.com/wp-content/uploads/2018/09/TheNutcracker_pdf_5baaa13d0a6ee.pdf" download="all"]
[embeddoc url="https://ruralmom.com/wp-content/uploads/2018/09/TheNutcracker_pdf_5baaa14d8570f.pdf" download="all"]
[embeddoc url="https://ruralmom.com/wp-content/uploads/2018/09/TheNutcracker_pdf_5baaa16fa357d.pdf" download="all"]
[embeddoc url="https://ruralmom.com/wp-content/uploads/2018/09/TheNutcracker_pdf_5baaa26b177f5.pdf" download="all"]
[embeddoc url="https://ruralmom.com/wp-content/uploads/2018/09/TheNutcracker_pdf_5baaa200d5477.pdf" download="all"]
[embeddoc url="https://ruralmom.com/wp-content/uploads/2018/09/TheNutcracker_pdf_5baaa250aff2b.pdf" download="all"]
[embeddoc url="https://ruralmom.com/wp-content/uploads/2018/09/TheNutcracker_pdf_5baaa2951ebb3.pdf" download="all"]
[embeddoc url="https://ruralmom.com/wp-content/uploads/2018/09/TheNutcracker_pdf_5baaa124034db.pdf" download="all"]
[embeddoc url="https://ruralmom.com/wp-content/uploads/2018/09/TheNutcracker_pdf_5baaa210048b3-1.pdf" download="all"]
[embeddoc url="https://ruralmom.com/wp-content/uploads/2018/09/TheNutcracker_pdf_5baaa220341aa.pdf" download="all"]
[embeddoc url="https://ruralmom.com/wp-content/uploads/2018/09/TheNutcracker_pdf_5baaa28582273.pdf" download="all"]