Do you have a favorite breakfast food from your childhood?  My newest recipe for Cinnamon Vanilla Peach Compote with Dr. Praeger's Four Potato Hashbrowns is a modern gluten-free twist on my childhood favorite.  Thanks to my partnership with Dr. Praeger's and participation in the Mom Blog Tour Natural Products Expo West, I was inspired to create this recipe to warm up our mornings with farm fresh goodness and joy!
I participated in Mom Blog Tour Natural Products Expo West (#MomBlogTourFF) on behalf of Wendy's Bloggers. I received Dr. Praeger's products to facilitate my review, but my opinions and creative content are my own.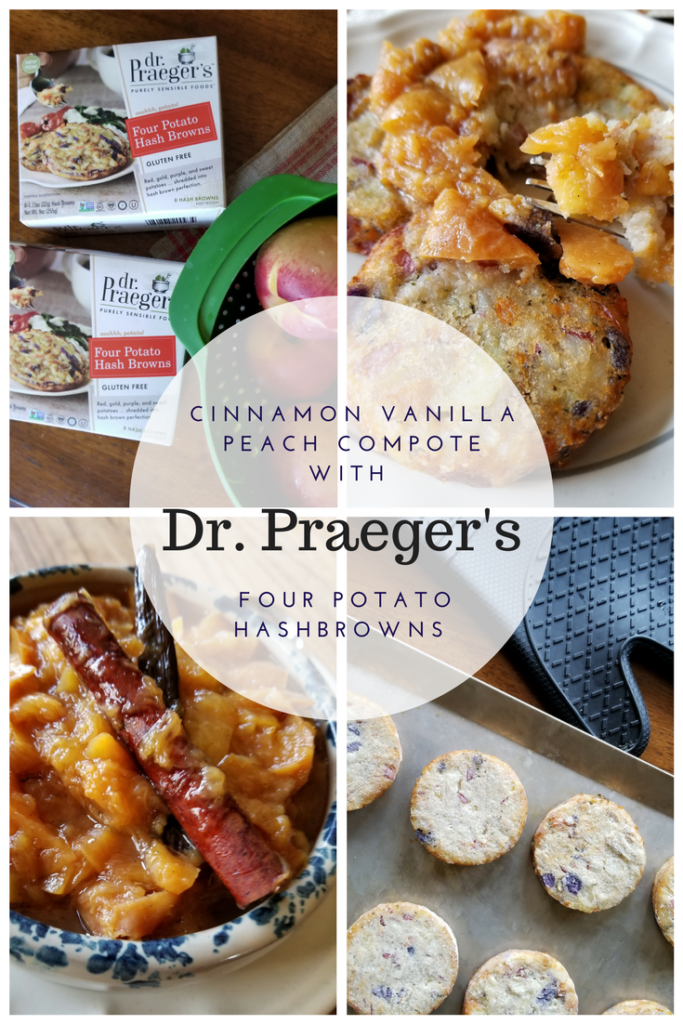 Perogies, Borscht, Gulasz – thanks to my grandmother, a second generation Polish-American, these are all dishes from my childhood that I still love to savor.  My very favorite Polish dish is Placki Ziemniaczane, more traditionally known in the U.S. as potato pancakes.  Traditionally served with a peach or apricot compote, this savory treat makes an awesome breakfast on its own or lovely dinner side.
As I'm gluten-sensitive due to Hashimoto's, potato pancakes are something I enjoy sparingly as they are traditionally made with flour and well, to be honest, they also take a lengthy bit of prep time with all the potato grating involved.
When I discovered Dr. Praeger's Four Potato Hashbrowns a light bulb went off!  They have such a ridiculously-fresh savory flavor with a lovely crisp exterior, they remind me so much of the potato pancakes I love.  I knew they would be wonderful to pair with a fresh peach compote… and was spot on in my assumption.  The end result is absolutely delicious!
For so many reasons, I'm a long-time fan of Dr. Praeger's, but foremost because they are dedicated to creating wholesome, nutritious frozen foods with recognizable ingredients that help families easily integrate better eating habits into their lifestyle.  I also love that they have plenty of gluten free products!
[amazon_link asins='B071WRDNC4,B0747T9ZHR,B0747V6ZDD' template='ProductGrid' store='ruralmom' marketplace='US' link_id='90f88d6c-3fa2-11e8-99da-374cabf6c09d']
I'm so excited about some of the new products I learned about at Natural Products Expo West made with plant protein, like the already available All American Veggie Burgers and the soon-to-be-on-the-freezer-shelves Sweet Heat Beet Veggie Burger, Grandpa Mel's Barbecue Chicken Tenders and my favorite, Super Green Veggie Nuggets (so delicious! I can't wait for these to be available!)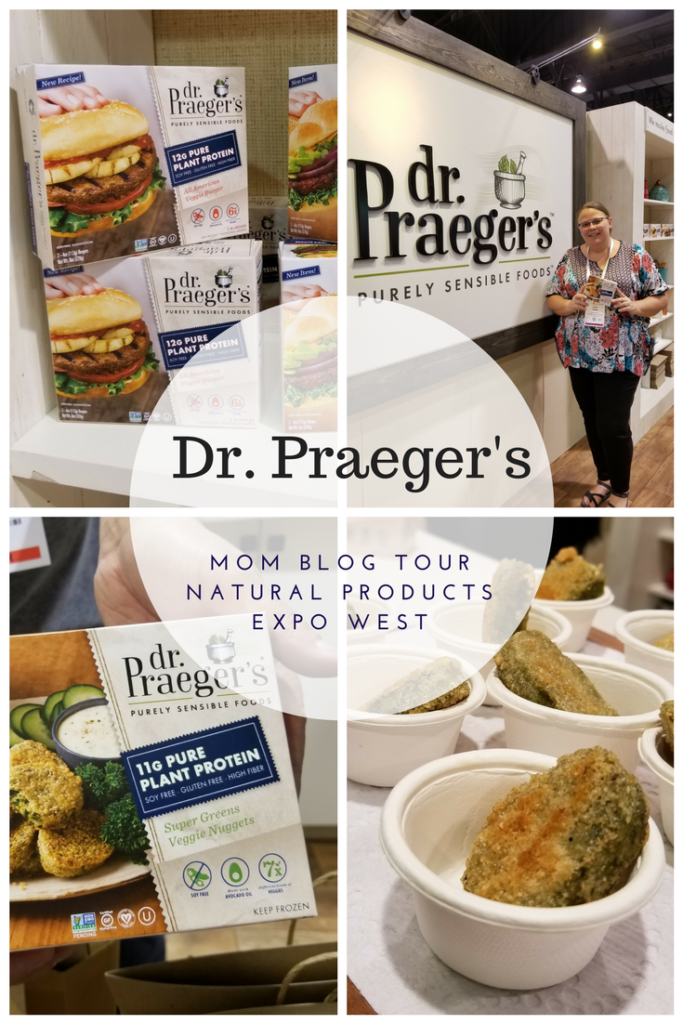 It's so wonderful to now be able to enjoy one of my favorite childhood foods with ease in a gluten free version with all-natural ingredients.  I hope that this recipe pairing brings joy to your breakfast or dinner table, too!
Cinnamon Vanilla Peach Compote
1 pound of fresh peaches or nectarines (equal to about 5 medium size peaches or 2 cups of organic frozen peaches)
1/4 cup water
1 Tablespoon lemon juice
2 Tablespoons lemon zest (about the zest of 1 medium size lemon)
1 Tablespoon pure maple syrup
1/2 vanilla bean, seeds scraped (or 1 teaspoon vanilla extract)
1 cinnamon stick (or 1 teaspoon cinnamon)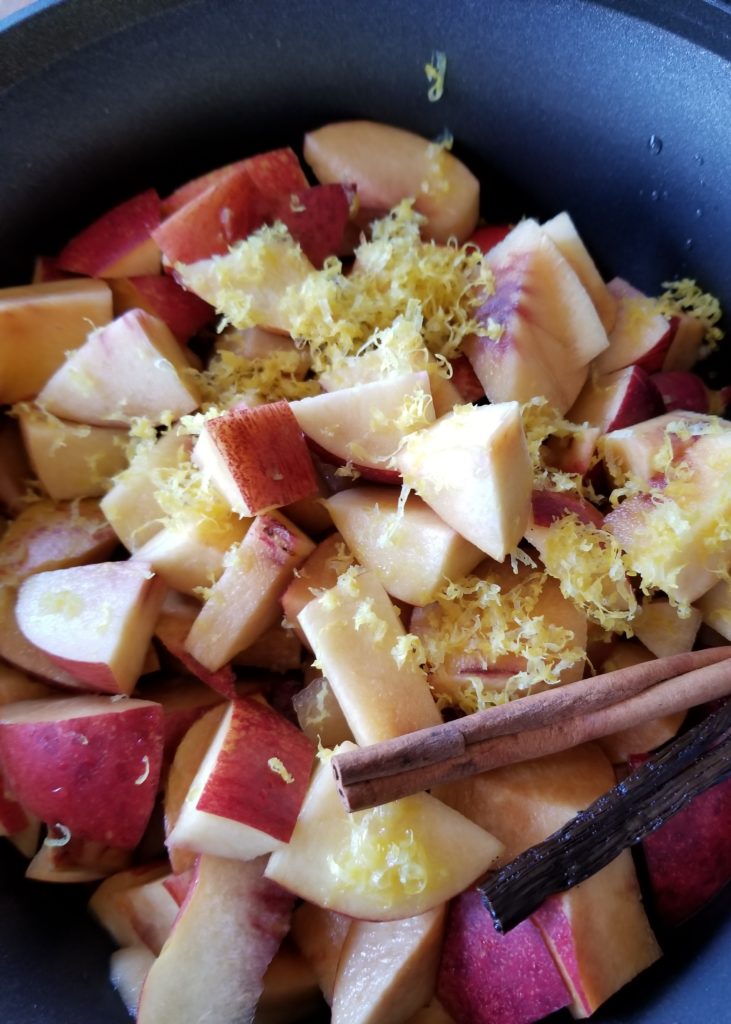 Remove pits from peaches. Rough chop peaches into approximately 1-inch cubed pieces.
Zest and juice lemon.
Add rough-chopped peach pieces to a medium saucepan. Pour in water, lemon juice and maple syrup. Top with vanilla bean, cinnamon stick and lemon zest.
Cover and cook over a medium-low heat until mixture begins to boil. Reduce heat to simmer and remove cover from saucepan. Stir peach mixture for 1 minute, then re-cover saucepan.
Simmer for 30 minutes, stirring occasionally. Peaches should be soft and falling apart at the end of cook time. If they are not (some may take longer depending upon ripeness,) simmer for an additional 15-30 minutes.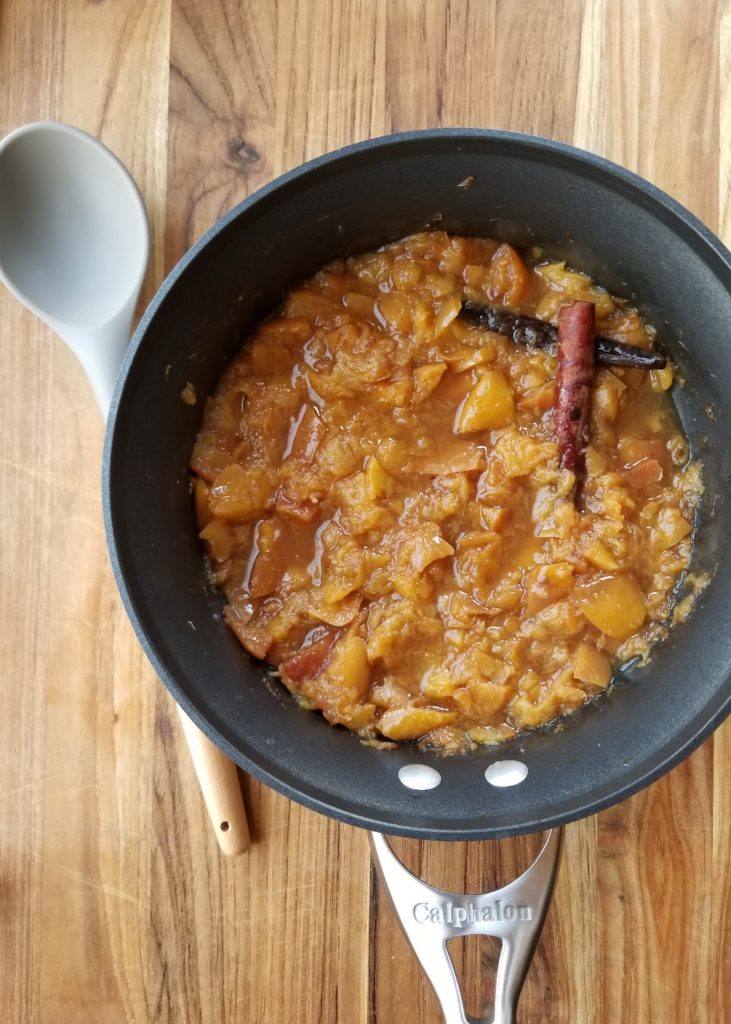 Remove cover. Use the back of a spoon to gently mash peaches (mixture will still be lumpy.) Stir. Leave saucepan uncovered and simmer for 15 minutes, stirring occasionally.
Remove from heat. Remove cinnamon stick and vanilla bean.
Pour peach compote into a bowl and serve warm.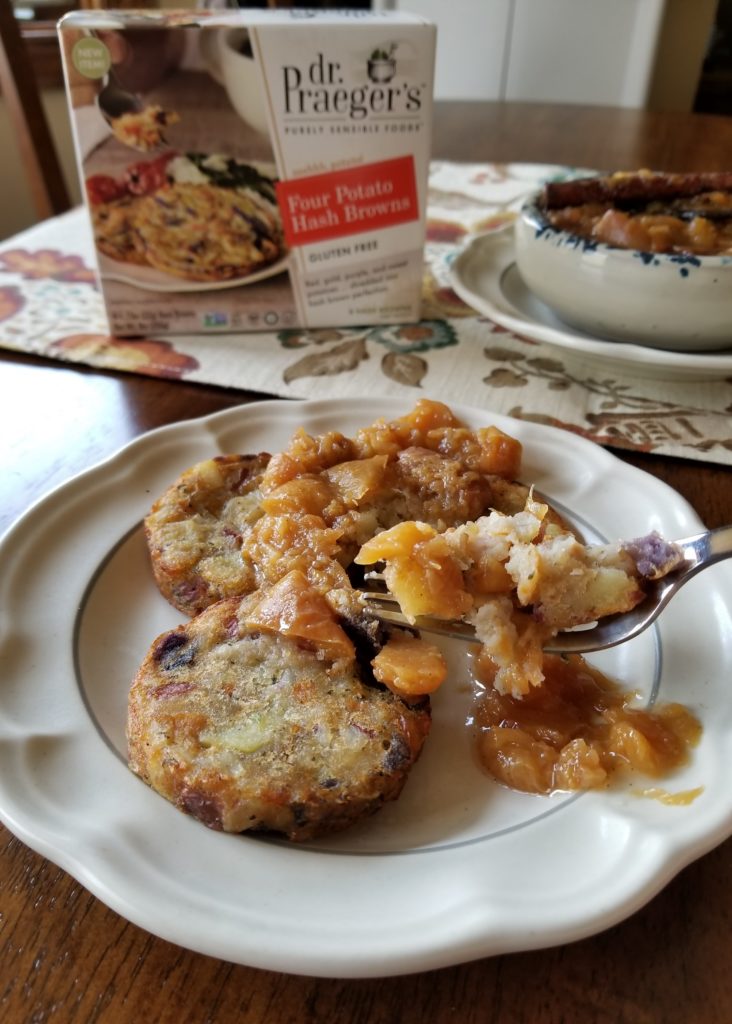 Vanilla Cinnamon Peach Compote perfectly pairs with Dr. Praeger's Four Potato Hashbrowns. It's also wonderful spooned over ice cream, pound cake or warm banana bread.
Cool left-over compote and store in refrigerator for up to 2 weeks. Compote may be reheated by gently warming in the microwave or in a small saucepan.
Tip for smoothie fans:  If you have too much leftover peach compote, you can pop some in a blender with some almond milk, a couple ice cubes and any other add-ins you like, such as pea protein powder and whip up a delicious cinnamon vanilla peach smoothie to enjoy!
Mom Blog Tour Super Colossal Giveaway
Thanks to our amazing sponsors, like Dr. Praeger's, I have a wonderful opportunity to share with you – the Mom Blog Tour Super Colossal Giveaway!  This is one giveaway you don't want to miss entering… the prize package is $1500 worth of healthy foods and products to help inspire creative mealtime in your home!  Click on the link below to enter.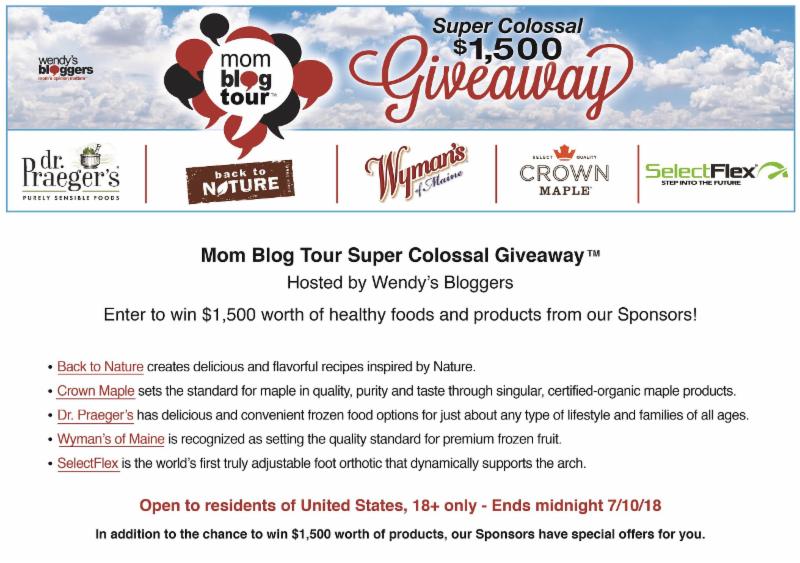 Do you have a favorite breakfast food from your childhood?  Have you found ways to make it a healthier option?  I'd love to hear about it!