Minions!  Who doesn't love Minions?  And Minions at holiday time, even better! Thanks to my partnership with Universal Pictures Home Entertainment, I'm sharing some easy-to-create, festive Minion ornaments and wreath craft ideas to help bring some Despicable Me 3 holiday cheer to your home!
It's time to celebrate all-things holidays and what better way to do so with a cozy family movie night featuring the Despicable Me 3 Special Edition (Blu-ray and DVD now in stores.) Before you settle down for the heartwarming comedy show, it's a great time to engage your children with fun holiday crafts that celebrate their favorite characters and will deck your halls with tons of colorful, joyful decor.   Seriously, when you see a Minion ornament, you really can't help but smile.
Whenever we sit down for craft time in our home, it's generally a mixed media art adventure – meaning we use whatever mediums are handy!  Mixed media art generally refers to any visual art form that utilizes a variety of media (such as paper, watercolors, ink, fabric.)  While every craft is not necessarily a work of art, per say, they are definitely works of the heart!
The reason I generally set out to use a mixed media approach is:
it's budget-friendly because you can use supplies you already have on hand
you can get some amazing textures and results you may not have otherwise been able to achieve
it allows for tons of creative freedom.
So in this spirit, the only items you'll probably need to purchase for the follow crafts are clear plastic round hollow ornaments that can be filled and an evergreen wreath (both items can be found at your local dollar stores.)  If you want to take things a step further, you really don't even need to purchase a wreath, you could easily fashion one from ribbon, garland, ornaments, paper, wood – whatever medium you choose.  The only limitation is your imagination!
If you want to add more than Minions, you certainly can!  Cut out photos of other characters.  Everyone loves Gru, his wife Lucy, and their three adorable daughters—Margo, Edith and Agnes— too.  You can certainly include them in your ornament and wreath plans.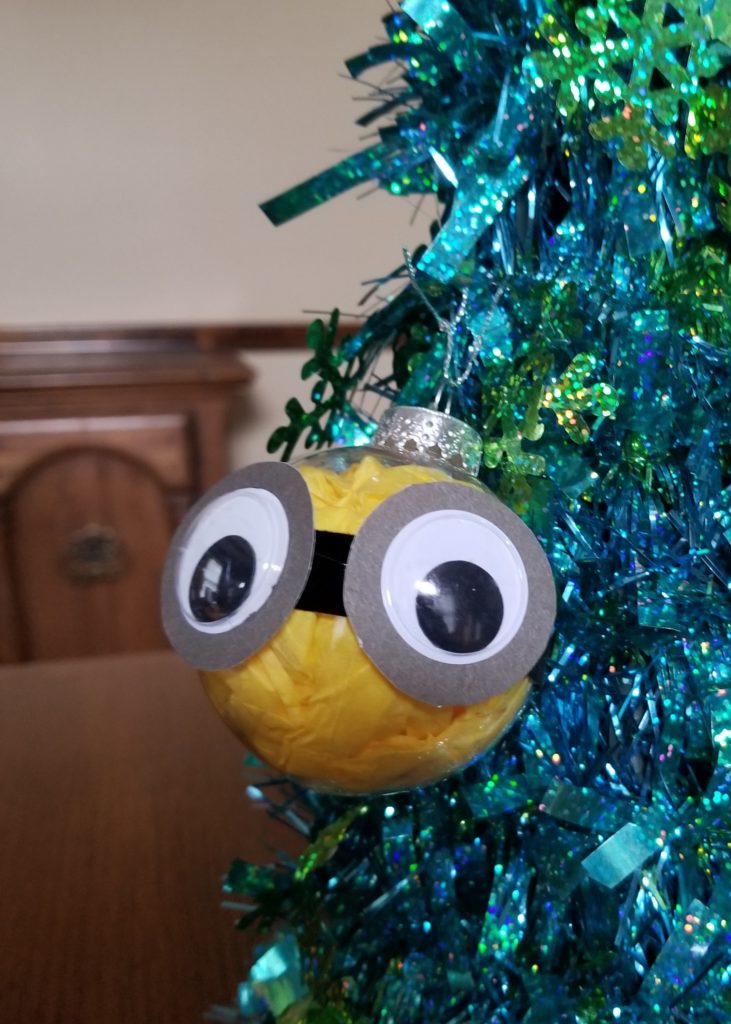 About Despicable Me 3
Before you get started, check out the Despicable Me 3 trailer for inspiration (below) or visit the Despicable Me Twitter, Facebook or Instagram pages for ideas.
About the film: Illumination, the studio that brought you Sing, The Secret Life of Pets and the Despicable Me franchise, continues the adventures of Gru and his family in Despicable Me 3. After he is fired from the Anti-Villain League for failing to take down Balthazar Bratt, the latest evil mastermind to threaten humanity, Gru finds himself in the midst of a major identity crisis. But when a mysterious stranger shows up to inform Gru that he has a long-lost twin brother — a brother who desperately wishes to follow in his twin's despicable footsteps — the former super-villain rediscovers just how good it feels to be bad.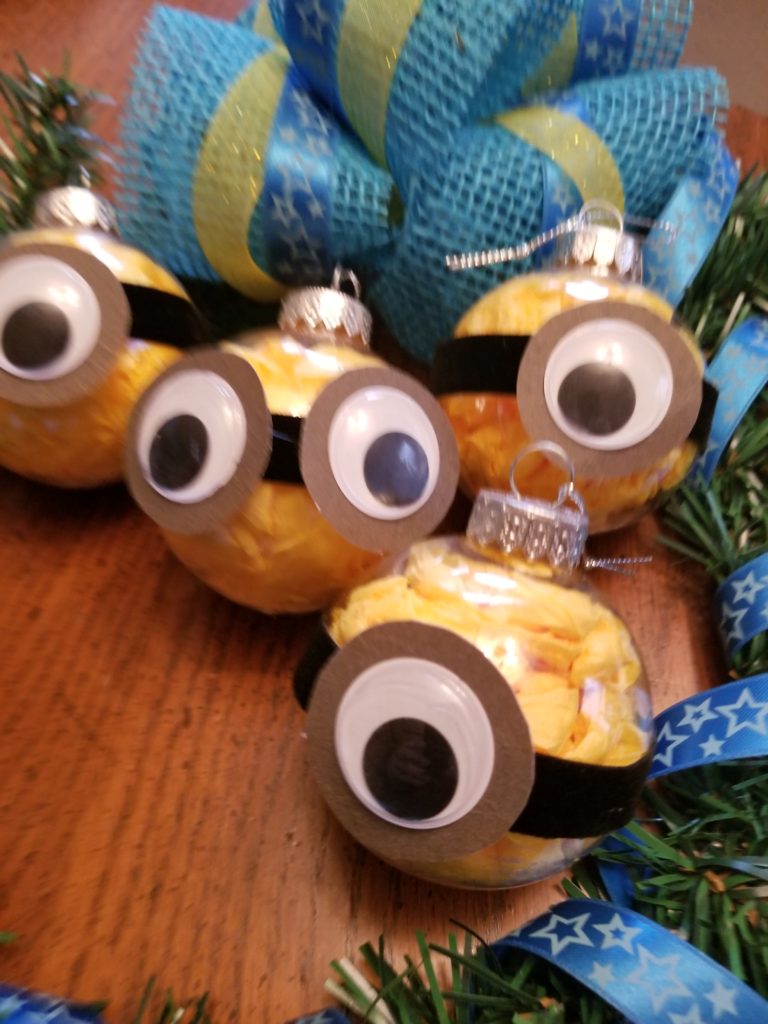 Minion Ornament Craft
For this craft, the basic materials you will need are clear plastic round hollow ornaments that can be filled.  I found some at my local dollar store, two ornaments for $1 each, making this ornament craft doable for around 70 cents each – which is great for making multiples for gift-giving or classroom projects.
What materials you choose to fill the ornament with to get the cute bright yellow Minion look or to decorate the outside with to get to big, bright Minion eyes is completely up to you and normally, for me, dependent upon what I have in my craft reserves.  To complete my ornament design, I used:
yellow tissue paper
black felt ribbon
gray cardstock
large googly eyes
scissors and craft glue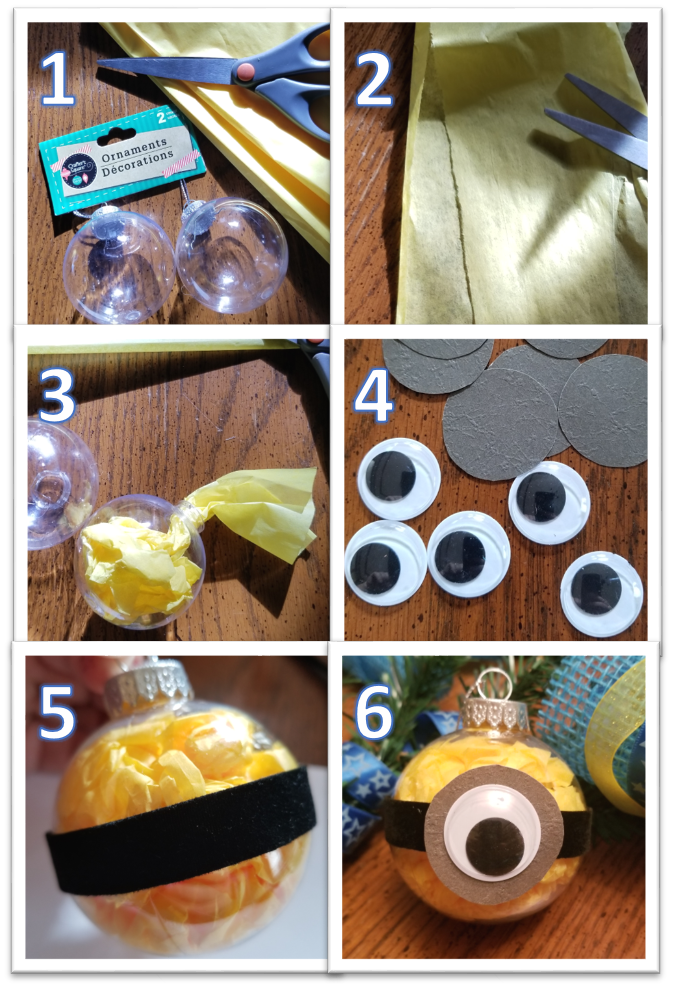 As you can see from the visual above, completing the ornament is super easy:
Cut your tissue paper into strips, then stuff the strips into the ornament until the Minion is filled with vibrant color.  You could also opt to paint the ornament, but I find this approach a bit messy, time consuming and it diminishes the natural shine of the ornament which looks great when the light catches it in your home or on your tree.
Cut out circles from your gray cardstock that are approximately 1-inch in diameter larger than your googly eyes.  Basically you are creating the Minion goggles here.
Glue a strip of ribbon horizontally around the center of the ornament.
Glue the gray cardstock circle to the center of the ribbon in the front of the ornament, then glue the googly eye in the center of the gray circle.
Viola!  You have an adorable Minion ornament ready to gift or to adorn your home!

Minion Wreath Craft
Your Minion ornaments will look great hanging from a tree, a lamp, a window shade or even tied to a present.  They also look awesome as the focal point of a wreath!
For the wreath craft, I again hit the shelves of the dollar store and grabbed a simple pine wreath for the base.  You could easily use whatever medium you choose to construct your wreath, or if you really wanted to have full-on Minion fun, you could construct a wreath shape completely with Minion ornaments.
The only trick to this craft is being sure to tie it all together with a Minion-friendly color scheme.  I opted to use blue ribbons that mimicked the overalls we typically see on them and a hint of yellow ribbon to add more brightness.  You could just use black and yellow ribbon, black and white ribbon (to mimic the jail scene overalls they wear,) or you could really liven things up with an explosion of bright colors to make it look like a Minion holiday fiesta!  Truly, there's not trick, it's really up to your preferences.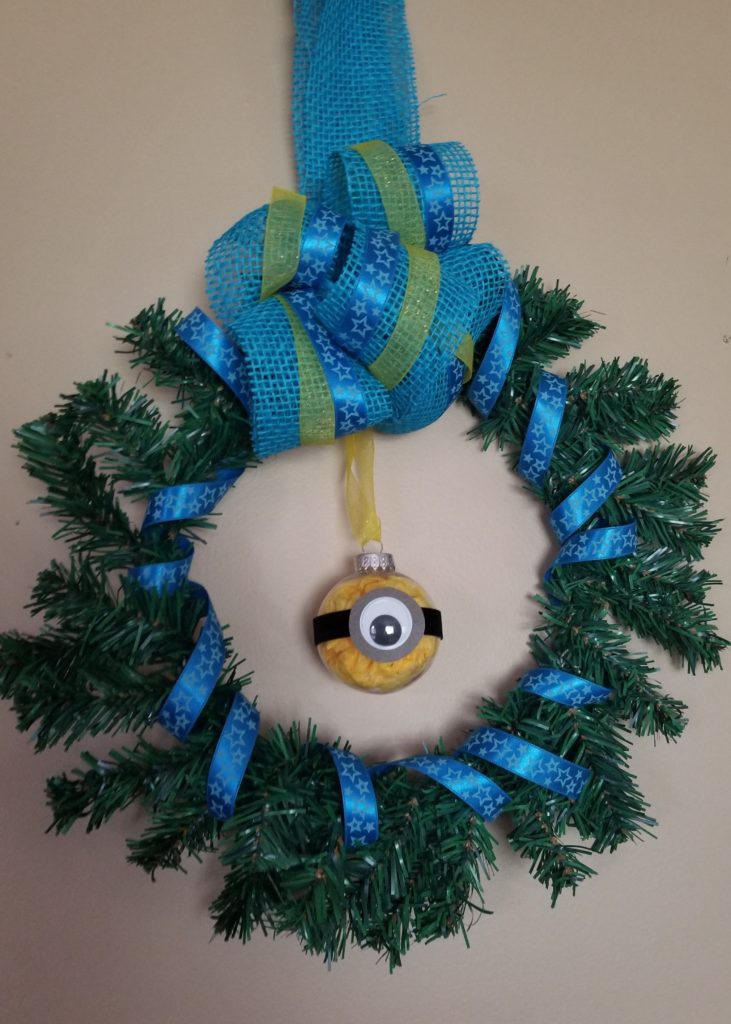 I kept things really simple and wrapped a thin blue ribbon with star pattern loosely around the wreath and then created a big bow using a blue net ribbon, the blue ribbon with star pattern, and a thin yellow organza ribbon. When you have the look you want, simply tie all the loose ends of the ribbons together and then use the ends to secure the ribbon to the wreath.
Creating a bow for your wreath is no different than creating bows for a package.  If you are intimidated by creating your own bow, you can find tons of pre-made bows at your local craft store and often at the dollar store, too.
Once you have your wreath assembled, use a little ribbon to secure your previously-created Minion ornament to the center where it will shine!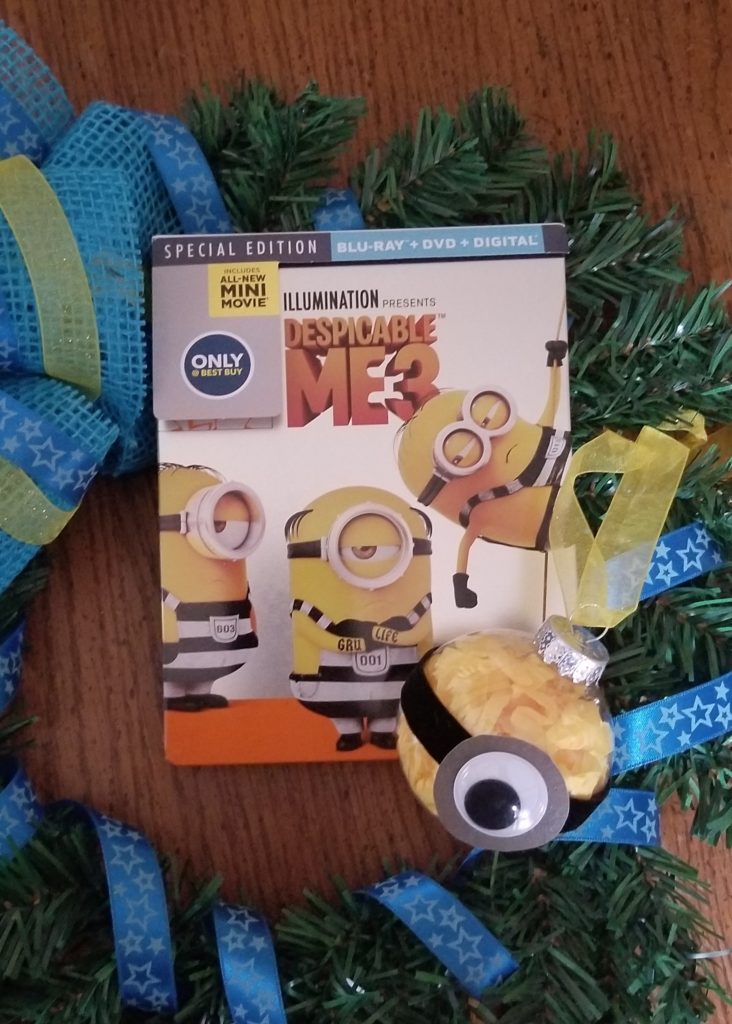 Despicable Me 3 Special Edition Available on Blu-ray and DVD
Despicable Me 3 is the #1 animated comedy of the year, perfect for inspiring creative crafts and perfect for holiday gifting!  The special edition come with an All-New Mini Movie, Minion Moments and more, providing hours of fun entertainment for your family and friends!
If you are looking for a little extra for your gift-giving, the Walmart exclusive Despicable Me 3 Special Edition features a limited time gift set with a super soft, PLUSH Minion backpack!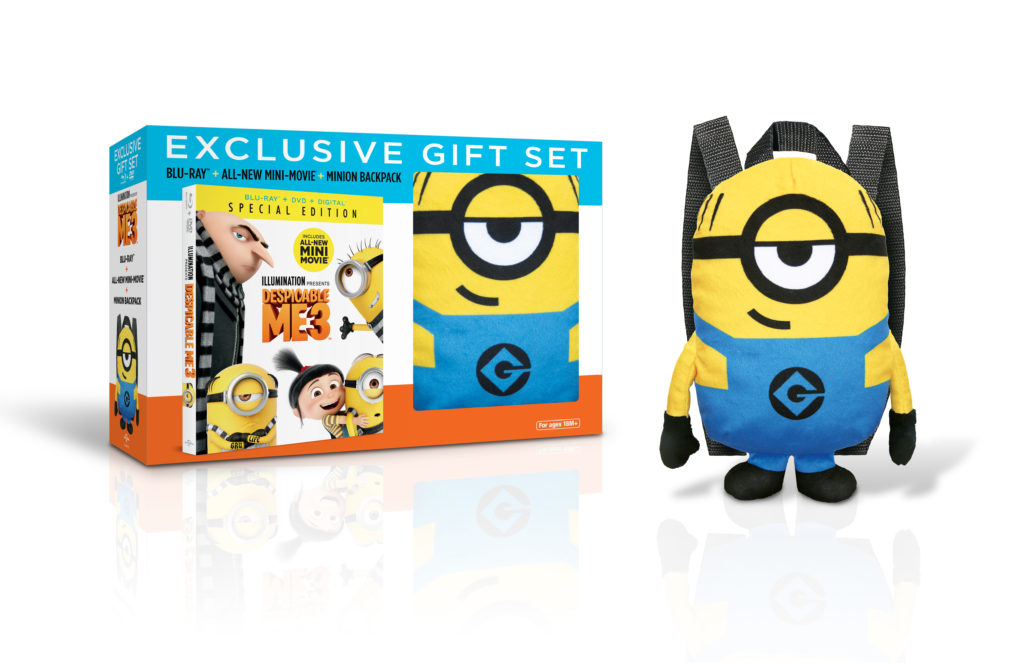 Do you host family movie nights during the holiday season? Will you be hanging Minions from your wreath or tree this year?