I remember my grandmother's pressure cooker. It was this big old pot with a rattling lid that I just knew was going to take flight across the room one day followed by the pot's contents of boiling hot chicken stew. I was fascinated with it because she'd throw everything in there and something else would come out, but you really had to be brave to go near it while it was rattling and whistling! After all, a severe burn caused by a pressure cooker explosion is not something one looks forward to experiencing, right?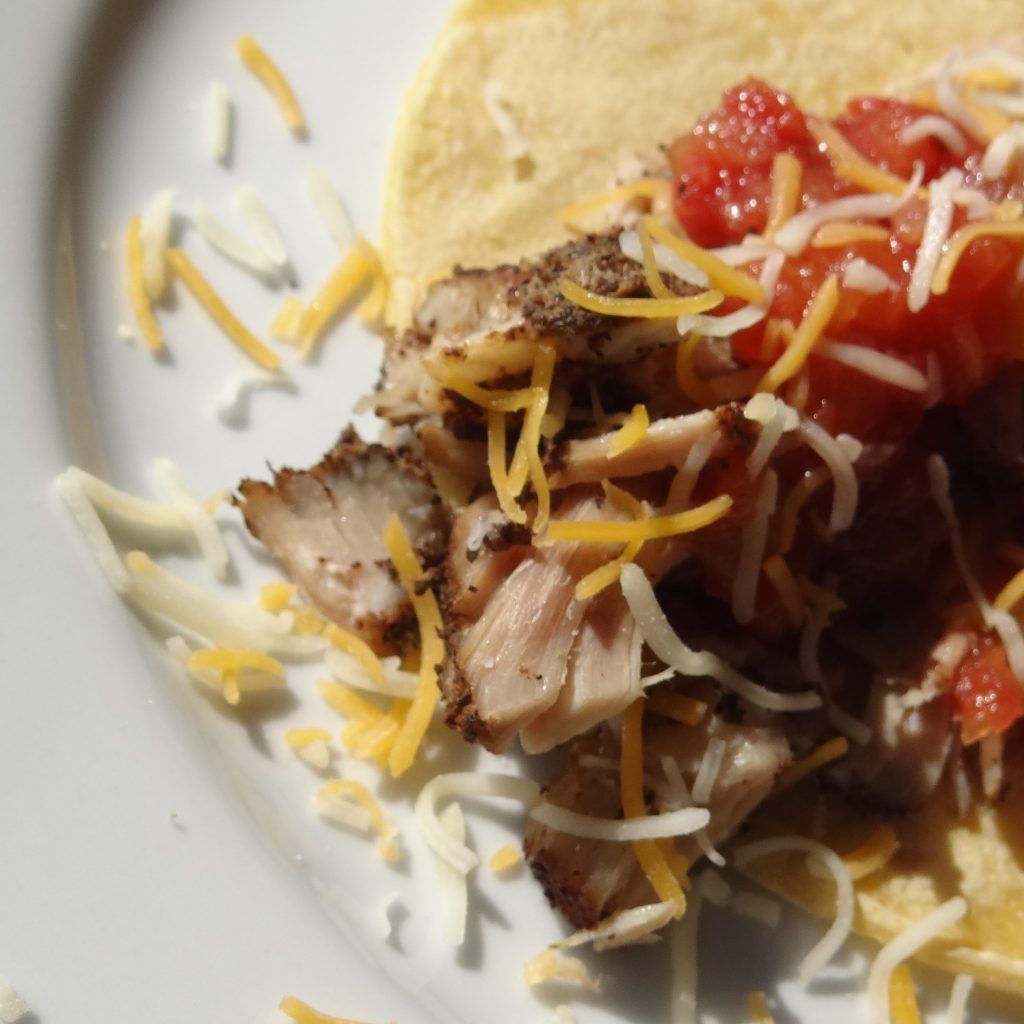 Fast Forward
Years later, pressure cookers are designed to be safe and effective parts of our kitchens. Sure, you have to have respect for them just like any other kitchen appliance, but for the most part, any cook can use them and your risks of UFO's in the kitchen are very low.
I use a pressure cooker a lot, especially around the holiday season. With nonstop work, household chores, shopping, and entertaining, it's super helpful to be able to make dinner in 70% less time. A pressure cooker comes in handy for the rest of the year too. Since my boys are at the age where they're always running somewhere, the ability to have dinner on the table fast when we get home is very appealing.
Power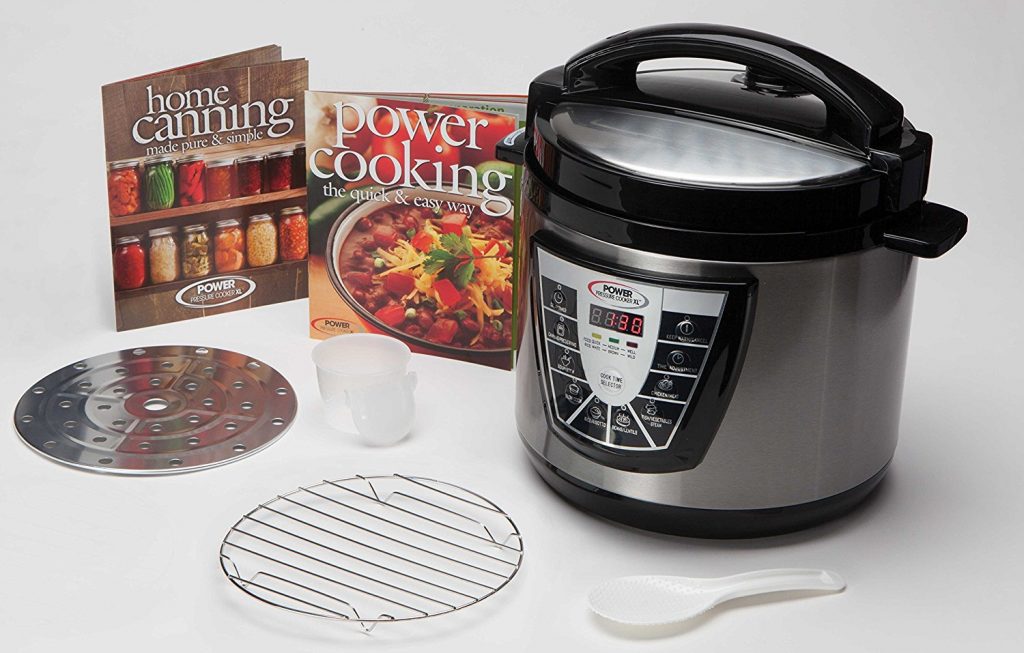 Power Pressure Cooker
The Power Pressure Cooker XL  6 Quart might just be my kitchen's new BFF. It's a pressure cooker, a canner, a soup maker, a slow cooker, a rice cooker, a steamer, and even cookware. I love it for making soups, stews, and comfort dishes like macaroni and cheese in no time flat.
In case you're new to pressure cooking, here's how it works: The pressure inside the pot forces the moisture and the heat to move throughout the food faster and with more intensity than it would if you were simply cooking it on the stove or in the oven. The end result is more flavorful and tender food in a much shorter amount of time.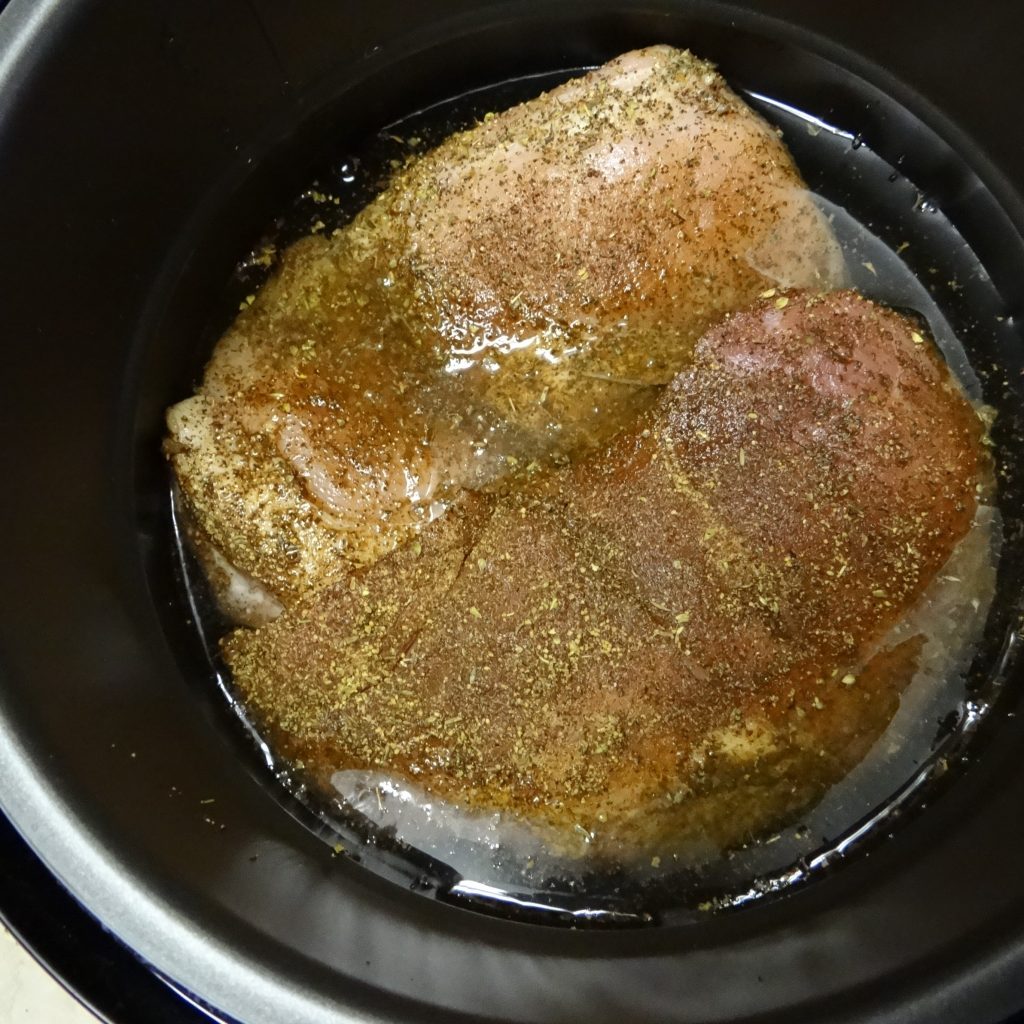 My grandmother would have loved this pressure cooker and if fact, she's the inspiration behind my Coffee- Crusted Pork Tacos recipe (below.)  She always made the most tender and flavorful pork loin and her secret? – a pressure cooker!
The one touch buttons of the Power Pressure Cooker XL are so easy to use. You put the food in and press the preset button. That's all there is to it. Note: It does take a few minutes for the pressure to build up in the cooker, so be sure to calculate that into your cooking time. Once the food is done, you simply release the pressure valve with a pair of tongs and let out the steam. Then you eat! It's that easy. While it's cooking, the nice bright digital display lets you know how much longer you have to wait.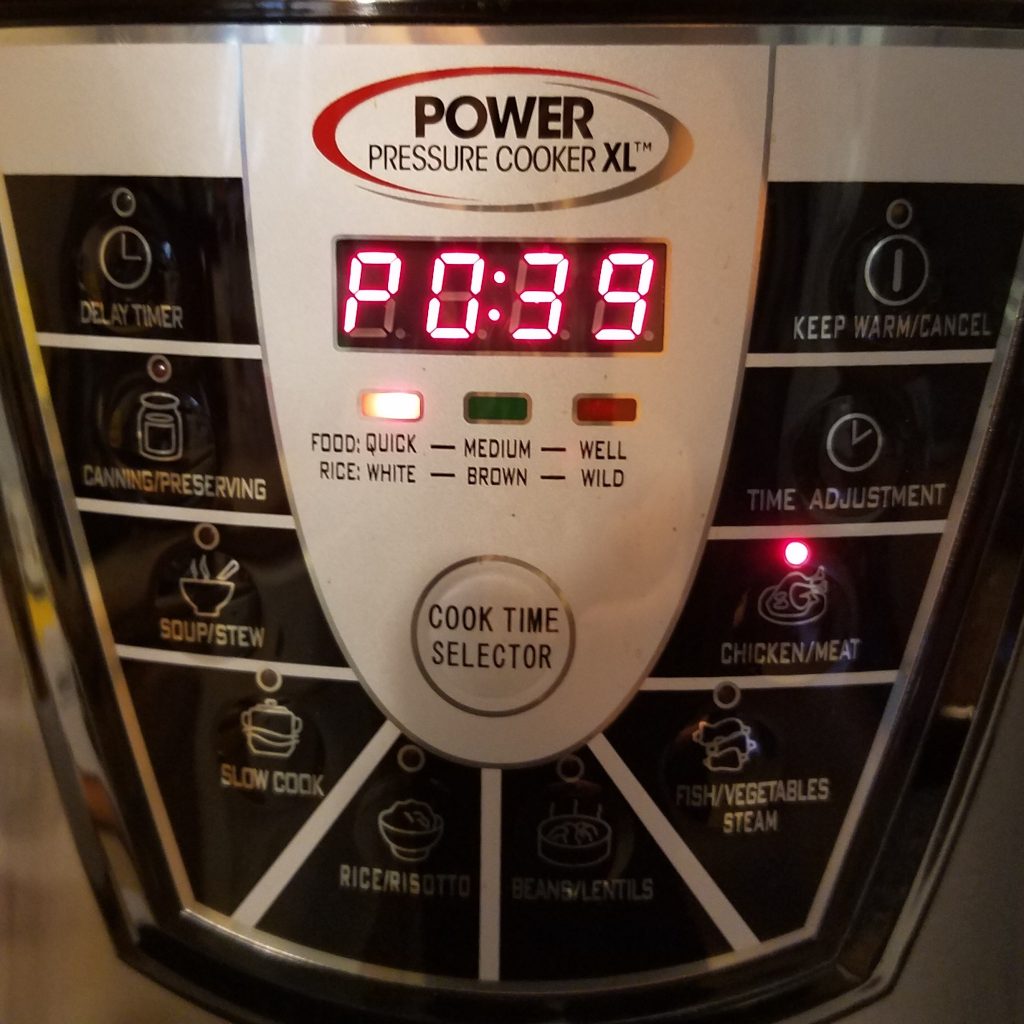 Cleanup is a snap too, which is huge for us during the holiday season. Simply wipe down the cooker and put the inner pot in the dishwasher. Done. Even washing by hand is easy thanks to the nonstick surface. The unit is a time saver all the way around.
Pressure Cooker Coffee Crusted Pork Tacos
The Coffee-Crusted Pork Tacos I made took me less than 5 minutes to prep and 40 minutes to pressure cook.  Yup, only 40 minutes in the pressure cooker and they were more tender and flavorful than if I'd left them in a slow cooker (at low heat) for 8 to 10 hours!  That definitely justifies the title of "time saver."
Pressure Cooker Coffee-Crusted Pork Tacos
Ingredients
4 pound Center Cut Pork Loin Roast (or Boneless Blade-end Roast)
2 cups water
Rub:
4 Tablespoons coffee, coarse ground
2 Tablespoons brown sugar
1 teaspoon sea salt
1 teaspoon pepper, ground
1/2 teaspoon oregano, ground
1/2 teaspoon cumin, ground
1/2 teaspoon thyme, ground
1/2 teaspoon sage, ground
Instructions
In a small bowl, mix all rub ingredients (coffee, brown sugar and spices) together until all ingredients are well distributed.
Remove pork roast from wrapper and pat dry with paper towels. Place pork roast on a clean, flat, and dry surface (such as a platter or baking tray.) Rub coffee spice mixture over the entire surface of the roast, leaving a thin layer (crust) of mix on all sides.
Follow Power Pressure Cooker XL 6 quart (or other brand 6 to 8 quart electric pressure cooker) instructions in user manual to set up pressure cooker for cooking.
Pour water into pressure cooker Inner Pot. Place coffee-crusted roast into the pressure cooker Inner Pot.
Seal pressure cooker according to instruction manual. (Steam release should be in locked position.)
If you are using the Power Pressure Cooker XL 6 quart, press the Meat/Chicken button and choose 40 minutes for time. (If you are using a different pressure cooker, consult your manual for suggested setting and time for a pork roast.)
Pressure cook for full time. Follow pressure cooker user manual instructions for releasing pressure from pressure cooker and opening the unit when pressure and steam are fully released.
Remove coffee-crusted pork roast from the pressure cooker. Use a fork to gently shred roast into small pieces.
Serve with mango habanero salsa (or your favorite style salsa) and shredded cheddar jack cheese atop a small, warm corn (or flour) tortilla.
https://ruralmom.com/2016/11/pressure-cooker-coffee-crusted-pork-tacos-recipe.html
copyright 2018 by Barb Webb, RuralMom.com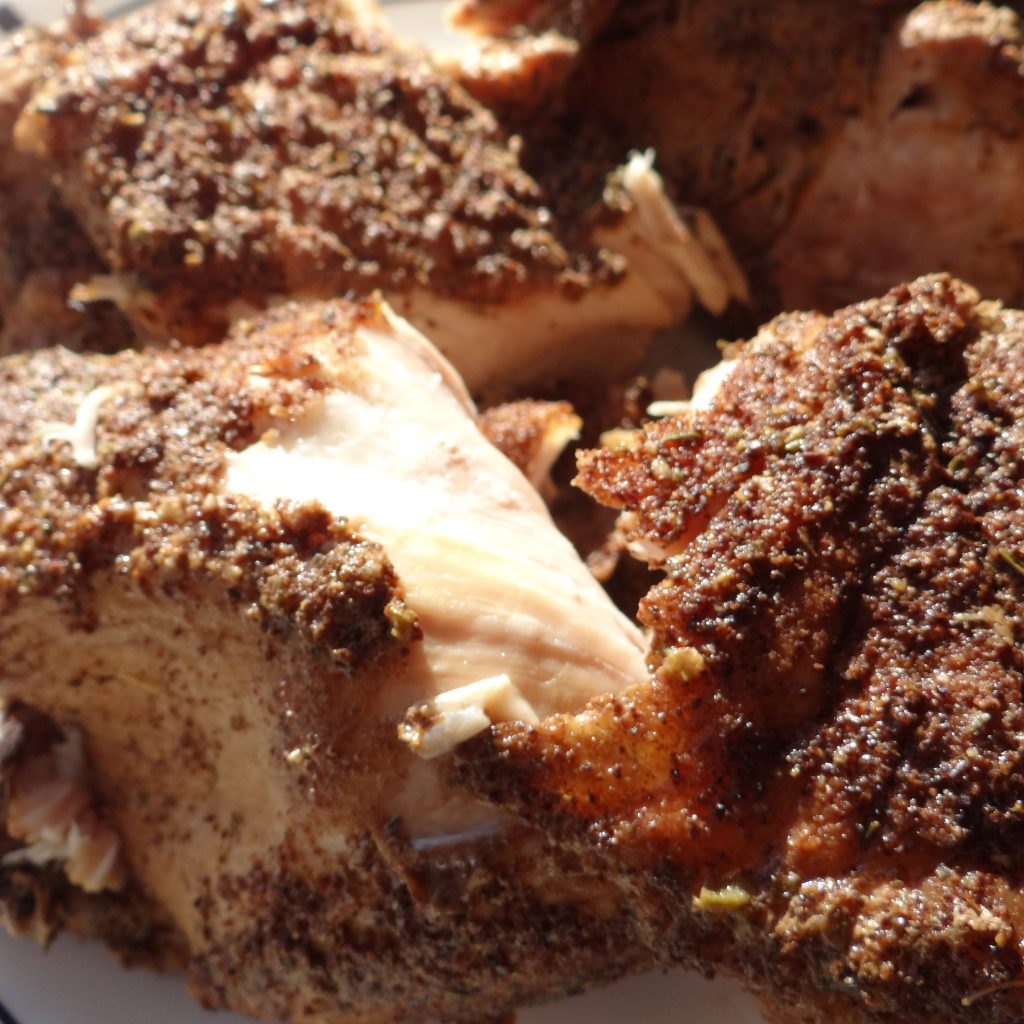 The Power Pressure Cooker XL is available in 6, 8, and 10 quart sizes for larger families. The 8-quart version is available in cobalt, copper, or cinnamon colors as well as classic black. It looks great on a counter, and you'll want to leave it there so you can use it frequently!
I'm going to get a lot of use out of my Pressure Cooker XL in the next few months. Do you use a pressure cooker?