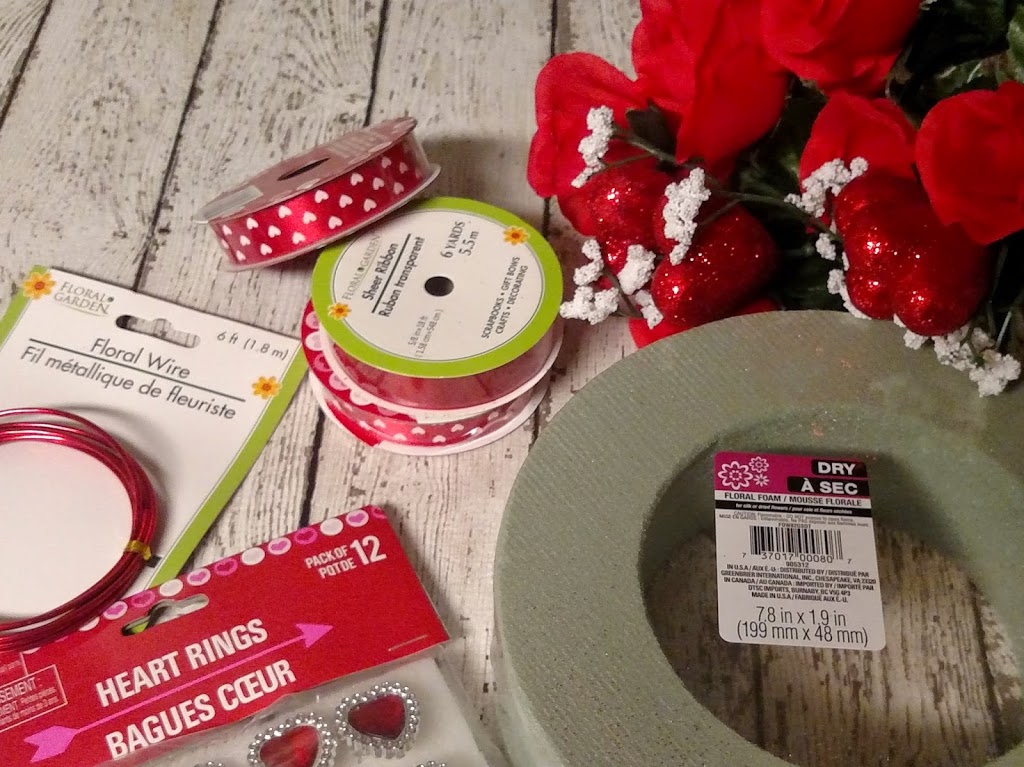 It's the month of love, so of course we're creating a festive Valentines Day wreath with a little help from Dollar Tree! #spon
Don't you just love stores you walk into that instantly inspire your craft creativity?  This is honestly how I feel every time I step into our local Dollar Tree! Around every corner I find colorful, seasonal items and plenty of home decor and craft products clamoring for the attention of my DIY nature.
When I stopped in to pick up materials for a Red Carnation Wreath idea I wanted to create, it's likely no surprise I found myself contemplating a second idea for a Valentines Day holiday wreath.  I could easily find the space in my home for two lovely wreaths, couldn't I?  After all, February is all about love, love, love!
An even better idea occurred to me to share the love, so my neighbor will soon be receiving this delightful creation to hang in her home.  Into my cart all the pieces went and the rest is Rural Mom craft history… and of course fully illustrated for your crafting creativity below.  I hope it inspires you!

Destination:  Dollar Tree
Materials:
3 rolls of 5/8-inch Wide Bright Sheer Ribbon (in color of choice, for this project I used sheer red.)
1 roll of 5/8-inch Wide Patterned Satin Ribbon (in patter of choice, for this project I used red ribbon patterned with white hearts.)
Green Foam Floral Ring
1 bundle of Silk Valentines Day Roses with Foam Heart Picks
Decorative Floral Wire (or hot glue gun)
1 package of plastic jeweled Heart Rings (optional)
Decorator's Choice 5″ Wire Cutters (optional)
Scissors
Total Project Cost:
$9 (nine dollars) with optional items included.  $7 (seven dollars) without optional items.
You may trim another dollar off the cost of the craft if you already have floral wire or a hot glue gun in your craft supplies.
To begin, remove cellophane from green foam ring and lay it flat on a flat surface.  Wrap one end of the ribbon around a section of the ring and tie it off (as illustrated above.)  This will become the back of your wreath.  Leave the tied section out and do not cover with ribbon, you will use this to secure the ribbon later on.
Continue looping the ribbon around the ring, over-lapping the ribbon as you wrap it around the green foam ring (as illustrated above.) When you finish a ribbon roll, tie the ribbon to the beginning of the next roll and keep wrapping.  Tuck the portion where you "tied off" the ribbon under the ribbon loops as you are continue the pattern.
Keep wrapping and over-lapping the ribbon around the green foam ring until the entire ring is covered (as illustrated above.)  Tie off the ribbon at the back of the wreath.  Cut off any excess ribbon left-over that still remains on the roll.
You could stop here and embellish as you see fit with a bow, flowers, buttons or other items.  I thought it was quite pretty with just the ribbon, but had my craft vision to pursue, so onward we go!
Take one end of the patterned ribbon tie it off using the red ribbon tie-off point you created earlier (as illustrated above.)
Wrap the patterned ribbon around the wreath, leaving about a two-inch gap between each loop of ribbon (as illustrated above.) Continue wrapping in this manner until you reach your starting point.  Tie off the patterned ribbon at your "tie-off" point.  Cut off any excess ribbon left-over that still remains on the roll.
Using wire cutters, clip stems silk florals from their bundle anchor, leaving as much stem as possible for each piece (as illustrated above.)
Arrange flowers into a bundle of your preference (as illustrated above) and secure with floral wire.
NOTE:  Hot glue may easily be used in substitute of floral wire, if preferred.
Optionally: slide plastic rings around the center of the flower bundle to create a decorative touch.
Secure flower bundle to wreath using floral wire.  Cut off a length of patterned ribbon and tie a bow around the flower bundle.
Cut a 12-inch length of ribbon.  Wrap ribbon around the top of the wreath and tie a small bow at the top to serve as a hanger for the wreath.
Viola!  You now have a cute Valentines Day wreath to brighten up your (or a friend's) home!