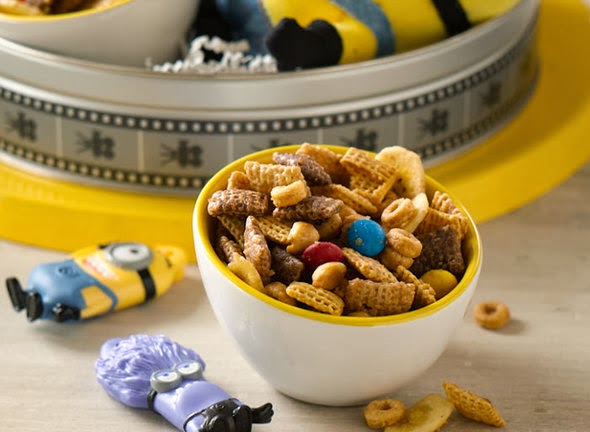 The thing about Minions is they have mass appeal.  Not only do children love them, but adults are pretty ga-ga over these adorable mutations, too.
I must confess that I currently have the Minions Banana Song set as my cell phone ring tone and I've been eyeing a Minion backpack wondering if people will look at me a little too funny if I were to carry my camera in it…
So, I was equally anxious as my sons were to snag a copy of Despicable Me 2 and totally into making Minion Munch Chex® Party Mix for our family movie night!

Try the new Minion Munch Chex® Party Mix with your family – it only takes 15 minutes in the microwave and will have your little minions going nuts for more!
We made a few adaptations to the recipe above by omitting the peanuts and banana chips and swapping in Pretzel M&Ms… but still wound up with an absolutely fabulous Minion Mix for our movie night.  The peanut butter coating alone makes this an amazing party mix!
Getting ready with the Minions for Despicable Me 2 Family Movie Night!
We had plenty of left-over mix and my sons have been enjoying it as a snack to take along for basketball practices.  I'm going to make a new batch for Super Bowl Sunday, too, as I know our guests will truly love it… and match it up with a showing of Despicable Me 2 in our family room for all the kiddos who won't be watching the game.