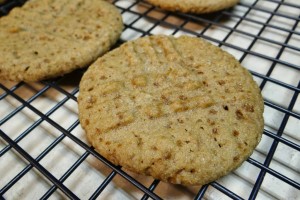 Crazy about Jif Peanut Butter Chocolate Mint Whips!  Received a sample
from the J.M. Smucker company and excited to share this recipe I created. 
Peanut butter cookies never last long in our home.  The kids hover around the oven when I'm baking them and I have to act quickly if I want to secure a taste for myself.
Over the years, I've adapted and tweaked the standard, simple recipe but have to say my latest update has me in a tizzy of bliss!  Also has me figuring out how to successfully store a stash of cookies for myself because this batch barely made it out of the oven before my family pounced on 'em!
What did I do differently?  Simply swapped out peanut butter in the recipe for Jif Whips Peanut Butter & Chocolate Mint.  The flavor elevated our standard peanut butter cookies to a rich, new level perfect for the holiday season.  I'll certainly be bringing these to Christmas cookie parties this year.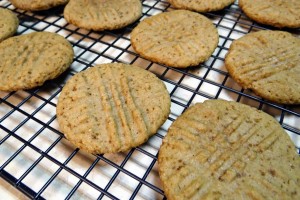 Peanut Butter Chocolate Mint Cookies
3/4 cup Jif Whips Peanut Butter & Chocolate Mint
1/2 cup Butter, softened
3/4 cup Organic Coconut Palm Sugar***
1/2 teaspoon Baking Powder
1/2 teaspoon Baking Soda
1 1/3 cups All-Purpose Flour
1 Egg
Preheat oven to 375 degrees Fahrenheit.
In a large mixing bowl, beat butter and Jif Whips until fully blended.
Add coconut palm sugar, baking soda and baking powder.  Beat until fully incorporated.  Add egg and beat until fully combined.
Add flour, mix in with beater on low setting or by hand.
Roll dough into 1 inch ball shapes.
(Optional:  roll ball shapes in sugar to lightly coat.)
Place balls on cookie sheet leaving about 2 inches of space between each ball.  Using a fork, flatten the balls of dough.  Press down once with the fork, then criss-cross with a second press.
You can also use a flat bottom of a glass to flatten the cookie shapes. I prefer the fork method as it makes a lovely pattern that instantly identifies your cookies as peanut butter ones!
Bake cookies for 7-8 minutes (should be lightly browned.)  Cool on a wire rack.
*** You may swap out 1/2 cup of brown sugar plus 1/4 of granulated sugar for the organic coconut palm sugar, if you prefer.