Stepping inside the headquarters of the J.M. Smucker Company in Orville, Ohio was like gliding into a baking wonderland.  A subtle blend of aromatic fruits, fresh brewed coffee and something  reminiscent of cinnamon rolls permeates the air in every nook and cranny of the welcoming facilities.
Growing up with Smuckers, I still had that small town family-oriented view of the company, one that I found still holds true in every facet of their business today.  A business that has grown leaps and bounds to include a thoroughbred corral of brands including many of my personal baking favorites: Crisco, PETMilk, Jif, White Lily, Eagle Brand and even the dry goods side of Pillsbury.
During my press trip, the kitchen-savvy folks at Smuckers served up plenty of holiday recipes and tips that I'll be sharing with you throughout the month, beginning with a delightfully crisp apple snack that's chock full of fall flavors and sweet surprises.
Caramel Apple Popcorn is perfect for Halloween parties, a game day snack or simply enjoying as an everyday treat.
~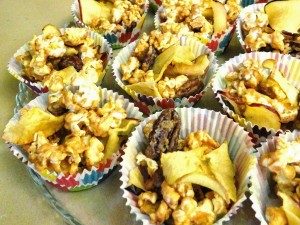 Caramel Apple Popcorn
Makes: 6 to 8 Servings Preparation Time: 15 Minutes Cooking Time: 25 Minutes
Ingredients
• Crisco® Original No-Stick Cooking Spray
• 2 (2.75 oz.) pkgs. butter flavored microwave popcorn, popped
• 2 cups pecan halves
• 1 container Pillsbury® Creamy Supreme® Caramel Apple Flavored Frosting
• 1 tsp. ground cinnamon
• 4 cups lightly crushed dried apple chips
• 1/4 tsp. salt
Directions
HEAT oven to 250°F. Coat 2 (15 x 10 x 1-inch) baking pans with no-stick cooking spray. Combine popped popcorn and pecans in large bowl.
REMOVE lid and foil seal from frosting container. Microwave on HIGH for 30 seconds. Stir until smooth. Pour over popcorn mixture. Stir to coat evenly.
SPREAD evenly on prepared baking sheets. Sprinkle with cinnamon. Bake 20 to 25 minutes until crunchy, stirring occasionally. Remove from oven. Toss with apple chips, Sprinkle with salt. Allow to cool completely. Store in airtight container for up to one week.
©/TM/® The J.M. Smucker Company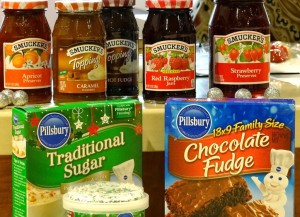 Special thanks to J. M. Smucker Company for providing recipes and materials to help facilitate this post.  
I attended the Holiday Traditions event as a member of the Mom Bloggers Club.