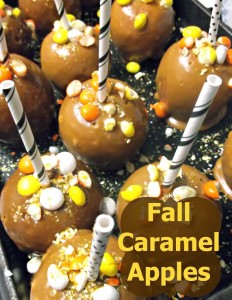 These Caramel Apples are super easy to make and are perfect for the fall season.  The best part? You can customize them to your own taste by adding your favorite candy or nuts whatever your heart desires.
These are sure to be a hit at your Fall Gatherings such as Halloween parties, or Thanksgiving Dinners! So, that being said…Let's get going!
Custom Caramel Apples
Apples (I chose Granny Smith Apples) 
Melt-able Caramel (I used Kraft Caramel Bits, but you can use whatever you choose)
Lollipop Sticks
Candy or Nuts (optional) 
Parchment Paper
First, Wash off your apples and remove the stems. It's important to wash your apples off because it makes for easier sticking with the caramel.
Insert skewers or sticks into the top of the apple.
Melt your caramel according to the instructions on the caramel you bought. (Kraft Caramel bits are super easy to melt, you just add water and heat in the microwave 2 minutes or until completely melted.)
Then, Dip your apples into the caramel and allow the excess to drip off, place on parchment paper.
Here would be where you would add any candy or nuts you would like to have on it. The apples pictured are made with crushed limited edition candy corn flavor M&Ms.