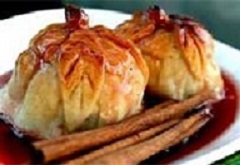 Some cookbooks you love for the amazing, enticing recipes.  Others you love to savor for the delightful insights and down-home appeal.  Cynthia Brigg's "Pork Chops & Applesauce: A Collection of Recipes & Reflections" is a bit of both, making this cookbook an irresistible combination of delicious home cooking and rich storytelling. 
Cynthia invites you into her kitchen and into the her life, reflecting on simpler times, humorous adventures and inspirational joy of cooking.  She believes that through the sharing of our recipes, we connect, forging bonds we carry throughout our lives.  It's in this lovely spirit, Cynthia is sharing her delightful Autumn Apple Dumplings recipe with Rural Mom readers.  Simply perfect for the upcoming fall season!

Autumn Apple Dumplings
Syrup Ingredients
6 medium Fuji, Braeburn or Pink Lady apples
1 1/2 cups granulated white sugar
1 1/2 cups water
1/4 teaspoon ground cardamom
1/4 teaspoon ground cinnamon
1/4 teaspoon ground nutmeg
3-tablespoons butter
10-drops red food coloring, if desired
Crust Ingredients
2-cups all-purpose flour
2-teaspoons baking powder
1-teaspoon salt
2/3 cup margarine, softened
1/2 cup milk
Additional granulated white sugar, cinnamon and margarine
Thick cream or vanilla ice cream, optional
Preparation Syrup
Peel and core apples; dip in lemon-lime soda to prevent discoloration; drain on paper towels. Combine in a medium saucepan 1 1/2 cups granulated white sugar, water, cardamom, cinnamon, and nutmeg; bring to a boil and stir until sugar dissolves. Remove from heat; stir in butter and food coloring, set aside.
Preparation Crust
Preheat oven to 375°F. Sift together flour, baking powder and salt; add margarine and cut into flour until mixture resembles oatmeal. Add milk all at once and stir until flour is moist.
Divide dough into 6 balls and set aside. On a lightly floured surface, roll one ball of dough into a 6-8 inch square and a little thicker than standard pie crust.

Place an apple in the center of dough circle and sprinkle with additional granulated white sugar and cinnamon; dot with 1-teaspoon margarine. Fold crust around apple; pinch edges together. Repeat by wrapping each apple with dough.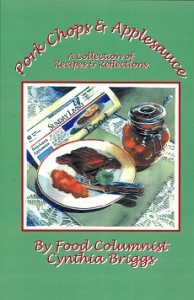 Place apples with pinched edges down and spaced about 1-inch apart in a buttered 11 x 13 x 2-inch baking pan.
Pour syrup over dumplings, sprinkle with granulated white sugar, and bake for approximately 40 minutes, or until apples are tender.
Remove from the oven, cool slightly. Each dumpling is quite large, so consider cutting each dumpling in half for a more reasonable serving size. Serve warm with thick cream or vanilla ice cream, if desired. 
Yield: 6 to 12 servings
(c) Cynthia A. Briggs.  All rights reserved.

For more information on "Pork Chops & Applesauce" and Cynthia Brigg, visit