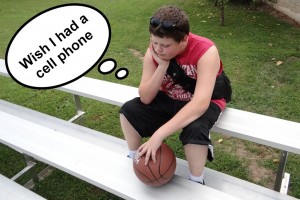 It's certainly time to address the cell phone issue with our pre-teen! As part of a sponsored post for the Collective Bias®  Social Fabric® Community, I'm adding an extra line to our Walmart Family Mobile plan.
Like many moms, I was anti-getting a cell phone for our children. Without a cheap wireless plan option available to us through our former high-price service, I couldn't seem to justify the cost, especially when we were present during all their events: practices, dances, 4H meetings, birthday parties and so on…
Then, middle school happened.
Daily sport practices, after-school band practice, dances where parental presence wasn't exactly welcomed and a strong desire for more freedom from our preteen.  Suddenly (for good reason,) my oldest son was constantly begging for a cell phone.
The kicker that thrust me into gear to cave in and consider getting him a cell phone was basketball practice.  As I still need to stay with our little one for his activities, my oldest son was often on his own during practice time.  We'd pick him up at the established end time, but one cog in that plan wheel really tripped us up: early dismissals and practice cancellations.
Without a cell phone to contact me, my son was left scrambling to borrow someone else's phone or to simply sit around waiting for us to pick him up.
Having a cell phone is no longer a luxury for our son, it's a necessity.
Remember I mentioned price, though?  Cost is still a big issue.  I mean, I'm about to put a cell phone in the hands of a preteen, who is no doubt going to initially go a bit nuts with texting and web surfing.  On our old plan, it would have cost us $45 just for service and limited internet service, plus we would have had to up our plan to unlimited talk time, as well, adding another $15 to our bill.  Not to mention the activation fees and so on…
Thank heavens, I discovered the Walmart Family Mobile Plan a few months ago, because the savings are ginormous!  To add an extra line is only $35 for unlimited calls, text and internet service.
Yep, that's right- UNLIMITED Talk+Text+Internet!
Off to Walmart I go to solve this dilemma right away and surprise our son with his very own cell phone.  It's certainly time to!
Walmart Family Mobile is pretty easy to find, just follow the bright white and blue signs of mega savings in the electronics department.  It's the lowest price rate plan available that still delivers the best service.
There's a wide selection of popular phone styles available for use with the plan.  My husband is using the MyTouch and loves it, but we picked up the Concord for our son.  It's a low price point phone that's still chock full of features, making it an excellent starter phone for a preteen.
After grabbing a $25 Starter Card, which contains the SIM card and activation code for the phone, I headed home to complete my mission of alleviating our concerns and giving our son the means to stay in touch at all times.
The Walmart Family Family Mobile Starter Kit activation can be completed in store or via the online account management and information website.  As I was in a bit of a rush when I was shopping, I opted to register and activate at home via our Walmart Family Mobile account.
Just a few steps and lickety-split the phone was added and we were up and running!
And did I mention, there's no contracts?  Nope, month-to-month service you can cancel any time, so if our needs change, no worries!
As I was activating the phone, I also found out the Walmart Family Mobile plan has a Family Controls feature.  This feature lets me do things like:
manage access for other lines by limiting the number of minutes or message that can be used by any line
block usage at certain times of the day
block certain numbers and to set up alerts on my account if a Family Controls limit is reached.
Fabulous!  These will all be helpful in helping to curb bad habits if we find we have any usage issues such as the temptation to stay up late and text his friends.
Now comes the very-most-super-fun part, the surprise element!
Phone is assembled, activated, charged and even wrapped in a protective casing I picked up.  I'm going to stuff it inside a large bubble wrap bag, then stuff that into a cute sports gift bag I picked up.  (Figure that will make the surprise and even bigger surprise when he can't detect what it is from the shape.)
Well, heading off to pick my basketball boy up from his practice… I think it's going to be such a relief for all of us to give him the ability to stay connected!
If you'd like to find out more about Walmart Family Mobile for your family, visit https://www.myfamilymobile.com #FamilyMobileSaves #cbias
There's more to this story… stay tuned!
What do you think about Walmart Family Mobile Unlimited Plans? Is it time to add a line for your child?