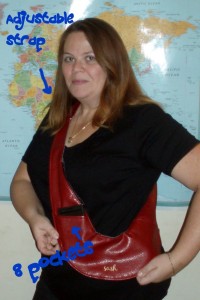 Until I had children, I was never really a purse-carrying kinda-gal.  Through high school I used my back pack or carried a wallet.  At work, I found the smallest purse possible and generally tucked it into my laptop case.  Finally, after I succumbed to toting a diaper bag, I began to carry a larger purse to accommodate all the things I seemed to suddenly need.
As my children grew and became more independent, our travel habits changed back to pre-baby days and I found that lugging a large purse around airports, amusement parks, caves, and camp grounds was absolutely not for me.
I settled on using a wristlet wallet and a camera bag instead, but still, it was just too much to worry about and keep track of.  I constantly feel like I'm tied to worrying about leaving my camera bag (with cell phone inside, too) somewhere or catching the wristlet on something and having it fall off, or worse yet, having someone try to yank it off my arm.
Which is why, when first introduced, it took all of two seconds for me to fall in love with incredibly clever and fabulously liberating Sash Bag.  
If I could do cart-wheels, this is the type of product that would have me doing them… with no purse to put down or place to find to stash my stuff.  The Sash Bag would simply come with me as I spun around the yard in flips of joy!
The Sash Bag is a travel dynamo.  It's reversible, which means there are pockets in front for easy access items like cell phones or lip gloss, and pockets on the inside for items you'd like to keep from view like wallets or feminine aids. Four zippered pockets are handy for valuables like passports, cash, and room keys or for other essential items like pocket sunscreens, tickets and makeup.

For such a compact item, the list of benefits is long!
In addition to ample pocket room and slim style, the Sash Bag has an ergonomic design that is fully adjustable.  The strap has three buttons on each side that allow the user to adjust the bag to their proportions, for a close-fitted or slouched style, or to easily adjust the size to accommodate bulky sweaters or for wear over a jacket.
If you still want to carry a purse, yet have the Sash Bag available for excursions, it packs easily and could even be folded and fit into a larger handbag, briefcase, or carry-on.
Made of quality materials and hardware, each Sash Bag is also reversible with a fashionable faux leather solid on one side, and a fun print on the other.  My Sash Bag has a gorgeous burgundy-colored leather on one side and a classic gray tweed on the other (as pictured.)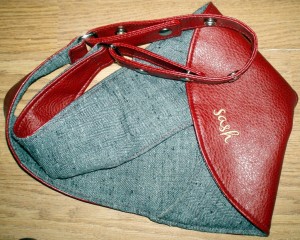 You'll certainly be seeing more of my Sash Bag as I'll be toting it to conferences and travel outing throughout the year.  Want to check one out for yourself?  Visit http://thesashbag.com for more information or to purchase.
Thanks to Sash Bag for offering a review item to facilitate this feature, and a huge thank you for making my life and travels so much easier with this super-handy bag!  All thoughts and opinions are that of Rural Mom.